One of my favorite dinners as a kid was tacos. How I loved taco night! It's a favorite at our home too. Well, maybe my favorite, because it's such a quick and easy dinner. My
usual
taco night ritual includes throwing some lean ground beef into a pan, adding a chopped onion, some V-8 juice and a package of taco spice mix. Lately, I've been on a "make your own mix" kick. I found this recipe from Cook's Illustrated and decided to give it a try. Yum. Loved it.Oh, and in case you
are super lazy and don't love your family and
are thinking "why would I make these when I can jump in the car and pick up 3 tacos for $1 at Taco (
fill in the blank)
??" Read this:
In a study conducted…it was found that Taco Bell's "meat mixture", which it dubs "seasoned beef" contained less than 35 % beef. If these figures are correct, the product would fail to meet minimum requirements, set by the U.S. Department of Agriculture, to be labeled as "beef". The other 65% of the "meat" is made up of water, soy lecithin, maltodextrin, silicon dioxide, anti-dusting agent and modified corn starch (amongst other ingredients more suited to a test tube than a taco).
Full article found
here
.
Yikes! The "meat" is less than 35% meat???? Scary.
Taco Tuesday.
This one's for you.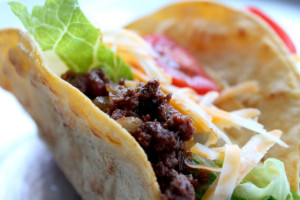 Print
Cook's Illustrated Beef Tacos
Ingredients
Tacos:
1 tablespoon vegetable oil
1 onion, minced
3 garlic cloves, minced
2 tablespoons chili powder
1 teaspoon cumin
1/2 teaspoon oregano
1/4 teaspoon cayenne pepper
Salt
1 pound extra-lean ground beef or ground turkey
1/2 cup tomato sauce
1/2 cup chicken broth
2 teaspoons cider vinegar
1 teaspoon light brown sugar
8 taco shells
Instructions
Heat the oil in a medium skillet over medium heat until shimmering.
Add the onion and cook until softened, about 5 minutes.
Stir in the garlic, spices, and 1 teaspoon salt and cook until fragrant about thirty seconds.
Stir in the ground beef and cook, breaking it up with a wooden spoon until no longer pink, about five minutes.
Stir in the tomato sauce, broth, vinegar, and sugar until thickened, about 10 minutes.
Season with salt to taste.