Are you still undecided about what pies to make on Thanksgiving? I've rounded up 30 Amazing Pie recipes you must try!  Some of the pies listed are mine, others are from a few of my favorite bloggers.  I know you're going to love this one-stop pie shop!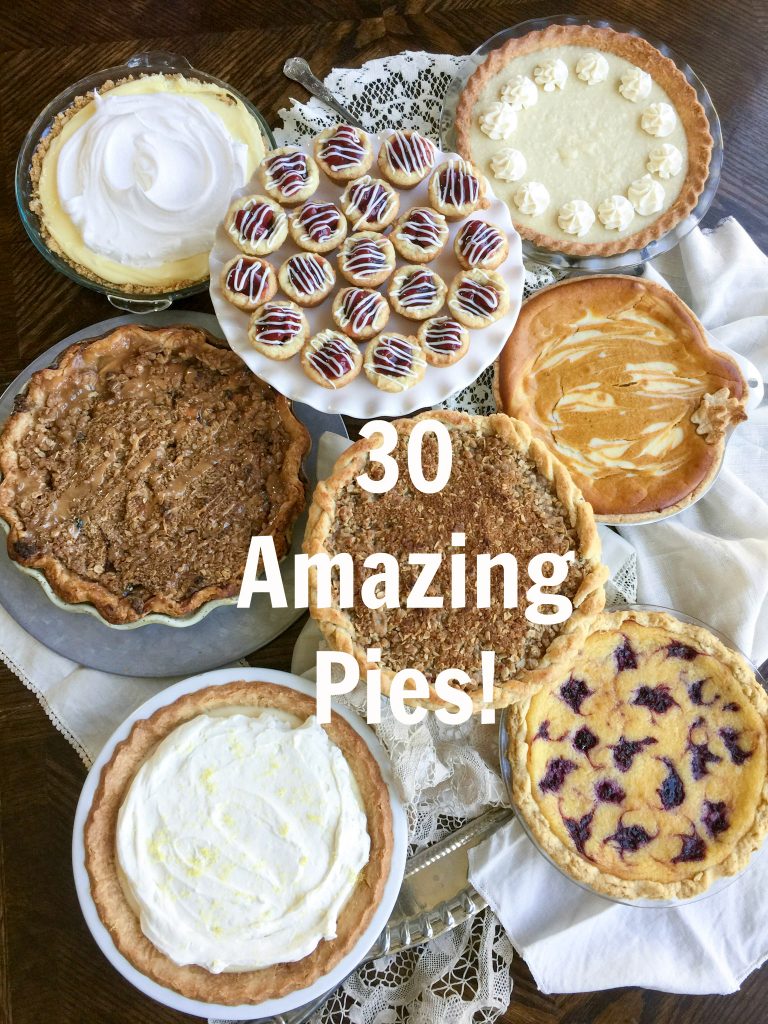 What's your favorite pie?  If I had to choose just one pie to make (which is a terrible thought) I would go with my famous Fresh Cranberry Apple Pie.  It's a classic at holiday time in our home. The combination of fresh apples, cranberries, sugar, almond flavoring and butter is unbelievably delicious. I can't imagine the holidays without this pie!  I hope you'll try baking at least one new pie this holiday season.  Make sure to follow along on Instagram for daily holiday cooking inspiration!
Salted Caramel Apple Pie with Streusel Topping… A Bountiful Kitchen!
One of our new favorites is this Salted Caramel Apple Pie! A couple of weeks ago, I baked a Salted Caramel Apple Pie and met up with a few other food bloggers. We took a lot of photos, and then ate pie for  lunch. Best. Lunch. Ever. We sampled cream pies, fruit pies, mini cookie pies, and even a fun pumpkin cream cheese pie baked in a pumpkin shaped pan.
Banana Cream with Buttery Sweet Graham Cracker Crust … Like Mother Like Daughter
Coconut Cream Pie…  Ashlee Marie
30 Amazing Pies you must try! More recipe links here…
ABK's Fresh Strawberry Pie  A Bountiful Kitchen
Apple Cranberry Streusel Pie  Barbara Bakes
Black Bottom Banana Cream Pie  A Bountiful Kitchen
Black Bottom Pie  A Bountiful Kitchen
Blueberry Custard Pie with Buttery Pecan Streusel  Mel's Kitchen Cafe
Banana Cream Pie  Like Mother Like Daughter
Better Than Mom's Banana Cream Pie  A Bountiful Kitchen
Bountiful Blueberry Pie  A Bountiful Kitchen
Chocolate Pecan Pie  A Bountiful Kitchen
Chocolate Pudding Pretzel Pie  Mel's Kitchen Cafe
Chocolate Silk Pie  A Bountiful Kitchen
Coconut Cream Pie  Ashlee Marie
Cream Cheese Pumpkin Pie  Ashlee Marie
Cherry Pie Cookies  Butter with a Side of Bread
Emeril's  Vintage Chocolate Pie  A Bountiful Kitchen
French Apple Tart  Female Foodie
Fresh Cranberry Apple Pie  A Bountiful Kitchen
Fresh Strawberry Pie  A Bountiful Kitchen
Gingerbread Chess Pie  LaFuji Mama
Lemon and Blackberry Chess Pie  Barbara Bakes
Original Tollhouse Pie  A Bountiful Kitchen
Our Favorite Pumpkin Pie  A Bountiful Kitchen
My, My My My, Key Lime Pie  A Bountiful Kitchen
Pecan Pie, Simple  A Bountiful Kitchen
Perfect Apple Pie and Step by Step Tutorial   A Bountiful Kitchen
Rhubarb Pie  A Bountiful Kitchen
Salted Caramel Apple Pie with Streusel Topping  A Bountiful Kitchen
Sour Cream Lemon Pie  Ashlee Marie
Southern Peanut butter Pie with Homemade Fudge Topping  A Bountiful Kitchen
Sweet Potato Pie with Ginger Pecan Crust  A Bountiful Kitchen
Harmons Pie Roundup A Bountiful Kitchen, Armelle Blog, La Fujimama, 1 Sweet Appetite, Vintage Mixer