The story of Baked Ziti (new and improved) and Girl's Camp 2013: Last week I joined 300+ young women and their leaders in the mountains above Heber City. Depending on the day, we had between 330-350 girls and leaders in attendance.With a crew of 7 joyful, hardworking women, we planned, cooked, and served about 3300 meals in FIVE DAYS. Did you just go back and re-read that? Me too.
Our meals included someABK favorites: Teriyaki Spinach Pasta Salad, Southwest Salad with Cilantro Honey Lime Dressing, Sweet Baked Beans(click on links for recipes), and our favorite pasta- Baked Ziti. Ziti for camp? You know how they say food always tastes better when you're camping? I never fell for that line, but it's true if you are eating Baked Ziti.
We also made some new favorites: Kash's Black Cherry Chocolate Dutch Oven Cobbler, Janis' Hot Fudge Sauce, Slow Cooked Roast for French Dip and Cooler Corn for 350.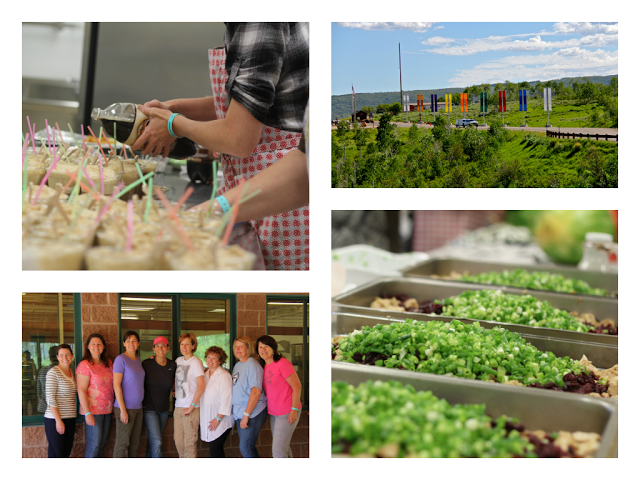 Remember when I first posted Cook's Illustrated Baked Ziti back in 2009? After making the Cook's recipe several times, I decided it needed a little tweaking. The biggest issues I had with their recipe were:
1. It was a bit on the dry side, especially when heating up for leftovers. 2.There were too many steps (dishes to pour in and out of and other unnecessary complications). The recipe needed to be streamlined.
After working on this recipe and making it countless times, we found a combination that works well for make ahead, and also for making and serving the same. day.
Baked Ziti
A Bountiful Kitchen, adapted from Cook's Illustrated
Ingredients
1

pound

Ziti or other short

tubular pasta (it is usually easier for me to find Rigatoni)

2

tablespoons

extra virgin olive oil

2

medium garlic cloves

minced

2-15

oz

can tomato sauce

1-8

oz

can tomato sauce

1

(14.5-ounccan diced tomatoes

1

teaspoon

dried oregano

salt and pepper

about 1 teaspoon each

1/2

cup

plus 2 tablespoons chopped fresh basil leaves

divided

1

teaspoon

sugar

Ground black pepper

1

teaspoon

cornstarch

1

cup

heavy cream

1

pound

whole milk cottage cheese or low fat cottage cheese

2

large eggs

lightly beaten

3

ounces

grated Parmesan cheese

about 1 1/2 cups

8

ounces

low-moisture whole-milk mozzarella cheese

cut into 1/4-inch pieces (about 1 1/2 cups)
Instructions
Cook pasta for about 9 minutes. Drain and set aside.

Place oil and garlic in large pan and sauté over medium heat just until fragrant. Add all of the tomato sauce, chopped tomatoes, sugar, oregano, salt and pepper and cook for about 10 minutes until thickened a bit. Turn off heat and add 1/2 cup of chopped basil.

Pour heavy cream into a second large saucepan. While cream is cold, whisk in 1 teaspoon of cornstarch. Simmer over medium heat for about 3-5 minutes. Remove from heat and add 1lb of cottage cheese, 2 beaten eggs, 1 cup of the tomato sauce mixture, and half of the Parmesan and cubed mozzarella (reserving the remaining Parmesan and mozzarella for top of dish). Stir until combined (this mixture will now be a light red/pinkish color).

Add the cooked pasta to the cream mixture. Stir until all of the pasta is coated.

Pour into a greased 9×13 pan. Pour remaining tomato mixture over the top and sprinkle the remaining cubed mozzarella and Parmesan cheese on top of the pasta in dish. Top dish with remaining chopped fresh basil ( I like to save a few leaves for after baking as well for color).

Cover dish tightly with foil. Bake at 350 degrees on middle rack of oven for 30 minutes with foil, then remove foil for last 30 minutes. Let sit for about 10 minutes before serving.
Recipe Notes
Tips (longer than the recipe):
The tips below are for large groups (we served 300-350) 
-Whenever I make this recipe for large groups, I purchase pre-grated Mozzarella from Costco, and also pre-grated Parmesan from Costco. For the Parmesan,  look for the type of cheese sold in bags or containers in the refrigerated section, NOT the Parmesan in green cans sold on the shelf.  
-We made 17 times this recipe for the girls and divided it into 8 large pans (20 3/4 x 12 3/4x 3 inches deep-disposable foil steam table pans). The pans served about 35-40 each.
-We prepared the Ziti and covered each pan with foil until baking. The dish was prepared Saturday morning, and was baked Monday late afternoon. It was as good as if it were prepared on the same day.
-This dish may also be frozen after ingredients are poured into the pan. About two hours before baking, remove from freezer and set on counter. When ready to bake, place in oven at 325 for 1 1/2 hours on middle rack. After 1 1/2 hours, turn oven to 375, remove foil, and bake an additional 15 minutes. Allow more time if multiple pans are being baked in the same oven (about 15 minutes per pan, while covered).
-If you don't have a basil plant, or enough basil to make this dish, I suggest a trip to Trader Joes, where you can buy (the biggest basil plant you have ever seen in your life) for $2.99 . That's right $2.99. We used three trees plants to make 17 times this recipe, it was more than enough fresh basil for our Ziti-a-thon.
-When I first started making this dish, I thought fresh mozzarella was always the best choice when following a recipe that called for mozzarella. Not so. It has way too much moisture for this dish. A firm mozzarella, that can easily be cut into cubes works best. It melts into the pasta dish without leaving water in the bottom of the dish.
-If you are making this recipe in large quantity, I found that the #10 cans found at Costco and other restaurant suppliers will cover 3x this recipe for the tomato sauce. So instead of: 2-15 oz cans and 1-8 oz can of tomato sauce for every three times this recipe, I used 1 #10 can of tomato sauce (approx 96 oz), and one additional 15 oz can of tomato sauce. If you 6x the recipe, use 2 #10 cans of tomato sauce and one #10 can of diced tomatoes.