Our Best Buttermilk Bran Muffins are easy to make and so good for mornings when you want something filling but not overly sweet! This Bran muffin is substantial without being too heavy and is filled with a blend of ingredients to make this the best bran muffin ever.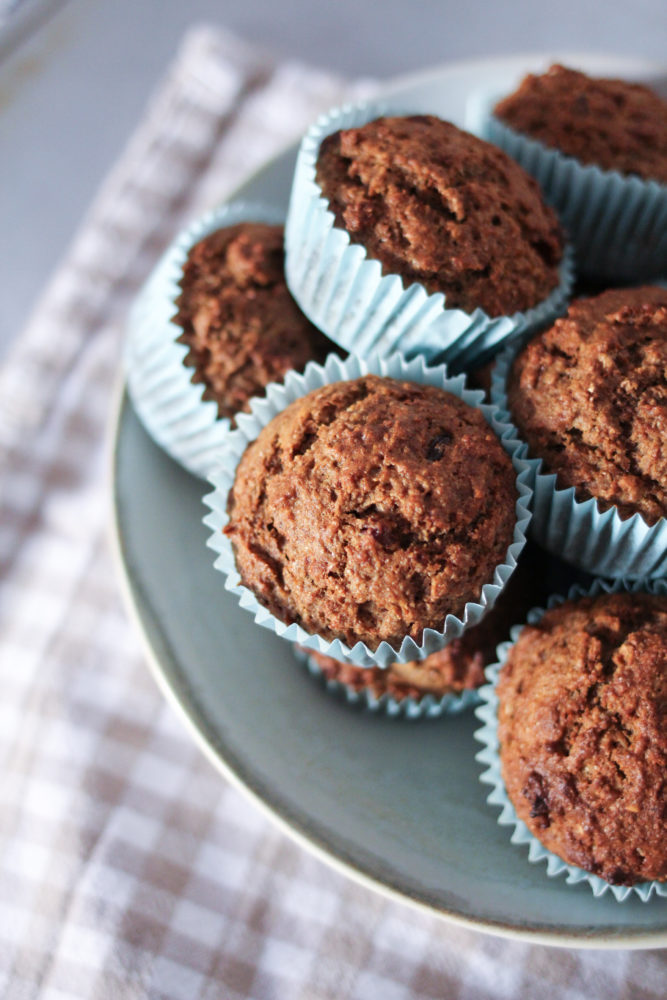 Do you ever crave bran muffins? I do. I love a good bran muffin, and it's hard to find a bran muffin in a bakery that is not made from a mix. If I am going to buy a muffin from a bakery, I want it to be made from scratch!
Last week, I was on the hunt for a bran muffin. After trying 4 bakeries or shops that should sell a bran muffin in the morning hours, I gave up and decided to go to the grocery store and buy the ingredients to make my own at home.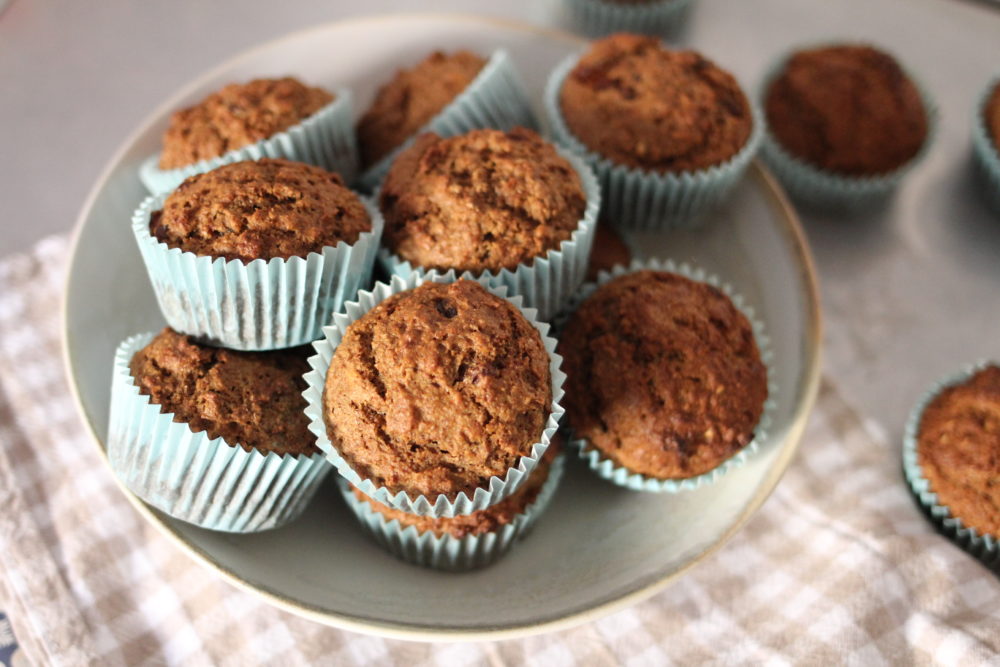 After a couple of tries, I came up with this recipe for Buttermilk Bran Muffins. The result? A not too heavy, not too light muffin that has just the right balance of sweet, fiber and flavor.
Way better than anything sold on the shelf of a store! Oh, and unless you are buying from a local bakery, it was probably baked in Wisconsin. Not that I have anything against Wisconsin…
The key to making a muffin that has a light texture is to mix the muffins by hand. I don't ever use a mixer when making muffin batter! I have found that using a mixer will create too much of a chewy texture and can ruin muffins.
In this recipe for Buttermilk Bran Muffins, the dry cereal needs to be softened up a bit so the oil, cereal and buttermilk sit for a few minutes until the cereal gets soft and then the rest of the wet ingredients are added together.
Then, the dry ingredients are folded into the wet ingredients. Folding just means to use a spatula and in a scooping motion, turn over the batter until the wet and dry ingredients become one. No flour should be visible after the ingredients are folded together. This literally takes seconds.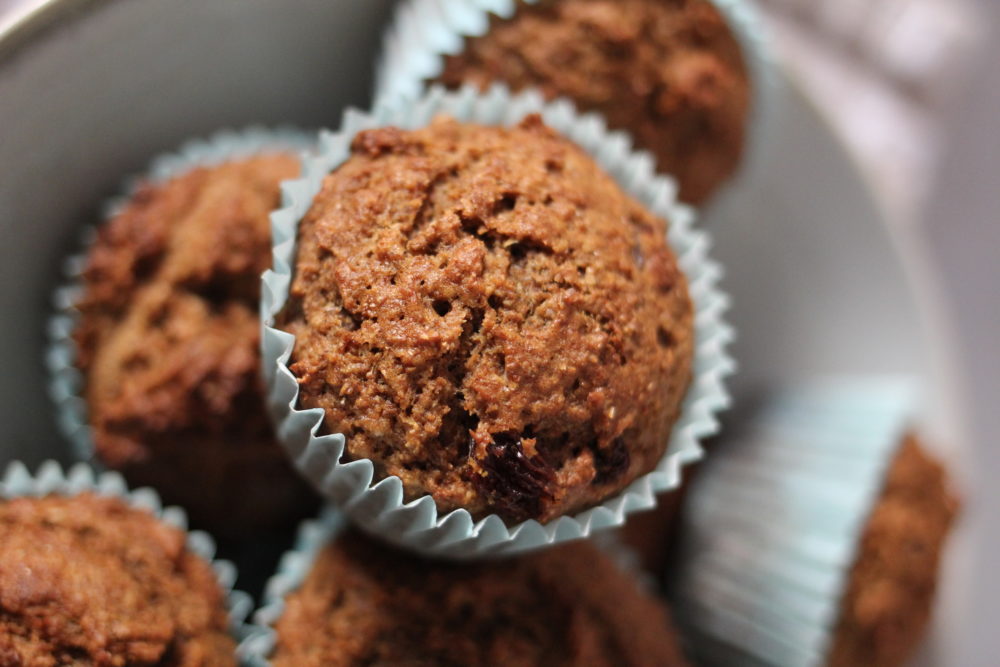 I always make a double batch of Buttermilk Bran Muffins. After eating a few of the muffins fresh the first day, I let them cool and freeze all fo the leftovers in a ziplock bag. When we want a muffin, I take them out of the freezer, wrap in a paper towel and microwave for about 30 seconds.
How to make Buttermilk Bran Muffins:
Preheat the oven.
Combine oil, cereal, buttermilk in a large bowl, let sit for 5 mins.
Add eggs, raisins, molasses, brown sugar and vanilla, stir.
Add flour to the bowl add remaining dry ingredients to bowl, folding together.
Scoop into greased muffin tins.
Bake, remove and enjoy!
This post originally published in 2012. Updated with new images and recipe information in 2021.
Buttermilk Bran Muffins
A Bountiful Kitchen
Ingredients
1/4

cup

vegetable, canola oil or coconut oil

1 1/2

cups

All Bran cereal

1

cup

buttermilk*

2

eggs

beaten

3/4

cup

golden raisins

optional, but highly recommended!

2

tablespoons

molasses

1/4

cup

dark or light brown sugar

packed

1

teaspoon

vanilla

3/4

cup

whole wheat flour

1/2

cup

white flour

1

teaspoon

soda

1

teaspoon

baking powder

1/2

teaspoon

cinnamon

1/4

teaspoon

salt

Wheat Bran or Wheat Germ for sprinkling on top

optional
Instructions
Preheat oven to 400 degrees.

Grease twelve muffin cups or use paper liners.

In a large bowl, combine oil, All-Bran cereal and buttermilk. Let sit for about 5 minutes.

Add eggs, raisins, molasses, brown sugar and vanilla. Stir just until ingredients are incorporated.

Add to the large bowl: wheat and white flours, baking soda, baking powder, cinnamon and salt.

Fold into the wet ingredients.

Scoop batter into greased muffin cups. Fill all cups evenly, as full as possible.

Sprinkle with wheat bran or wheat germ (optional).

Bake at 400 on center rack for about 15-18 minutes, or until muffin springs back when touched lightly.
Recipe Notes
These muffins are sweet, slightly from the cereal, sugar and molasses. The raisins also add sweetness. If you aren't a fan of raisins, but would like to have the natural sugar, you may grind the raisins in a food processor and then add to the batter. Craisins also work well!
To make buttermilk substitute, pour 1 tablespoon of lemon juice into a measuring cup. Add milk to measure 1 cup. Let sit for 5 minutes on countertop.
1/2 cup of Plain Greek Yogurt and 1/2 cup of milk also work well as a buttermilk substitute.  
If you do not have molasses, you may substitute 2 tablespoons honey or Pure Maple Syrup.
This recipe freezes well. Bake as directed and let cool completely. When cooled, wrap individually, freeze for easy take and eat while at school, work, etc. Or place in one large Ziplock bag in the freezer. To thaw quickly, place muffin on a paper towel, and microwave for about 30 seconds.