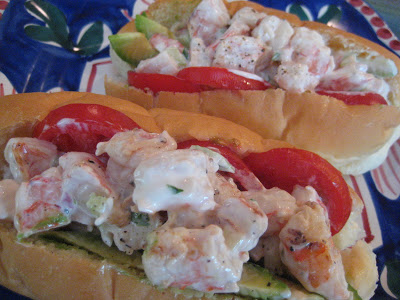 Louie for Pres!
If you want to make an appetizer out of the filling, slice a baguette, add an avocado slice, the filling and top with a little cocktail or chili sauce.
So there we were, our beloved UTES down by 8 with a little over 2 minutes to go in the game last night against Oregon State. A few fans started leaving the stadium, but we just stood there in disbelief. Wondering if our 5 game winning streak would come to an end.(Read this next part really fast, with no pauses in between, because that's how I typed it up) Then, out of no where, our offense decides to show up for the last 2 minutes of the game. In 40 seconds, we had a touchdown, then a 2 point conversion. It was 3 and out for OSU, and we had the ball back again. A couple of plays later- it was LOUIE TIME. As if. You now who I am talking about, right??? Only the best kicker in college football. (Ok, we loved Dave Carrol, who played for the UTES before his LDS mission, and played a big part in their 2004-2005 BCS run with Urban Meyer and the Fiesta Bowl win,and who also happens to come from our neck of the woods.) Louie is our man. We love him. He has saved our fannies SO many times. And so, after kicking a game winning field goal with 1 second on the game clock, I made this sandwich in honor of him. Now, it's not really an official "Shrimp Louie", so work with me. You know what I am going to say next…Yes, you are going to love it! Whew. I need a Valium.
Grilled Shrimp Louie Sakoda Sandwiches
Ingredients
1/4

cup

mayo

1/4

cup

plain yogurt

a little chopped onion

I like red

1

tablespoon

tarragon or 2-3 tablespoons fresh

few dashes of Tabasco

1/2

cup

celery

chopped

1 1/2

lb

shrimp

peeled

olive oil

1/2

fresh lemon

1/2

clove

garlic

salt and ground pepper

6

bakery hot dog buns

unsliced

Sliced tomato

Sliced avocado
Instructions
Marinate the shrimp in 2 Tablespoons olive oil, juice from 1/2 lemon, 1/2 clove chopped garlic, salt and fresh ground pepper. 30 minutes to 1 hour is good. Or bag this whole step, and just grill.

Grill shrimp on barbecue- medium heat, for about 3 minutes each side or until done. Don't over cook! Or you can place in oven for about 7 minutes at 350 degrees. Remove and let cool. Pull the tails off and discard. Chop shrimp into big chunks. Set aside. In small bowl, whisk together Mayo and yogurt, onion, tarragon, hot sauce, chopped celery, and shrimp.

Split the hot dog buns down the middle of the top of the bun.If you can only find pre-sliced buns, don't stress about it. Lightly Butter the buns, to prevent a soggy bun.Fill the bun with tomato slices and avocado. Top with shrimp mixture. Eat while humming "Utah Man."