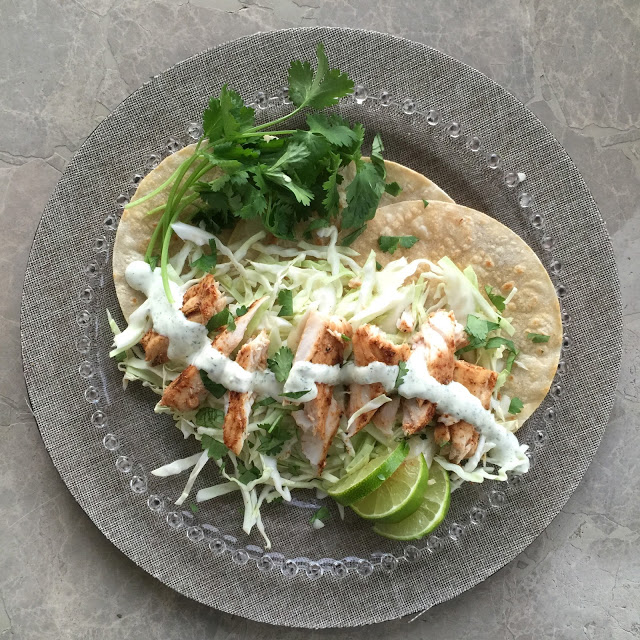 One of my favorite places to eat in Salt Lake is Lone Star Taqueria. It's a funky little place on Fort Union Blvd. We've been going there for years to eat the best fish tacos around. Jalapeño mayo gives the tacos a perfect dressing that doesn't overpower the fish. My standard order: Lone Star Taqueria Fish Tacos with Jalapeño Mayo. Add rice, beans (yay! made without lard), a side of guac and chips and I'm a happy (full) girl. Oh, The Carnitas tacos are also my favorite and absolutely delicious. As in lick your plate delicious.
I was ecstatic to see Chef Manuel Valdez's recipe for Lone Star Taqueria's fish tacos published in Sunset Magazine years ago. Sometimes, the recipe (even when it comes straight from the restaurant) doesn't translate well at home. I'm happy to report that this recipe tastes just like the restaurant version. It's seriously simple and fresh, relatively healthy and I can't imagine anyone who wouldn't love this dish.
Perfect summer dinner.
Lone Star Taqueria Fish Tacos with Jalapeno Mayo
Lone Star Taqueria, Salt Lake City, Utah
Ingredients
6

tablespoons

ground dried New Mexico or California chilies

or chili powder

3

tablespoons

vegetable or canola oil

1/2

teaspoon

ground pepper

1/2

teaspoon

salt

1/2

teaspoon

garlic powder

1/2

teaspoon

cayenne

or less if you want fish to be less spicy

1/2

teaspoon

ground cumin

2

whole cloves

1

dried bay leaf

broken into pieces

1

pound

boned

skinned firm-flesh fish such as halibut, mahi-mahi, or rock fish

Shredded cabbage

about 4 cups

3-4

limes
Jalapeño Mayo
1 3/4

cups

mayonnaise

2

tablespoons

water

2

tablespoons

distilled white vinegar

1

rinsed and stemmed fresh jalapeño with seeds removed

1

peeled garlic clove

1/2

cup

lightly packed fresh cilantro

1/4

teaspoon

pepper

Salt to taste
Pico de Gallo
2

cups

diced tomatoes

1/2

cup

finely diced onion

2

tablespoons

minced jalapeños

1/4

cup

minced fresh cilantro

2

tablespoons

lime juice

1/2

teaspoon

garlic powder

Salt to taste
Instructions
In a large bowl, mix ground dried chilies, oil, pepper, 1/2 teaspoon salt, garlic powder, cayenne, cumin, cloves and bay leaf.

Rinse fish and pat dry. Add to bowl and turn to coat with marinade; cover and chill at least 1 hour or up to1 day, mixing several times.

Lift fish from marinade and arrange pieces in a single layer in a 9-X-13-inch pan. Discard marinade.

Broil fish 4 to 5 inches from heat until opaque but still moist-looking in center of thick part of fish (cut to test), about 5 minutes for 1/2-inch-thick pieces. With a slotted spatula, transfer fish to paper towels to blot oil, then set on a platter. Cut fish along the grain into 1/2-inch slices, season to taste with salt. Serve wrapped in flour tortilla with shredded cabbage, Lone Star Pico de Gallo and Lone Star Cilantro Jalapeño Mayonnaise and a squeeze of lime juice. Enough for 6 tacos.
For the Mayo
Combine all ingredients except salt; whirl until smooth. Add salt to taste. Makes about 2 1/4
For the Pico
In a bowl combine all except salt. Add salt to taste. Makes about 2 cups.
Recipe Notes
-I often make these tacos without the Pico, but never without the Cilantro Jalapeño Mayo.
-I don't blot the fish after cooking.
-Lightly grill the corn tortillas before serving. Grill oven medium heat in a pan or on a griddle for about 30 seconds to one minute on each side, just until tortilla is warmed and starts to soften a bit.
-Always use food handlers gloves or a plastic sack when seeding a jalapeño. Trust me.