Spaghetti Margherita is one of the most popular recipes on A Bountiful Kitchen! It's simple, fresh, delicious, and I know you're going to love it as much as we do!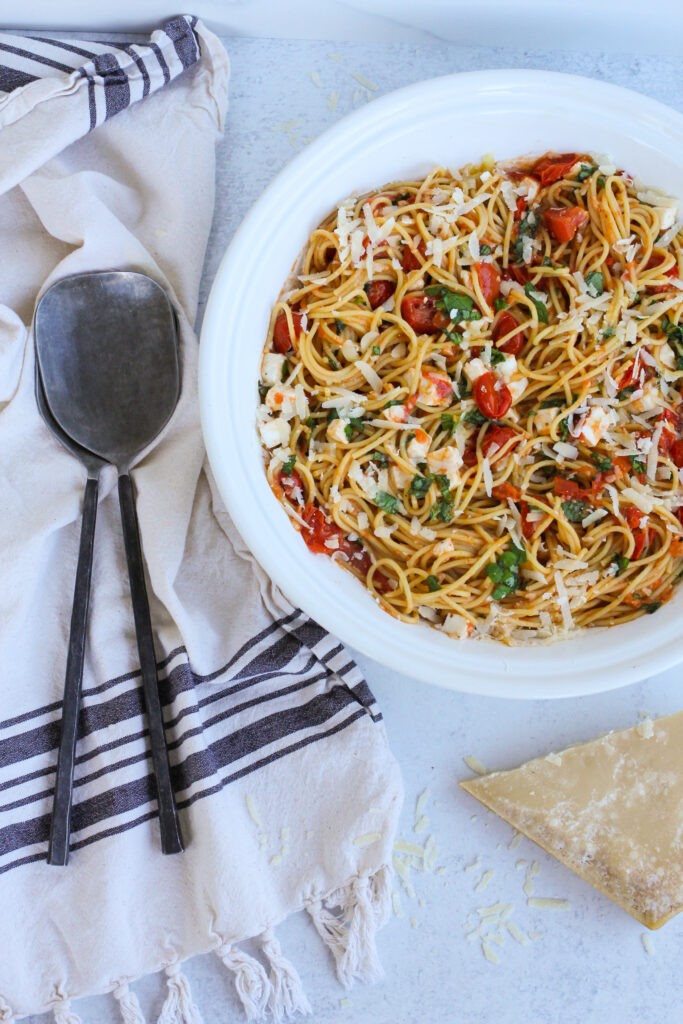 Fresh tomatoes, olive oil, butter, garlic, fresh basil, grated Parmesan and creamy mozzarella tossed with spaghetti. This classic dish takes minutes to make. Start to table in 30 minutes. It is quite possibly the most perfect dinner!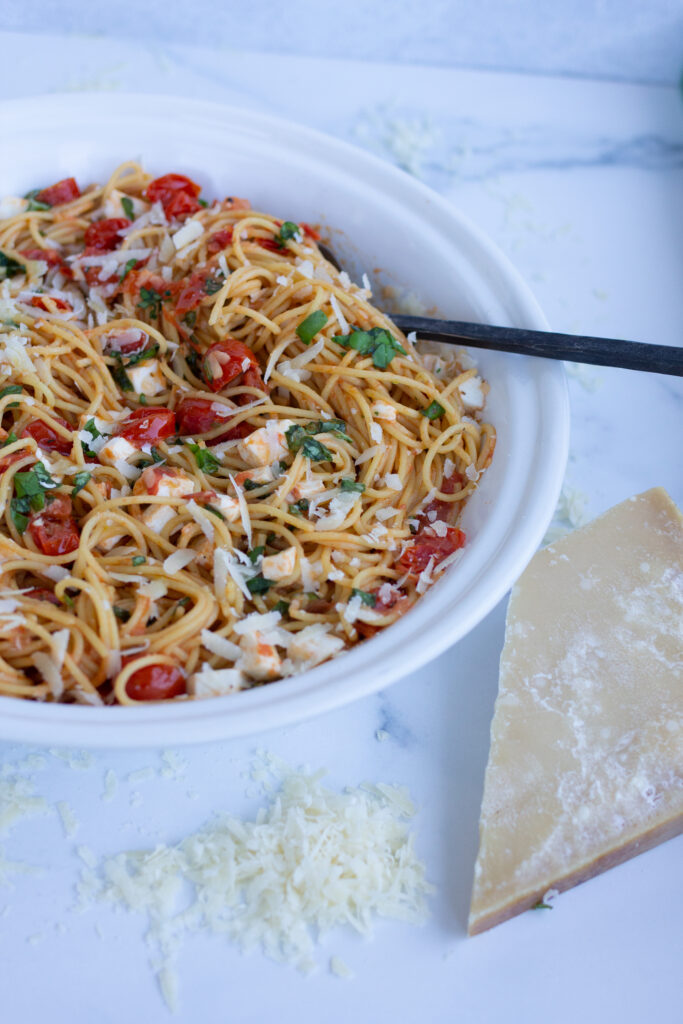 An easy to make weeknight dinner, but also special enough to serve to guests. Throw together a crisp Caesar salad and our favorite No-Fail French Bread and you've got a complete meal! The photos on this post show the finished dish in a serving bowl, but most of the time, I serve it straight out of the pan on the stovetop!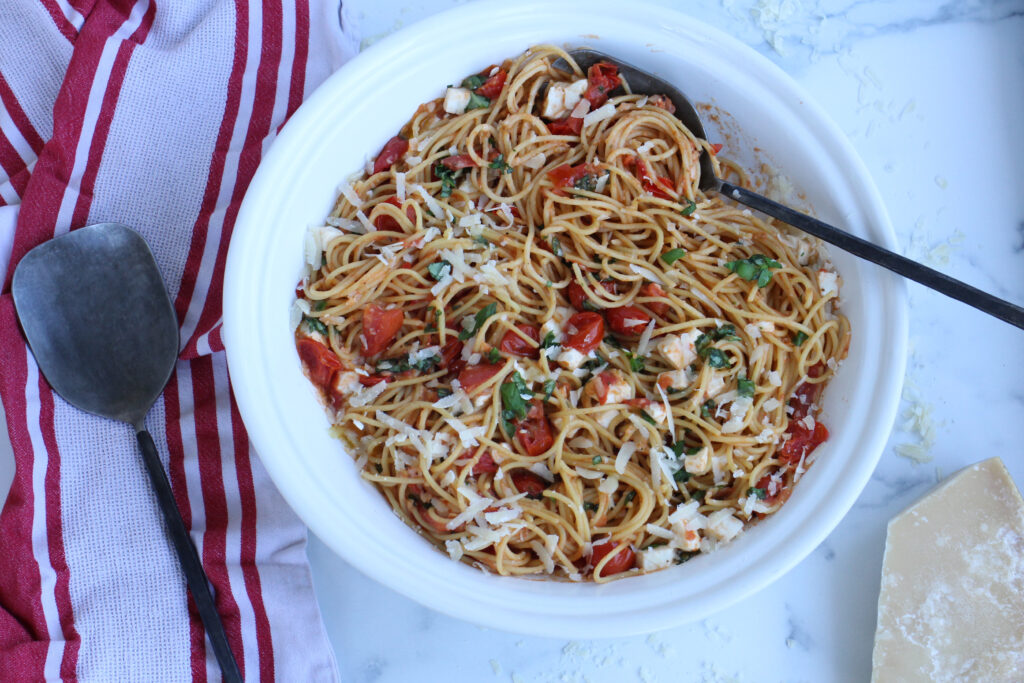 I originally posted this recipe in 2010, but have updated it a bit. Spaghetti Margherita is a simple and straight-forward dish. While the pasta is cooking, you can throw together the sauce.

Some people think- Margherita Pasta? Is that alcoholic? The answer is no. Legend (some question this) says that Pizza Margherita was created in the late 1800's, and named for Queen Margherita to reflect the colors of the Italian flag. The pasta variation followed.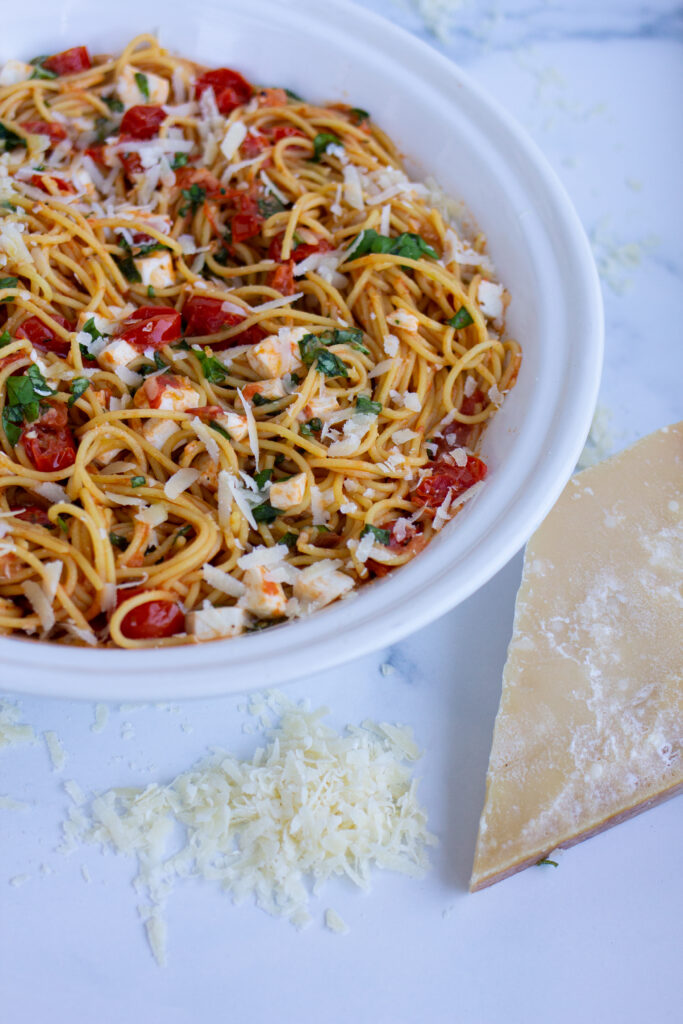 I know I say this all of the time, but EVERYONE loves this dish. When I make it for my boys, they love it, even though it is meatless. When one of our sons returned form serving a mission in Guatemala for two years, this was his request for first meal at home. That's saying something, don't you think?? I hope you love this Foster family favorite!
Spaghetti Margherita (updated)
Servings
4
as a main dish, 6 as a side
Ingredients
3/4

lb.

spaghetti

cooked "al dente", drained

¼

cup

extra virgin olive oil

plus a little more for drizzling on top after finished

2

tablespoons

butter

optional, but highly recommended for flavor

1-2

cloves

garlic

minced

2

lbs.

Roma tomatoes

about 10-12 coarsely chopped or grape tomatoes

1

cup

fresh basil leaves

chopped

1

teaspoon

salt

1

teaspoon

sugar

1

teaspoon

fresh ground pepper

1/2

lb.

fresh mozzarella

cut into 1/2 inch cubes

½

cup

grated Romano or Parmesan cheese

additional basil leaves for garnish
Instructions
Cook pasta. Set aside, or while pasta is cooking prepare sauce.

In large skillet, heat oil and butter over low heat.

Sauté the garlic until fragrant over low heat, about 1 minute.

Add tomatoes, sugar, salt and pepper.

Cover and cook for 10 minutes. Add basil, and pasta to pan with tomatoes.

Cook for 2-3 minutes, just until all pasta is heated through.

Just before ready to serve, pour into serving bowl, toss with fresh mozzarella and grated cheese. Serve at once with additional grated cheese, and more fresh basil if desired.

Drizzle with a bit more olive oil and top with a light sprinkle of course sea or kosher salt.
Recipe Notes
-Fresh Mozzarella differs from mozzarella that is sold in most cheese cases at grocery stores. Some grocery stores, such as Harmons in Utah, make their own fresh mozzarella daily. Make sure you are purchasing fresh mozzarella for this dish. Fresh Mozzarella is made from whole milk in small batches, usually round in shape and surrounded in liquid.
-If you aren't growing basil in your back yard, you can purchase fresh basil at farmers markets, grocery and garden stores. One plant will yield fresh basil for several recipes this summer.