A long, long time ago, I crowned myself the Queen of Botching Candy.
Grant's Grandmother Martin made caramel every year. It was so delicious. Back in the old days 🙂 on the eve of Thanksgiving, we headed up to Pocatello,ID and stay at Grandma's house. She always had dinner ready for us when we arrived. After dinner we watched a little TV with her husband Bertil, and then went to bed early, because there wasn't much to do in Pocatello on a Wednesday night. Grandma would get up early, get the turkey in the oven and start preparing breakfast for us. It was always biscuits, ham, and what my kids to this day call "Grandma Martin Eggs". She placed the eggs in a pan with butter, fried them just until they started to set up, then pour water around the eggs and place a lid on top, and steam the egg for about a minute. Kind of a fake poaching? Still a fave in our home. Oh – and always some of her home made chokecherry jam to go with the biscuits. So yummy. Grant said the big dinner the night before and the big breakfast were necessities in order to prepare and stretch our stomachs for the feast on Thurs afternoon. Um, he would know, since his family did this for all of their growing up years. I always thought it was better to eat LESS before a big meal, so you would actually be hungry when the big meal was served? Anyway. Thanksgiving dinner was served no later than 1 PM. We would eat, then usually get packed up for the drive back home with lots of leftovers and always some yummy home made caramels.
One year, I asked Grandma for the recipe, and she obliged. Two handwritten 3×5 recipe cards letter, I had the treasured recipe in hand. It's really quite simple she said. And here are the key words "It just takes some time, and you have to be patient." Well, that should have been my first clue that this recipe and I were never going to make a connection.
One day before Christmas, I gathered all of the ingredients, and started cooking in our little turquoise kitchen. When I read the recipe it said,
"Cook until candy forms a HARD BALL. "
Well, how in the world (at 20 years old) was I suppose to know that didn't mean literally a HARD BALL would form in the pan?? I have a funny picture Grant took of me, holding up a SHEET of caramel. Over the course of maybe a dozen (or more) tries, I finally gave up on making caramels. It's
V chocolate
for me if I want yummy caramel -They make the most delish caramels ever. I know these things, trust me.
So, the point? I am not a candy maker. I think Grandma Martin was right, you have to be patient, which I am not. The planets have to be aligned just right when you make candy. The temp and humidity just right. The thermometer has to work. You have to have a thermometer. Yes, you do. And you have to be patient. Did I already mention that?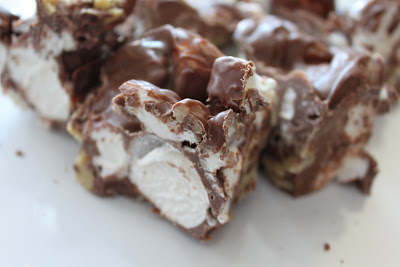 I asked the beautiful and talented Amy Morrison to make some treats for a teacher lunch the other day at our high school. She came with this big platter of Rocky Road candy. When I asked her for the recipe, she laughed and said it was the easiest treat to make. She was right. Finally a candy I could conquer! Three ingredients. No cooking. No thermometer. Hooray. Ten minutes, and it's setting up.
I love that Grandma Martin went to all of the work to make those caramels, prepare a Thanksgiving feast and perform countless other labors of love for us year after year. She passed away a few years back, and I still remember those holidays with her and the love she put into cooking for her family. Her birthday is coming up this week, on the 25th . Grant's dad always said it was fitting that she shared a birthday with the Savior.
I think he was right.
Amy's Rocky Road Fudge
Amy Morrison
Ingredients
1

lb

dipping chocolate

1

bag large marshmallows

cut in half

2

cups

walnuts or pecans

roughly chopped

butter for greasing pan
Instructions
Generously butter bottom and sides of a 9 x 9 or 9 x 13 pan.

Cut or tear marshmallows in half and place in large bowl. Melt dipping chocolate in bowl in microwave or double boiler, taking care to not overheat. Mix with spoon until all chocolate is melted and smooth. Set aside.

Place nuts in large bowl with marshmallows. Pour chocolate over marshmallow and nuts. Mix gently. Pour ingredients into greased pan. Place in refrigerator for quick set. Remove from refrigerator and cut into large chunks.
Recipe Notes
-Amy just mixes this in the pan, instead of using a bowl. I like the bowl method, because I was able to mix the ingredients a little easier. -I use Mrs. Cavanaugh's chocolate, a local company located in Bountiful, Utah. They sell 1 lb. bags of dipping chocolate in dark, light and white.