Sheri's Southern Peanut Butter Pie has been a hit with our family for over 20 years. It is always at the top of my kids' request list at holiday time! Chocolate graham crust, creamy peanut butter filling and thick fudge topping all in one amazingly delicious dessert.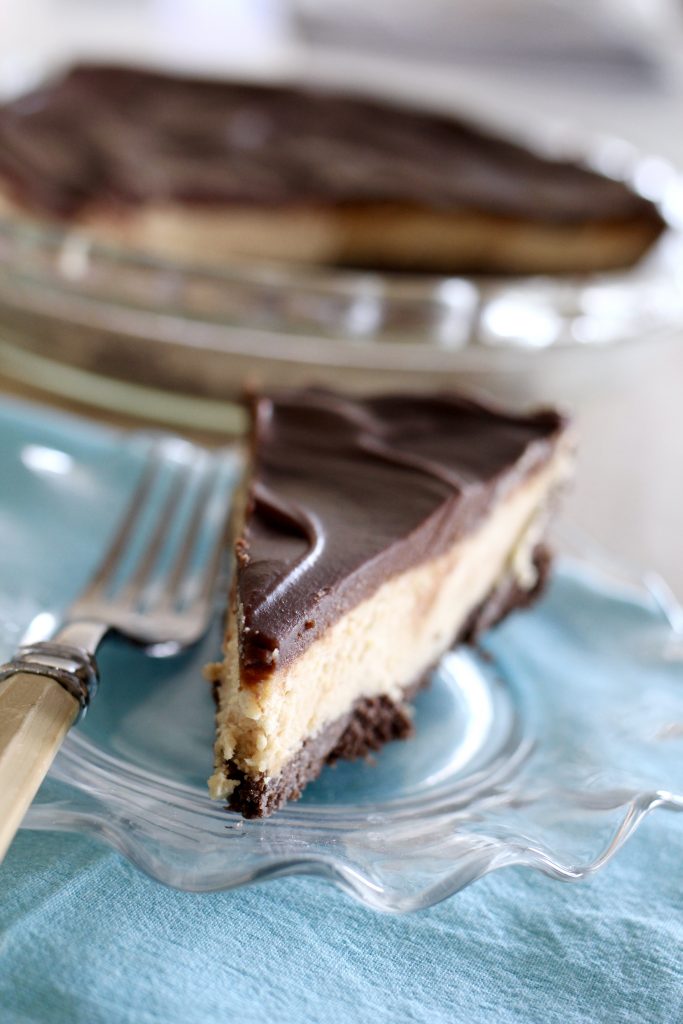 I know you are probably pied-out after Thanksgiving, but it just wouldn't be right to keep this recipe to myself! My sister in law, Sheri, makes this every year at Thanksgiving. It's always a huge hit at our annual pie party.
If you love peanut butter and chocolate, this is your pie. As in, you have to make this pie. Right now. Or at least before the holidays are over. Sheri's Southern Peanut Butter Pie with Homemade Fudge Topping has been a favorite of our for years. The crust is simple, even for beginner cooks! Instead of a traditional graham cracker crust, it's made with chocolate graham crackers, sugar and butter. Oh. My. It's like eating a refrigerated home made candy bar. In a pie.
One warning, this pie is super rich. A small slice will satisfy even the most serious chocolate-peanut butter lover! One 9″ pie will easily feed 10-12. Make sure to assemble this early in the day you want serve the pie, or better yet, the day before. Sheri's Southern Peanut Butter Pie with Homemade Fudge Topping will keep for days in the fridge (if hidden properly). Wink wink. "If hidden" being the key words.
Sheri's Southern Peanut Butter Pie with Homemade Fudge Topping
This pie recipe from my sister Sheri is best made the day before serving!
Ingredients
1

package chocolate graham crackers

ground fine

1/3

cup

sugar

8

tablespoons

1 stick butter, melted

1

8-ounce package cream cheese, softened (not low fat)

1

cup

chunky peanut butter

1

cup

powdered sugar

1

cup

heavy cream

whipped
for fudge topping:
2/3

cup

whipping cream

not whipped

1/3

cup

sugar

4

oz

semi-sweet chocolate

1

tablespoon

vanilla
Instructions
Preheat oven to 350º.

In a food processor, combine graham crackers, sugar, and butter. Pulse until blended well.

Press the mixture onto the bottom and up the sides of a 9-inch plate and bake for 15 minutes, cool.

Clean out the food processor and combine the cream cheese, peanut butter, and powdered sugar. Process until almost smooth.

Gently fold in the whipped cream and pour into the pie shell.

Chill for 6-8 hours.
Make the fudge topping:
Combine 2/3 cup whipping cream, 1/3 cup sugar and 4 oz semi sweet chocolate in a sauce pan and simmer over low heat. Whisk together and cook until thickened.

Remove from heat and add vanilla. Whisk until smooth. Let cool.

Top cooled peanut butter pie with cooled fudge sauce.

Let the pie set up again with the fudge sauce on top for another 4-6 hours.
Recipe Notes
-You may also make this with Oreos in stead of chocolate graham crackers. If using Oreos, crush the cookies (use about 3/4 of a package), and 1/3 cup of melted butter. No need to bake the crust. Press into pie plate and proceed as directed.