Slow Cooker Cream Cheese Corn is the perfect side dish for any meal! It is creamy and rich and slightly sweet. Easily be made a day or two ahead and stored in the fridge, this dish frees up the stove on days when many dishes are being prepared at once!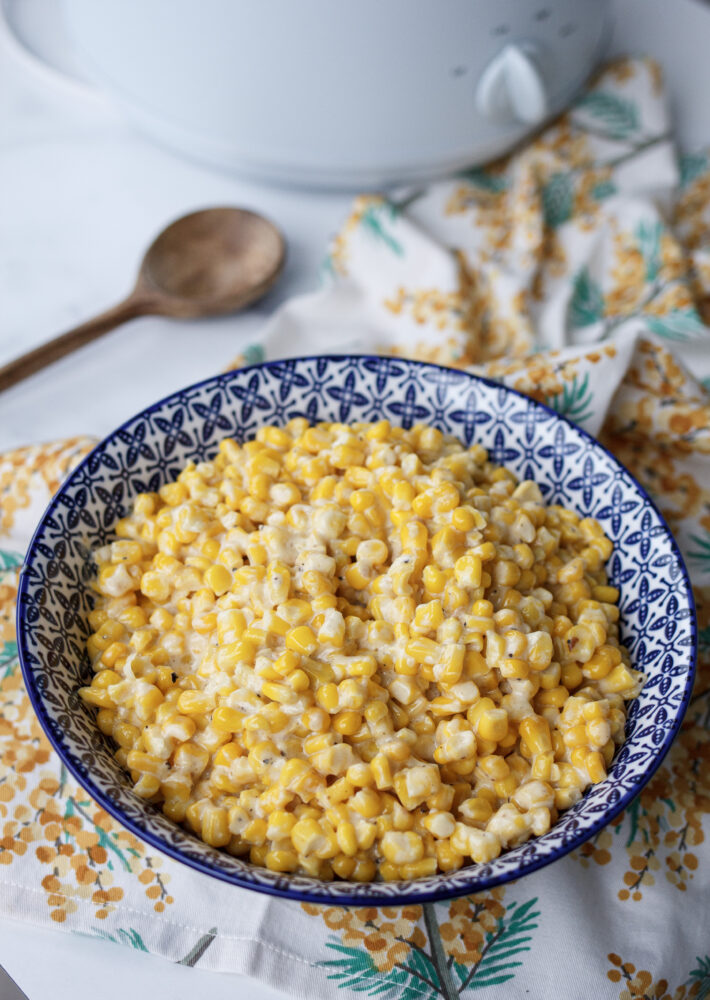 Not Creamed Corn
The Slow Cooker Cream Cheese Corn is different from regular creamed corn. If you're looking for creamed corn, HERE is the recipe. Our Slow Cooker Cream Cheese Corn is made with cream cheese! The cream cheese in this dish makes it so creamy and delicious and I think the slow cooking makes the corn seem more like a corn pudding. I love the no worry method of adding everything to the slow cooker and just stir before serving.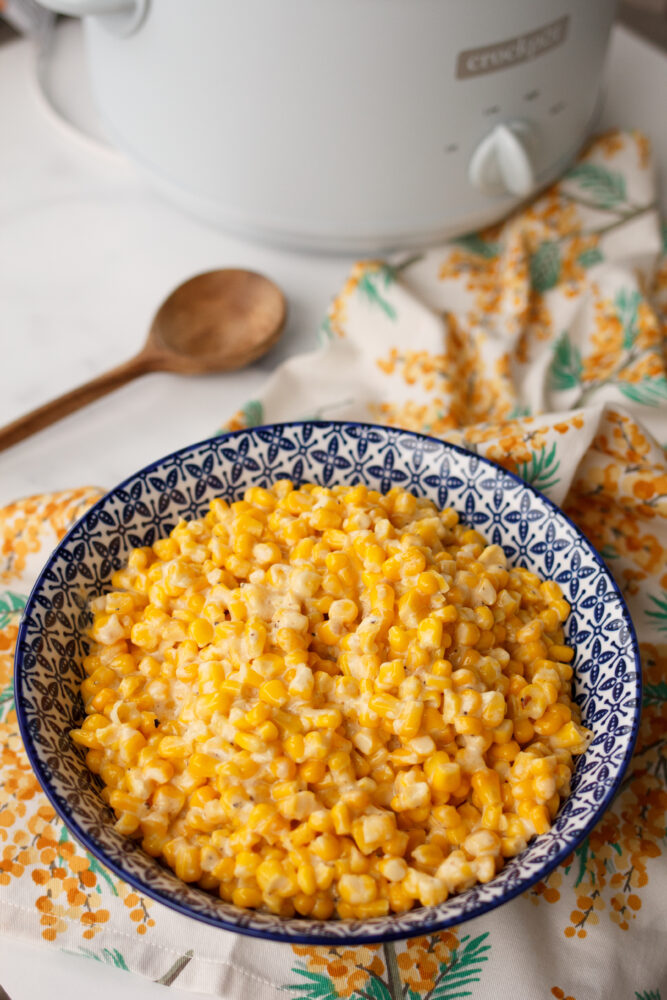 Perfect make ahead dish!
It's the perfect side dish to make a day or two ahead because the dish can be placed in the fridge and pulled out whenever needed! Make ahead also frees up the oven or stovetop for other meal prep, creating space for other dishes. To make ahead, follow the notes in the recipe instructions.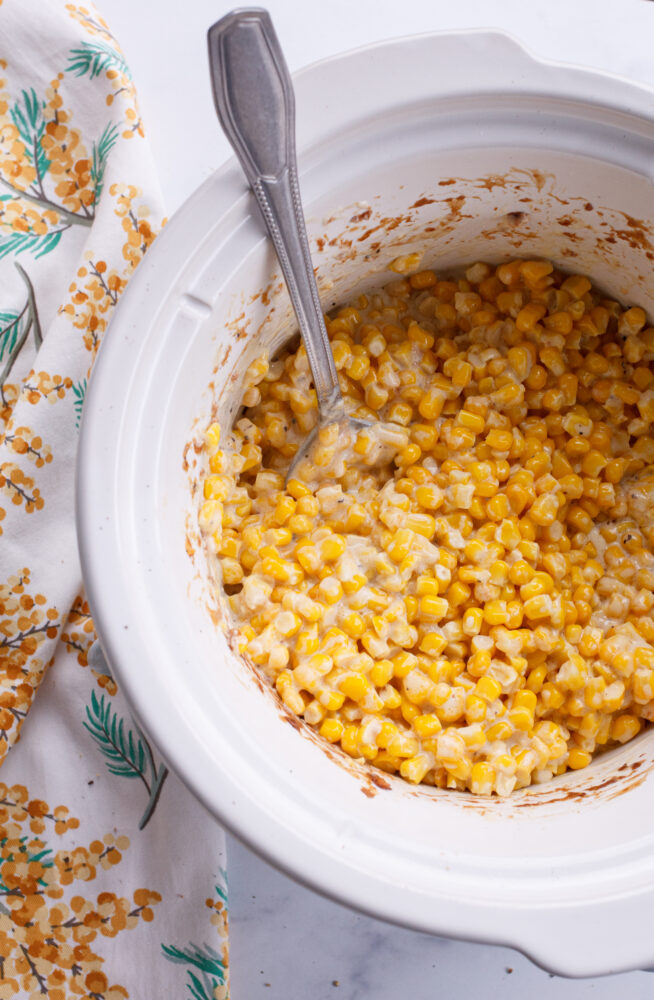 Can I use Low Fat Cream Cheese in this recipe?
Low fat cream cheese lessens the calorie load and still allows for a creamy and rich side dish! The original recipe called for double the amounts of cream cheese and butter, and also a bit more corn, I adapted this to a smaller serving size, and a bit lighter overall finished dish. The original amounts are in the recipe notes.
A Delicious Side Dish
The Slow Cooker Cream Cheese Corn goes well with almost any meal from beef to ham to chicken and turkey. Babies as well as Seniors love this dish for flavor and texture. And who doesn't love cream cheese??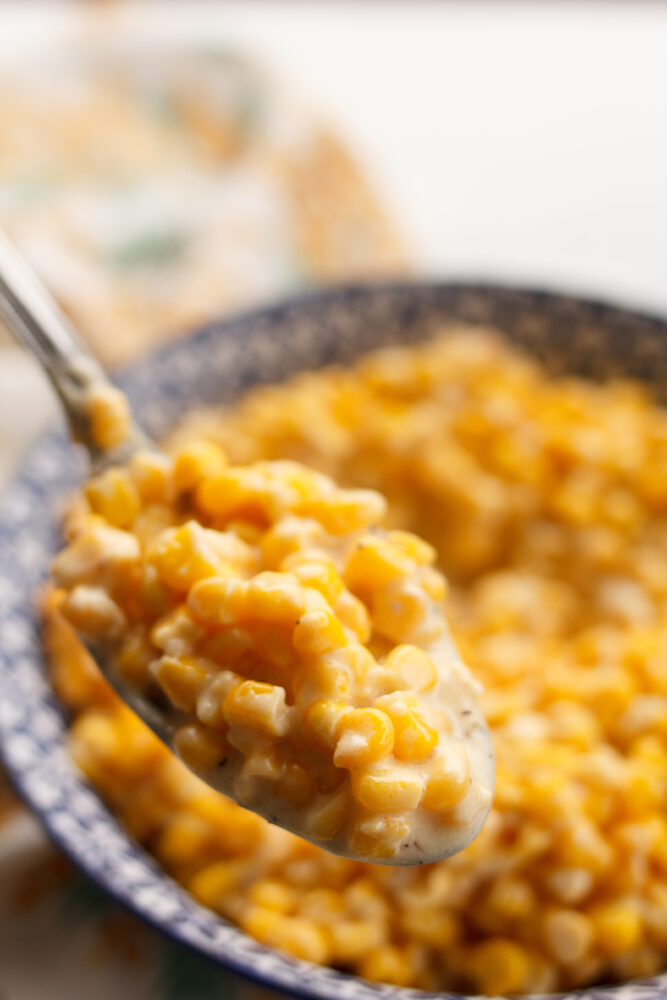 Why I love the Slow Cooker Cream Cheese Corn
Rich and creamy
Everyone will eat it, especially kids!
Easy to make and can be made ahead
You can substitute the cream cheese for low fat cream cheese
Make in the slow cooker saves oven and stove top space
I hope you love this recipe!
Slow Cooker Cream Cheese Corn
Rich and delicious this recipe takes minutes to throw together, then into the slow cooker until ready to serve 3-6 hours later!
Total Time
3
hours
5
minutes
Ingredients
3

12 oz

frozen corn

1

8 oz

cream cheese, regular or low fat

1/2

cup

butter, cut up

1/2

cup

heavy cream

1

teaspoon

sugar, optional

1

teaspoon

minced garlic, or 1/2 teaspoon garlic powder

salt and pepper to taste
Instructions
Combine all ingredients in a slowcooker.

Cook on high for 3-4 hours, covered or on low for 4-6 hours. Stir before serving.
Recipe Notes
Low fat (1/3 less fat) cream cheese may be used.
If making ahead, make as directed. Let cool and place in a covered container in refrigerator. On day of serving, remove and heat over medium heat, stirring on stovetop. Spoon into a serving dish. Serve immediately. 
Any leftovers make delicious quesadillas with cheese and chicken, or dump leftovers into any cream soup base!
The original recipe calls for: 3 (16 ounce) packages frozen corn + 2 (8 ounce) packages cream cheese* cubed,  1 cup butter