I've been a fan of banana bread since I was a young girl. Give me a glass of milk and a thick slice of banana bread and I'm one happy girl!  
To achieve a super moist banana bread, I believe it must include one or more key ingredients: buttermilk, yogurt or sour cream. Our Favorite Sour Cream Banana Bread is made with sour cream and buttermilk.
I've been making banana bread for years. First, because I love banana bread. Actually, I love almost any quick bread. Wonder why it's called quick bread? Breads that are leavened by using something other than yeast or eggs to leaven (raise) the dough or batter are considered to be quick breads. Usually, sweetened breads such as pumpkin bread or banana bread are referred to as quick breads.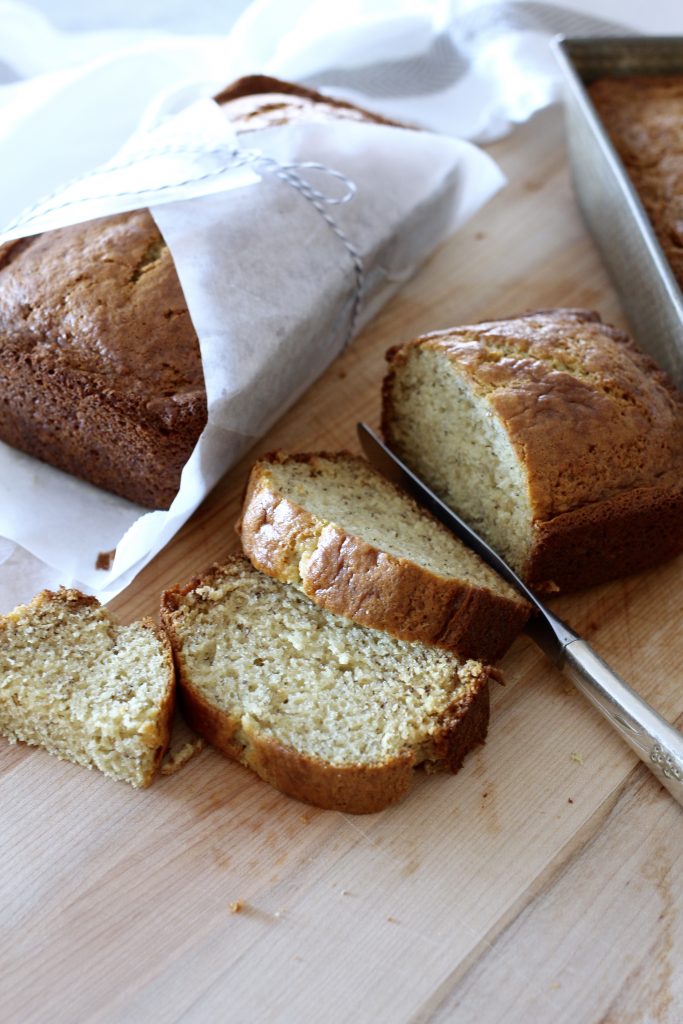 The second reason I make banana bread frequently is I often have bananas that have over ripe on my counter which end up either as a smoothie ingredient or in banana bread.
The best type of banana for this recipe is a very ripe banana. At least two weeks old. I tend to place bananas in my fridge when they start to become too ripe. When they are really past their prime, I peel and then place them in a large ziplock bag in the freezer for use in baking.
When I want to use the banana, I remove from the bag, microwave for about 30 seconds or until thawed and then use as directed. Yes, the banana will totally be slimy and soft, this is the best texture for banana bread. Remember, you want the bread to be moist, and a very overripe banana will produce moist bread!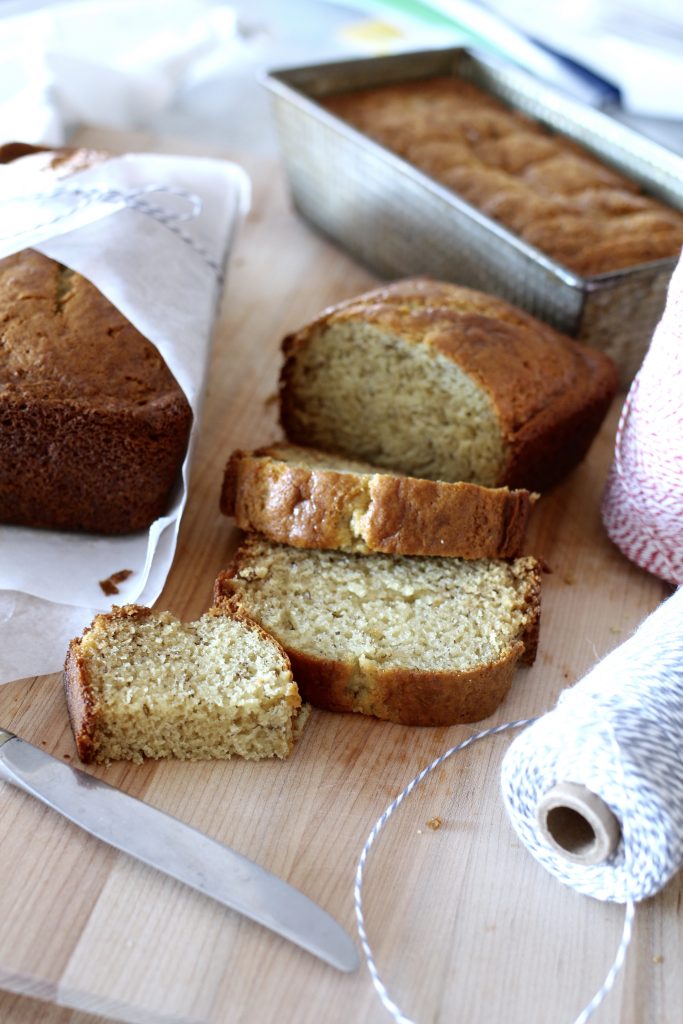 The key to making moist banana bread is using really overripe bananas, and also using either buttermilk, yogurt (I like plain Greek yogurt) or sour cream . It is almost impossible to make dry banana bread if you use these ingredients. This recipe will convince you to add sour cream in your next batch of banana bread.  How many times have you had a little leftover sour cream in the fridge and no plan to use it?
Mix up a batch of banana bread and freeze the loaf for later. It is the perfect way to use up ingredients that might otherwise spoil! When you're ready to eat or share, let it thaw on the counter for an hour. If you are gift giving, I like to wrap it up in some parchment paper and tie with a bit of Baker's Twine, which I have in several colors.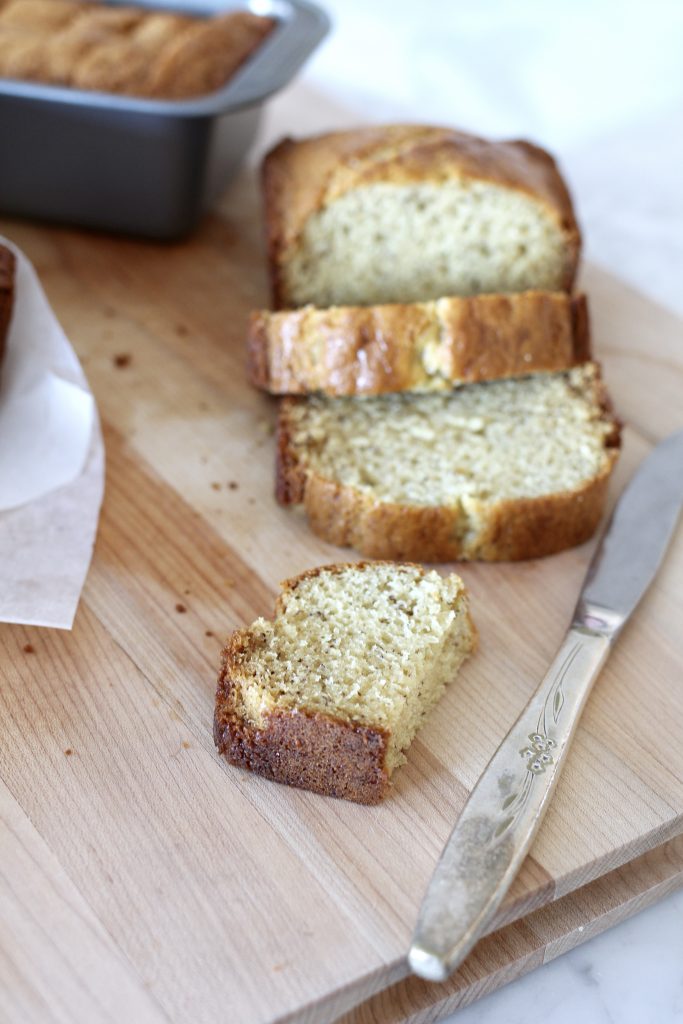 I know you're going to love this recipe. It's quick and easy and a good excuse to fire up the oven on a cold winter day.  Happy baking!
Sour Cream Banana Bread
Total Time
1
hour
5
minutes
Ingredients
1/2

cup

unsalted butter

softened for 15-18 seconds in microwave

1 1/2

cups

sugar

1/2

cup

sour cream

regular or light

2

large eggs

1/2

cup

buttermilk

shaken before pouring

1 1/4-1 1/2

cup

mashed overripe bananas

about 2 medium bananas*

1

teaspoon

vanilla

2 1/2

cups

all purpose flour

1 1/2

teaspoon

baking soda

1

teaspoon

salt
Instructions
Grease and one large or two medium loaf pans.

Preheat oven to 350 degrees, place rack in middle of oven.

Place the butter in a bowl. Mix butter and sugar together until smooth. Add sour cream and eggs.

Beat until smooth again. Add buttermilk, bananas and vanilla. Mix until all ingredients are incorporated. There may be a few bits of banana that are not completely mashed.

Add all remaining dry ingredients. Mix on low speed just until wet and dry ingredients are combined, about 20 seconds. Do not over mix, do not mix on high speed.

Spoon batter into prepared pans.

Bake at 350 degrees for 40 minutes (for two medium pans) 50-55 minutes for one large loaf pan, or until toothpick inserted in middle of loaf comes out with a few moist crumbs attached. When the loaf is touched in the middle, the loaf should spring back.
Recipe Notes
-This recipe will make one large or two medium size loaves of banana bread.
-The recipe calls for 1 1/2 cups or about 2 medium bananas. The bananas will vary in size. I usually do not measure out the bananas added to the recipe. It is not necessary to mash the bananas beforehand if using very ripe (mushy) fruit. If the bananas will not easily be broken up with the mixer, mash ahead of time in a bowl or cup with a fork.
-This recipe freezes well. Let the bread cool completely and then let sit on counter, wrapped in saran wrap to thaw. Slice and serve.
-When filling the pans before baking, the batter should fill the pan about 3/4 full for a nice rounded loaf top.