Plates and Palates, my favorite local cafe in Bountiful, UT was the inspiration for  Mango Chicken Pasta Salad with Tarragon Lime Dressing. This pasta salad is a combination of flavors from two of my top picks at Plates and Palates: the Mango Avocado Chicken with Basil Dressing and the Lemon Bowtie with Tarragon Dressing. It's like two salads got married and had the perfect baby!
Did you do a double take (or read) when you saw the name Plates and Palates? It's not Plates and Pilates (what everyone thinks it's called until they realize its a restaurant, not a workout studio).  "Plates" (as we affectionately call it now) is locally owned and operated by Jared, Justin and Nina Christensen.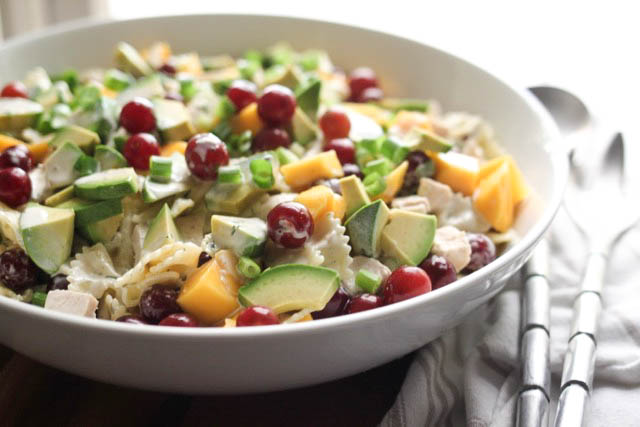 Their cafe has been a popular lunch spot for girlfriends in Davis County since 2004. When they first opened, I remember we made a pact as friends to frequent this place to help it stay in business (a serious sacrifice, I know). Now, 14 years later, if you don't get to the restaurant by 11:30 on most days, you  have to wait in line for a table!
The Christensen's make all of their salads and dressings in the shop each day. My usual combo is a half green (usually Pear and Pecan with Sweet Red Wine Vinaigrette) along with half of one of their pasta salads. My favorite pasta salads are the Mango Avocado Chicken with Basil Dressing or the Lemon Bowtie with Tarragon Dressing. This salad is my creation, a combo of the two, with a little bit lighter version of their dressing. You know how I love sweet and savory together!  I love the way the flavors blend in this Mango Chicken Pasta Salad with Tarragon Lime Dressing . Perfect for your next summer gathering!
Oh, and if you are in Btown, make sure to stop by and have lunch or take-out from Plates. They treat everyone like family… you'll be feeling like a local in no time, and I just might see you there 🙂
Mango Chicken Pasta Salad with Tarragon Lime Dressing
Ingredients
3/4- 1  

lb

bow tie pasta

1 1/2

cup

chopped celery

1

bunch chopped green onion

green parts only

3

cups

seedless grapes

red or green ( I like red for color)

1

ripe mango

cubed

1

whole boneless

skinless chicken breast, cooked, cubed, (about 2 cups)

1-2

avocados

ripe but still firm, chopped

slivered almonds

toasted, optional
Tarragon Lime Dressing:
1 1/4

cups

mayo

not low fat

1/4

cup

cider vinegar

1/4

cup

fresh lime juice

2-3

tablespoons

honey

2

tablespoons

dried tarragon or 1/4 cup fresh chopped

salt and pepper to taste
Instructions
Cook pasta as directed on package. Drain and rinse with cold water, set aside to cool.

Prepare the dressing by mixing all ingredients in a bowl. If you are using fresh herbs, place ingredients in a blender and blend until herbs are chopped fine. Pour half of the dressing over the pasta and place in the refrigerator overnight if possible, or for at least 2 hours.

Place chopped celery, green onion, grapes, mango and chicken in a medium bowl. Refrigerate until ready to assemble salad.

To assemble, place three quarters of the vegetable, mango and chicken mixture in the bowl with the pasta that has been mixed with dressing. Most of the dressing will have been absorbed into the cooked pasta.

Toss or drizzle on the remaining half of dressing.

Place the pasta mixture on a serving platter or bowl and top with the remaining vegetable, chicken and fruit mixture, and chopped avocado. Top with almonds.
Recipe Notes
-I think tossing the pasta with the dressing and letting it rest in the fridge allows the flavors soak into the pasta. If you don't have time for that, just mix up the salad and let the pasta sit in the dressing for at least a half hour. Then proceed as directed.-If you want make a fresh basil-lime dressing, just sub 1/4 to 1/2 cup chopped basil leaves for the tarragon. -I made this up with 1 lb pasta originally, but thought the veggie to pasta ratio was a bit on the heavy side for the pasta, so I reduced the amount of pasta in this recipe to 3/4 lb.-Did I mention Plates and Palates caters? If you are not the cooking type, you can purchase a whole BOWL of salad for your next gathering at a very reasonable price 🙂