For years we have enjoyed (and been addicted to) Liege waffles from Bruges in downtown Salt Lake City. This Liege Waffle Recipe is about the closest thing to enjoying a Bruges waffle without leaving your kitchen, and the perfect treat to make for your mom on Mother's Day!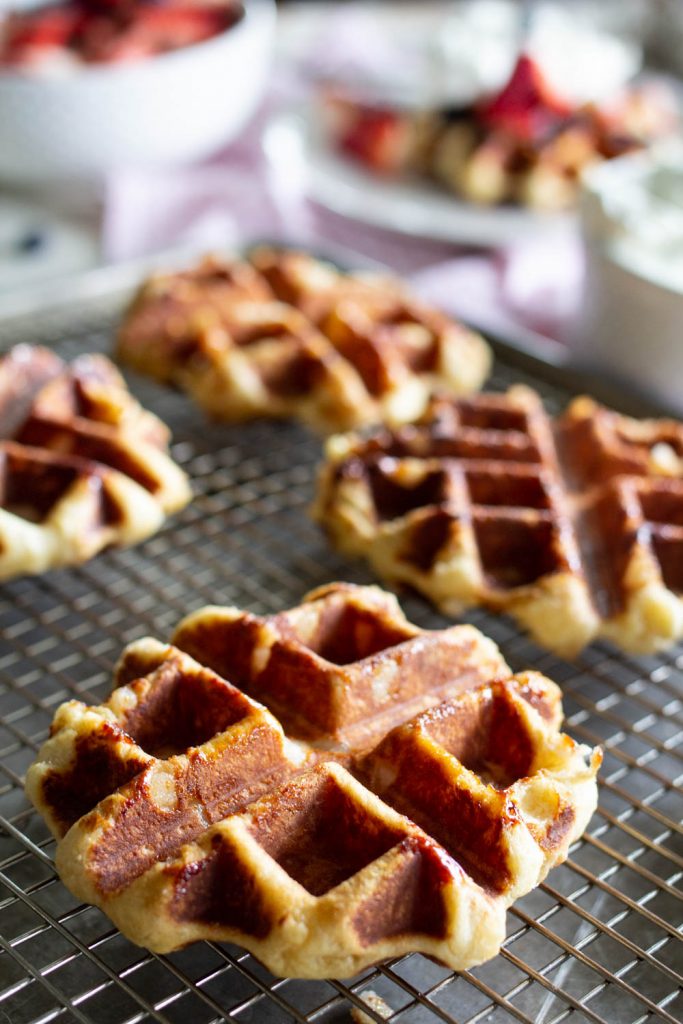 For a long time, I avoided making Liege waffles. When I researched the type of waffle maker used at Bruges, I realized the cost of a commercial griddle was out of reach for me, especially since I only make waffles occasionally.
I wondered if I would be able to achieve the same crispy outside and soft inside found when I purchased a waffle- hot off the cast iron griddle found at Bruges? I purchased the Pearl Sugar, essential when making a proper and traditional Liege waffle recipe.
But the package of Pearl Sugar sat unopened for a couple of years because I was afraid my little waffle maker wasn't up to the task of properly cooking a Liege waffle…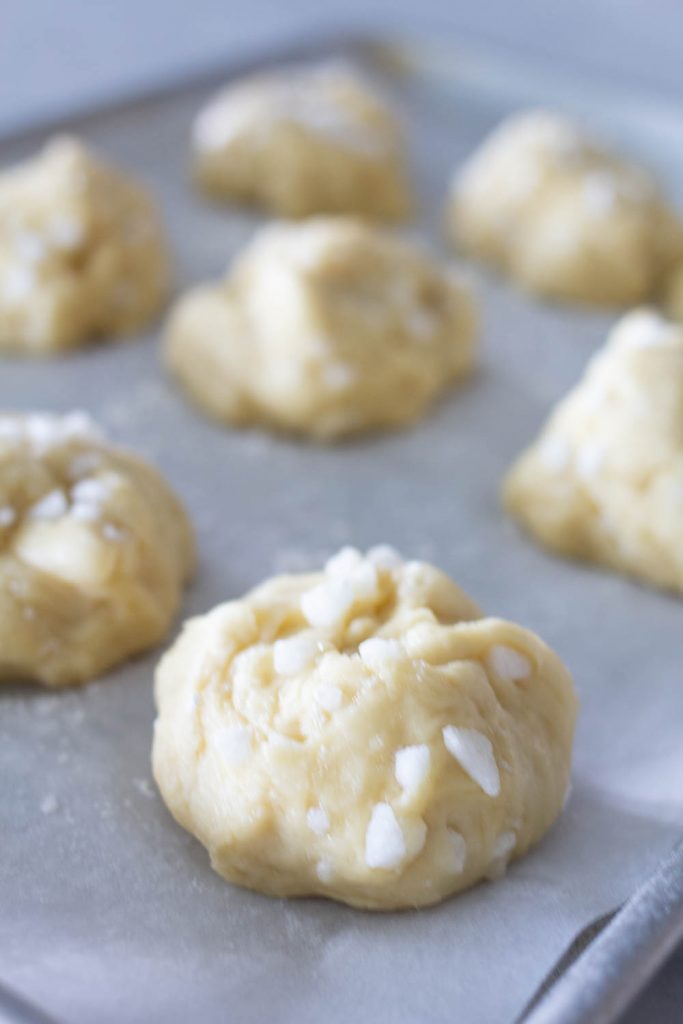 Finally, a couple of weeks ago, the Lars Belgian Pearl Sugar surfaced in my pantry again, and I knew I had to tackle this recipe once and for all and see if it could be made on my trusty Belgian waffle maker.
Let me preface this with- once in a while, I make a recipe a dozen times and it just doesn't turn out quite the way I want, so it never gets published. And once in a blue moon, I make a recipe the first time and it is exactly everything I hoped for!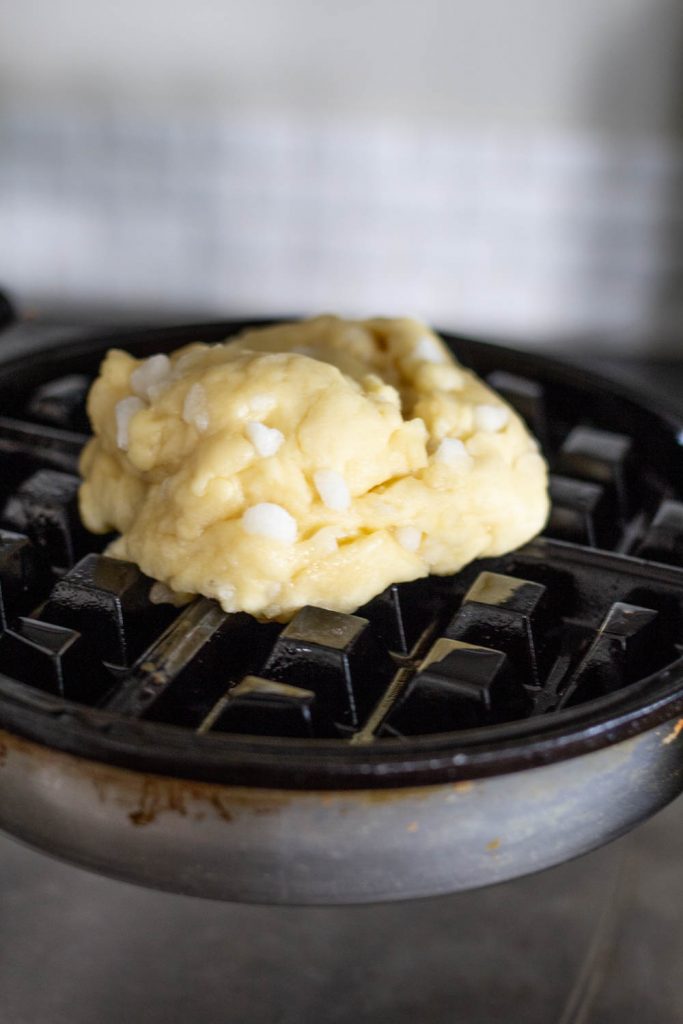 My friend Janalee told me she uses the recipe on the back on the Lars Belgian Pearl Sugar Package with great results. I took a look and made a few changes. I felt like the butter could be reduced, and the dough could use bit of sugar (yes, even though it already had 8 oz of pearl sugar added).
Also, the addition of a little more salt and vanilla seemed essential to me. The stars aligned and guess what? I can't imagine a better copycat of our favorite Liege waffle found at Bruges, made in the waffle maker I've been using for years. . Many thanks to Janalee for sharing this recipe!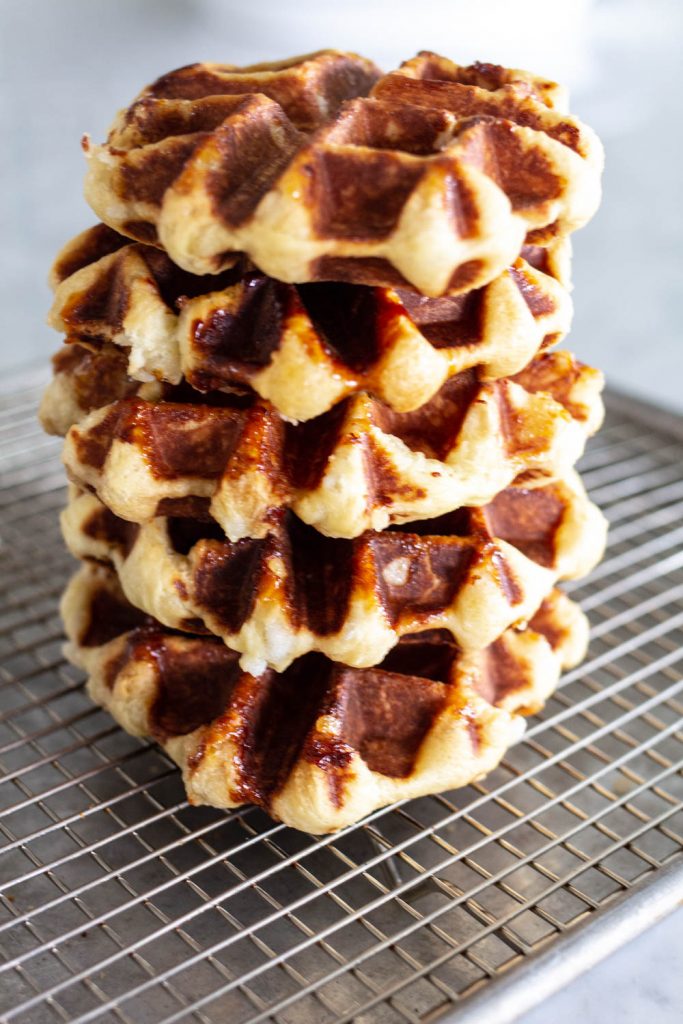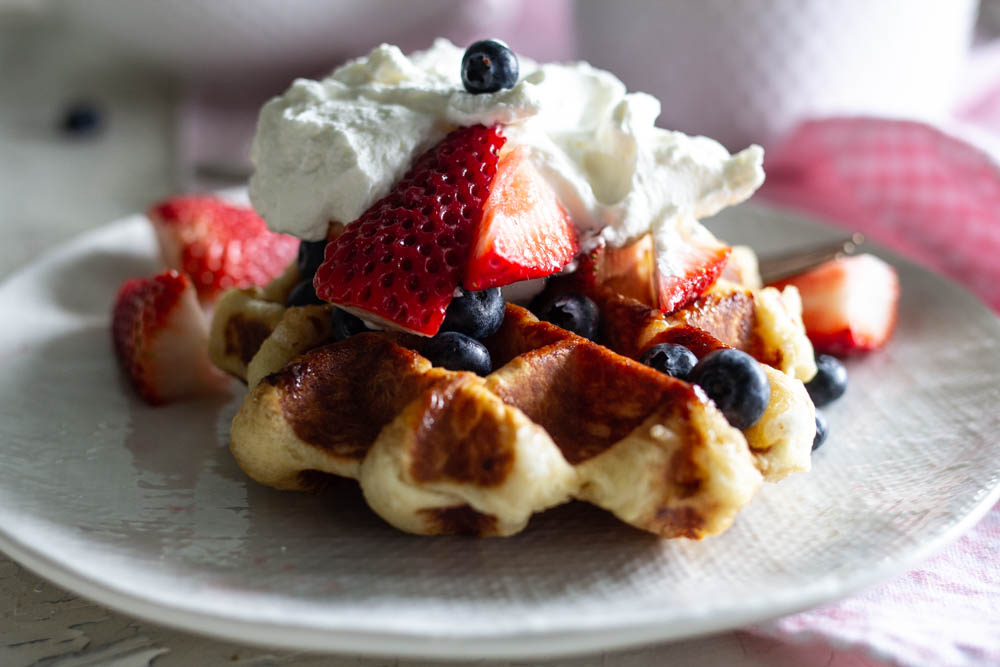 I think you're going to absolutely love our Liege Waffle Recipe! It's perfect for parties, brunches, dessert and really, almost any type of celebration. The waffles may be made ahead and stored in the freezer or refrigerator.
The dough is so simple to mix up. The use of a stand mixer, such as Kitchenaid or a Bosch makes this recipe so easy to throw together.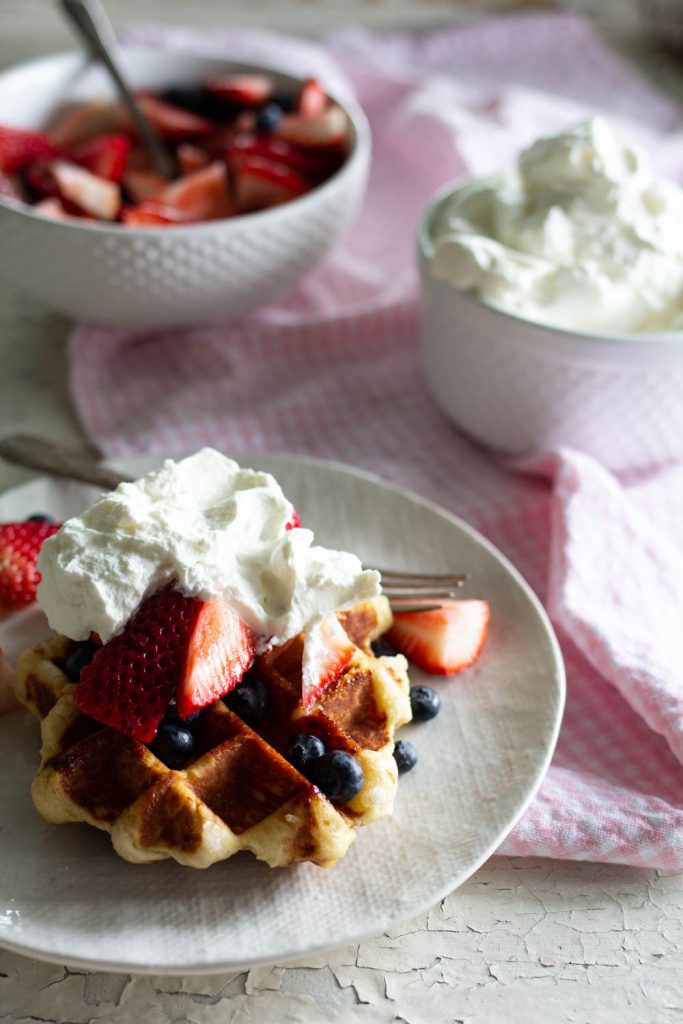 A assortment of toppings listed in the recipe are just a start to the endless possibilities of accompaniments to this Liege Waffle Recipe!
If you'd like to give these as treats, let the waffles cool completely and either leave plain or drizzle with dipping chocolate and let cool completely again.
When completely cooled, place in a cello bag and tie with a string for a yummy home made gift. Gifting this with the recipe printed out and my favorite waffle maker is the perfect wedding, birthday or Mother's Day gift!
Liege Waffle Recipe
Liege Waffles just like the waffles found at Bruges in SLC, Utah! Crisp outsdie and soft inside, these yeast waffles can easily be made at home with a few simple ingredients.
Ingredients
3/4

cup

warm milk

2

teaspoons

yeast

2

tablespoon

sugar

2

large eggs

12

tablespoons

melted butter

3 1/2

cups

all purpose flour

1

teaspoon

sea or kosher salt

2

teaspoons

vanilla

8

oz

Belgian Pearl Sugar
Toppings
Sliced strawberries, raspberries, sliced bananas, Nutella, Whipped Cream, Powdered sugar.
Instructions
Sprinkle yeast and sugar over warm milk in bowl of a stand mixer. Let sit for about 5 minutes until the yeast begins to foam.

Add 2 eggs, melted butter and whisk together with fork.

Add 3 cups flour, salt and vanilla to yeast and milk mixture. Mix on low with dough hook until mixture is smooth. Add remaining 1/2 cup of flour and mix on low for 2 minutes.

Place in a warm location, covered for 30 minutes.

After dough has risen, fold 8 oz of Belgian Pearl Sugar into dough using a large spoon or by hand. 

Divide dough into pieces about 3-4 oz each. You should have 9-10 balls of dough. 

Preheat waffle iron for 10 minutes before cooking dough. 

Generously grease waffle iron using cooking spray. Cook one piece of dough at a time, placing dough in middle of waffle iron, close and cook until outside is crispy and center is cooked through. Cooking time will vary depending on heat level and waffle iron used. Watch carefully, as sugar will burn if cooked at too high temperature. 

Lay cooked waffles on a wire rack while cooking remaining dough. May be kept in warm oven (225 degrees) until ready to serve, or serve immediately with toppings. 
Recipe Notes
To clean waffle iron, use a spatula to remove any remaining bits of sugar while waffle iron is still warm. You may also use a damp cloth or paper towel at the end of a silicone spatula to clean. 
Pearl Sugar is found at kitchen stores such as Orson Gygi in SLC, William Sonoma and online at Amazon.