This is the famous Nordy Bar recipe served at the Nordstrom Cafe back in the 80's. If you have ever eaten one, you know they are unforgettable! The bars are a rich mix of chocolate, butterscotch, marshmallow, nuts and so easy to put together.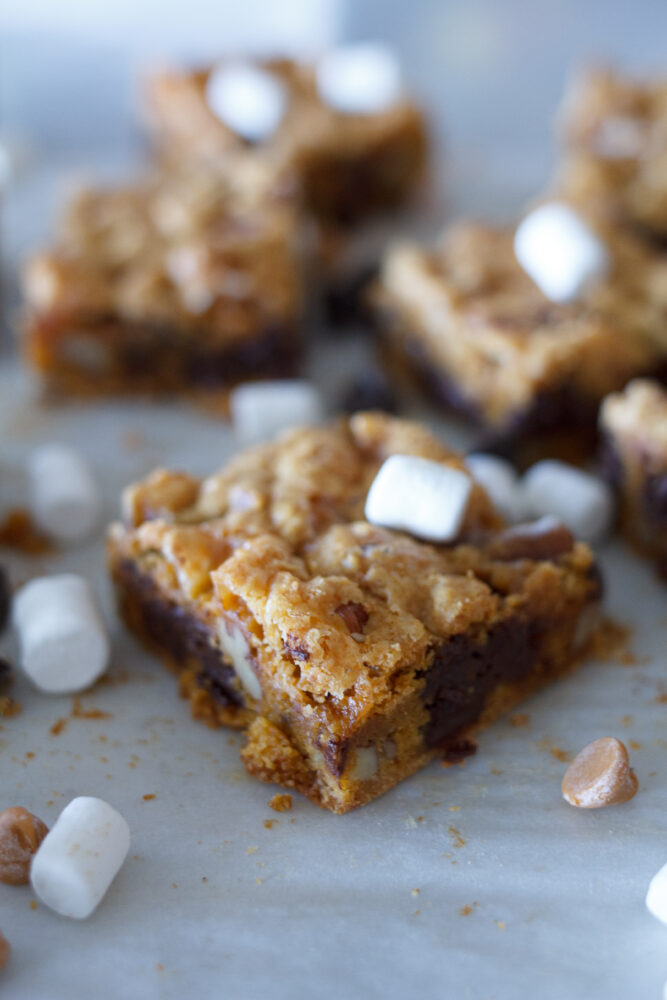 Years ago, when we lived in Portland, I worked at PacifiCorp while Grant went to law school. I worked with a food-loving group and we often had "Food Friday". Everyone brought their favorite dish to share and printed off recipes as well.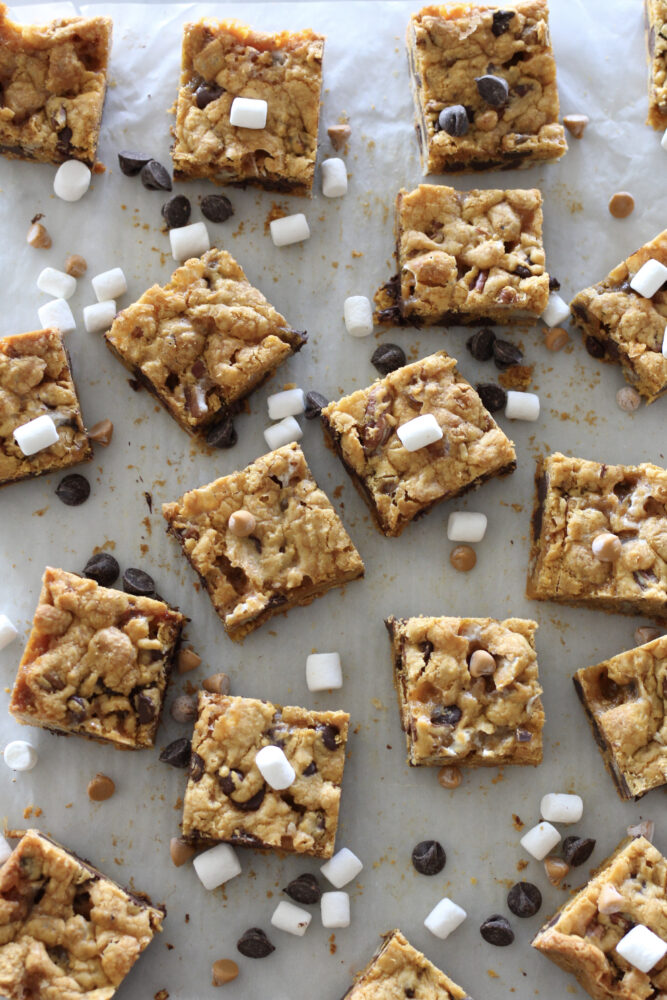 My good friend and co-worker Jane loved to eat, and cook, and shared this recipe for Nordy Bars from the Nordstrom Cafe with me. The story behind the recipe- relatives of Jane's visited the Nordstrom Cafe in Portland and bought a Nordy bar. They loved it so much, they asked for the recipe. The girl serving them went into the kitchen, and a few minutes later came out with the hand written recipe and made them promise not to tell anyone. On the recipe Jane shared with me it said "we broke our promise, but you won't tell cuz you're family, right?!" Haha. Oops.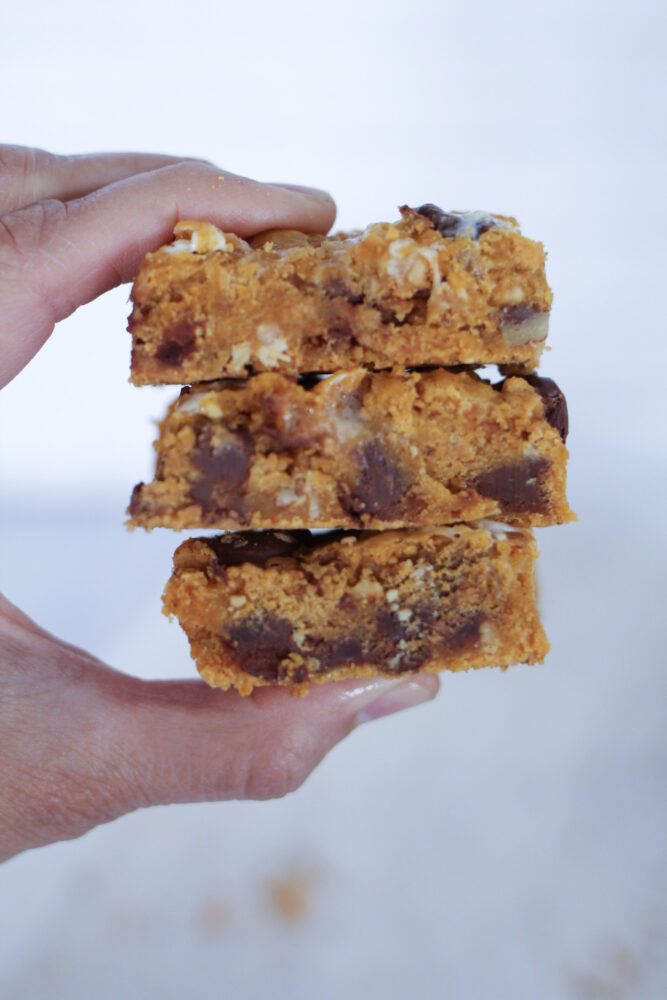 I'm not sure how closely this recipe was guarded in the Nordstrom Cafe, but I do know I've had a copy for about 35 years. I haven't seen a Nordy Bar served for years at the Nordstrom Cafe! The desserts they serve now are not nearly as good as they were years ago, and certainly not as good as a homemade Nordy Bar!
The Nordy Bar is a yummy, chewy, butterscotchy, marshmallowy, chocolaty piece of heavenly goodness. This bar is unique, because the dough starts out in a pan on the stove instead of in a mixer. In fact, a mixer is not necessary to make this recipe at all! I think the melting of the butterscotch chips gives this bar the chewy texture that's almost unmatchable if made any other way. One time making these bars, and I'm pretty sure you'll be addicted.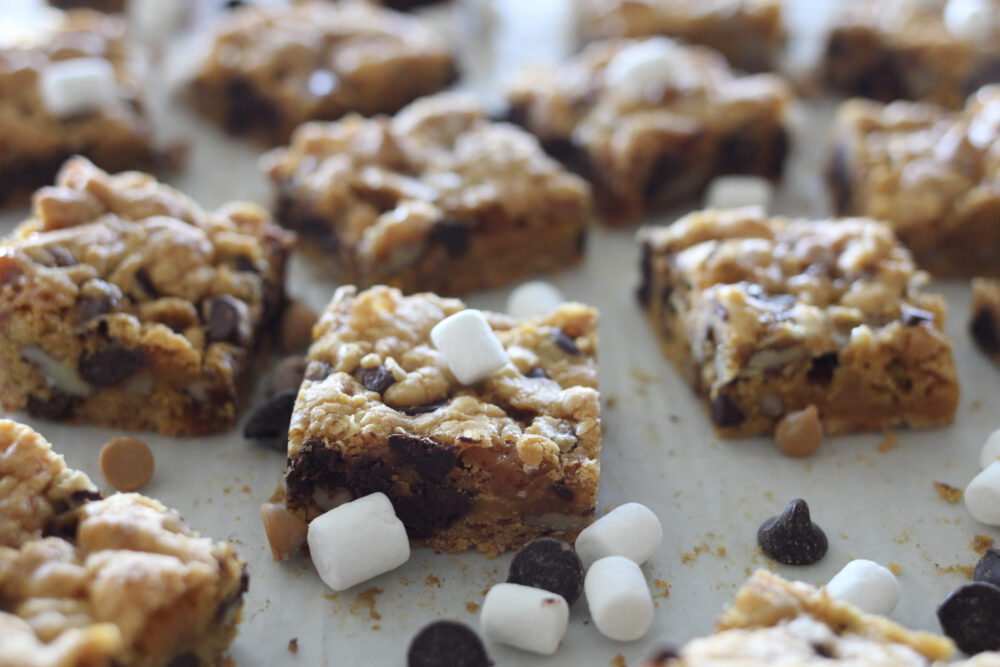 How to make Nordy Bars from the Nordstrom Cafe:
Preheat oven and place rack in center of the oven.
Melt butter, butterscotch chips and brown sugar in a heavy pan on the stovetop.
Remove from heat and cool 10 minutes.
Stir in eggs and vanilla, mix well.
Add remaining ingredients, fold together just until all ingredients are incorporated.
Spread in prepared pan and bake for about 20 minutes.
Chill in refrigerator for an hour or overnight on countertop.
This is the type of recipe you make when you're in the mood for something a little different from your old faithful recipes. In the next category (up, IMHO) from an ordinary bar cookie, but also not too time consuming or fancy for a weeknight get together. For me it's nostalgic and a good sweet dose of comfort food! Hope you love this recipe.
Nordy Bars from Nordstrom Cafe recipe was originally posted in 2009. Recipe content and photos updated in 2022.
Nordy Bars from Nordstrom Cafe
Recipe for the famous Nordy Bar served in the Nordstrom Cafe back in the 80's
Total Time
1
hour
45
minutes
Ingredients
1/2

cup

unsalted butter

1 -12

oz

package butterscotch chips

1/2

cup

firmly packed brown sugar

dark or light

2

large

eggs

beaten

2

teaspoons

vanilla

2

cups

all-purpose flour

1

teaspoon

baking powder

1/2

teaspoon

baking soda

1/2

teaspoon

salt

1- 12

oz

package semi sweet chocolate chips

2

cups

mini marshmallows

1

cup

chopped pecans

3

additional

tablespoons flour(if omitting nuts)
Instructions
Preheat oven to 350 degrees. Place rack in center of the oven. Grease a 9×13 pan or line with parchment paper.

In large saucepan, melt butter on medium heat. Add butterscotch chips and brown sugar. Stir just until melted. Remove the saucepan from heat and cool for 10 minutes.

Add eggs and vanilla to the saucepan and mix well. Using a large spoon or a spatula, stir in the remaining ingredients just until incorporated.

Spread the dough into the prepared pan. Bake for 20 minutes or until a toothpick inserted in the center of the pan comes out clean or with a few moist crumbs attached. Do not over bake!

Cool Completely, then place in the refrigerator for 1 hour before cutting into bars.
Recipe Notes
It is very important to use fresh (not stale) marshmallows!