Need a two thumbs up no-fail pumpkin chocolate chip cookie recipe? You've come to the right place.  Pumpkin Chocolate Chip Cookies with Fresh Lemon Icing is moist, soft, full of chocolate chips with a lemon icing that sets this treat apart from all of the rest.

Pumpkin cookies are everywhere this time of year.  I first posted this recipe about 7 years ago, back in the early days of ABK. I used a little point and shoot camera back then, and thought it was time for an update, since the original photos don't do this cookie justice!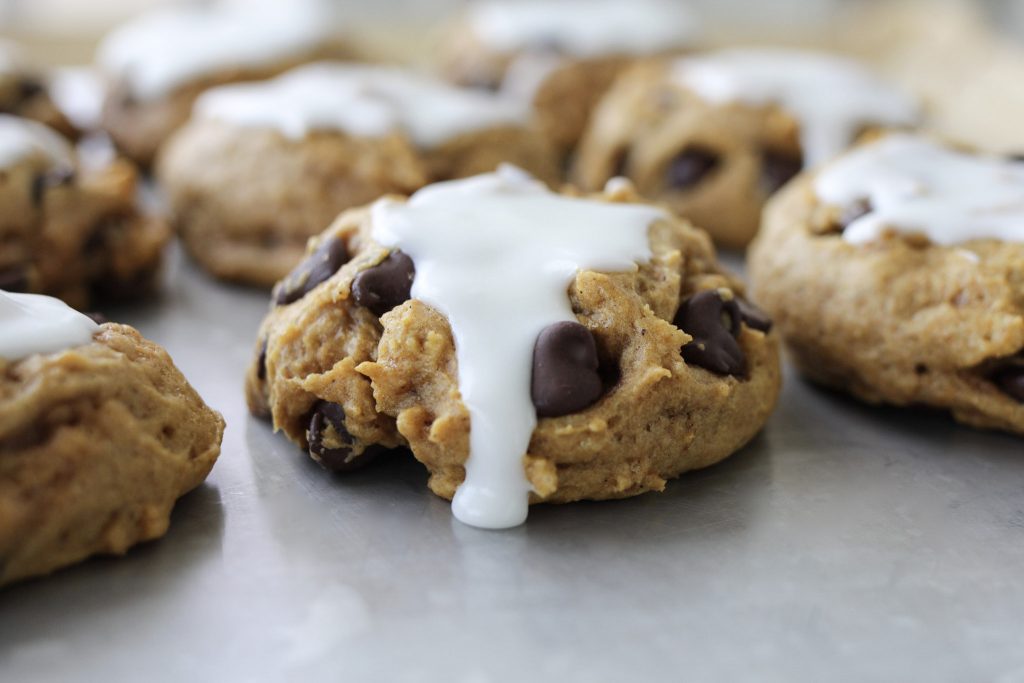 These cookies come together in just a few minutes and are so simple to make. They are among my favorites because they are filled with chocolate and topped with a fresh lemon icing. The lemon icing is tart and sweet and the perfect topping for this cookie.
October is THE month of pumpkin desserts. Blogs, websites and magazines are filled with cookies, pies, breads and cakes made with pumpkin.  I have a husband who really doesn't care for pumpkin much.  When I made these and handed one to Grant, I asked – what do you think?? He took a huge Grant bite (this consists of eating a three bite cookie in one bite) looked up at me and said in a very matter-of-fact way "I don't like it." My boys burst out laughing. This prompted a discussion (led by ME) on gratitude and being too honest.

Make a batch tonight for your favorite ghosts and goblins!
Pumpkin Chocolate Chip Cookies with Fresh Lemon Icing
Ingredients
2

eggs

1

cup

brown sugar

1/2

cup

canola oil

1

cup

canned pumpkin

2

teaspoons

vanilla extract

2 1/2

cups

flour

1 1/2

teaspoons

baking powder

1

teaspoon

soda

1/2

teaspoon

salt

1

teaspoon

ground cinnamon

1/4

teaspoon

ground nutmeg

1/4

teaspoon

ground cloves

2

cups

semi sweet chocolate chips
for icing:
1

cup

powdered sugar

1

tablespoon

fresh or bottled lemon juice

dash salt

1

tablespoon

butter

melted

2

tablespoons

cream

half and half or milk to thin

grated lemon zest

optional
Instructions
Preheat oven to 325 degrees.

In a large bowl, beat eggs and brown sugar until smooth. On low speed, mix in rest of wet ingredients. Scrape down sides of bowl.

Add the dry ingredients and the chocolate chips to the bowl and mix all at once. Mix just until wet and dry ingredients are incorporated. Do not over mix.

Spoon or scoop the batter out onto a parchment lined or lightly greased cookie sheet, about 9 cookies per sheet.

Bake until the tops feel firm about 12 minutes. Cool completely.

Mix lemon icing by whisking ingredients together in a medium size bowl.

Spoon icing over cooled cookies.

Cookies are best when eaten within 2 days.
Recipe Notes
-I use a scoop that holds about 2-3 tablespoons per scoop. If using a scoop that holds two tablespoons, the recipe will yield about 24-28 cookies.-The dough is fairly wet, more so than traditional cookie batter, and will stick to the scoop.