10 Tips for designing a kitchen will help you create the kitchen of your dreams and avoid common mistakes while remodeling or building! I'll answer questions I've been asked countless times about designing a kitchen, no matter the budget. Everything from appliances, to outlets and even how to decide if marble countertops are right for you are covered in this post!

Heart of the home
The kitchen is the heart of every home. Everything happens in the kitchen: talking, listening, celebrating, laughing, crying, memory making and of course, cooking! The kitchen is also the most expensive and challenging room to build or remodel. A kitchen that works for your family requires more than simply selecting beautiful finishes, it needs to be functional and inviting too. With so many factors contributing to designing a kitchen, I've compiled basic guidelines to help you tackle key elements of designing a kitchen your family will love.
Been there, done that
When you're ready to take the plunge into remodeling or even building a kitchen from the ground up, it's difficult to know where to start. We have successfully (ha, I can say that now!) survived several home remodeling projects that vary from do-it-yourself to hiring a professional. Our budget has ranged from a few hundred dollars to thousands of dollars. 10 Tips for designing a kitchen will give you a starting point for many of your questions about a kitchen remodel! I've tried to answer questions I have received time and time again through the years…questions that have come by email, comments on a post, texts or phone calls regarding how to design a kitchen. ABK is read by people all over the country, so I don't mention any local builders or subs in this post (except for my designer). My advice on picking a reliable source for everything from a builder to a cabinetmaker, is to simply talk with friends who have recently remodeled or built. They will give you valuable recommendations! I've sorted this post with titles that will (hopefully) make it easy for you to locate information!

Function first
Some of the advice on this post is given from a design standpoint, but most is from a practical viewpoint. I'm all about function first in a kitchen setting. I cook a lot, so my kitchen was designed with cooking, living and entertaining in mind. Almost everything in our kitchen has a function and purpose.
Counter surfaces and why marble may, or may not be right for you…
From an overall design standpoint, the countertops and cabinets are (day in and day out), two of the most expensive and visible decisions made when planning the kitchen design. I suggest collecting several samples of countertops and cabinets to take home and view in the kitchen space if possible. Simply looking at a sample in a showroom (or out in a parking lot) won't give a true reading on how the surface will look in your kitchen. Countertops and cabinets are (most likely) the elements of your kitchen that will stay standing for the longest period of time, until the next remodel.
There are countless options for kitchen countertops. Everything from concrete to wood to formica (made to look like stone) are available. I chose Carrera (sometimes spelled Carrara) Marble for the main island , which measures 128″ x 80″, and a honed granite for the perimeter countertops. I love my countertops, especially the marble. But it's definitely not for everyone! A caution about marble countertops… I love the look of marble *BUT* I no longer have kids at home who do art projects or pound blocks on my countertops. I'm also not very particular about my countertops looking perfect. If you are particular, don't invest in marble. It chips, pits and water marks are easily seen. If you cook a lot, like me, and anything acidic lands on the counter, it needs to be wiped up immediately to avoid pitting the marble! I was told before I chose marble that it stains easily, and stains were almost impossible to remove. I haven't had a lot of issues with staining, but I have a lot of water marks and pitting on the marble.
I once left some frozen blueberries in a bag on the counter, which I didn't see until a couple of hours later; the stain came off easily with a little soap and scrubbing. There are dull areas on my marble island and it doesn't bother me. I love the worn look of marble and wood, so I'm fine with a bit of a dull look instead of a shiny finish. If this concerns you in any way, I suggest choosing another surface, such as quartz. There are many white quartz surfaces which typically cost a bit more than marble, but are more kid friendly and forgiving when it comes to stains, wear and tear. If you decide to go ahead with marble, my recommendation is to go to the source of the marble and pick out your slabs. Take a good look at the marble, and ask questions about quality. If possible, take someone with you who can spot the difference of quality in marble or stone. Although you may be told the quality is the same, some countertops chip easier and also have cracks that may develop into deeper cracks after installed. I learned this through trial and error. Marble may also be sealed to reduce water marks and other staining.
The honed granite countertops (above) on my perimeter are black and unpolished. They have a matte, instead of a shiny finish. Both the polished and matte finish have their advantages, and disadvantages. If the countertop material is dark, crumbs and fingerprints and dust show no matter the finish. The shiny or matte finish is a matter of preference. I'm not going to say much about cabinets because I'm into simple design and straight lines, without much fuss when it comes to cabinetry. I like flat front drawers and simple shaker-style cabinet doors. Cabinets costs can make or break your budget. I tried to find someone who was in the middle as far as cost goes for cabinets, not the least, nor the most expensive option. Search high and low for a cabinet maker with good quality products and a person who stands behind their work. Again, ask friends for recommendations!
Countertop height and barstool considerations
There aren't any barstools in some of the kitchen photographs because the bar stools are in the process of being replaced (or possibly repainted). I haven't decided which yet! I had the kitchen counters elevated from a standard height, because I'm fairly tall (5'8) and wanted the countertops a little higher than the standard of 36 inches. My countertops are 38 inches tall, with 27 inch barstools. The bottom of my countertop is 32inches because of an overhang (under the marble counter) which you can see in the photo above. If you have counter tops installed at a non standard height, you may want to choose barstools beforehand, to make sure they fit! Stools may also be custom made if your countertop height is not standard.
Tile and backsplash
I love subway tile, but didn't want large white subway tile in the kitchen. Our designer, Calli, suggested subway style tile on a small scale that is not glazed. I absolutely love it. It's small and understated and is only in a small portion of the kitchen, just above the black granite counter tops. The other tile is a 13×13 square, set behind the range. I wanted the look of glass tile, without the cost. Again, Calli suggested this tile which is a simple ceramic tile in a shiny finish. We asked our tile guy to set the tiles as close together as possible, with the minimum amount of grout showing. The grout color matches the color of the tile so it blends in as much as possible, creating the look of a wall of tiny tiles. The difference in cost of individual glass tiles vs ceramic tile squares was about 75% less. Yay! Finally something that came in under budget! The glazed ceramic tile is low maintenance. In 5 years all I've done to maintain the tile is wash with bit of soap and water and wipe off.

Wood features
The hood above the range and the open shelving are made of maple. The wood features in the kitchen are anchored on five pieces. Three of the four pieces are made from the same maplewood: the hood over the range, the open shelving over the refurbished prep table (left side of photo), and the wood on the shelves above the built in desk (right side of photo). The Square free-standing island is 57″x57″ (dark wood) in the center of photo and is 36″ tall. It was also custom made to hold large trays and other serving pieces and serves mostly as a buffet table.
The refurbished worktable above was originally in Woolworth's in Salt Lake City. I purchased it from a friend, and had the countertop cleaned up. We left the ink stains and water rings on the table (for nostalgia sake) left the wood unfinished, and had the bottom of the table sandblasted to cover the rust. I used the same paint color on the legs of this refurbished table as we used on the brackets for the shelves above. The brackets were purchased at an industrial supply store, we looked for something sturdy and plain (I believe they were white when purchased).

Flooring
We used an engineered (pre finished) wood flooring in a dark color on the entire main floor. The choice to install a pre-engineered floor was made primarily because we have a black lab who regularly comes into the house. In our last home, we had a sand and finish wood floor in a lighter color. Preventing the floor from getting marked up was really difficult when the dog gets excited and starts running around inside! We were left with marks in the wood, which could have been removed from refinishing, but I was hesitant to refinish the floor only to have it damaged again by the dog. We have had much better luck with the factory finished floor, the finish is baked on after being applied, so the surface is more resistant to scratches, indentations, etc. That said, this is one of the few things I would have done differently in the kitchen if I had it to do over again! The dark color is difficult to maintain. Every speck of flour or dust shows on a dark floor. As I said, in our last home I had a much lighter wood floor which I highly recommend. When it's time to replace or refinish this floor, I will most definitely choose a light color.
Bake center
I love the bake center, it is one of the most efficient work areas in the kitchen. I bake several times a week and keep my most frequently used baking supplies in this part of the kitchen. The baking area consists of a space above the counter top with open shelving (large enough to store most of my frequently used pans) including baking sheets of all sizes, muffin tins, pizza pans, cooling racks and also space for cutting boards. I have a second cabinet with dividers, behind the doors above the double ovens which stores serving platters and covers for jelly roll pans.
The highlight of the baking area are the lined drawers for flour and sugars. In our last home, we had three large drawers: one each for flour, sugar and rice. Yes, rice. My mother is Japanese, so we eat a lot of rice. At least we did back when we were raising kids! When we built this home, I decided it was better to designate two large drawers, one each for flour and sugar, and one divided drawer for powdered sugar and brown sugar. I love this new combination. I still keep a large tub of rice in the pantry, next to my rice cooker. Most cabinet builders have access to drawer liners for storing flour, sugar and other dried foods.
I love open shelving for the bake area. It allows me to see exactly where all of my sheet pans and other frequently used baking pans are stored and makes it easy access happen quickly. Deep drawers are used in the baking area, not only for storing dry goods, but also for items I use frequently while baking such as: soda, powder, salt, cookie scoops, scales, and cooking spray to name a few. Drawers are best for easy access, instead of cabinets with deep, dark corners.
If you have the room and budget, install a small under counter fridge to house all of the items used for baking near the bake center. I usually keep this mini fridge stocked with eggs, milk, butter and a soda, or two 😉 Under counter lighting is nice (see in photo above) , but honestly, I hardly ever use it. Some people love the under counter lighting because it doesn't cause any direct shadows and it makes for a convenient night-light in the kitchen! Definitely a non-essential item for me. If I every built another kitchen, I'd pass on under counter lighting.

Sinks and faucets
I'm really particular about sinks! This may seem odd, but my criteria for a sink was my baking sheets (jelly roll pans) could fit in the sink and completely soak without any of the pan sticking out of the sink. This sink is a Fireclay 34″x21″ apron-front divided model, and is made by Franke. I opted for Delta faucets, two sets of the same design in a brushed finish. Im often asked about cleaning the sink, I wash it out with a bit of soap and then spray with Clorox Cleanup Cleaner+Bleach to get it sparkly white!
I love the look of a big countertop with only one sink, so I chose one sink with two faucets instead of a separate small sink. In our last home, I had a small sink installed in the island. I chose a cute little faucet without a sprayer or disposal. It was difficult to clean and a "vegetable sink" without a disposal was a bad idea. I've loved the large sink with two sets of faucets.

Appliances- good, better, best
In my last kitchen (which we remodeled top to bottom) we purchased the following: Viking gas cooktop (36 inch, 4 burner with griddle ) and Viking under counter refrigerator (essentially a wine cooler we converted to a fridge for milk and eggs), GE Profile convection ovens, Subzero Fridge with freezer drawer and Maytag dishwasher. The Viking gas range had starter issues from the time it was installed that were never fixed. We had similar repair issues with the Viking under counter fridge. I loved our Subzero fridge, Maytag dishwasher and GE ovens. Other than normal maintenance, I didn't have a single problem with any of the brands (other than Viking) for over 10 years. I've listed the brands and my thoughts below on items we have installed in the new kitchen. All have been in use for 5 years at the time of this post. All items purchased were Wolf/Sub Zero/Asco.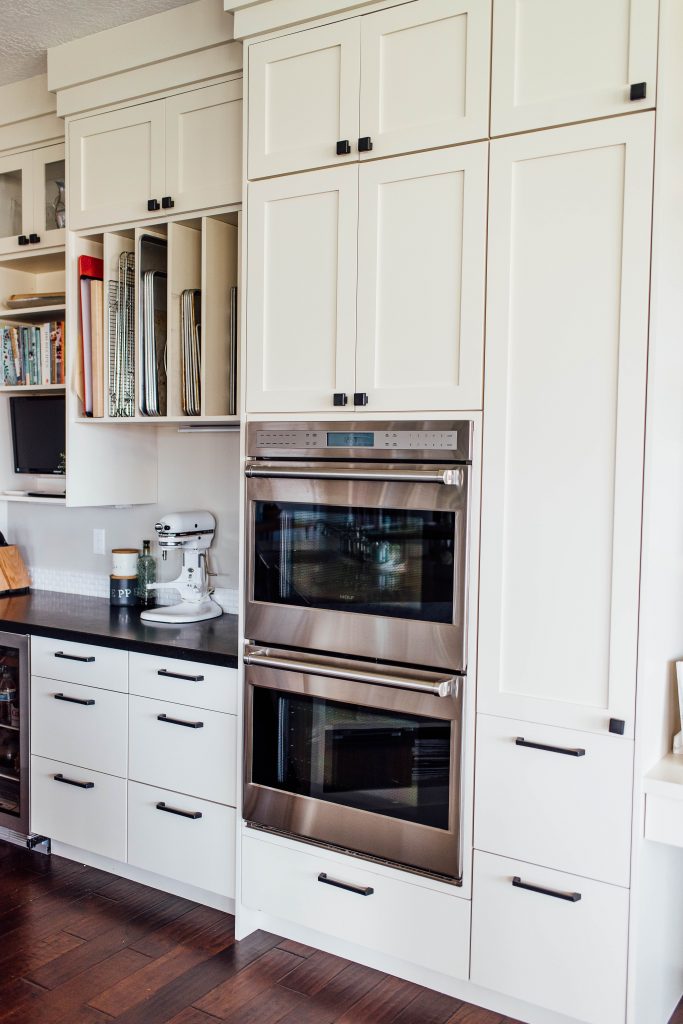 Double Wolf electric ovens. I highly recommend electric heat for baking. The top oven is convection, the bottom standard. The oven is easy to wipe out if anything spills. The ovens are "E Series" with every thing from dehydration to proof, to a special setting for baking pies. Excellent quality.
Refrigerators: Both are Sub Zero. Both work exceptionally well. Not a single issue in 5 years. I use the top rack in the under counter model to cool cookies and other baked goods quickly and keep the small refrigerator set at 34 degrees. I've never once had an issue with items in the back of the fridge freezing (which happened constantly with my Viking). The full size fridge/freezer combo is a 48″ sub Zero side by side model with ice maker in the freezer.
Dishwasher: We purchased an Asko dishwasher. This was our only lemon purchase in the kitchen. From the beginning we had issues with the dishes not being completely clean, water standing in the bottom of the dishwasher, door of the dishwasher rolling out, etc. We had it serviced a few times, and finally after five years, I replaced it with a Bosch. I LOVED the space on the top shelf of the Asko dishwasher. It held tall glasses and drinking mugs, and in my opinion, is the best feature of the Asko dishwasher. l'll update this post in a few months, but for now, the Bosch is up and running and the most quiet dishwasher I have ever owned. Update January 2020. After having the Bosch in place for 2 years, I am 100% a fan. No issues with dishes not being clean after a cycle, quiet, efficient, excellent piece of kitchen equipment.
Gas range and double gas oven: The Wolf 48″ gas range with double griddle and ovens is a beautiful and functional anchor piece in a large kitchen. I love this appliance. The 4 burner model with double griddle is perfect for us. We use this feature several times a week for everything from pancakes to grilling tortillas. I never considered getting more than 4 burners because I knew times are few and far between when I actually need more than 4 burners. A pan can always be placed on the griddle with the heat turned on to replicate another burner if the need arises. We opted out of the dual-fuel (gas on top, electric on bottom) range because of cost. There was a significant cost difference from a gas range and gas ovens, and I already had double electric ovens in the kitchen. I use the gas ovens less than any other appliance in the kitchen. I'm not a fan of the gas ovens, so unless it's Thanksgiving or Christmas, or I'm baking a lot of dishes at once, the gas ovens go unused. I had a warming drawer in my last kitchen and used it occasionally. I dont' recommend a warming drawer unless you have an unlimited budget and ample space. I believe your money is better spent simply purchasing an additional oven!
Microwave: My microwave is in the pantry, on my countertop, which works for us!
Here are a few elements I love in the kitchen, which aren't mentioned above…
10 Tips for designing a kitchen
GATHER IMAGES/ PIN LIKE THERE'S NO TOMORROW Start Pinning images NOW. Tear out photos from magazines as well. Our kitchen design was inspired from a page in a Pottery Barn Catalog (above)! I printed out images from Pinterest boards and magazines and placed the images in plastic sleeves. Once I had a stack of most loved images, I organized them into a binder and categorized the photos by cabinets, countertops, lighting, hardware, etc. A hard copy made it simple to show my contractor and designer what I loved. I took photos of home interiors as well. Design tip: If you are constantly Pinning white kitchens, you are attracted to white kitchens, don't let someone talk you into a blue kitchen.

Several yeas ago there was trend to paint one wall an accent color. Red was the IT color. UGH. We love the Utes, but a red wall?? I hired a decorator to choose colors for my family room. She insisted that we paint one of the walls red. I knew there was no way we (especially Grant) would be able to relax in that room. I knew we needed a room with a more neutral color, so instead of being pressured into the red room, I went another direction, found another designer and was happy with the result (more on designers later). There is a reason why we Pin certain items, or ear mark the same looks over and over again in magazines. It's because we are most comfortable living in that world. Be true to yourself. Don't go with a trend because everyone else loves it. Pick what you love. You have to live with your choice!
BUDGET BUDGET BUDGET– This should probably be #1 on the list! Make a budget and allow for (at least) 20% over your budget. 30% is even better! In other words, if you absolutely cannot spend more than 3,ooo on a kitchen remodel, your budget should be $2,400. We have never completed a remodel project where we didn't go over budget. It starts with a new counter top, and then the tile needs to be replaced, paint, etc…20% is the minimum amount to allow for overage.
HIRE A DESIGNER, EVEN IF YOU ARE THE GENERAL CONTRACTOR It's tempting to think you can do this yourself. Trust me, you'll save money and a lot of headaches in the long run if you hire a designer. I didn't hire a designer in our last home when we remodeled our kitchen. The biggest problem with not hiring a designer (in our last home) was paint. It may seem easy to pick the right paint color, but trust me there are about 1000+ shades of any color, even white. I cannot tell you the amount of times I regretted picking the kitchen paint color in our last home. Sure, you can always repaint, but better to get it right the first time! I hired Calli Wade who is absolutely amazing and the easiest person to get along with in the world. Again, I can't stress this enough, hire a professional. It is worth every penny. When hiring a designer, make sure you are compatible. Meet before you start tearing out walls. Talk budget, their expectations, and yours. Some contractors will discourage working with a designer, again I strongly recommend hiring a designer, even if it is for an initial consultation. In the end you will save yourself a lot of time, money and headache.
ASK QUESTIONS, TOUR OTHER KITCHENS, PLAY HOUSE Ask everyone who has recently built or remodeled a kitchen what they love about their kitchen. Ask what they wish they would have done differently. Take notes. Make a list. This list will be very helpful to you! Draw out the kitchen design and take an imaginary trip to the grocery. Unload the groceries into your new kitchen. Where will you set the bag of groceries? Where will you store the groceries? How easy is it to navigate around the kitchen? Do the same when thinking about putting away dishes, glassware and silverware. Where will those items go when you unload? How about when you clear the table after a meal? In our last kitchen, I did't account for clean up. I had no place to put the dishes after clearing the table. My microwave took up that space on the kitchen counter. Go through these every day tasks to save regrets later!
LIGHT ME UP Install as many outlets as possible. The same goes for lighting. Have a few different lighting panels installed so you can turn banks of lights on without turning all on at once, to control the amount of light in the kitchen. I have lights over the island on one switch, lights over the cooking area on another, the third switch controls the lights over the perimeter of the island and kitchen, and a fourth switch for the under counter lights. As far as outlets go, I had an outlet installed in the island underneath the counter top for easy access to plug in small appliances such as a can opener, food processor, etc. The outlets also come in handy for charging phones, computers, iPads while sitting at the counter. This is one case where less is not more. Plan for more lights than you think you'll need.
SMART STORAGE Pinterest is overflowing with ideas to make the most of storage space in the kitchen. The space underneath the island is often overlooked. We used this space to install two sets of cabinets which hold vases, candles, folded tablecloths and seasonal items used in the kitchen.

Cabinets were also installed above the everyday
cabinets. We use the cabinets up high to store items such as glass pitchers, extra plates, appliances that are not used often and seasonal servings pieces. On both sides of our range, we had spice racks installed. Think outside the box when creating space for storage, and always build in as much storage space as possible!
HOLD ON TO YOUR DRAWERS I highly recommend using drawers instead of traditional cabinets for everything under the counter. Drawers use space efficiently and organization is a much easier task in a drawer. We had deep drawers installed in our baking area and also alongside the dishwasher. If you do choose traditional shelving, install roll-out shelves for easiest access to everything stored in the cabinet.
PANTRY – MVP OF THE KITCHEN -You know the advice to buy as much house as possible? I can not emphasize this enough. If you have a choice, build as much pantry as possible. If you have the budget and space, install a countertop in your pantry. We use our pantry countertop to store everything from a printer to our microwave. Have a lot of space? Add a fridge and/or freezer to your pantry. When installing shelving in the pantry , there are countless options available, I like a solid shelf, no more than 12 inches deep. If your shelves are deep, items will get lost in the back of the shelf and go unused. I like to plan for at least 24 inches from the floor to the first shelf in the pantry. This allows for large buckets, a case of paper towels, 10# cans, etc., to be easily stacked. Make sure you have proper lighting and outlets in the pantry as well!

If you have the space, always install a pantry door. I chose a solid door to hide unsightly messes in the pantry, as opposed to a door with a glass front. When I have large gatherings, I put a small table up inside the pantry, to use as a mini staging area. With the exception of my spices and baking area, all of our non-perishable items are stored in the pantry. One last thing, I installed nails on a blank wall in the pantry to hang odds and ends pans such as: aebleskiver pans, crepe pans, strainers, etc. Okay. One more last thing. There are no photos of the inside of my pantry because it's a MESS. One day, I will organize it and post photos. And I'll link the post here 🙂
DON'T CROWD ME Make sure you have at least 36-48 inches (if at all possible) in any walkway in the kitchen. I allowed for 60 inches between my range and kitchen sink. There should be at a minimum 12-24 inches between a fully opened dishwasher door and the cabinet or countertop across from the dishwasher. Same with the oven door or refrigerator door. There should be space for a person to comfortably walk between an opened appliance door and the wall or cabinet behind the opened door. I know some kitchen spaces, especially remodels, don't have this luxury but again, if at all possible allow this space.
DON'T FORGET THE GARBAGE Last, but not least, don't forget about the garbage! Im not a fan of trash compactors. In our last two kitchens, we designated space for a double garbage roll-out. One for garbage, one for recycle. I think the best place for the garbage is right next to the sink. If you don't have or want to give up space for a built in garbage, make sure to allocate space in the kitchen for a garbage can. It should be close to the sink or dishwasher and be out of the way of heavy traffic!
I hope this post is helpful when you're contemplating remodeling or building a kitchen. I understand budgets and circumstances vary. We have lived in apartments with kitchens so small there wasn't room for more than one, and have done so many DIY remodel jobs I wish I had taken photos to share! This post is meant to cover all we've learned as we have remodeled, and now built a kitchen from start to finish. I'd love to hear your questions, comments, and your personal experiences while building or remodeling. Share your tips in the comment section below! As always, thank you for following ABK. This blog is nothing without your support <3
xo
Si
Designer – Calli Wade
Photos on this post- Bre Welch Pepperfox Photo