Who can resist a Fresh Peach and Coconut Muffin? Peach and Coconut Muffins with Coconut Streusel  Make some now while peaches are fresh and plentiful!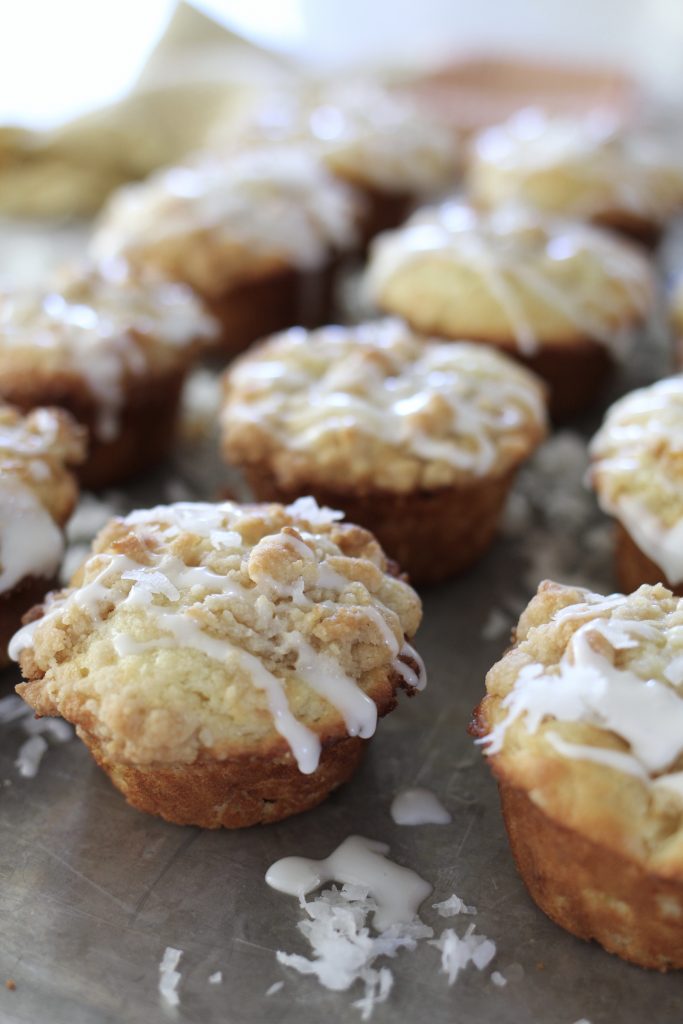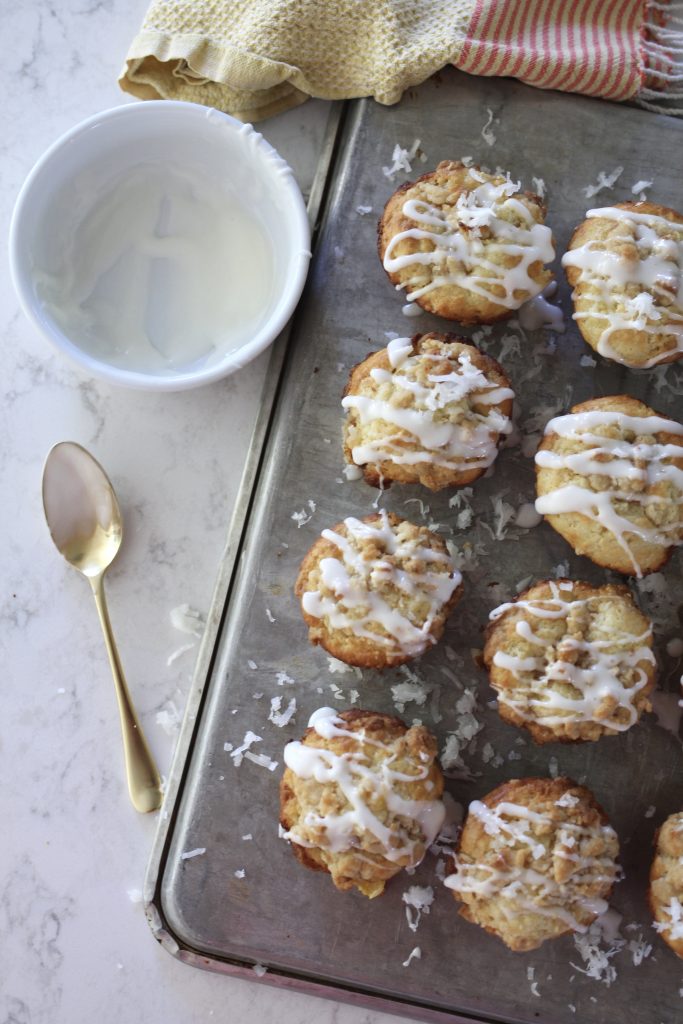 It's peach season. Oh, how I love peaches!  The smell of fresh peaches ripened by the sun brings a smile to my face. I still remember summers when my mom and dad canned peaches…bottle after bottle of peaches stacked in the fruit room in the basement, stored away for the rainy Pacific Northwest winter months. For years, I did the same (not quite to the level of my parents)  but on a much smaller scale. I bottled peaches until my floor was a sticky mess and I was forced to move on to other projects… My boys especially loved those peaches! They would ask for a bottle of fruit and then eat the whole jar in one sitting.
This is Ani, my oldest grand baby, being my big helper!
Now that all of my kids have all grown up, I buy a box of peaches and make jam and freeze several bags of sliced peaches and then make every dish I possibly can that includes peaches, until fruit flies start to invade my kitchen! I love this recipe for Peach and Coconut Muffins with Coconut Streusel. It's made with peach yogurt, coconut, buttermilk, peaches and topped with a coconut streusel and drizzled with a lemon cream glaze.
These muffins are over the top amazing. I experimented making the muffins with and without the streusel topping, but I felt they needed more than just a glaze. I also made the muffins with half frozen pineapple and half peaches. Unbelievably delicious. This recipe is really very simple to make, Ani was so pleased, she took out her play cell phone and snapped a few photos 🙂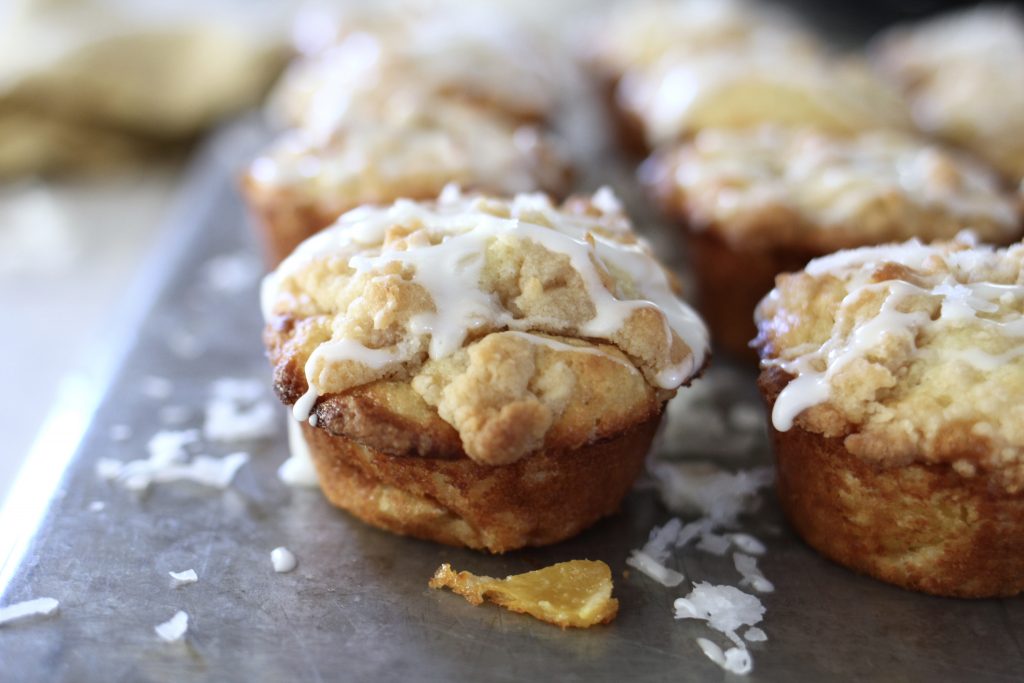 I know you're going to love ABK's Peach and Coconut Muffins with Coconut Streusel. They're ideal for peach season, but can also be made with frozen, chopped peaches. The muffins are so pretty they would be perfect served at a wedding or baby shower brunch with an overnight breakfast casserole, a fruit platter and a salad!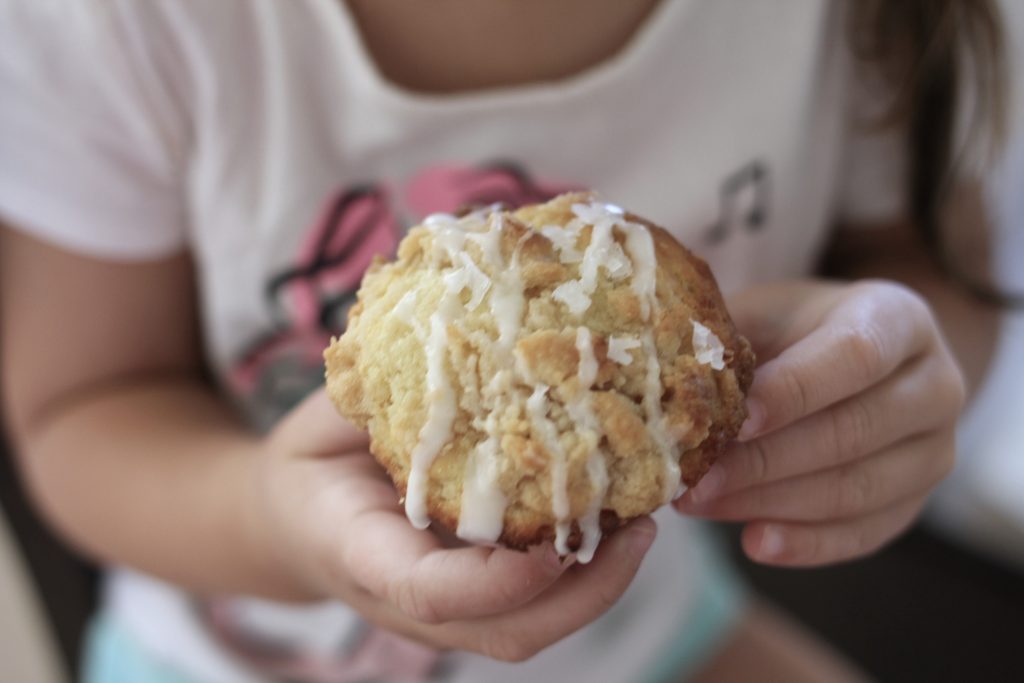 Fresh Peach and Coconut Muffins with Coconut Streusel Topping
Ingredients
muffins:
1/2

cup

sugar

1/4

cup

butter

room temperature

1- 5.3

oz

peach or vanilla Greek yogurt

I used Chobani

2

eggs

1/3

cup

buttermilk

shaken

1 1/2

cups

all purpose flour

2

teaspoons

baking powder

1/2

teaspoon

baking soda

1/2

teaspoon

sea salt

1/2

heaping cup sweet flake coconut

1 1/2

cups

peaches

chopped no larger than dime size*
streusel:
1/4

cup

brown sugar

1/2

cup

flour

3

tablespoons

butter

soft

1/4

cup

coconut
glaze:
1/2

cup

powdered sugar

1

tablespoons

cream

1

teaspoon

lemon juice

water to thin
Instructions
Preheat oven to 400 degrees, place rack in center of oven.

Generously grease a 12 cup muffin tin.

Cream the sugar and butter in a large bowl ( I use a stand mixer).

Add the yogurt, eggs and buttermilk, Beat on low until smooth. If using peach yogurt, chunks of peach will remain.

Add the flour, baking powder, baking soda, salt and coconut to the batter and mix on low just until the dry ingredients are mixed in and the flour is no longer visible.

Fold in the chopped peaches.

Using a scoop, place the batter into 12 muffin cups, the cups will be about 3/4 full.

Rinse out the bowl, and mix the streusel ingredients together, using a large spatula or a fork. You may also use the paddle attachment on the stand mixer, mix on low.

Crumble the streusel ingredients with your fingers and place a small amount on top of each muffin, distributing evenly over the 12 muffins.

Place the muffins into the oven and bake for 18-22 minutes or until a toothpick inserted in the center of a muffin comes out clean.

Let cool on a wire rack for about 15 minutes.

Meanwhile, rinse out bowl again and mix glaze together in same bowl. Whisk the powdered sugar, cream and lemon juice. Let sit until muffins have cooled. Drizzle glaze over the muffins with a spoon.
Recipe Notes
-You may use milk in the place of buttermilk, the result will not be quite the same, but will work. If you have sour cream or 1/3 cup of yogurt, you may use that in place of buttermilk.
-Fresh peaches vary in degree of juiciness. If your peaches are very juicy, place them in a bowl and mix with 2 teaspoons of sugar. Toss and let the peaches macerate for about 15 minutes. Drain the juice off of the fruit (discard juice) and use fruit in recipe. This process with extract some of the excess juice off of the fruit so the muffin will not become soggy!
-Frozen peaches work well in this recipe. Do not thaw before using, just chop the frozen fruit. I have also used frozen pineapple (3/4 cup along with 3/4 cup of frozen peaches) with great results! I actually prefer 1/2 pineapple and 1/2 peaches. I have not tested canned peaches or canned pineapple or fresh pineapple in this recipe.
-Coconut oil may be used in place of the butter in the muffins, but not in the streusel. I like the flavor of coconut oil in muffins, but the structure of the muffin will be less stable than if using butter.