This Blondie Recipe is an American classic. Think chocolate chip cookie dough or a brownie without the chocolate, in a bar cookie! ABK's 30 Minute Blondie Recipe is one you will crave and make over and over again.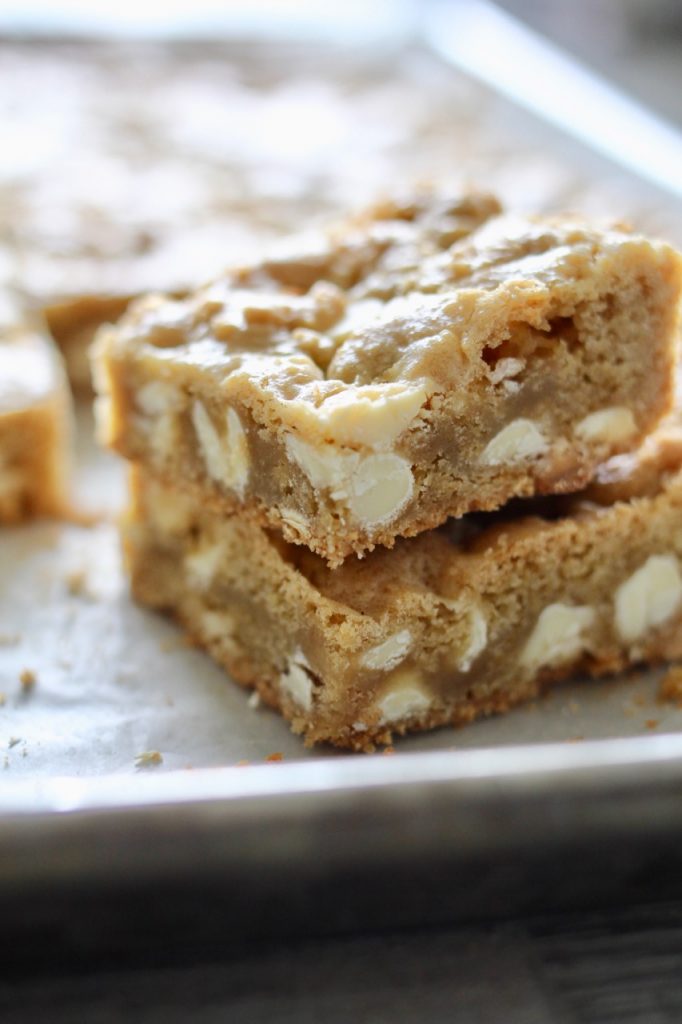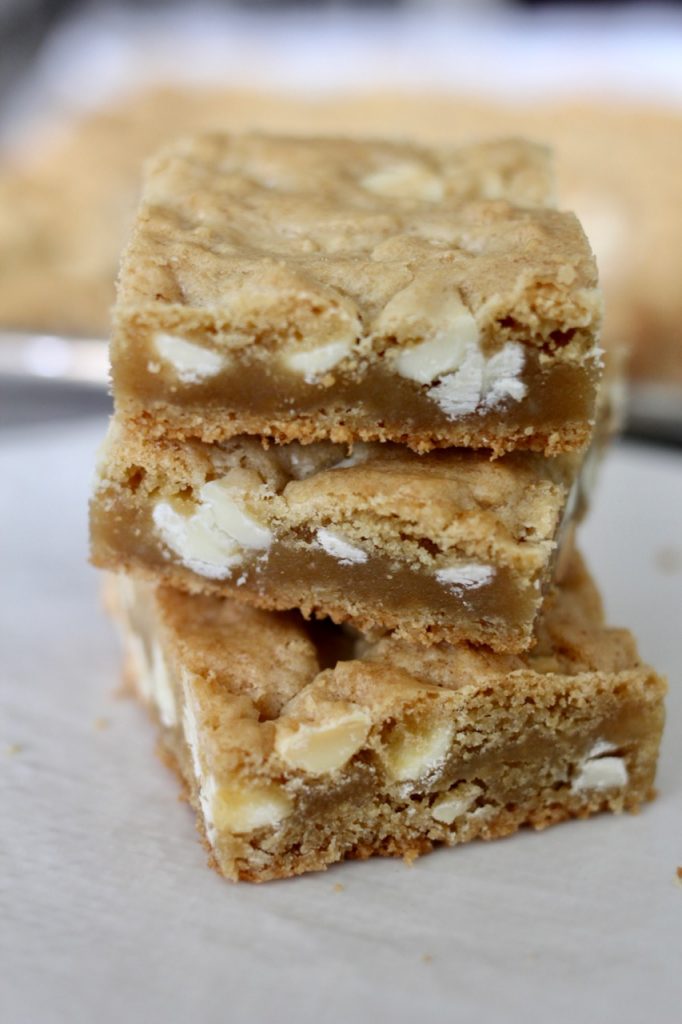 Years ago, when we were first married, Grant loved "Chiffon Nut Bars" a recipe made by his mother and grandmother. They were similar to a blondie recipe- but were made with oil instead of butter. For me, Chiffon Nut Bars were good, but lacked the buttery richness of a blondie.
They were also a little bit on the thin side for me. If I'm going to eat a blondie (or something similar) I want it to be thick and chewy! So, I altered the Chiffon Nut Bar recipe and converted it to a traditional Bondie recipe, complete with melted butter for added richness and a chewy factor that will make this 30 Minute Blondie Recipe your new family favorite.
Classic Blondie Recipe and Experiments
I love this quick and easy to make 30 Minute Blondie Recipe. It's filled with classic ingredients, to make this recipe perfection in a 9×13 pan! So easy to put together if you need a last minute dessert to take to a gathering, or for a family night treat. It can be made and baked in 30 minutes and can cool on the way to your event!
I tried several different variations and combinations of ingredients when making this recipe. I wanted the recipe to first, be easy to make in one pan. Check. I wanted the ingredients to be easily accessible in most homes. Check. Without a lot of complicated instructions. Check. I tried all types of simple add on ingredients but settled on white chips and nuts as my favorites.
The only ingredient I struggled with was the addition of one egg yolk. I try to avoid throwing away ingredients as much as possible, but 2 eggs just didn't work. This recipe is definitely better with the additional egg yolk! Two eggs+one yolk mean Blondie texture perfection!
Think butterscotch-ey goodness in a bar. This 30 Minute Blondie Recipe also freezes like a charm, because it's under baked and works well in the freezing and thawing process. Generally, baked goods that have a high fat content tend to taste as good, if not better, after being frozen and thawed at a later date! This blondie recipe falls into that category. Oh, and did I mention 24 servings in one pan?!
What's the difference between a Brownie and a Blondie?
Most of the ingredients in this 30 Minute Blondie recipe are the same 8-10 ingredients you find listed in most brownie and chocolate chip cookie recipes- without the chocolate added. Butter, granulated and brown sugar, vanilla, eggs, flour, salt to name a few. And then, there's cornstarch. I use cornstarch in our favorite oatmeal cookie recipe. The cornstarch helps the texture of the oatmeal cookie to be a bit more tender and soft, without turning crumbly, which I believe works well in this 30 Minute Blondie Recipe as well! Many blondie recipes include the use of cornstarch to give the blondies a soft texture.
Choices and the 30 Minute Blondie Recipe
It's easy to custom-make this 30 Minute Blondie Recipe. My favorite way to enjoy Blondies is with nuts. In the photos on this post, I used a vanilla chip (aka white chocolate chip) and also chopped pecans in one of the batches.
Blondies can also be made without any added chips or nuts. I don't really consider adding chocolate chips to Blondies an option. In that case, I can't really bring myself to call the dessert a Blondie, because I think that's a chocolate chip bar cookie! Coconut, toffee bits, chopped fruit, and yes, even chocolate chips work in this recipe. Tuck this 30 Minute Blondie Recipe away, or Pin it for your next party and let me know what alterations (if any) you make!
I love to hear what you have to say about recipes on ABK, and will respond as quickly as possible to any questions and comments! Please rate this recipe using the STAR rating below as well!
30 Minute Blondie Recipe
This 30 Minute Blondie Recipe is a classic that will become your family favorite bar cookie! It's filled with chewy buttery goodness and is easy to make in just a few mintues. Melted butter is key for making the chewiest Blondies!
Ingredients
1

cup

unsalted butter, cut into tablespoons

1 1/4

cups

light or dark brown sugar

1/2

cup

white (granulated) sugar

2

teaspoons

vanilla

2

large eggs, + 1 yolk

eggs, lightly beaten

2 1/2

cups

All Purpose flour

1

teaspoon

sea salt or kosher salt

1 1/2

cups

total of chopped nuts or chips (butterscotch, white chocolate, coconut)

SEE RECIPE NOTES**if not adding nuts or chips, add 2-3 additional tablespoons of flour

2

teaspoons

cornstarch
Instructions
Place rack in middle of oven and preheat oven to 350 degrees.

Line a 9x13 pan with foil or parchment and coat lightly with cooking spray.


Melt butter in a heavy (4 qt pan) on stove top over medium heat. When butter is almost melted, remove from heat and stir until butter melts.

Add sugars to melted butter and stir with spoon until dissolved. Add vanilla.

Add beaten eggs (2 eggs + 1 egg yolk) to butter and sugar mixture. Mix with large spoon until blended.

Add the flour, salt, nuts and/or chips (if using), and cornstarch. Fold into the butter mixture by hand until all flour has disappeared. Make sure to add the extra flour if not using nuts or chips!

Spread mixture over foil or parchment in prepared pan. Bake for 20-25 minutes or until crust forms on top and knife inserted into center of pan comes out clean or with a few moist crumbs attached. The mixture should not coat the knife. Do not over bake!

Remove from oven, cool completely and remove foil or parchment from pan and cut when cooled.
Recipe Notes
I always use unsalted butter in baking. If you only have salted butter its fine! If using salted butter, cut the amount of salt in this recipe to 1/2 teaspoon. 
**Important tip!** If not using nuts or chips in this recipe and the Blondies are plain, add 2-3 additional tablespoons of flour to the recipe. 
This recipe does not use baking soda or powder. 
I use my trusty 4 quart All Clad Saucepan for this recipe. It is heavy enough to melt the butter without melting and large enough for mixing the ingredients all in one pan.