Soft Gingersnap Cookies are the best kind of ginger cookie! Made with butter, powdered ginger and molasses; this simple cookie will be your family favorite year after year!
I love this recipe for Soft Gingersnaps because it can be made three different ways, depending on how you like your ginger cookies topped! The first option is to top the cookie with granulated sugar. This is often the easiest version of this cookie, because everyone has good old granulated sugar in their pantry!
Raw, or Turbinado sugar is the second option for topping this Soft Gingersnap. What is Raw Sugar? I like the light brown appearance of this type of sugar. It has a hint of caramel flavor and is a fun way to make the top of your ginger cookies sparkle in a natural way! Turbinado sugar is sold in the grocery store near the granulated sugar.
Brown sugar is not a substitute for raw sugar, although both have a light brown color! Sometimes, you can find Turbinado sugar in the natural food section of grocery stores.
The last option is to use powdered or Confectioner's sugar to top this cookie. If you use powdered sugar, the cookie will have an white appearance on top and as it bakes will crackle. If you like the look of a white cookie, try this option!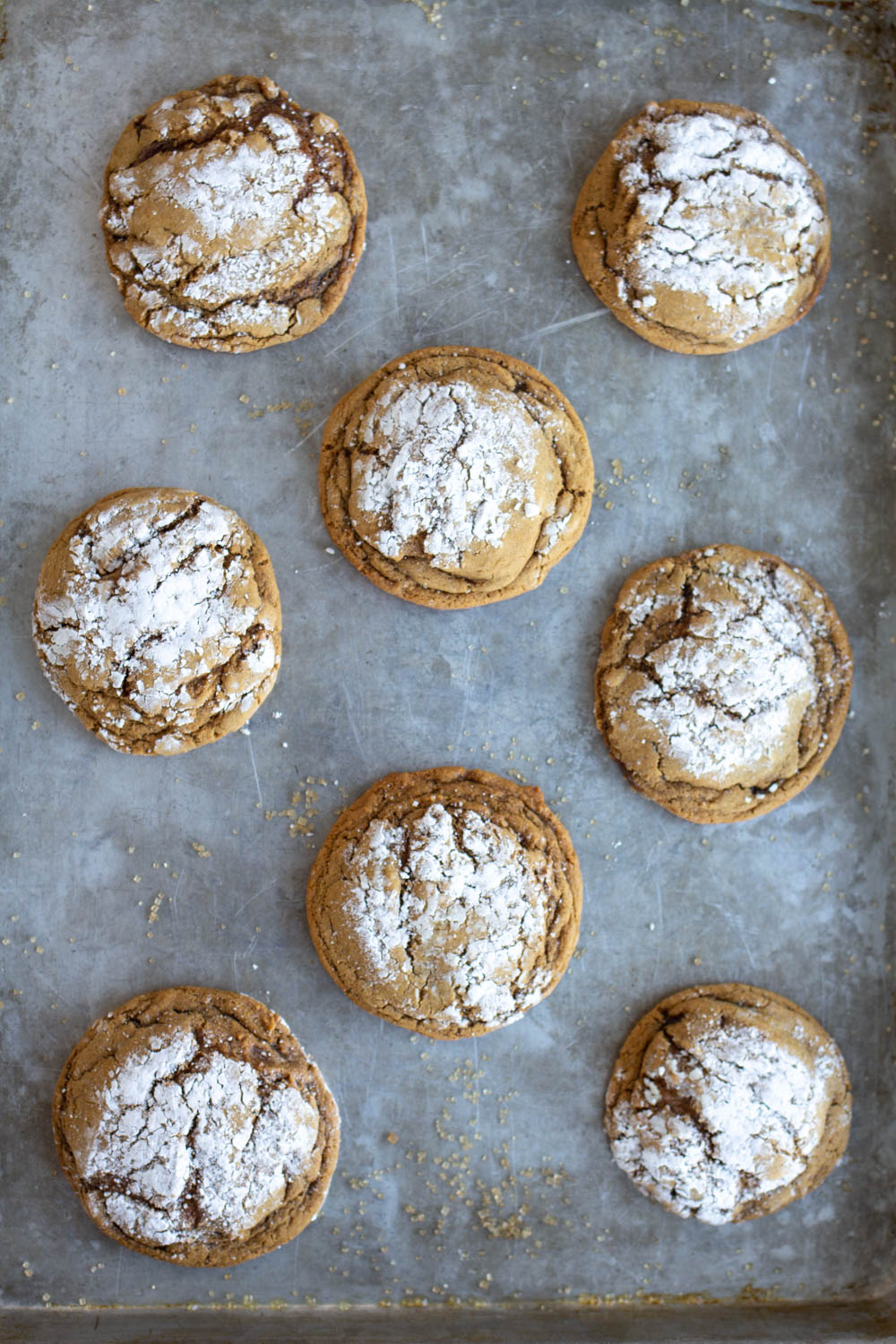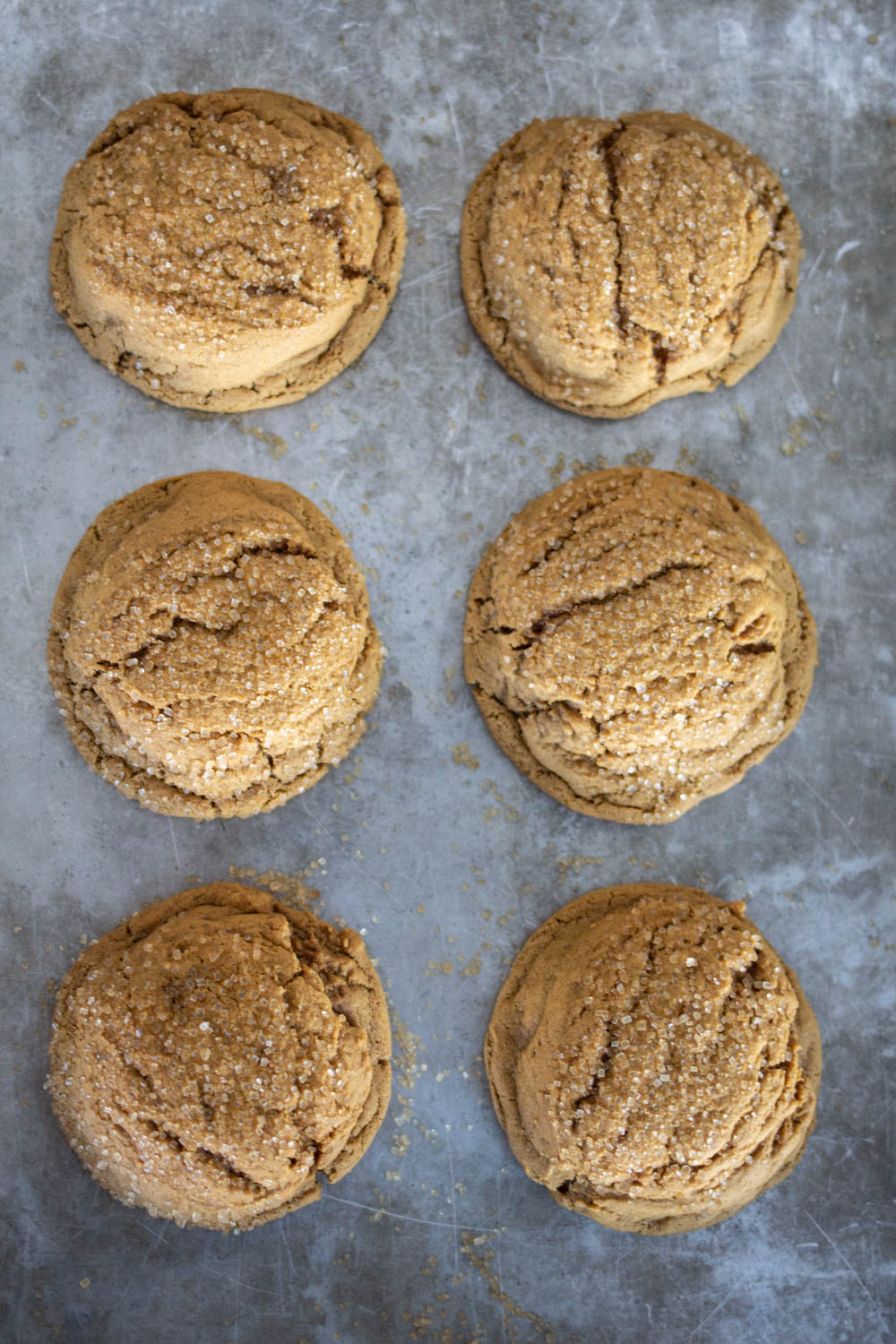 Soft Gingersnaps are perfect for make ahead! I think ginger cookies taste better after they sit for a while, and this cookie is no exception. I love to make the dough ahead and refrigerate or freeze the dough for easy baking later.
For best results, scoop the dough and place into a ziplock bag. I can usually fit 9-12 balls of dough into a gallon size bag. Seal and freeze until ready to use. When ready to bake, let dough thaw for about an hour before baking.
You can also go ahead and bake the cookies and freeze after baking. Let the cookie cool completely, then freeze. When you're ready to serve, let thaw on counter top for a couple of hours. The key to success in baking a cookie and freezing is to under bake. Follow baking instructions carefully for perfect results! 
Soft Gingersnap Cookies
Soft Gingersnap Cookies are a long time favorite for their soft chewy texture! We love this ginger cookie made with butter and molasses.
Ingredients
3/4

cup

unsalted butter

softened

2

cups

white sugar

2

eggs

1/2

cup

molasses

light or dark

4

cups

all purpose flour

4

teaspoons

baking soda

1

teaspoon

sea salt

1

tablespoon

ginger

powdered

2

teaspoons

cinnamon

granulated, raw or powdered sugar for coating
Instructions
Preheat oven to 350 degrees.

In a large mixing bowl, beat butter and sugar. Add eggs and molasses, mix until smooth.

Add flour, soda, salt, ginger and cinnamon. Mix just until wet and dry ingredients are incorporated.

Form dough into balls ( I used a 1-inch cookie scoop) and roll each ball of dough in granulated. raw or powdered sugar.

Bake on ungreased baking sheet for 8 minutes or until set. Do not over bake.

Cookies will be puffy when removed from oven, but will flatten as they cool. Tops will look cracked. Makes about 4-5 dozen, depending on size of scoop.
Recipe Notes
-You may make the dough and store in refrigerator up to one week until ready to bake, or freeze dough after shaping into balls. 
-When freezing cookies after baking, let cool completely. Lay cookies flat on a jelly roll pan or large container. Place cookies in single layers in pan, separate with wax or parchment paper. 
-Modifications for making in Spain (or other high humidity, low altitude area): 
1 egg, 1 yolk
1-2 tablespoons less molasses
2  tablespoons added flour