What's an Easter feast without a deviled egg? Everyone loves deviled eggs, especially on Easter Sunday. Today, I'm sharing my recipe for ABK's Classic Deviled Eggs!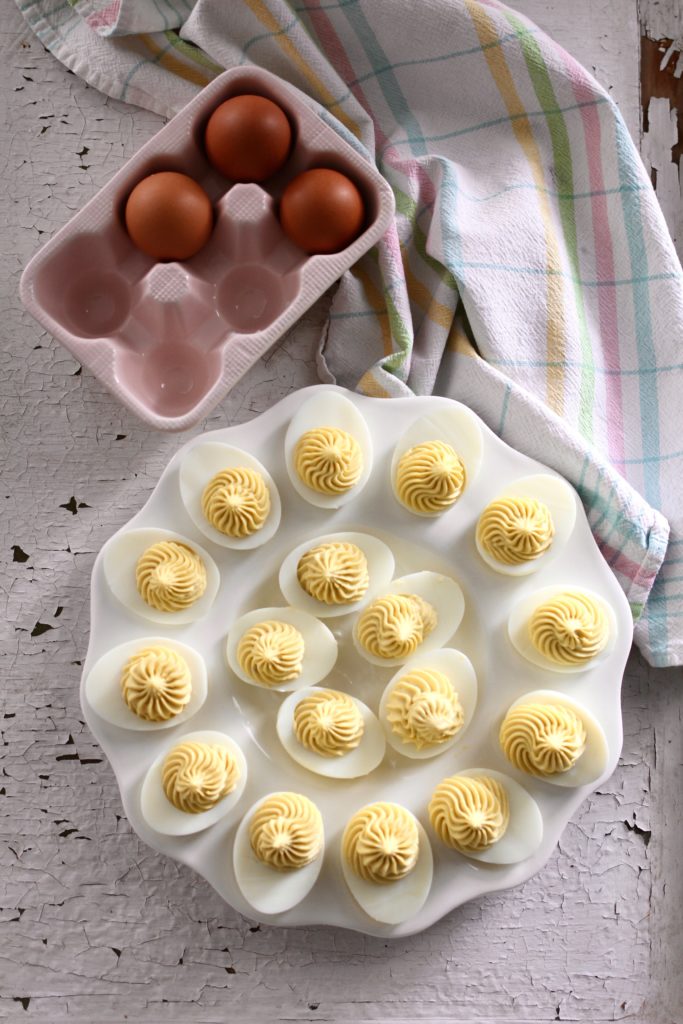 I am a simple person. If a recipe is best with 5 ingredients, I only want to use 5 ingredients. This recipe is best, in my opinion, with just a few ingredients. I love a deviled egg made with mayo, a tiny bit of mustard, salt, pepper and a good mayo. Parika is nice, but not absolutely necessary.
The creaminess of a good deviled egg is almost heavenly. Funny that it is called a deviled egg! I know you are looking at these eggs and thinking "I could never make deviled eggs that look like THAT." I've said this before. I am not a fancy food type of person. But this is easy. And it looks so festive!
I'm going to walk you through how to make these easy and amazingly delicious deviled eggs in minutes! If you are a could weeks out from Easter, buy your eggs now. It will make hot so much easier to peel the eggs if you purchase and let sit in fridge for at least a week!



Tips for making the best Deviled Eggs!
Here are a few secrets I've gathered from trial and error about making classic deviled eggs:
Rule #1 ( most important rule) Don't overcook the egg. Follow the method below for perfect boiled eggs. If you have an Instant Pot, you should never boil eggs on the stove! Use your Instant Pot and follow my directions for Instant Pot Hard Boiled Eggs. You will never go back to the stove top method!
2. Grate, instead of smash the yolks with a fork. You'll get a smoother filling overall.
3. Don't add too much mayo, or the filling won't set up and the end result will be a not-so-pretty egg.
4. Fill the egg with a bag. Use a decorating tip, the same as if decorating a cake. Your eggs will look like they were filled by a professional, vs a 3 year old (which is what my eggs look like when I don't use a tip).


Even though this recipe for ABK's Classic Deviled Eggs looks complicated, it's not. I added lots of tips to make it easier for you. Because I love you.
And I want your deviled eggs to stand up to the scrutiny of your mother in law.

It doesn't get more simple than this…
A few ingredients.
One bowl.
One beater.
One bag.
One tip for the bag.
That's it. Read the recipe carefully before starting, especially the note section of the recipe, and you will be a master of deviled egg making!

Eggs ready to transport without the slippery slide problem…