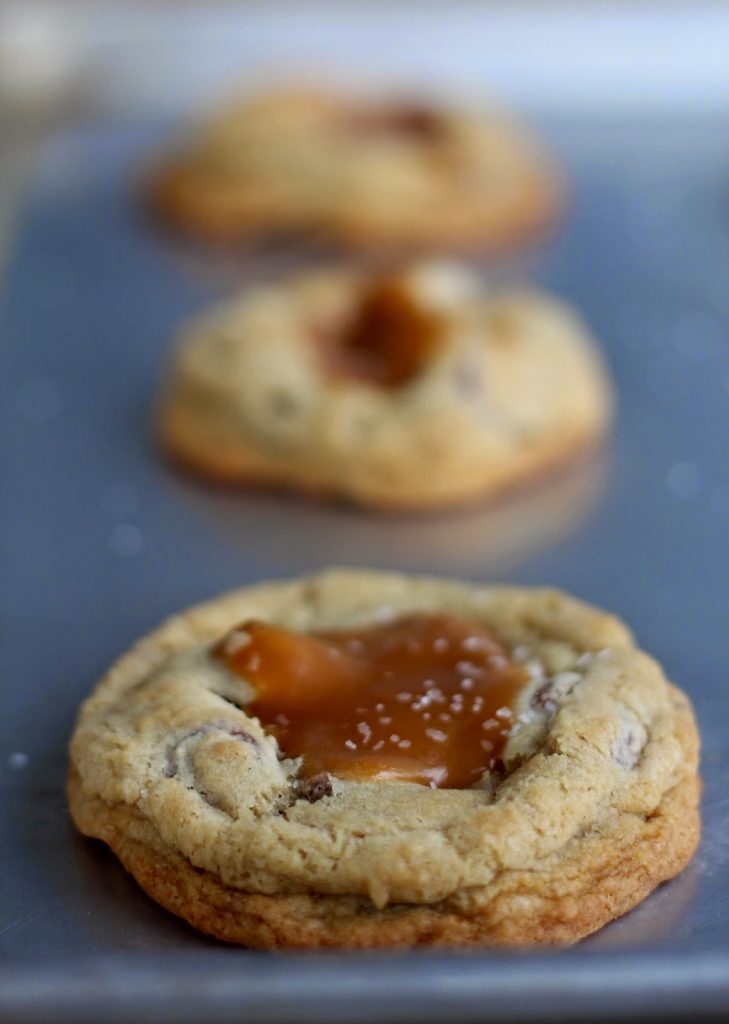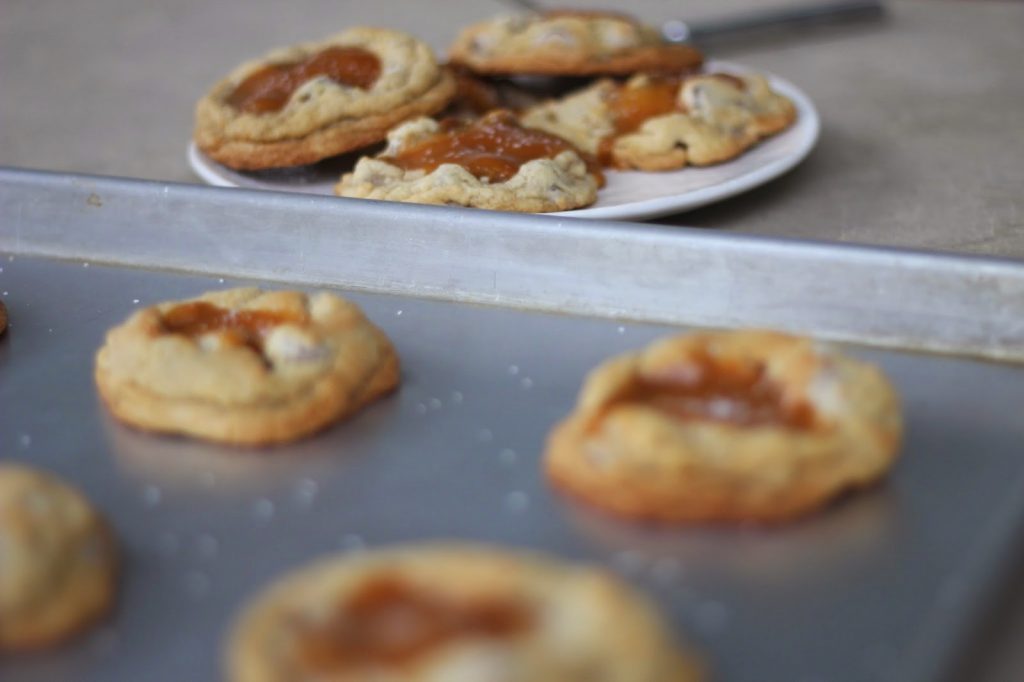 Hey. You know how I was obsessed about perfecting the chocolate chip cookie? And how I made batch after batch until I created the Tried and True Chocolate Chip Cookie?? If you've been reading this blog for any amount of time, you know what I'm talking about. If not, read these posts: P
ost One CC Cookies
and P
ost Two, updated Tried and True CC Cookies
.
A few months ago, I made a batch of cookies and put them on my
Instagram
. If you're not following along there, come join me! I post every day (almost) and share the latest and greatest goings on in my kitchen. Anyway, I posted a photos of my CC Cookies one day on Insta, and a reader said – you should try melting a square of caramel on top. Well, if that wasn't the greatest idea ever! Add a little coarse salt. Genius.
Not me. The cookie.
If you want to take the humble, but always crowd fave cc cookie to a whole new level, try the ABK Salted Caramel CC Cookie. You're going to love it.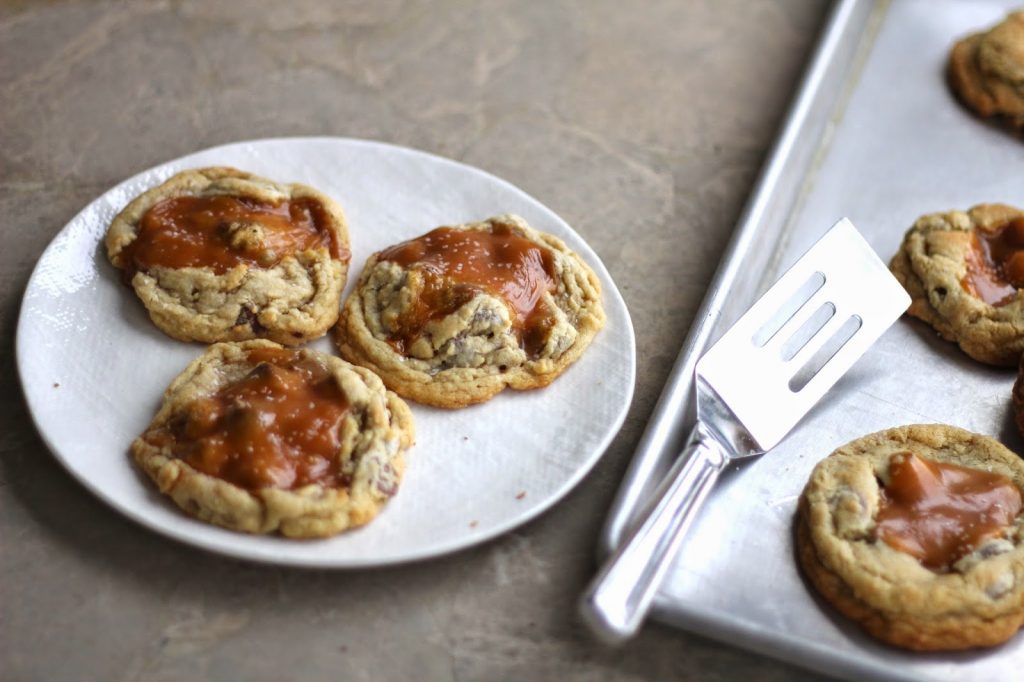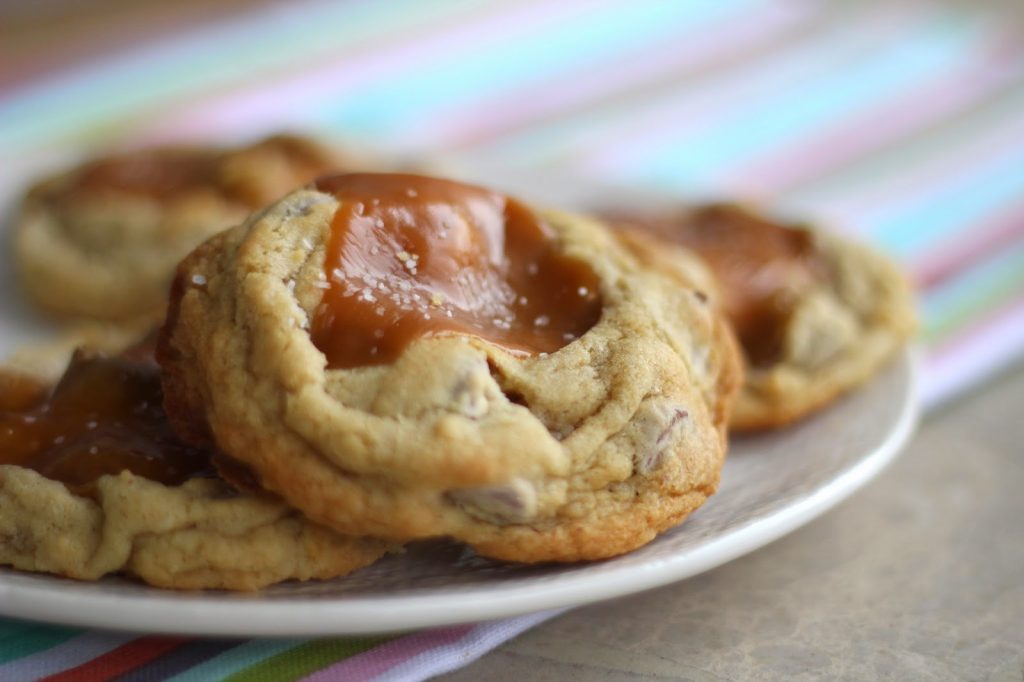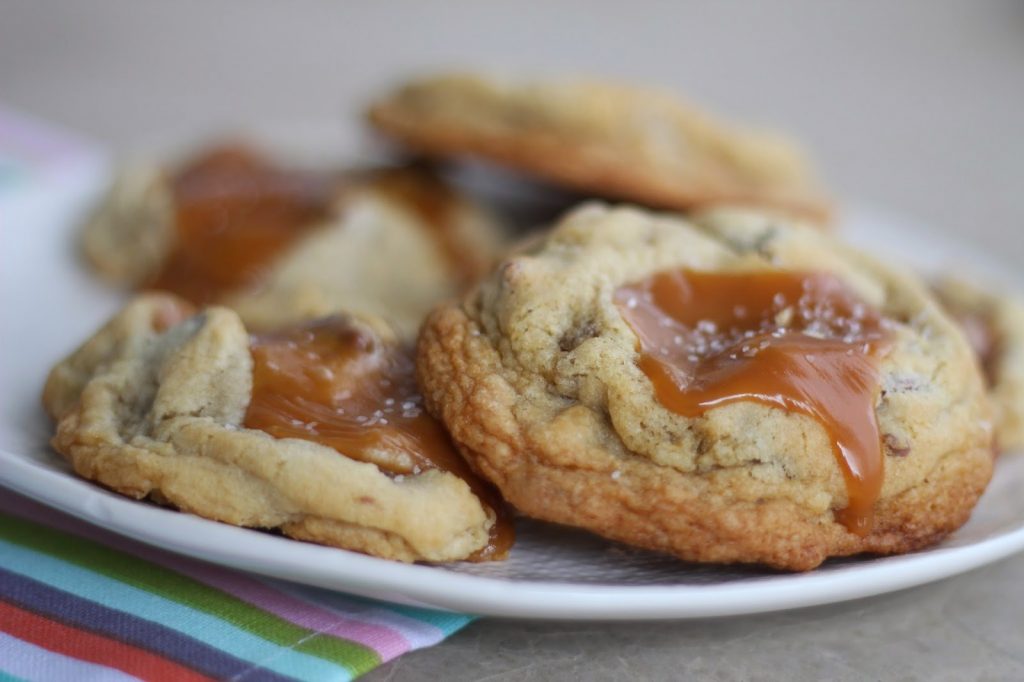 ABK's Salted Caramel Chocolate Chip Cookies
A Bountiful Kitchen * Note- the first batch I cooked with the caramel on top of the dough the whole time the cookie baked. The second batch, I made following my recipe directions, bake cookie, remove, add caramel and cook a couple more minutes. This is the reason some of the caramel looks more melted on some of the cookies.
Ingredients
1

cup

2 sticks unsalted butter, softened *

3/4

cup

granulated sugar

3/4

cup

packed light brown sugar

1

tablespoon

vanilla extract

2

large eggs

2 3/4

cups

all-purpose flour*

1

teaspoon

baking soda

1/2

teaspoon

salt

I prefer coarse salt

2

cups

or 1

12-oz. pkg. chocolate chips, I prefer Guittard Milk Chocolate for this recipe

Peter's Caramel

see note below or individual pieces of soft caramel (see note below) Kraft caramel not recommended

additional coarse salt for top of cookies
Instructions
Preheat oven to 375° F. If using convection, preheat to 375 as well.

For regular oven, place rack in middle of oven. When using a convection oven, you should be able to bake on all racks at one time.

Cut butter into pieces ( about 2 tablespoons each) and place in mixing bowl. I use a Kitchen Aid and power it on 2 (low). After a few seconds, add granulated sugar, brown sugar and vanilla extract. Mix on low speed until creamy (this takes just a few seconds). Add eggs, beating just until incorporated and smooth. Never turn the beaters on high. Using a spatula, scrape down the sides of the bowl and bottom of the bowl to insure all ingredients are incorporated.

Dump 2 cups of the flour, soda, salt and chocolate chips all together into bowl with butter mixture. Add the remaining 3/4 cup of flour to the top of this mixture. Slowly mix the dry ingredients and the chocolate chips together. Do not over mix. Turn the dough with a rubber spatula so the bottom of the dough is mixed into the top of the dough. This will insure the flour is mixed in properly and the chips are distributed evenly.

Using a cookie scoop, drop onto un-greased baking sheets, or baking sheets lined with parchment paper. Place 6 scoops of dough on each baking sheet. Flatten slightly with the palm of your hand.

If using convection, bake for 7 minutes. If using regular oven, bake at 375 for 8-9minutes. Cookies should be slightly golden. Remove from oven and place a piece of caramel on top of the cookie. Using the block Peter's Caramel, I cut off a slice, then tore off individual pieces, about the size of a quarter. don't press down on the cookie, just place the caramel on top. Place back in oven and bake for an additional 2-3 minutes, or until top is set and caramel is a bit melted. Do not over bake! Remove from oven. Sprinkle each cookie with a bit of coarse sea salt.

Cool on baking sheets completely.

Yield 18 large cookies.
Recipe Notes
(or my mini-epistle on cc cookie making and baking)
-Only use butter. Unsalted is best. The butter should be more firm than room temperature butter. I take it straight out of the fridge, and microwave it for about 8 seconds.
-*Our altitude is about 4,400 ft. So, I use about2 3/4 cups flour total. The original Toll House recipe calls for 2 1/4 cups. If you are at sea level, you will probably need less flour than the 2 3/4 cup.
-Don't over beat the butter-sugar mixture, or the batter will become too soft, and your cookies will not be beautiful and puffy. They will resemble pancakes.
-Don't sift the flour.
-There is usually a notable difference between using a convection and a standard oven. If you bake at the same temperature, for the same amount of time, the convection cookie will be done, with a beautiful, golden, slightly crispy outer layer. Still soft on the inside. And it will be taller than the cookie baked in a standard oven. Not everyone has a convection oven- if you don't, you can still bake a great cookie using a standard oven!
-I think two of the biggest mistakes made while baking cookies are: 1-Over mixing. This will cause the batter have too much air incorporated, producing a fluffy, instead of a chewy cookie. 2-Over baking. Under baking is good! Not under baked to the point the cookie is wet and doughy, but just until the top sets, and the dough looks like it has a bit of a crust.
-Chocolate chips – For semi sweet, I use Nestle Semi Sweet chips. You can't go wrong here. But for Milk Chocolate, we prefer Guittard. The chips are called Maxi Chips and are sold in a silver colored bag.
-If the cookie spreads too much, or the edges are not even, I take a small spatula and push the edges inward to create a cookie that is round. This has to be done immediately after removing from the oven.
-I purchase Peter's Caramel, a dipping and cooking caramel sold in a 5 lb block. You may also use other brands of caramel. I do not recommend using caramel sauce, the cookies will not set up properly. Readers have also reported that Kraft caramels do not work in this recipe. The caramel softens while cooking, but does not soften enough to spread, and then hardens too much after cooling. Peters Caramel runs about $27 per 5 lb block, but does not dry out, even in my desert climate if stored wrapped in a ziplock bag or with plastic wrap covering opened end. Mine has stayed fresh for a year in my pantry. I also use it for my Caramel Apple White Chocolate Cookies.
-High Altitude info: Not recommended-directions on Nestle Choc Chip package for high altitude- I have tried this variation, and don't like the result. The cookies aren't quite sweet enough, and have a crispy more cake like texture. Here are the directions on the package: (again I do NOT recommend using this method, but have printed it here as an FYI) Increase flour to 2 1/2 cups. Add 2 teaspoons water with flour and reduce both granulated sugar and brown sugar to 2/3 cup each. Bake drop cookies for 8 to 10 minutes and pan cookie for 17 to 19 minutes. –Last tip:Mound the cookie into a ball. I make them about the size of a golf ball. I use a cookie scoop, because it's easier for me. For years, I just used a spoon, and then shaped them by hand. Make sure to flatten the cookie just a bit before baking. To yield 18 cookies use a 2 1/4 inch scoop.