This recipe post has been updated with new content and photos July 2020, original post, May 2013
What is a Swig cookie? This recipe for Almost Swig Sugar Cookies is a copycat recipe for a popular cookie originally sold in Utah at "Swig" Stop. Later named "SwignSweets" and now just "SWIG". This unique sugar cookie is scooped instead of rolled and cut out, baked and then topped with delicious creamy pink frosting. Are you drooling yet??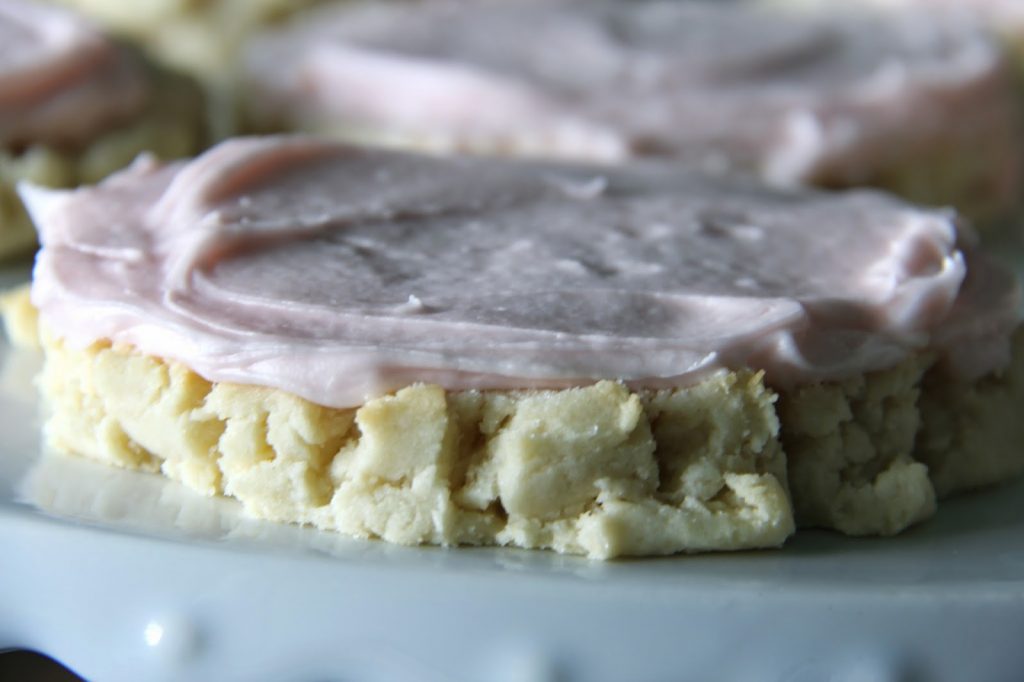 The History of Swig
If you live in Saint George, Utah, or have visited St. George you've been to the home of THE original Swig cookie! Swig, a little cookie shack, was rumored to haul in thousands of dollars each day when they first opened. Swig is known for selling cookies, soda and their signature drink a "Dirty Diet Coke".
The people in St. George are a pretty tame bunch (I know this, I used to live there). So buying a "Dirty Diet Coke" is about as wild as it gets if you're a long time resident of St. George, Utah!  The "dirty" in the soda, is an add-in flavoring such as coconut, cherry, lime, cream, etc.
St. George is a beautiful town located about 2 hours north of Las Vegas, NV. This is the St. George, UT temple. We have a special bond to this town, which is now probably too big to be called a town. It's where I met Grant and fell in love many years ago! We often took looooong walks to the St George temple in our dating days.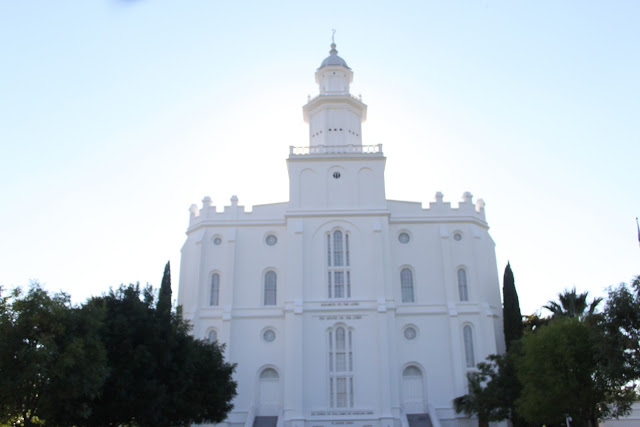 Who made the first swig cookie?
Originally the Swig sugar cookie was baked by Dutchman's Market/Cravings Bakery in Santa Clara, UT. After a few years, Swig started to expand and they broke away from Dutchman's and used other bakeries to make their cookies. Dutchman's has a FB page, where you can see the original recipe sugar cookies sold in their store, along with what they call "muddy" sodas. Dutchman's sell their cookies at room temperature, prefrosted and is still in operation in Santa Clara.
Swig was first opened in 2010 and grew to 17 stores before being sold. My research and testing on the cookies was done way back when Swig was a two-store operation, only found in St George. If you want to experience a cookie that is similar to the ORIGINAL Swig cookies, you need to make our recipe for Almost Swig Sugar Cookies!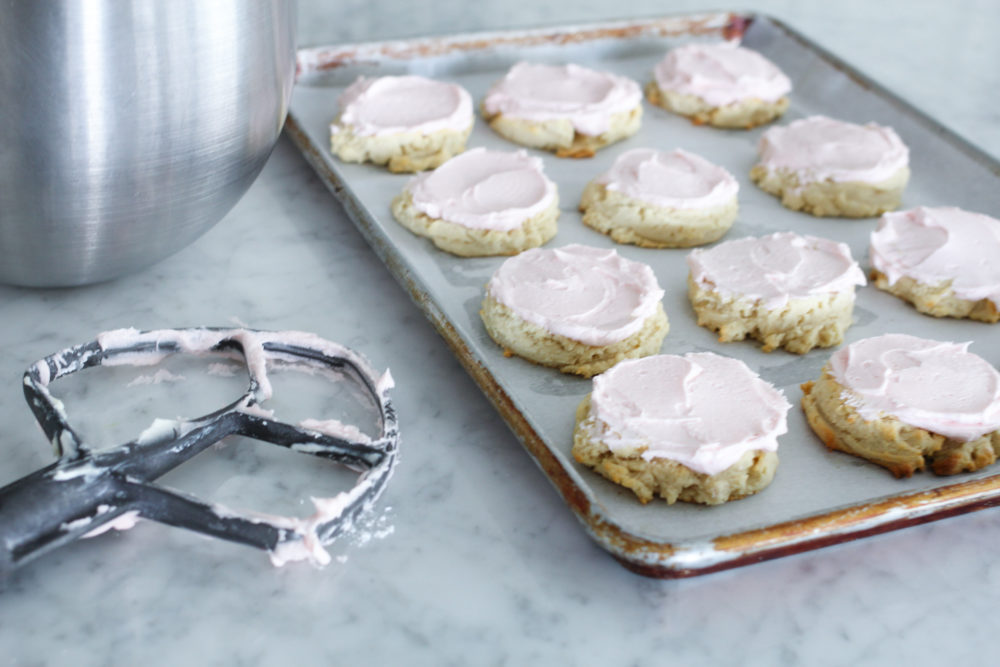 Originally, the Swig cookie was served cold and frosted with room temperature frosting after you placed your order. St George is a hot, dry place, so a cool cookie and Diet Coke are a perfect combo!
Recipe Development in 2011 aka taste testing a lot of cookies…
I tested several different recipes online claiming to be the original Swig recipe. None of them were quite right. I baked sugar cookies with cream cheese and/or sour cream in the dough, and thought the sour cream gave the cookie a heavier texture, similar to the Swig cookie. I tried an entirely different recipe, altered a bit to create a heavier cookie. Still not quite right.
After comparing several recipes, and more taste-testing of the Swig Shack cookie, I decided the Swig cookie was so dense, it probably did not have any egg in the dough. I altered the recipe again, and swapped the baking soda for baking powder. I also tried cream of tarter (see my note below about that experiment). Yes, it sounds like I am lobbying for a job at America's Test Kitchen.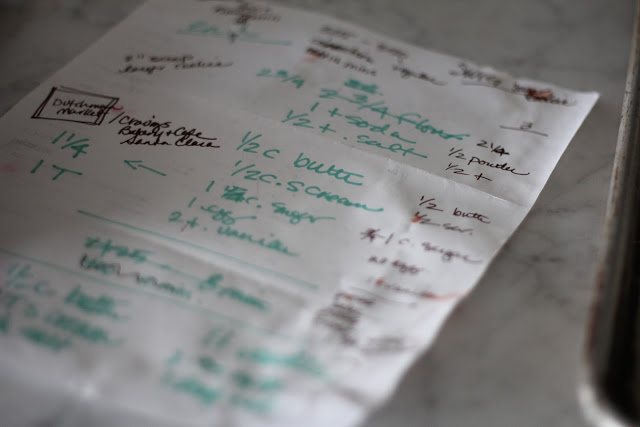 My final result is a cookie very similar to the original Swig cookie. If you strip away the frosting on the Swig cookie, it is a very bland tasting treat (trust me, I ate several cookies without frosting for the sake of research). The cookie is so bland on its own, that I added vanilla and sugar to make it more flavorful. I couldn't help myself. In the recipe notes, I give instructions for a cookie that tastes like the original not very sweet Swig! Make sure to read all of the recipe notes for options and helpful hints.
The End. Almost…
After extensive taste testing on several Swig cookies, I've decided the Swig cookie is more like a cross between a shortbread/flattened out sweet biscuit than a cookie.
The store bought version is not very flavorful and quite dry- which may be a good thing, since it is served with a Coke or Dr. Pepper. And don't forget about the flavor shot in the drink. A bland cookie goes well with a sweet drink and/or a flavor-spiked soda. I'm standing by my theory that all the fuss is about a cold cookie, served in a hot climate, with a fun drink!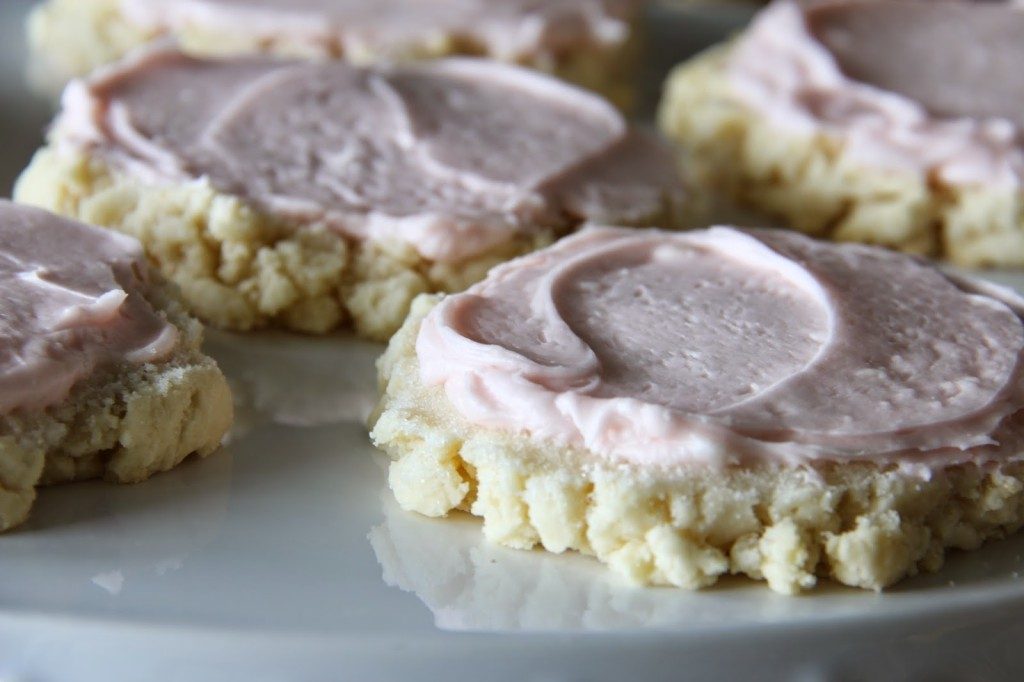 I've received hundreds of comments over the years on Instagram and on the earlier post similar to this…
"Where do I leave the 5 stars!? My family really enjoys this recipe. I love that I can make a large batch and control the size of the cookie. I earned the nickname "Auntie Awesome" after bringing these to my nieces and nephews tennis tournaments; they feed a large crowd, can handle the summer heat, and soften the hearts of even the toughest competitors!" Daniel
I hope you will give ABK's Almost Swig Sugar Cookie recipe a try and let me know what you think below!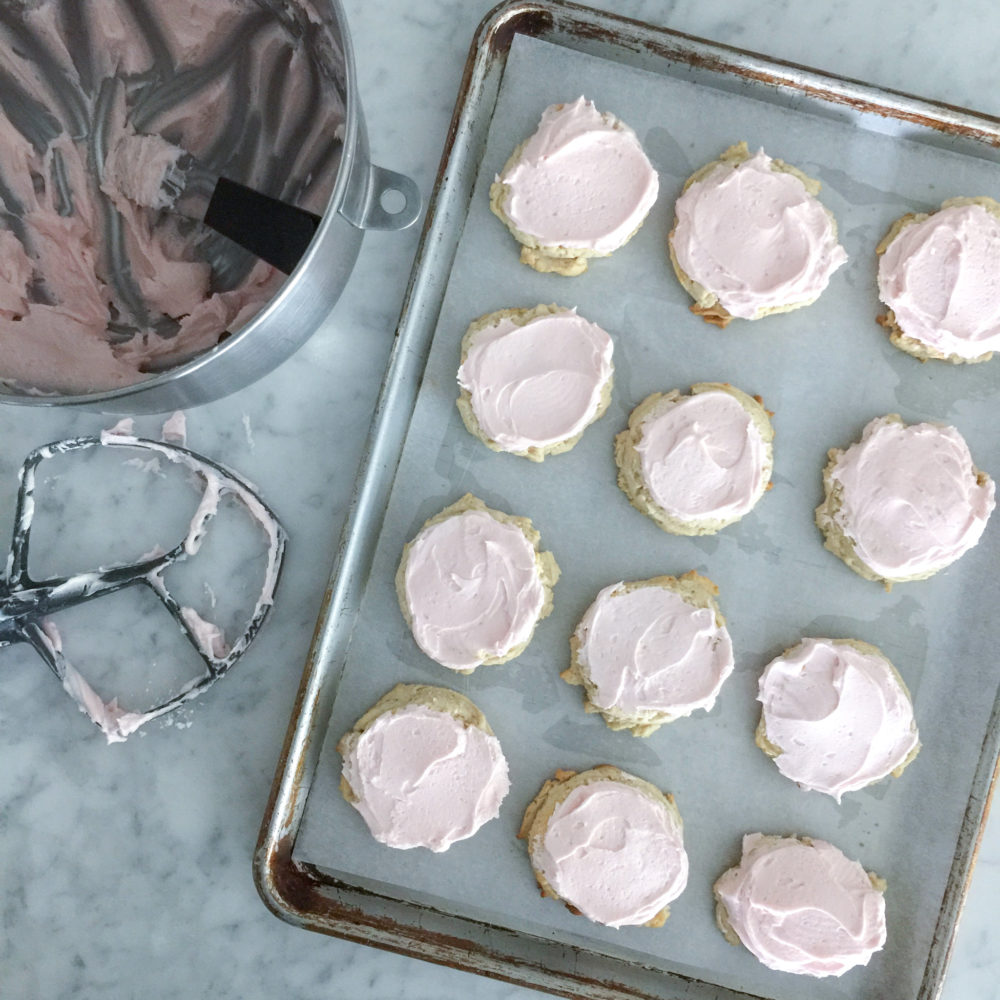 Almost Swig Sugar Cookie Recipe
Make at home recipe for famous Utah Swig cookies! Best served cold with room temperature frosting!
Ingredients
dough:
1/2

cup

unsalted butter, slightly soft

1/2

cup

canola or vegetable oil

1

cup

sour cream

1 1/2

cup

granulated sugar or powdered sugar

1

teaspoon

almond extract

optional

4 1/2

cups

all purpose flour

do not sift!

1

teaspoon

baking powder

1

teaspoon

salt

sugar for top of cookies
frosting:
1/2

cup

butter

room temperature

2

tablespoons

sour cream

4

cups

powdered sugar

1-2

teaspoons

vanilla

dash of salt

1-2

drops red food coloring

1-2

tablespoons

milk**
Instructions
Preheat oven to 325 convection or 350 regular bake.

Take butter out of refrigerator and microwave for about 15 seconds or just until slightl soft.

Place butter, oil and cold sour cream in a mixing bowl.

Mix for about one minute.

Add sugar and almond extract, mix until smooth.

Add all dry ingredients at once.

Mix just until flour disappears and the mixture comes together in a ball of dough, about 1 minute on very low speed.

Spray the cookie scoop with a little cooking spray.

Scoop the dough onto a lightly greased cookie sheet. I use a 2 inch scoop. A 2 inch scoop will produce a cookie similar in size to the Swig cookie. If you don't have a cookie scoop, use an ice cream scoop or roll the dough into a ball about the size of a golf ball. It is best to use a scoop and overfill it a bit to get the desired jagged edge.

Place about 1/4 cup sugar into a small bowl.

Spray the bottom of a flat glass with cooking spray.

Flatten one cookie a bit then dip the glass in sugar.

Press the bottom of the glass against the cookie. Press the cookies so they are flattened a bit ( until the cookie dough just reaches the outside of the edge of the glass) twisting the glass as you press to produce a jagged edge.

I bake 8 cookies per tray. Continue until all cookies are flattened.

Bake in oven for about 10-12 minutes on convection or about 12-15 minutes regular bake or until edges are lightly golden and cookies are slightly firm to the touch.

Remove from oven, let cool. Loosen the cookies from the cookie sheet after cooled a bit, or they will stick to the pan (even though it has been lightly greased).

Place the cookies in the fridge and chill.
Prepare the frosting:
Beat together the butter, sour cream, powdered sugar, vanilla and salt. When all ingredients are incorporated, add the drop of food coloring and a little milk if the frosting needs to be thinned.

Frost after the cookies are completely chilled.

Makes about 18 large cookies.
Recipe Notes
Tips and (surprise) a few more comments
The recipe looks a little long and maybe even complicated, but it's not. Once you get the hang of the technique for scooping and pressing, it takes less than a half hour to make and bake the entire batch.
If you want the cookies to taste more like the original Swig cookies make this adjustment to the dough: Omit the almond extract and reduce the sugar to a total of 3/4- 1 cup.I prefer the cookies to be sweeter, so I like 1 1/2 cups of sugar in the dough. 1 1/2 cups of sugar may sound like a lot, but consider traditional chocolate chip cookies have 1 1/2 to 2 cups of sugar to 2 1/2 cups of flour. The ratio here is 1 1/2 cups sugar to 4 1/2 cups flour.
For a more crumbly cookie edge texture, use shortening instead of butter. You may use solid regular or butter flavor shortening. The first time I posted this recipe, I used: 
The bit of crunch on the edge of the Swig cookie could be from the baking method, or from cream of tarter substituted for the baking powder. Cream of tarter adds a bit of a crunch, but also a hint of tang, which I didn't detect in the Swig cookie. In one of my test batches, I tried 1/2 teaspoon cream of tarter along with 1/2 teaspoon of baking powder, and thought the cookie was too tangy, not at all like the Swig cookie.
This cookie measures about 3 3/4 to 4 inches across when finished baking.
The St. George Swig cookie is frosted with quite a thin layer of frosting. I prefer my frosting to be a bit thicker. If you want to frost the cookie with a thinner frosting, add about 3-4 tablespoons of milk to the frosting.
This cookie stays quite well in the fridge for about a week  or two if kept in an air tight container. I frost the cooled cookies, then store them in the fridge. Once the frosting is set on the cookie, you may layer the cookies between sheets of parchment or wax paper. This allows you to stack the cookies without taking up too much space in the refrigerator.
This cookie freezes well frosted or unfrosted.
If you are making this for a gathering where there will be other desserts, use a smaller cookie scoop and bake for less time.