This chocolate cake is our family favorite!  It comes with a warning… Once you eat this cake, no other chocolate cake will measure up. It's the most amazing chocolate cake you'll ever bake!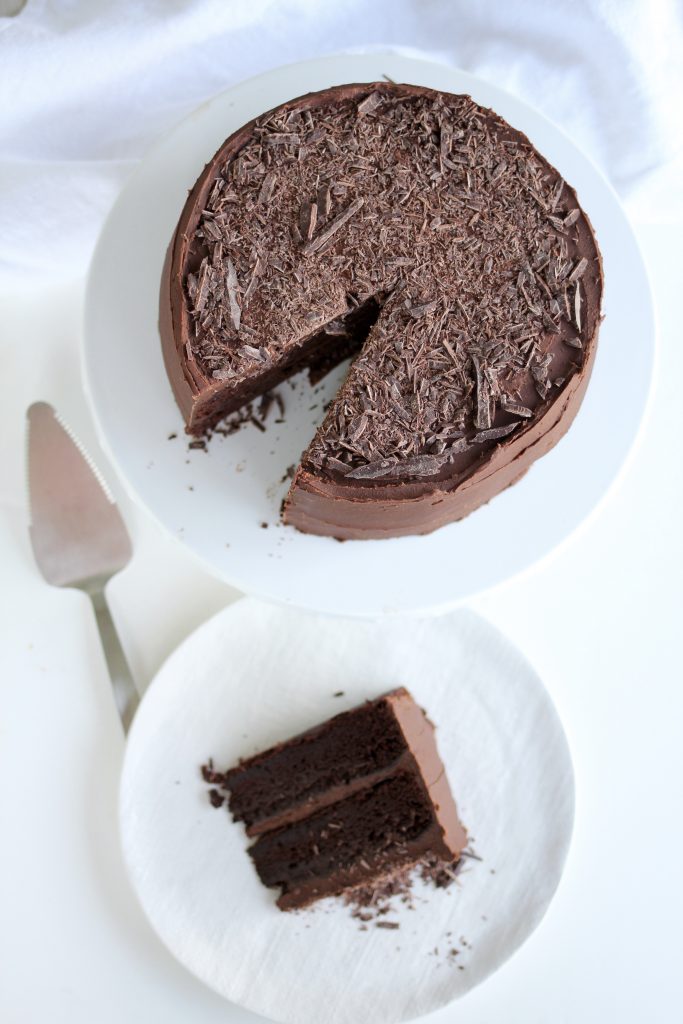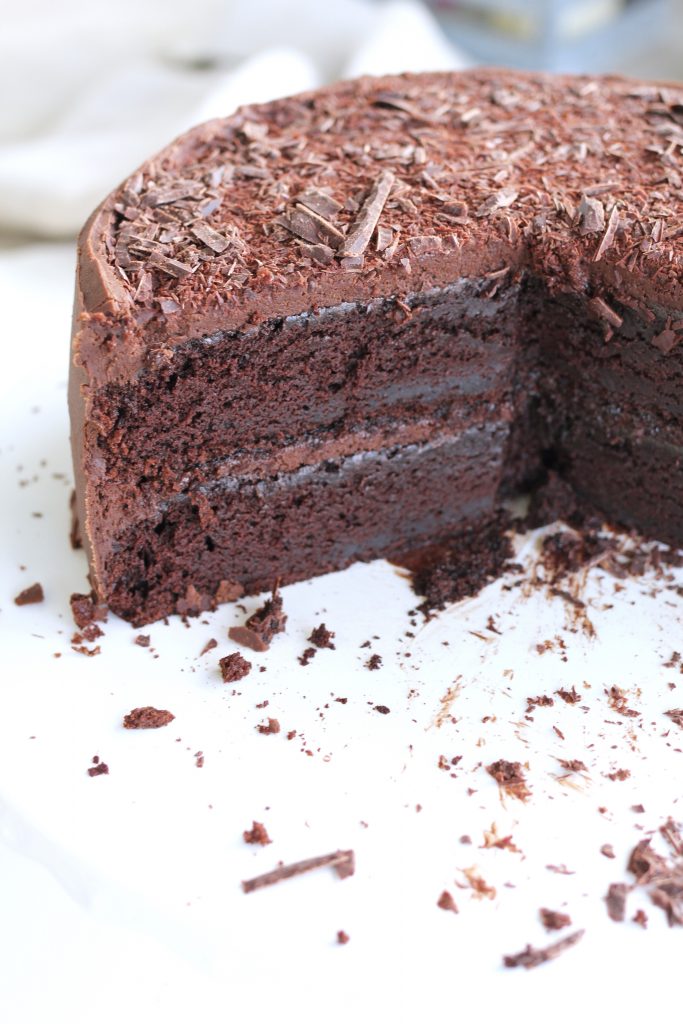 Chocolate Cake. Everyone loves it.  And let's face it. If you can make an Amazing Chocolate Cake, you're well on your way to conquering the world!  Or at least your world.  If you don't have a really amazing chocolate cake recipe, you've come to the right place. This will be your new family favorite. The one your kids and husband and Father in law ask for every year on their birthday!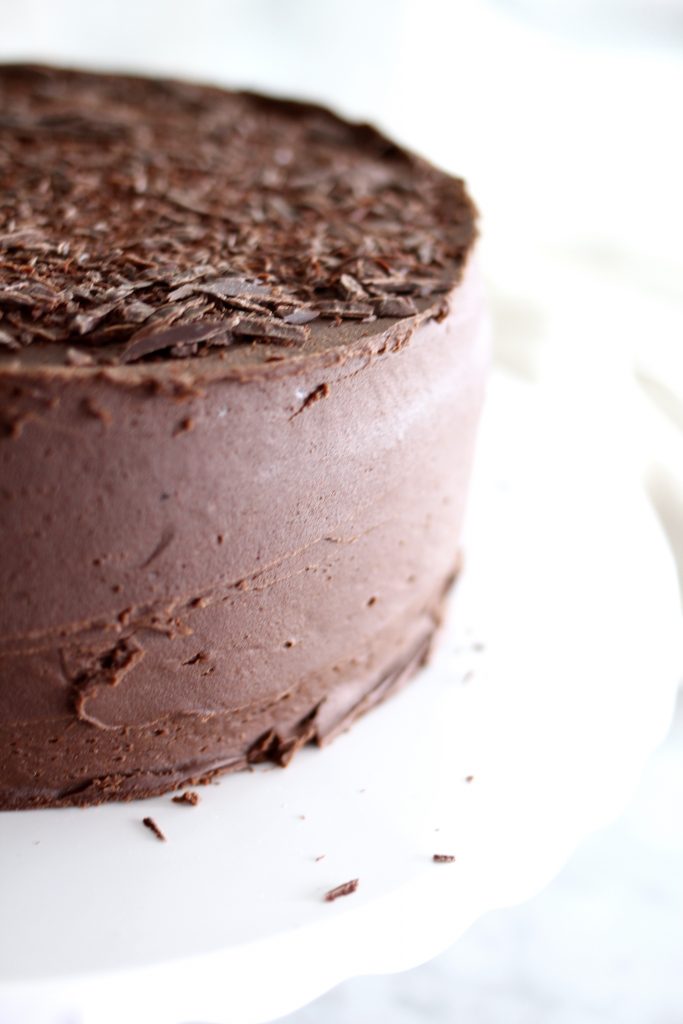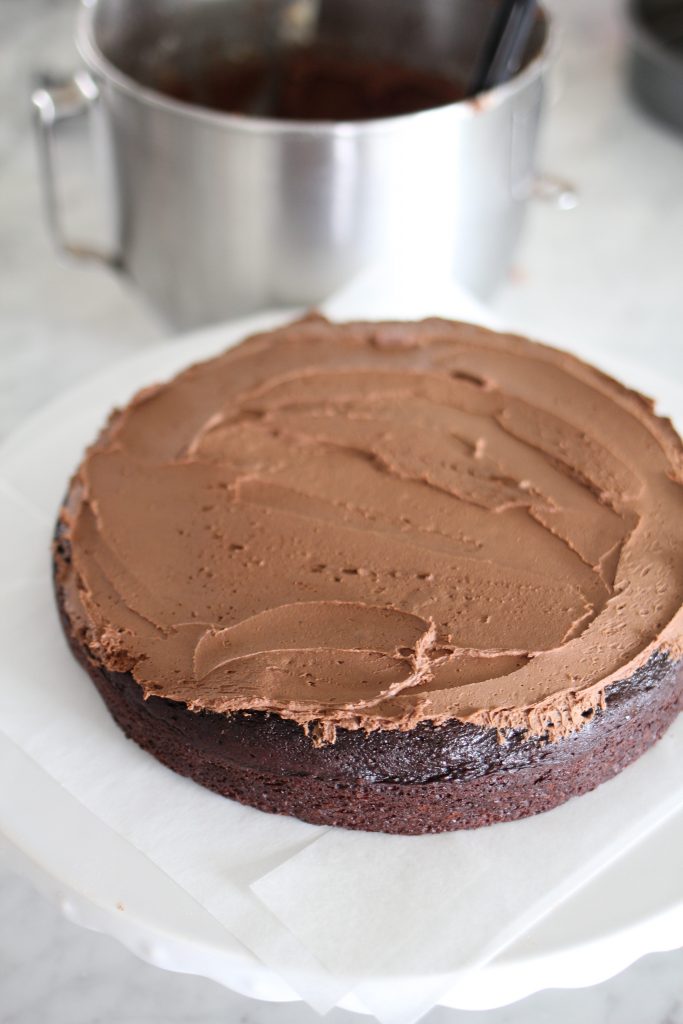 This recipe for Amazing Chocolate Cake was originally posted back in the early days of A Bountiful Kitchen. It came from my friend Laurie and her friend Amy, who perfected the recipe. Since the title Laurie and Amy's Amazing Chocolate Cake is a little on the long side, and the photos need some updating, I gave the recipe a little makeover and here it is,  7 years later, renamed simply as  Amazing Chocolate Cake.
This cake is for serious chocolate lovers!  It's a deep, dark chocolate cake, made with dark chocolate, cocoa powder and  dark brown sugar. If you're looking for a super moist cake with rich chocolate flavor, this is your cake. The frosting is as decadent as the cake. If you're counting calories, look away. This recipe calls for over 2 1/2 cups of butter in the cake and frosting combined. Yes. TWO AND ONE HALF CUPS.  Gulp.  It's almost a religious experience, this cake.
I know you're going to love it.  Let me know what you think. Oh, and if you've already made this cake, please add your testimonial. I'd love to hear what you have to say 🙂
Happy baking!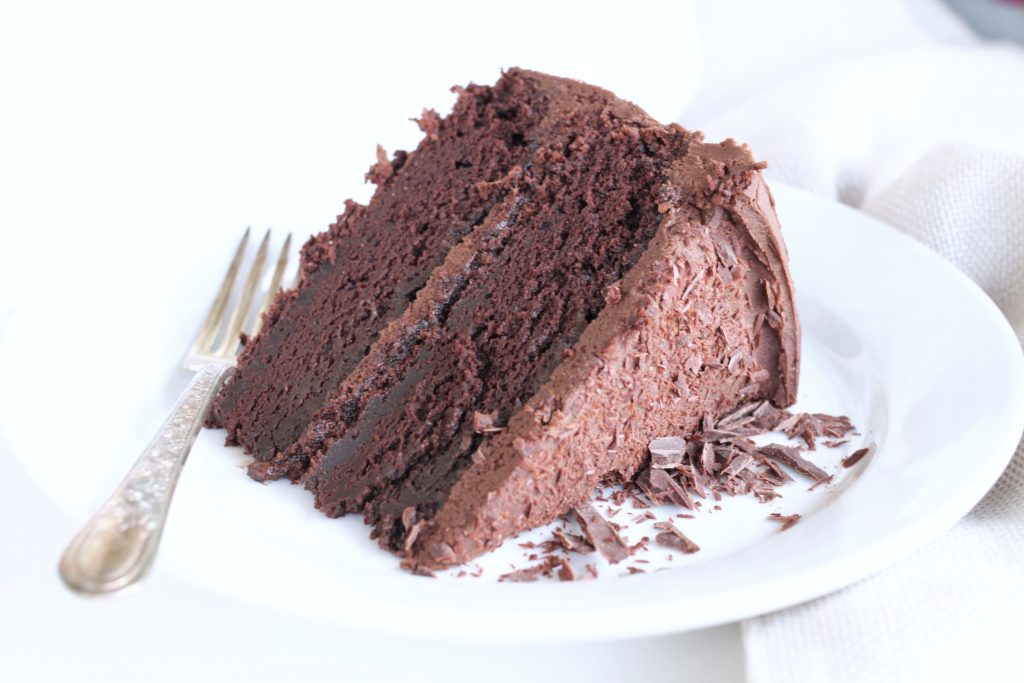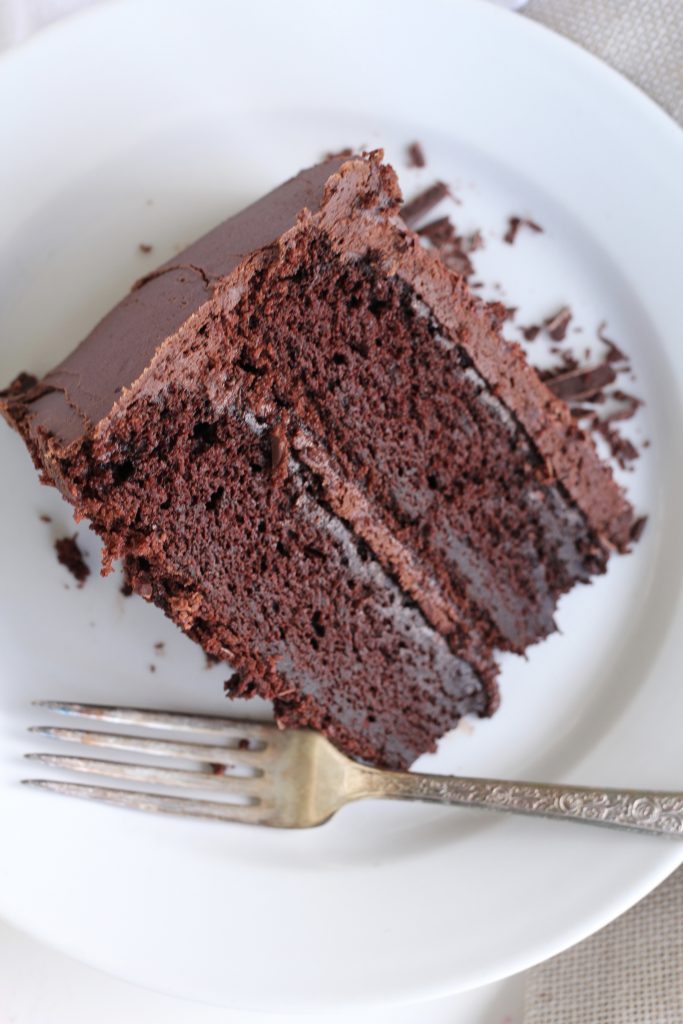 A couple of tips, before you get started:
The type of pans you use are critically important. I like to bake this recipe in 2- 9 inch pans I use these pans, which you can order online or purchase at craft stores, or even at TJ Maxx or Marshalls. Check out the original post to read all about pans, and why the pans you use are important!
The recipe calls for chopped chocolate or chocolate chips.  I've been making this for close to 10 years now and I choose dark chocolate, chopped, over chocolate chips, if they're available. My chocolate of choice for this recipe is Scharffen Berger Semi Sweet Chocolate, but you may use any good quality semi sweet chocolate. 
Amazing Chocolate Cake
Servings
2
8 " layers or 4 9" layers
Ingredients
1¾

cups

boiling water

6

oz.

semisweet chocolate

coarsely chopped, OR chocolate chips (for a double recipe, use 15 oz. chocolate chips, which equals about 2½ cups.)

1

cup

unsweetened cocoa powder*

2

cups

flour

2

tsp.

baking soda

¼

tsp.

salt

1 1/4

cup

20 tablespoons (2½ sticks) butter, softened

1¾

cups

packed dark brown sugar

4

large eggs

room temperature is best

2

teaspoons

vanilla
for frosting:
1¼

cups

plus 2 tablespoons unsalted butter

(22 tablespoons) softened

4½

cups

powdered sugar

1

cup

unsweetened cocoa powder

For really dark frosting, use part Hershey's Special Dark Cocoa, about 4 tablespoons

2

teaspoons

vanilla

¼

cup

plus 2 tablespoons milk

additional chopped chocolate for topping cake

optional
Instructions
Preheat oven to 350 degrees.

Line two 9-inch round cake pans with wax or parchment paper. Spray the pans and parchment with cooking oil, such as PAM.

Pour the boiling water over the chocolate in a medium size bowl.

Add cocoa powder and stir until mixture is smooth.

Set aside to cool.

Cream the butter and brown sugar in a separate large bowl.

Add the eggs one at a time, beating well after each addition. Beat in vanilla.

Add the dry ingredients and half of the chocolate mixture.

Beat on low to combine, then on high for 1-2 minutes.

Add the remaining chocolate mixture and beat on low until mixed.

Pour batter into pans and bake 25-30 minutes, or until a cake tester inserted into the middle comes out clean with a few moist crumbs attached.

Cool for 10-15 minutes; remove from pans.

Wrap in double layers of plastic wrap while still warm and freeze.

Double recipe makes two 10" layers plus two 8" layers or four 9" layers.

Never fill pans more than ⅔ full.
Frosting directions:
Cream butter with mixer.

Add powdered sugar and cocoa, a little at a time. Mix in vanilla.

Add milk and beat until frosting is smooth. Add a little more milk if needed.

When cake is frozen solid, frost between the two layers and spread a thin layer of frosting over the whole cake.

Freeze again for about 20 minutes.

Frost again.

Repeat if desired. (Frost the last time on the day you plan to serve the cake and let it stand at room temperature to thaw.)

Top cake with chopped chocolate after frosting for the last time.

See notes for quick frost and serve directions.
Recipe Notes
-I like Scharffen Berger Chocolate for this recipe. The Semi Sweet Dark Chocolate Baking Bar is my favorite. You may use chocolate chips in this recipe, but I prefer dark chocolate baking bars.-Purchase bakers pans for this recipe. The sides of the pans are straight and will not allow the pans to fit all the way into each other. Read more about pans on the original post. -Put a small amount of frosting (about 1/2 tablespoon) in the middle of the platter before placing the first cake layer on the platter. This will help hold the cake in place.-Use strips of parchment paper under the first layer of cake to help keep the platter clean. When ready to serve, remove the paper and use a damp cloth to clean up any smudges of frosting. -If you don't have time to freeze the cake for the directed amount of time before frosting, wrap the cake in plastic wrap and freeze for about an hour. Remove and frost the bottom layer and rest of cake as directed. Place in fridge or freezer until about an hour before serving. Remove from freezer to let thaw before serving.