Apple, Sausage and Herb Stuffing has been a family recipe for as long as I can remember. This was always the highlight of Thanksgiving for me as a child, and 55 years later, it  is still a staple on our Thanksgiving table!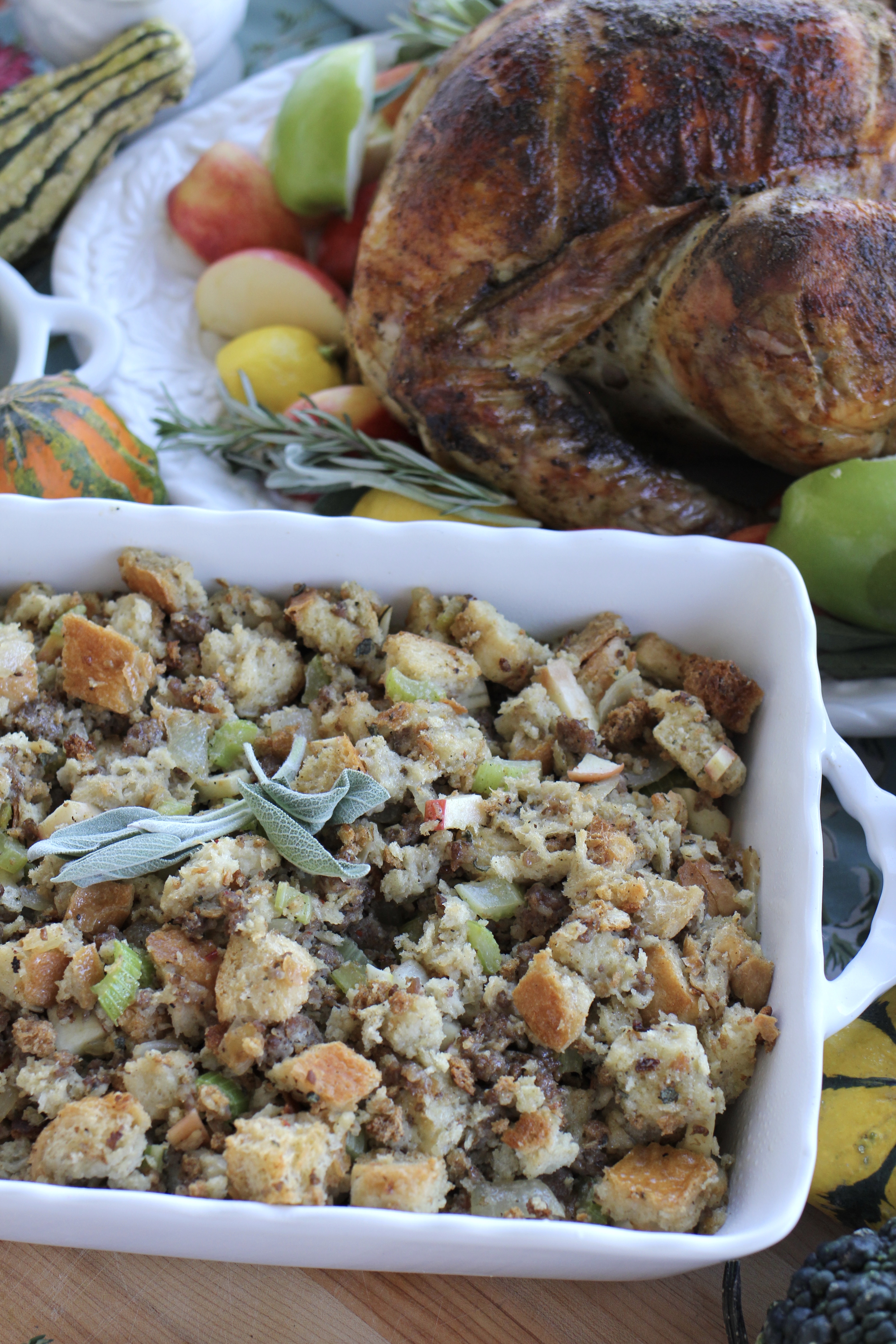 If I had to pick only one food item to eat for Thanksgiving dinner, it would be stuffing. Stuffing and dressing are the same thing.  Traditionally stuffing is placed inside of the turkey to cook and dressing is cooked outside of the turkey in a dish. Also, depending on where you come from, and what era you were raised, you either call it dressing or stuffing. Or stuffin'.


I'm not sure, but I am willing to bet  this recipe originated from either the box of dried bread cubes my mom purchased to make her Thanksgiving stuffing, or it possibly  came from of her old red plaid Better Homes and Gardens Cookbook, published in the 1950's! I make Apple, Sausage and Herb Stuffing a little different than my mom used to,   using a bit more sage and I usually dry my own bread. The basic recipe is my mom's and I'm sure there would be nothing short of a riot in our kitchen if I announced I was not making my mom's Apple, Sausage and Herb Stuffing for Thanksgiving!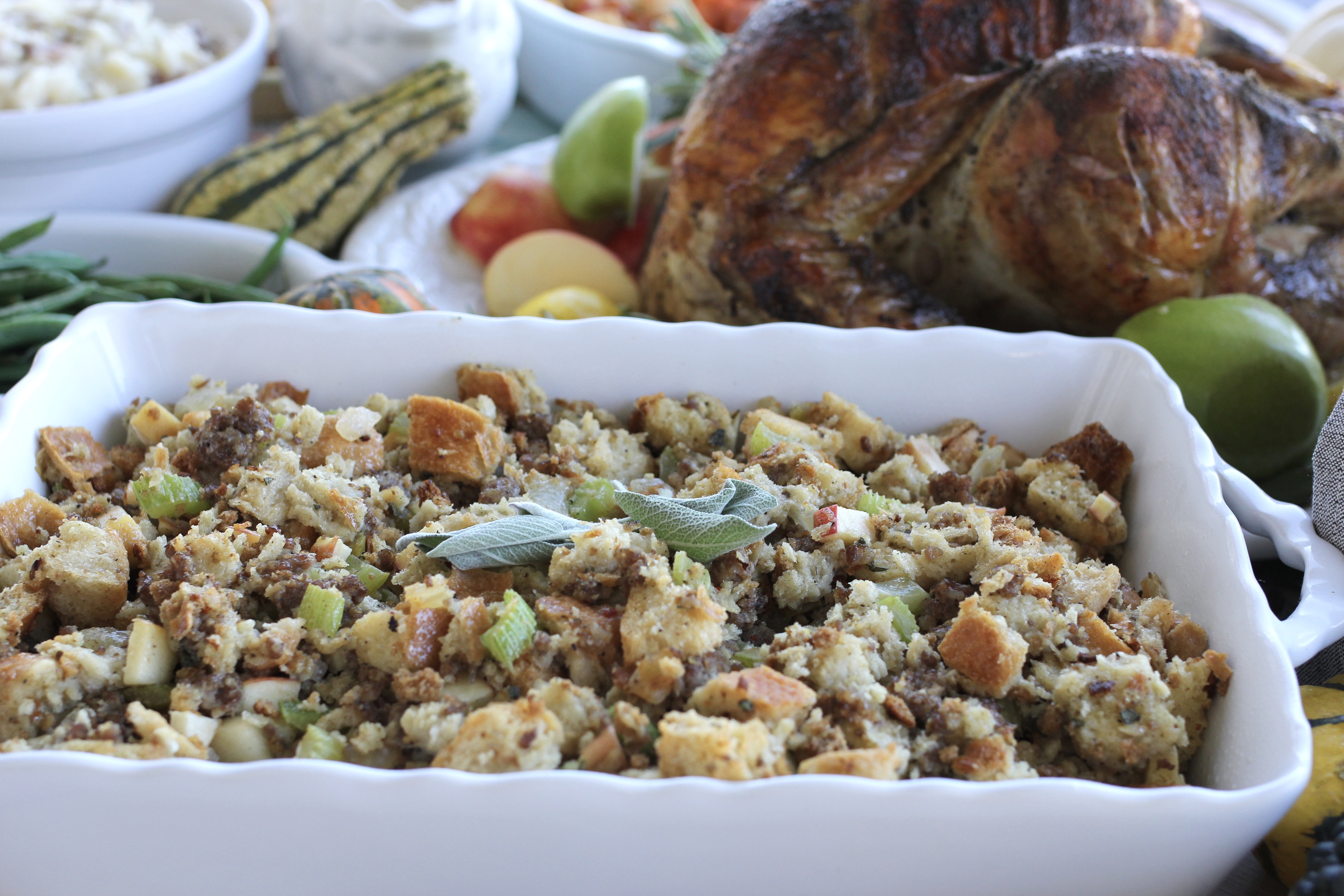 Think stuffing is too difficult to make? It is one of the easiest dishes I make every year at holiday time! I was appalled when I first heard people say they "made" STOVE TOP stuffing for Thanksgiving. THAT, my friends, is a crime. Seriously. Apple, Sausage and Herb Stuffing is the best recipe hands down for basic home cooked dressing you will ever taste. Simple steps: brown sausage, chop and cook veggies, throw in dried bread, broth, butter, seasonings and toss it all together. Repeat after me. This is easy. This is easy.
So grateful for recipes that bring generations together. Thanks Mom! I love you.
Apple, Sausage and Herb Stuffing
Ingredients
1

lb.

sausage (Jimmy Dean Regular or Spicy

I use half of each

1

medium onion

chopped about 2 cups

1 ½

cubes

3/4 cups  butter, melted

2-3

stalks celery

chopped about 1 1/2 -2 cups

1

apple

cored, chopped (I usually use a Gala) peel left on

2-3

cans chicken broth

MSG free about 4-5 cups 

8-10

cups

dried bread cubes

or 1 ½ bags cubed stuffing

½

of 14 oz. bag Herb Seasoned Stuffing

crumbly Pepperidge Farm

Fresh sage

about 5 large leaves chopped or about 3-4 tablespoons 

or 2-3 tablespoons dry sage

2

tablespoons

poultry seasoning

salt and fresh ground pepper to taste
Instructions
Cook the sausage, breaking up as the sausage is cooking. Drain the fat from sausage. 

Add celery and onion. Cook until softened. 

Season with salt, pepper and garlic salt or one clove of fresh minced garlic and sage. Remove from heat. 

In a large bowl or container, pour in dry bread crumbs and or cubes of bread.

Pour melted butter over bread and vegetable mixture. As you pour, make sure the butter is drizzled over most of the bread, not in one spot. 

Add chopped apples to mixture and toss all ingredients together. 

Pour chicken broth, about a cup at a time until moistened but not soggy over mixture in bowl. Toss again. The broth will take a minute to be absorbed into the bread. At this point, the stuffing should be slightly wet or damp, and all of the liquid absorbed by the bread. If the mixture appears to be dry, add more broth about 1/2 cup at a time and toss. 

Place stuffing into a large greased baking pan (or two 9x13 pans).

Cover with foil that has been greased on one side (side facing stuffing).

Bake at 350 for approximately 30 to 40 minutes. When finished baking, if stuffing seems dry, add a little more chicken broth by drizzling over the top of the casserole dish. Replace foil top until ready to serve. 
Recipe Notes
-I buy Artisan bread or white bread, thick slice for this recipe. Cube and set  out to dry on large jelly roll pans,  Or dry in the oven a week or more before Thanksgiving. Two loaves of bread are enough for one to two recipes. Spread the cut up bread out on cookie sheets for about 1-1 1/2 hours on 250-300 degrees. Let cool, bag, and save until assembly of stuffing.  You may also add olive oil, salt and pepper for flavor before drying the bread.  Recipe for drying bread cubes here or you can purchase bread cubes at any grocery store. 
-Add broth just until bread is moistened and barely clinging to other pieces when shaped with hands.
-I generously season the stuffing, especially with sage. Fresh is best, but dried will work.
-I usually double this recipe for a group of 25.