Apricot Almond Freezer Jam is the best way to preserve summer in a jar. Optional almond flavoring enhances the apricot freezer jam with a fun flavor twist on an old favorite!
This year has been an AMAZING year for apricots.  I know that I just told you it was a good corn year, but I'm here to tell you it's also an amazing apricot year! As in, apricots EVERYWHERE you look. Boughs on trees are weighed down with the orange, ripe fruit. Ready to turn your fresh fruit into jars of beautiful Apricot Almond Freezer Jam?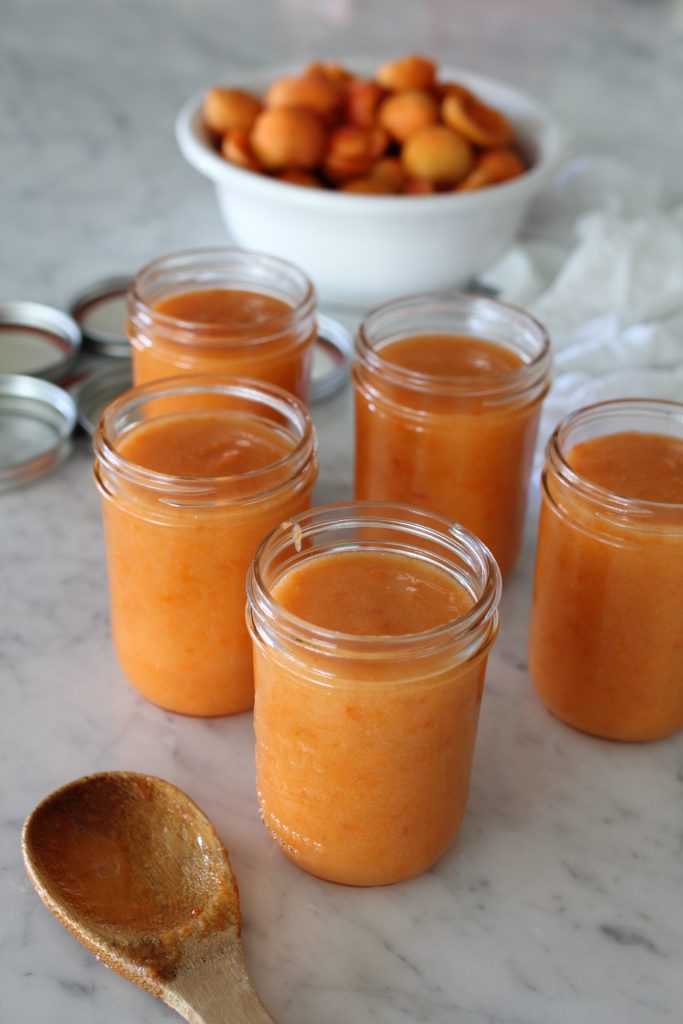 If you're a newcomer to jam making, this recipe is perfect for you. Apricots are the easiest fruit to turn into jam. No peeling, only splitting the fruit apart with your fingers, discard the pit and you're ready to go. Making Apricot Almond Freezer Jam takes a little bit of time, a lot of sugar, a tiny amount of patience and almost no skill at all!  I'm partial to freezer jam vs cooked jam for a few reasons:  I think it has a more beautiful appearance and fresher taste overall.  It's way less messy and complicated.  Who wants to turn on the stove and boil away when it's 100 degrees outside??
Before we get started I'm going to give you two pointers:
One. If you have a friend or your sister or mom or aunt that wants to make jam as well, get them on board. Making jam with an extra set of hands (and bowls) is fun and it speeds up the process.
Two: I want you to pinky promise me you'll read THE ENTIRE RECIPE AND ALL OF THE NOTES (attached to the recipe), before you start making jam. It will help your jam be as good as Grandma's . And that's what we all want, right? Jam that tastes like Grandma's.
Strap on your apron and prepare to become a domestic jam slayer 🙂  I'm guessing this is not the last time you'll be making freezer jam! If you're on a roll and want to try another flavor, this Strawberry Coconut Freezer Jam has been wildly popular with everyone that has tasted or made it.  Oh, one last thing… in January,  when it's 14 degrees and the skies are gray and the inversion has set in, you can come back and leave a comment about the yummy bit of summer you preserved in jars <3
Recommended items which are really helpful/necessary when canning:
–almond flavoring, almond emulsion
Apricot Almond Freezer Jam
Simple Apricot Almond Freezer Jam
Ingredients
2 1/2

cups

fresh apricots

about 1 3/4 lbs before pitting , pulsed in a food processor, or chopped by hand* (measure after fruit has been pulsed)

5 1/2

cups

granulated sugar

2

tablespoons

lemon juice

3/4

cup

cold water

1

box Sure Jell Pectin

1-2

teaspoons

almond flavoring or almond emulsion

optional

4

pint

jars with lids and screw bands

or Freezer Quart ziplock bags
Instructions
Prepare jars, lids and screw on bands by washing with soap and rinsing in hot water, wipe until dry, set aside. This is a great task for the day or night before.

Measure out sugar into a bowl, set aside.

Wash and prepare fruit by pulsing in a food processor or blender.

Pour 2 1/2 cups crushed fruit into a large bowl. Mix in 2 tablespoons lemon juice.

Pour the sugar in to the bowl with the fruit and mix with a large spoon until the sugar is dissolved and let sit for about 10 minutes. Give the fruit and sugar mixture another stir before adding pectin.

If using almond extract or emulsion, add at this time, stirring well into the fruit mixture.

While the fruit and sugar are sitting, mix the pectin as directed in next step.

Pour 3/4 cup cold water into a saucepan, whisk in one package of Sure Gel Pectin until dissolved, there may be some small lumps, which will dissolve when cooked.

Bring the mixture to a boil while stirring constantly. Boil for one minute. Remove from heat.

Pour the pectin mixture into the fruit and stir for about 3 minutes or until sugar is dissolved and no longer grainy.

Ladle the jam into prepared containers, wipe off any sticky rims with a clean damp cloth. Seal jars with lid and screw on band.

Let the jars sit at room temperature for 24 hours until set. Refrigerate for up to a month, or store in freezer for a year.
Recipe Notes
-It's always a temptation to double the recipe in one bowl. I did this for several years to save time, against the warnings from experienced jam makers. After batches of runny or not quite right jam, I have learned to stick with one batch at a time in a bowl. I still make more than one batch at a time, just use a separate bowl for each batch.-I always make a double or triple batch.-Five and a half cups sounds like a lot of sugar, and it is! If you want to cut the amount of sugar, look for the low-sugar box of pectin. It works well. If you cut the sugar in this recipe, and use the Sure Jell pectin I used, your jam will turn out runny. Follow directions, choose the right pectin while at the grocery.-I have used various types of pectin, and like Sure Jell the best. Some brands require using Corn Syrup in addition to sugar. With the Sure Jell freezer recipe, it's just fruit, sugar, water and pectin.-Corn Syrup. I use a little if the jam is a bit grainy. You can stir in about 2 tablespoons to the finished mixture which helps with sugar crystals or you can take the fruit mixture before adding the pectin and microwave it for about 2-3 minutes on high in a microwave proof bowl. Place the whole bowl of fruit and sugar and lemon juice into the microwave. When finished, stir and the sugar should be dissolved.-If you are short on freezer space, or can't afford or find jars in the grocery store, purchase some freezer (make sure they are freezer bags, which are thicker than regular ziplock bags) Quart Ziplock bags. Place the ziplock bag into a glass or bowl and fold the edges outward so the bag sits in the glass or bowl with the bottom of the bag resting not he bottom of bowl. Ladle in the jam, about 2 cups to a bag. Gently remove the bag from the bowl, turn the edges back so they are ready to seal. Gently squeeze the excess air out of the bag. Seal bag completely. Lay flat for 24 hours, then freeze in layers. When ready to use, (thaw in fridge) snip off an end of the bag and squeeze the jam into a dish or jar. Store in fridge.