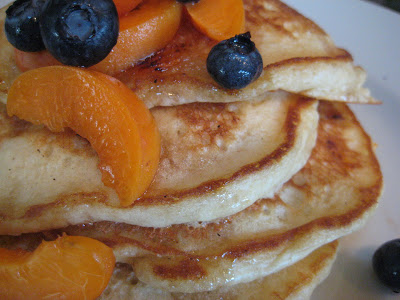 It's apricot season! I love apricots. Apricot jam is my favorite. I'm trying to make time to put up some jam this week. I had a few extra apricots sitting on my counter, and decided to mix some up in this batter on the spur of the moment.
Apricots and almond sounded like a winning combo, so I threw in some almond extract too. This would be wonderful with
Kristen's Special Syrup
. Yummy. You'll love this.
Apricot Almond Hotcakes
Ingredients
1

egg

2

tablespoons

butter

melted

1

cup

buttermilk

3/4

cup

water

approx

3-4

chopped

skinned apricots

1

teaspoon

almond extract

1 1/3

cups

flour

1/2

teaspoon

baking soda

1

teaspoon

baking powder

2-3

tablespoons

sugar

1/4

teaspoon

salt
Instructions
Heat griddle to medium high heat (about 300-350 if using griddle thermometer).

Beat egg, butter, buttermilk and 1/2 cup of water together in bowl. Add fruit and almond extract. Add flour, baking soda, baking powder, sugar and salt.

Mix with large whisk just until wet and dry ingredients are incorporated. Do not over mix. Add additional water if needed.

Grease griddle with butter. Pour batter onto griddle. Cook on one side until bubbles appear. Turn and finish cooking (see important notes below).

Serve immediately with butter, syrup, jam or powdered sugar and additional fresh fruit.
Recipe Notes
-Hotcakes, or pancakes are best when light and fluffy.
-Hotcake/Pancake 101: Do not ever, ever flip a hot cake (or pancake) more than once. Ever.
-Do not ever pat down a hotcake once you have turned it. Ever.
-To test for doneness (yes Grant, this IS a word), after flipping, quickly press down on center of cake with spatula, if it springs back, the pancake is done.
-Yes, butter on the griddle is necessary if you want a nice golden appearance. PAM is low fat and convenient, but it just isn't quite the same as butter.