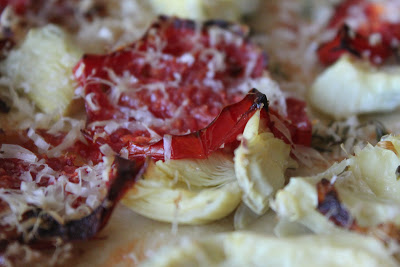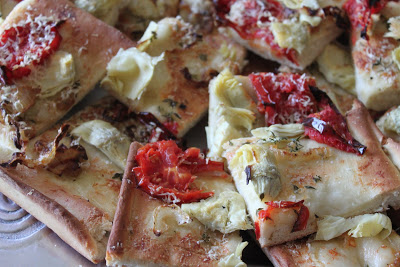 Fall is in the air and I love it. Fall=more baking and cooking. Love that.
This Artichoke and Oven Dried Tomato Foccacia is a delish side for a salad or main dish. You can top it with as little or much as you want. I had a can of artichokes in my pantry and some fresh tomatoes sitting on my counter. Add a few fresh herbs, a wedge of Parmesan and a little leftover Asiago sitting in the fridge. The possibilities are endless. This was yummy hot out of the oven, and equally good at room temp. Ridicu-licious. Just heard that word on a commercial. Not to be confused with my friend KD's fave word – ridonkulous.
Come back this weekend for a gift certificate giveaway from the nice peeps at CSN online stores (who sell everything from
bistro sets
to ice cream makers) and another fab cookbook from yours truly.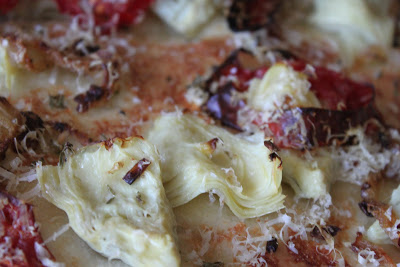 Artichoke and Oven Dried Tomato Foccacia
Adapted from Food Network
Ingredients
2

teaspoons

rapid-rising dry yeast

1

cup

warm water

2

tablespoons

sugar

3 1/2

cups

flour

start with 3

1

tablespoon

coarse salt

dissolved in 2 tablespoons of warm water

1/4

cup

olive oil

Cornmeal

for dusting (optional)
Toppings:
2

tablespoons

olive oil

1

sweet onion

Walla Walla, Vidalia sliced thin

1

garlic cloves

minced

3

Roma or other small tomatoes

sliced 1/4 inch thick

1

can artichoke quarters

drained, not marinated

1/4

cup

shredded Parmesan

1/4

cup

Asiago cheese

grated

1

tablespoon

coarse salt

Freshly ground black pepper

fresh Oregano

Thyme, Basil, chopped
Instructions
In the bowl of a standing mixer fitted with a dough hook, proof the yeast by combining it with the warm water and sugar. Stir gently to dissolve. Let stand 3 minutes until foam appears. Turn mixer on low and slowly add 3 cups flour to the bowl. Dissolve salt in 2 tablespoons of water and add it to the mixture. Pour in 1/4 cup olive oil. When the dough starts to come together, increase the speed to medium. Stop the machine periodically to scrape the dough off the hook. Mix until the dough is smooth and elastic, about 10 minutes, adding flour as necessary.

Turn the dough out onto a work surface and fold over itself a few times. Form the dough into a round and place in an oiled bowl, turn to coat the entire ball with oil so it doesn't form a skin. Cover with plastic wrap or damp towel and let rise over a gas pilot light on the stove top or other warm place until doubled in size, about 45 minutes.

Coat a 18 x 12 sheet pan with a little olive oil and corn meal. Once the dough is doubled and domed, turn it out onto the counter. Roll and stretch the dough out to an oblong shape about 1/4 to 1/2-inch thick. Lay the flattened dough on the pan and cover with plastic wrap. Let rest for 15 minutes.

Preheat the oven to 450 degrees. While preheating, lightly coat a pan with cooking spray or Olive oil and lay sliced tomatoes on pan. Place in oven and bake until tomatoes shrivel and lose shape, about 15 minutes. Remove tomatoes from oven and let cool. Reduce oven temperature to 425.

In the meantime, coat a small saute pan with olive oil, add the onion, and cook over low heat for 15 minutes until the onions caramelize. Uncover the dough and dimple with fingertips. Brush the surface with more olive oil and then add caramelized onions, garlic, artichokes, oven roasted tomatoes, cheeses, salt, pepper, and herbs. Bake on the bottom rack for 15 to 20 minutes. If top is not browned enough, transfer to upper part of oven for another 5 minutes.

Remove from oven, let cool slightly, slice and serve.
Recipe Notes
-I used a 14 oz. can of artichoke hearts, Reeses brand. Mine were not marinated, but marinated would work too.
-You may use any topping you love: fresh spinach, any cheeses, Kalamata Olives… -I made two, because I knew the kids wouldn't be thrilled about eating artichokes, so a plain cheese foccacia bread for them. The only issue with not using (heavier) items that weighed down the dough was- the bread bubbled when baked. So best to use a few veggie items or pierce the dough before baking.