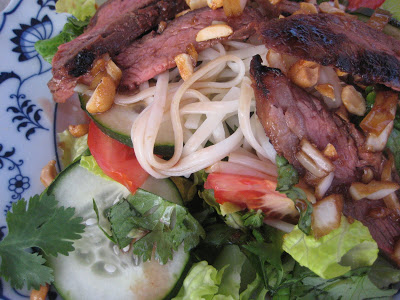 Goodness, this was yummy.
Here is the manly part of the salad (below). BEEF.
Tomorrow is my little brother's birthday. He is my one and only sibling. Harold. Uncle Harry to my kids. The favorite uncle, on my side. He has a fun, YELLOW (if you are into the COLOR CODE) personality. I asked Jacob, my youngest to describe him: "Funny, strong, loud, cool, garbage gut, always happy". My little bro is always game for the park, basketball court, carnival rides, swimming pool, sledding, shopping mall- you name it- he's up for it. The two of us rode for countless hours in the back of my parents camper on road trips all over the Western U.S. We fought a little, but mostly got along, because we only had each other.
Kind. Friendly. Thoughtful. Generous. Considerate. He married a great person, Kaari, who brings out the best in him. They have two beautiful and sweet daughters. Harold is a great dad! I admire him for always putting his family first. When I go home to visit, and watch him with his own little family, I think – when did he grow up?? When did I grow up? It seems like it wasn't that long ago we were riding around in that gold camper. When we were kids, we mimicked our parents eating habits. I was just like Dad, give me anything sweet, and I could make a meal out of it. Pie and cookies for breakfast, lunch and dinner – that's me. Harold was just like Mom. A piece of fruit was a great dessert. Salads? I would tolerate a salad with dinner, but mom felt like a meal wasn't complete without salad. Harold's tastes have changed a little, he likes sweets more now than in his younger days, but he still loves to eat salads with meals. He also LOVES meat. When I made this salad a while ago, I instantly thought of him. I wished we lived closer, so I could run over a big platter of this salad to him. It's a delicious summer salad. Big hit at our house. Enough meat to satisfy a manly appetite, and enough green and pasta to please the lady like eaters in your fam. We absolutely LOVED this. And I know you (and your brother) will too.
Asian Grilled Flank Steak Salad
adapted from: How to Grill cookbook by Steven Raichlen
Ingredients
For Flank Steak and Marinade:
1

flank steak

about 1 1/2 pounds

2

cloves

garlic minced

1

tablespoon

peeled

minced fresh ginger

3

scallions

white parts only, sliced (may sub chopped onion)

2

jalapeno peppers

seeded and minced

3

tablespoons

sugar

1/3

cup

soy sauce

1/3

cup

lime juice

2

tablespoons

dark sesame oil
For Dressing: (to be mixed with remaining 1/2 of marinade)
2

tablespoons

vegetable oil

2

tablespoons

honey
For Salad:
1

oz

Asian rice noodles

or other Asian noodles

1

head leaf lettuce- Boston

red or green leaf

1

cucumber

thinly sliced

1/2

cup

small sweet onion

chopped or sliced into

thin rings

optional

1

pint

cherry tomatoes

or two medium sized tomatoes, sliced

1/3

cup

fresh mint leaves

1/3

cup

fresh cilantro leaves

1/3

cup

fresh basil leaves

1/4

cup

dry roasted peanuts

chopped (I used honey roasted)
Instructions
Score the flank steak on both sides, across the grain. This helps the meat to absorb the marinade. Place the steak into a 9×9 or 9×13 glass dish.

Place all of the marinade ingredients into a bowl and mix together well. Make sure the sugar is dissolved. Pour about half of the marinade over the steak in the glass pan. Let marinate in the refrigerator for 1-2 hours. Save the other half of the marinade for the dressing.

Add to the remaining (for dressing) marinade the 2 tablespoons vegetable oil and 2 tablespoons honey. Whisk and set aside.

Bring about 2-3 quarts of water to a boil and cook the Japanese noodles, according to package directions. You may use soba noodles, or rice noodles. Rice noodles only need to be soaked in cold water, then drained after about 1 hour. If the rice noodles are not tender after an hour, you may need to boil in water 1-3 minutes. Drain noodles in colander, rinse with cold water, toss with a little oil. Set aside.

Pre-heat barbecue.

Place all of the salad ingredients in a large bowl, except peanuts. Toss together.

Brush oil or lightly spray PAM on heated grill. Place the flank steak on the hot grate and grill until cooked to taste 4-6 minutes per side for medium rare. Transfer to cutting board and let rest for at least 3 minutes. Cut the steak into paper thin slices across the grain by holding the knife blade at a 45 degree angle to the top of the meat.

If serving in a large bowl to a crowd, toss the salad ingredients and mound the noodles in the center of the salad, drizzle dressing over all of the greens and noodles. Top with sliced steak, and garnish with chopped peanuts and mint. Toss all together just before serving. If serving on individual plates, lay salad ingredients on plates, top with small amount of noodles and few slices of steak. Drizzle with dressing, sprinkle with peanuts. Serve immediately.
Recipe Notes
-Rice noodles are available in Asian specialty stores, or many grocery stores. They usually only need soaking, but some varieties require soaking and a brief boil.
-This salad may be made with any type of meat: chicken, pork tenderloin, or even tofu.