Nothing satisfies a craving for a home cooked meal quite like comfort food.  The best meal time comfort foods are warm, creamy, cheesy and filling. Aunt Sheri's Chicken Lasagna is all of the above.  It's comfort food at its very best!
My sister-in-law, Sheri, first made this dish for us years ago, and it has  been a family favorite since. When my kids were growing up,  it was a meal I made often when I had to take dinner to a neighbor. I always made a double batch (sometimes a triple batch). Aunt Sheri's Chicken Lasagna always was, and still is, a hit in our home.  This dish is the quintessential comfort meal – a meal you would have been served back in your grandparents era when there was not a thought given to calories and fat content!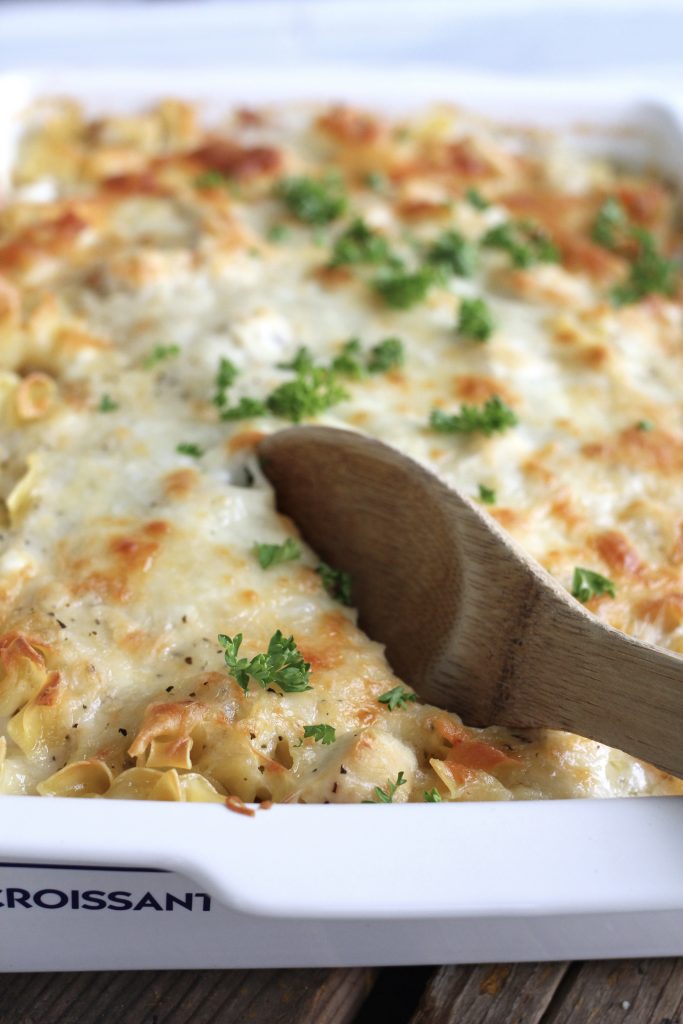 Chicken Lasagna is creamy and filling and loaded with cheese. It's similar to lasagne because of the way it is layered.  This dish also has many of the same staple ingredients in traditional lasagne: cottage cheese, mozzarella cheese, parmesan, eggs and pasta.
The recipe calls for layering, but placing the ingredients together in a large bowl and gently folding also produces a great result.
I love this dish for  make ahead in the slow cooker. All of the ingredients may be prepared early in the day, or the night before. Then simply layer in the slow cooker and plug in. Directions for cooking in slow cooker on recipe notes. Aunt Sheri's Chicken Lasagna is the perfect meal for so many occasions: Sunday dinner, new baby, new neighbors, cold nights… I know this is going to become a favorite in your home too.
Aunt Sheri's Chicken Lasagna
This recipe has been in our family for years. I believe it was originally adapted from a Betty Crocker recipe, but it was given to me by my sister in law, Sheri.
Total Time
1
hour
5
minutes
Ingredients
1- 12

oz

package of wide egg noodles

cooked al dente

1/2

cup

butter

1/2

cup

flour

1

teaspoon

salt

1/2

teaspoon

pepper

1

teaspoon

dried basil

4

cups

chicken broth

4

cups

cooked chopped chicken

1 24

oz

container cottage cheese

1

egg

beaten

2-3

cups

grated mozzarella cheese

3/4

cups

grated parmesan cheese

additional sprinkle of pepper and chopped fresh or dried parsley for garnish

if desired
Instructions
Melt the butter in a large saucepan over medium to medium high heat. Add flour, salt, pepper, dried basil and cook for 1-2 minutes.

Whisk chicken broth into flour and butter mixture, about a cup at a time, until mixture is thickened.

Turn down heat and add chicken.

Turn off heat.

Mix cottage cheese and egg together in a medium bowl.

Mix cheeses together in small bowl.
Layer the ingredients together in this order in a greased 9x13 pan:
one third-chicken mixture

one half- pasta

one half- cottage cheese mixture

one third- mozzarella mixture

one third- chicken mixture

one half- pasta

one half-cottage cheese

one third- mozzarella

one third chicken mixture

one third- mozzarella on top

If layering is too complicated, see notes for simplified version!

Bake at 350 degrees uncovered for 35-45 minutes or until golden on top and bubbly.

Garnish with fresh chopped parsley or basil and a sprinkle of pepper.
Recipe Notes
-This recipe takes a bit of time to make. You can cut down on time by using pre cooked chicken (rotisserie chicken works). Cooking the chicken the day before serving, and also preparing the grated cheeses, mixing together the cottage cheese and egg, and preparing the sauce ahead will also speed up the process of assembly. -Quick option for assembly: Instead of layering the ingredients as you would for a lasagne (and as directed in the recipe), gently fold all of the ingredients in a large bowl. Reserve a cup of the mozzarella cheese and about 1/4 cup of the Parmesan cheese. Pour into a greased 9x13 pan. Top with the reserved cheeses. Bake as directed.-Slowcooker directions: Layer all ingredients in a greased slow cooker. Cook on low for about 3-4 hours or until bubbly. If the ingredients are taken from the fridge, after being prepared earlier, the cooking time will be closer to 4 hours. If you're making the layers and then immediately placing in the slow cooker, the ingredients will already be warm and the cooking time will most likely be closer to 3 hours.