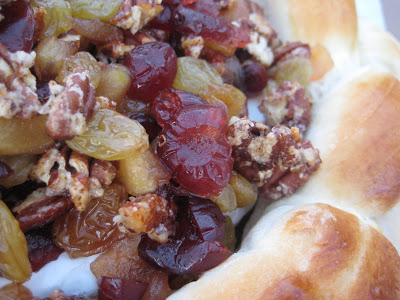 I love this Brie appetizer. It is topped with all things fall. Apples, dried cranberries, golden raisins, candied spiced pecans. A beautiful item for a holiday dinner party. The bread ring is made out of frozen dough, so it's really simple. Note: The bread is suppose to be a garnish.
1gar·nish
Pronunciation: ˈgär-nish
1 a : decorate, embellish b : to add decorative or savory touches to (food or drink)
2 : to equip with accessories : furnish
Have you ever been to a party, where people are eating the garnish?? It's like that scene in "You've Got Mail" where Meg Ryan is annoyed with Tom Hanks for eating the garnish. In that case it was caviar, but it's basically the same. I don't get it. I'm usually a fairly practical person. But eating the decor on the table? Even if it is edible. It just doesn't seem right to me.
On cruises, it always AMAZES me that people will eat the fruit or vegetables used as a garnish, even though there are seriously enough prepared food items on the serving table to feed two small countries. Don't they know everyone touches the display, and they are used over and over again without being washed??
Anyway. Whether you eat the garnish or not, you will love this yummy dish. A great appetizer for the big holiday coming up in less than 3 weeks…
Autumn Brie with Braided Bread Ring
adapted from Maine Ingredients cookbook, Portland, ME
thawing time, cool time
2
hours
20
minutes
Total Time
3
hours
5
minutes
Ingredients
1

small apple

I prefer McIntosh

1/3

cup

golden raisins

1

cup

apple cider mixed with ¼ cup sugar

1

4-6 inch round of Brie

1/3

cup

dried cherries or Craisins

½

cup

chopped pecans

¼

cup

sugar

dash cayenne

1

loaf frozen bread dough

Rhodes or a store brand works

1

beaten egg

sliced baguette or crackers
Instructions
About 2 hours before baking, thaw dough on counter.

Preheat oven to 350 degrees.
Prepare the bread ring
Split the loaf into three equal pieces. Roll dough out into long rope so you have three long ropes of dough about 18-24 inches long.

Starting at one end, place dough on counter and begin braiding. Press dough together and tuck ends under. Shape with hands so dough is even in width throughout braid. 

Unwrap the Brie from round paper carton, set aside. Cover the empty carton with foil and coat lightly with cooking spray around sides to prevent dough from sticking to carton. 

Form the braided dough around the foil covered carton on a foil or parchment covered cookie sheet or pizza pan without sides. Let rise for about 20-30 minutes. Brush lightly with beaten egg. You will only use a portion of the egg wash. Discard the rest. 

Bake the braided bread ring for 20-30 minutes, or until golden brown. Cool and remove Brie carton.

After the bread ring has cooled for about 10 minutes, unwrap the cheese, and place in center of the bread ring.
Prepare the fruit and nut topping
Core and chop the apple. Place in a saucepan with raisins, cider, and ¼ cup sugar. Boil gently until the apples are tender, but not mushy (approx 5 minutes).

Strain the liquid from the apples, mix in dried cherries or Craisins, and place on top of Brie.

In a separate pan (preferably Teflon), cook the pecans with ¼ cup sugar and cayenne over medium heat until the sugar caramelizes. Remove from pan, break up the nuts when cooled a bit and sprinkle on top of fruit mixture. 

Bake the braided bread and Brie with topping for about 10 minutes or until Brie is softened. Be careful to not overcook! The Brie melts quickly when overheated. 

Slide the bread ring filled with Brie onto a serving platter. Serve immediately with baguette slices or crackers.
Recipe Notes
I usually purchase Brie at Costco. Usually found with the specialty cheeses.
Carr brand crackers are my favorite (if I don't serve with a baguette) because they are big and substantial enough to hold the cheese and fruit mixture. "Water Table" crackers or sesame flavors are great because they are simple and won't compete with the flavors in the appetizer.
This recipe is easily halved by using half of the bread dough and a smaller size brie.