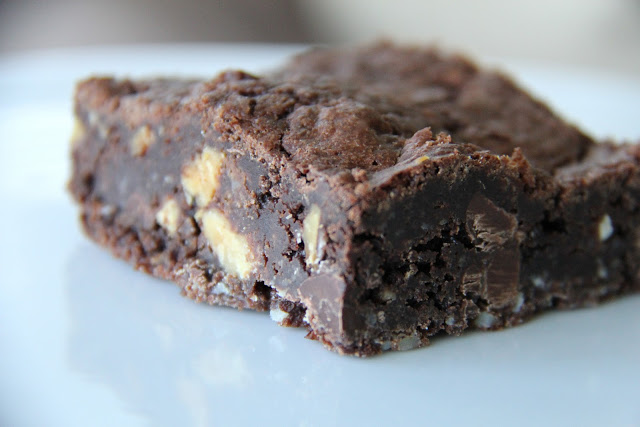 This recipe for Award Winning Chocolate Chip Walnut Brownies comes from
Amy's Bread in NYC
. They started making brownies in the early days of the bakery opening, and were given the "Best Brownie" award in NYC. Really, THE best brownie? I've been to New York, and can testify that there are bakeries (lots of them great bakeries) on almost every block. Reading about this "award winning" brownie caught my attention. The method of melting half of the choc chips into the batter intrigued me. Reminded me of
my fave chocolate cake recipe
.
Oh my. These are killer brownies. At $3.50 a brownie (at Amy's), they'll leave a small dent in your wallet if you are buying for a crowd, but you can bake them up at home for a lot less, in not too much time.
The recipe is easily adapted to a no-nut version, if you aren't partial to nuts. I made them both ways and can testify both are amazing. My favorite was the original walnut-packed bit of brownie heaven. Last word on this brownie:If you don't want to make these at home, you have to make a trip to NYC to buy one.
You choose, a trip or bake.
Award Winning Chocolate Chip Walnut Brownies
Adapted from Amy's Bread, NYC
Ingredients
3 1/3

cups

(20 ounces) semisweet chocolate chips

1

cup

unsalted butter

3

ounces

unsweetened chocolate

chopped

1

cup

granulated sugar

3

large eggs

1

tablespoon

vanilla extract

3/4

cup

all-purpose flour

1 1/2

teaspoons

baking powder

1/2

teaspoon

baking soda

1/2

teaspoon

kosher salt

1 1/2

cup

chopped nuts

toasted (optional)* recipe without nuts- see tips below
Instructions
Preheat oven to 350°. Place rack in bottom third of oven. Line a 9″x 13″ baking pan with foil* or parchment paper. Grease lightly.

Melt butter, half of the chocolate chips, and unsweetened chocolate in a double boiler (or microwave). Let mixture cool to warm.

Whisk sugar, eggs, and vanilla just until mixed. Over-mixing will cause crumbly brownies. Fold in warm chocolate mixture.

Place flour, baking powder, baking soda, salt and remaining chocolate chips into chocolate mixture all at once. Fold dry ingredients into chocolate mixture, then fold in chopped nuts just until combined.

Pour batter into prepared pan. Spread to an even thickness. Place the pan into the oven.

Bake for 10 minutes at 350, then lower the oven temperature to 325 (do not open oven). Bake an additional 15-20 minutes. The edges will be slightly firm and the center will be soft when they are fully baked. A toothpick inserted will come out with a few moist crumbs attached. Do not over bake. Cool completely in pan.

Brownies are easiest to cut after refrigerated. These will keep well in refrigerator for about a week, covered tightly.

Yield 24 small or 12 large brownies.
Recipe Notes
-To toast nuts, place on baking sheet in 325 degree oven for about 7-10 minutes, or until fragrant.
-I like to line the inside of the pan with foil for simple removal from the baking pan. It also makes cutting the brownies much easier.
-This recipe is easily adapted to omit the nuts. If you are leaving out the nuts, use 1 cup flour instead of 3/4 cups flour as stated in the recipe. If you do not increase the amount of flour used, the brownies will take a long time to set up and be very wet in the middle and overcooked along the edges. I always compensate if I omit nuts in a recipe such as this one, which calls for a large amount of nuts, by increasing the flour just a bit.
-Melting the butter and chocolate. I always do this on my gas stove. If you have a stove that you are able to turn down to a very low temperature, you will not need a double boiler. Simply put the pan on the stove and turn to low.
-Whenever I mix chocolate chips into a recipe, I throw the flour and other dry ingredients in at one time along with the chocolate chips to coat the chips with a bit of flour, this prevents the chocolate chips from sinking to the bottom of the brownie.
-If you want a tender brownie, without having it fall apart, the key is to not over mix. This includes the beating of eggs and sugar together. Mix just until incorporated.
-I love this cookbook from Amy's Bread, it is a collection of the sweet items they sell in the Bakery, along with fun stories about their customers, the history of how they came to sell certain items through trial and error, etc. Everything I've made out of this book I has been a ten on the yum scale.