What is more decadent than Brie cheese baked just until melted, topped with a bit of jam and fruit? Our Baked Brie in Braided Bread is a holiday show stopper. One bite and you will want to make this recipe for every party!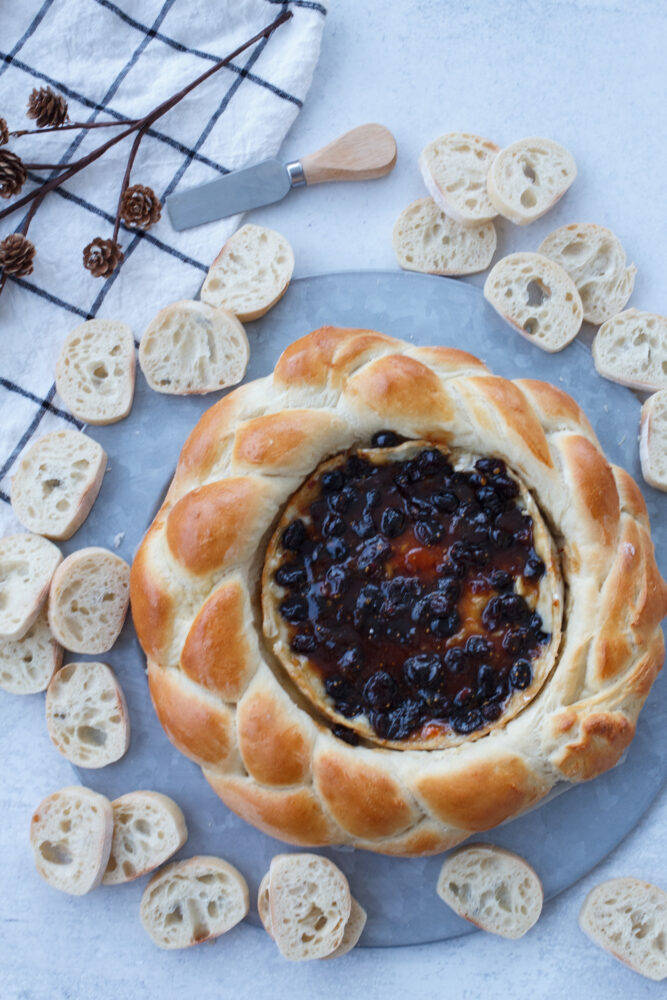 I absolutely love Brie. It's soft and creamy, is wonderful on crackers, baguettes and even on a slice of apple! The smooth, melted Brie is addicting; make sure to have a plan in place for sharing when you make this recipe.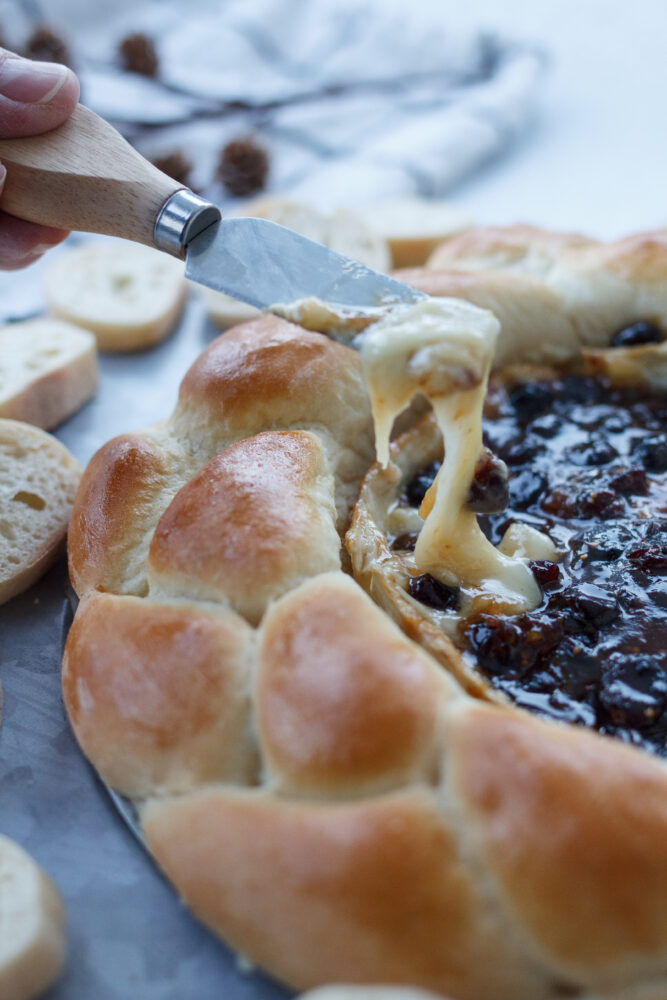 Years ago, I posted a recipe for Brie in a braided bread ring using a store bought frozen loaf of bread, thawed and rolled out to make the bread ring. I love that recipe and used it for years, but wanted to upgrade the recipe and make a homemade bread ring for this baked Brie recipe!
Baked Brie is a simple recipe. Remove the Brie from wrapping, heat up oven, drizzle with a bit of jam or honey, then bake for a few minutes. This bake Brie recipe is dressed up by making a homemade bread ring, and baking the bread ring. The Brie is then added to the middle of the circle and topped with jam and fruit and baked for a few minutes to perfection. The result is an over the top, rich and delicious appetizer!
I have found the best place to buy imported Brie is Costco, where Brie is of good quality and affordable! Brie is usually quite mild in flavor which I believe is one reason Brie is appealing to so many. I'd love to hear if you try our Baked Brie in Braided Bread. Leave a comment below and share a star rating too. Happy holidays my friends!
Baked Brie in Braided Bread
Baked Brie is an easy and delicious appetizer! This Brie is baked in a ring of braided dough and topped with sweet and spicy jam and dried fruit.
rise time
1
hour
15
minutes
Total Time
2
hours
10
minutes
Ingredients
bread ring:
1

cup

warm water

2

teaspoons

active dry yeast

1

teaspoon

sugar

2

tablespoons

olive oil

1

teaspoon

salt

2-2 1/2

cups

all-purpose flour

1

egg, beaten (optional) for brushing on bread
brie and topping:
1 to 1.3

lb

Brie, round in shape

1/2

cup

jam: fig, spicy fig, apricot, cherry

1/2

cup

dried fruit: craisins, golden raisins, apricots, cherries

1/2

cup

chopped almonds or pecans, optional
Instructions
Remove Brie from carton, set cheese back in refrigerator. Cover the empty carton (to be used as a form) with foil and coat lightly with cooking spray around sides to prevent dough from sticking to carton. Set aside.

Place 1 cup warm water in the bowl of a stand mixer. Sprinkle yeast over top of water. Sprinkle sugar over the top of yeast. Whisk together.

Add olive oil and salt, stir. Add 2 cups of flour and mix with paddle until flour is incorporated, scraping down side of bowl at least once. Add up to 1/2 cup of additional flour until the dough is no longer sticky. Set aside for about 45 minutes to rise in a warm place.

After dough has risen, remove from bowl and roll out on a lightly floured surface to a 9×12 inch rectangle. Cut the rectangle into three long pieces. Roll each piece into a rope about 12-18 inches long.

Starting at one end, begin braiding dough. Tuck ends under to finish braid. Shape with hands so dough is even in width throughout braid.

Place on a piece of parchment paper on top of a cookie sheet or pizza pan, preferably without sides. Form the braided dough around the foil-covered carton on top of the parchment paper. Brush the braid lightly with beaten egg. One egg will coat approx three braids.

Let rise for 30 minutes. While bread is rising, preheat oven to 375 degrees and place rack in center of oven. When bread has risen for 30-45 minutes, bake for 15-20 minutes, or until golden brown. Cool and remove foil carton from center of the ring.

While the bread is cooling, mix the jam and dried fruit and nuts (if using) in a small bowl. Place the Brie in the center of the bread ring and spoon jam mixture on top of the Brie.

Bake brie and bread for an additional 5-7 minutes, just until the brie is soft and heated through. Do not over cook! Remove from oven and slide the parchment paper onto a serving platter or wood cutting board. Place sliced baguette, apple slices or crackers around the edges of the bread ring and serve immediately.
Recipe Notes
I purchase Brie from Costco or local grocery stores in a 1.3 lb package. Any size 1-1.5 lbs will work. 
The top of the Brie does not need to be trimmed off before baking. Sometimes I trim it off with a sharp knife, other times I do not. It is safe to eat! 
The braided bread ring may be substituted by using a loaf of frozen bread dough, such as Rhodes. Remove the bread from freezer and follow package direction for thawing bread. Once thawed, cut into three pieces, roll and braid as directed in this recipe. Allow braided bread to rise once placed around ring. Plan on removing the frozen loaf 2-3 hours before braiding. 
Any type of jam may be used, we prefer spicy or regular fig jam and apricot jam!
Candied nuts are best in this recipe if using nuts. 
If making the bread ring ahead, let rise first time, shape into braid and place around foil covered Brie container. Immediately place in freezer, covered tightly. When ready to use, remove from freezer 3 hours before baking bread to allow for thawing and rising. proceed as directed in recipe.