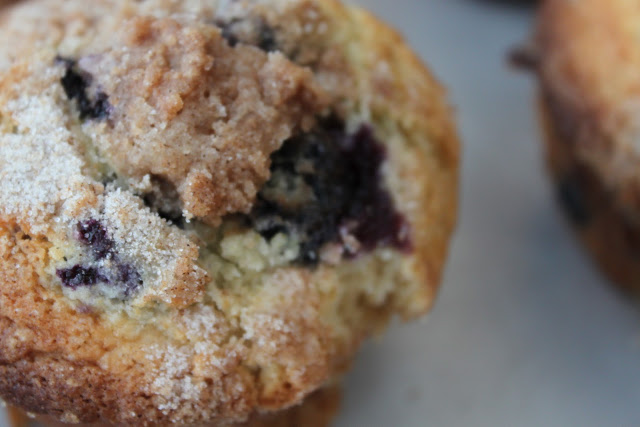 Questions I get almost weekly from young'ins (as Jake, age 14, likes to call them)are: "Can you give me some recipes I can make when I move out? Easy recipes for college students, missionaries or newly married peeps? Low cost, quick and easy recipes? I'm posting a new category, starting today called
"New Beginnings"-college and mish meals, for all of the above. Hello. Yes, there is life beyond Del Taco or your mom's kitchen.
This is a great basic muffin recipe. If you don't have blueberries, try canned. Drain the fruit well and chop it up. No fruit at all? (did you spend all of your money on ice cream?) Leave it out. No butter for the topping? Leave the topping off, and sprinkle with a little sugar. Most of the ingredients should be in your pantry. If not, and you're a student, load up next time you are home. Your mom won't mind.
I like this recipe, because the batter doesn't require butter.
Don't tell me you don't cook. I'm not listening. lalalalalalallalalalalalala.
Still not listening.
Get busy. Start cooking. Let me know how it goes.
Basic Fruit Muffins with Streusel Topping
A Bountiful Kitchen
Ingredients
1 1/2

cups

flour

3/4

cup

white sugar

1/2

teaspoon

salt

2

teaspoons

baking powder

1/3

cup

vegetable oil

1

egg

beaten

1/3

cup

milk

1

cup

blueberries or other fruit

blackberries, strawberries, raspberries

Topping:

1/2

cup

sugar

1/3

cup

flour

4

tablespoons

butter

1

teaspoon

cinnamon
Instructions
Preheat oven to 400 degrees.

Grease muffin cups with cooking spray or line with paper liners.

Combine 1 1/2 cup flour, 3/4 cup sugar, salt and baking powder in a large bowl. Make a well in the center of the dry ingredients. Pour oil, beaten egg and milk into center of dry ingredients. Mix with large spoon or fork just until wet and dry ingredients are incorporated. Fold in fruit. Spoon batter into muffin cups. Fill to top of cup.

Make topping- cut butter into all dry topping ingredients. Spoon topping on top of unbaked batter.

Bake for 20-25 minutes on middle rack of oven until tops are golden and toothpick inserted in center comes out clean.