Best Basic Flaky Pie Crust is absolutely the most simple pie crust recipe ever! I have been making pie crust for over 35 years. I've made hundreds of pies, and this recipe is hands down the best AND easiest pie crust on the planet. With a few ingredients, you will become a pie crust master. Also included in this recipe is my tried and true method for making no-shrink blind baked pie crust!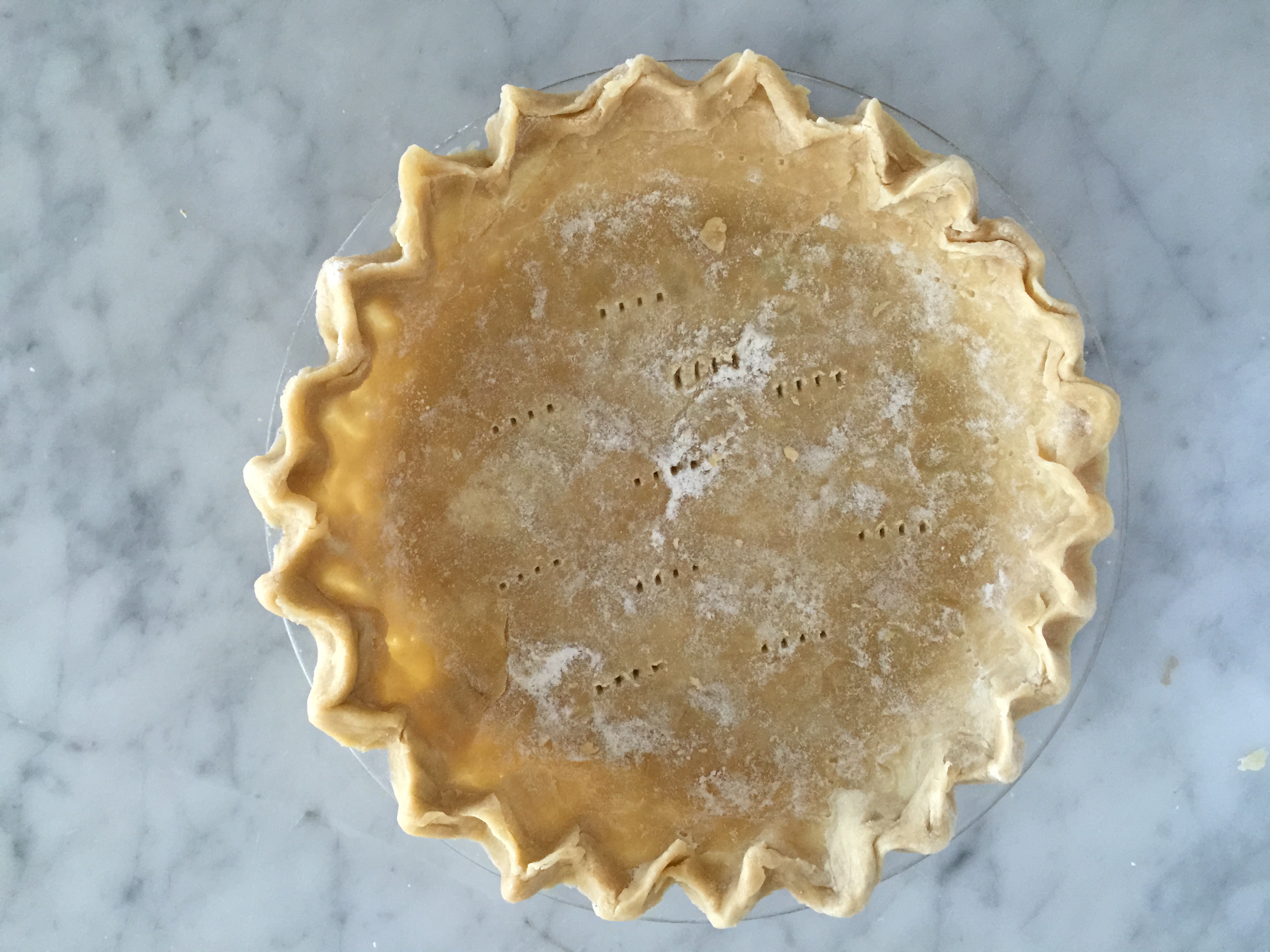 Pie crust should be a simple thing. This recipe for best Flaky Pie Crust is just four ingredients and a few short minutes to make. All purpose flour, shortening, salt and water. That's it! No vinegar, egg, or sugar in this recipe. I think you'll find, as I did many years ago, this is the last pie crust recipe you will ever need.
Follow the steps…
Pie crust is easy if you follow a few simple steps
-I suggest always gathering ingredients before you start. No one wants to make pie filling, heat up the oven and then find out they have zero flour in the house! Gather first, then bake.
-Use Crisco for baking, I like half regular flavor and half butter flavor (not butter, just Butter Flavor Crisco) for the flakiest crust ever. If you want your crust to taste like Grandma's- use shortening!
-Follow the recipe directions exactly.
-If you are blind baking, preheat the oven at least 15 ( I strongly suggest 30) minutes before placing the pie into the oven. Make the pie pastry, turn on the oven, and then place the formed pie crust into the refrigerator 45 minutes, or freezer for 30 minutes.
-Always place the oven rack on the lowest setting in the oven! Bottom shelf is best. If you are blind baking (single crust, no filling bake on center shelf).
Follow along for step by step instructions: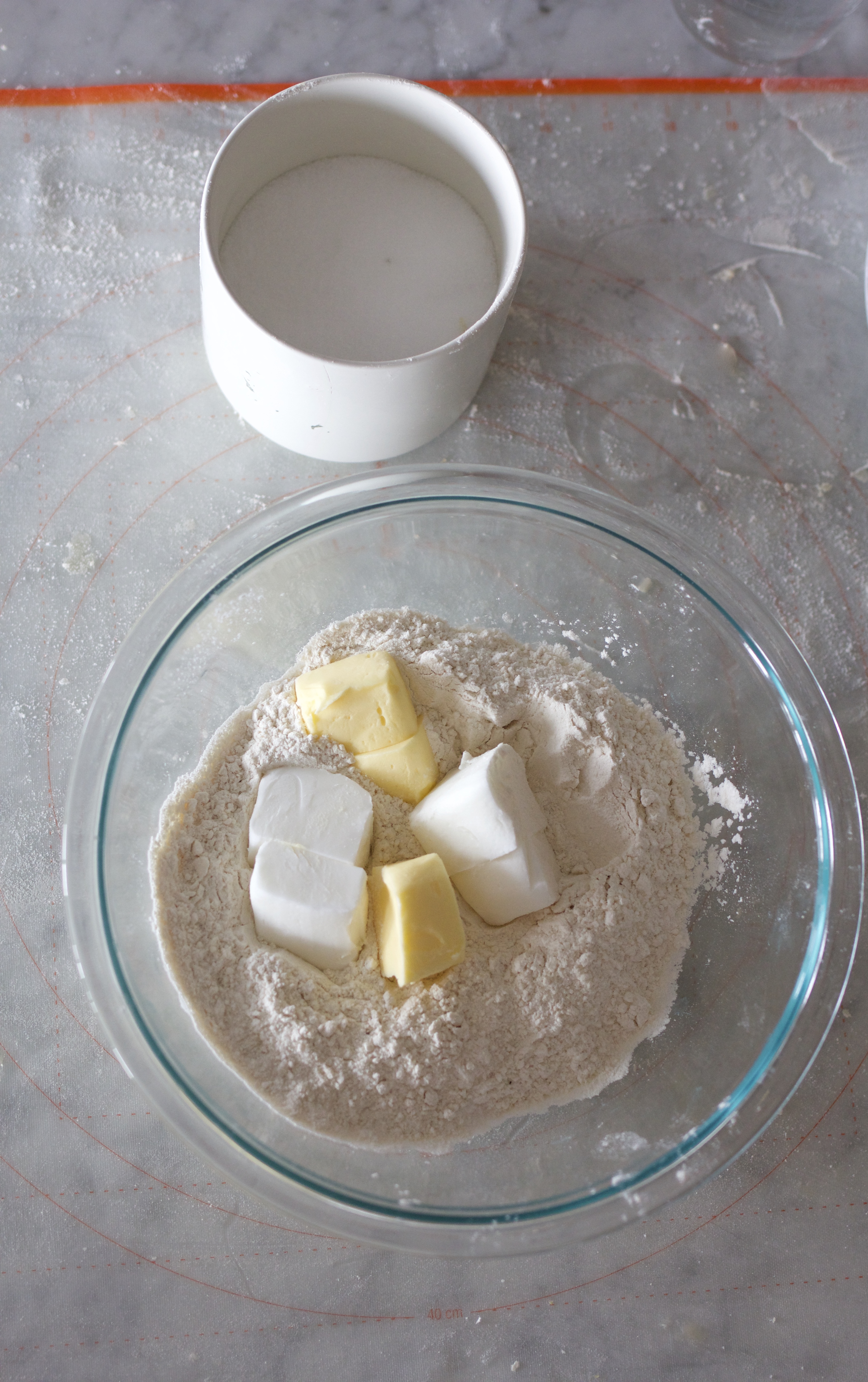 Place flour, salt and shortening in a bowl.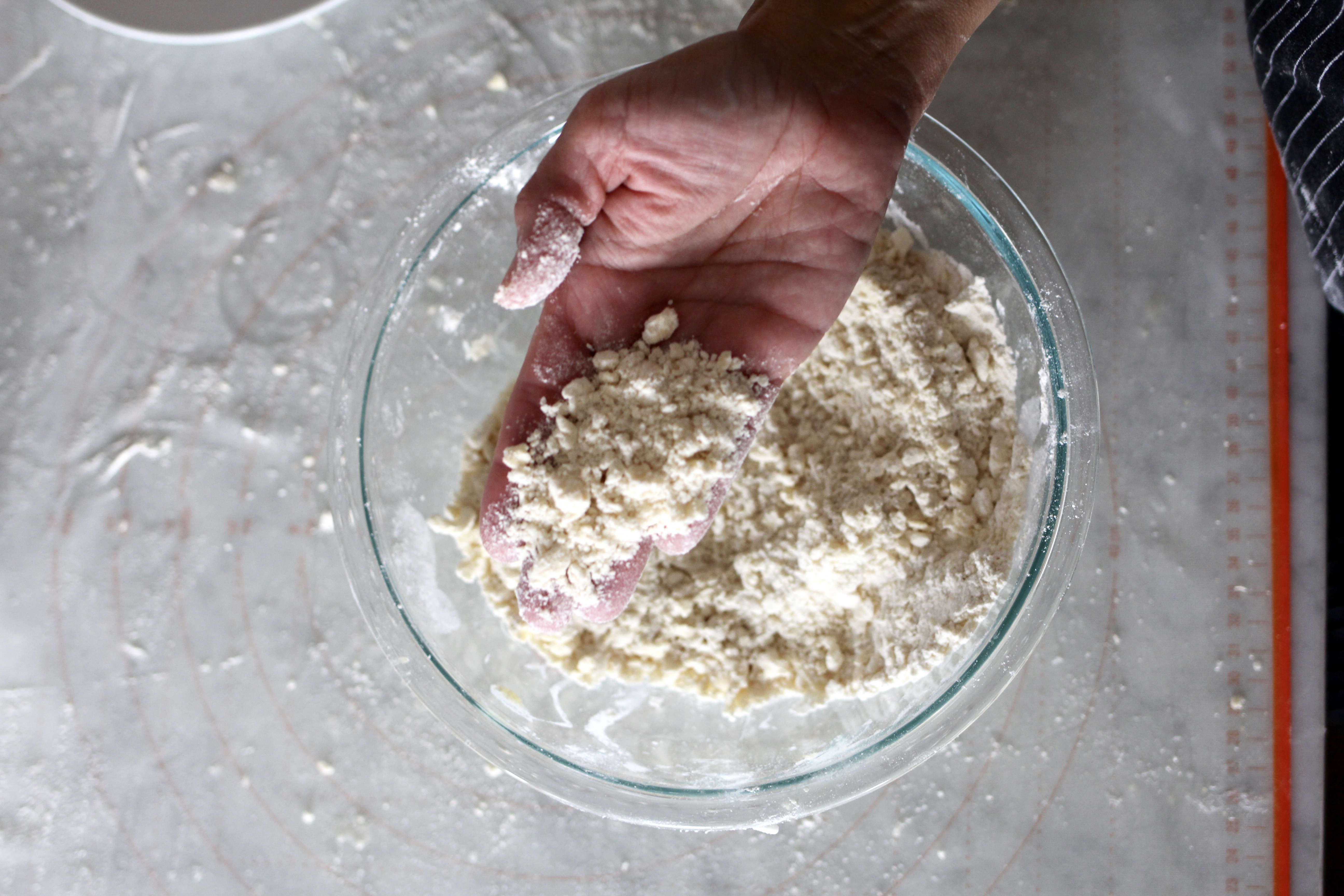 The shortening should be the size of small pebbles when done. This takes about 20-30 seconds!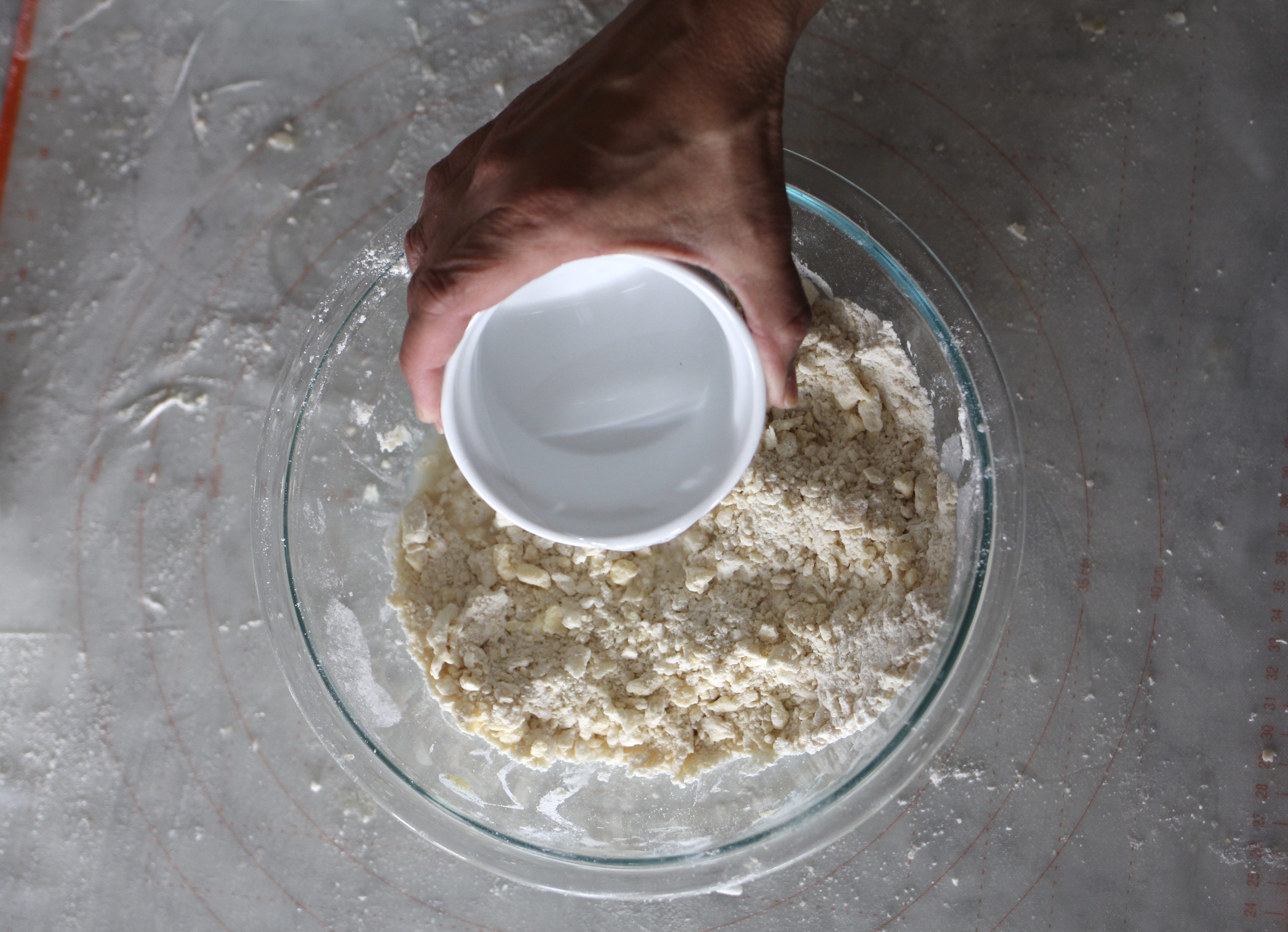 Add cold water all at once.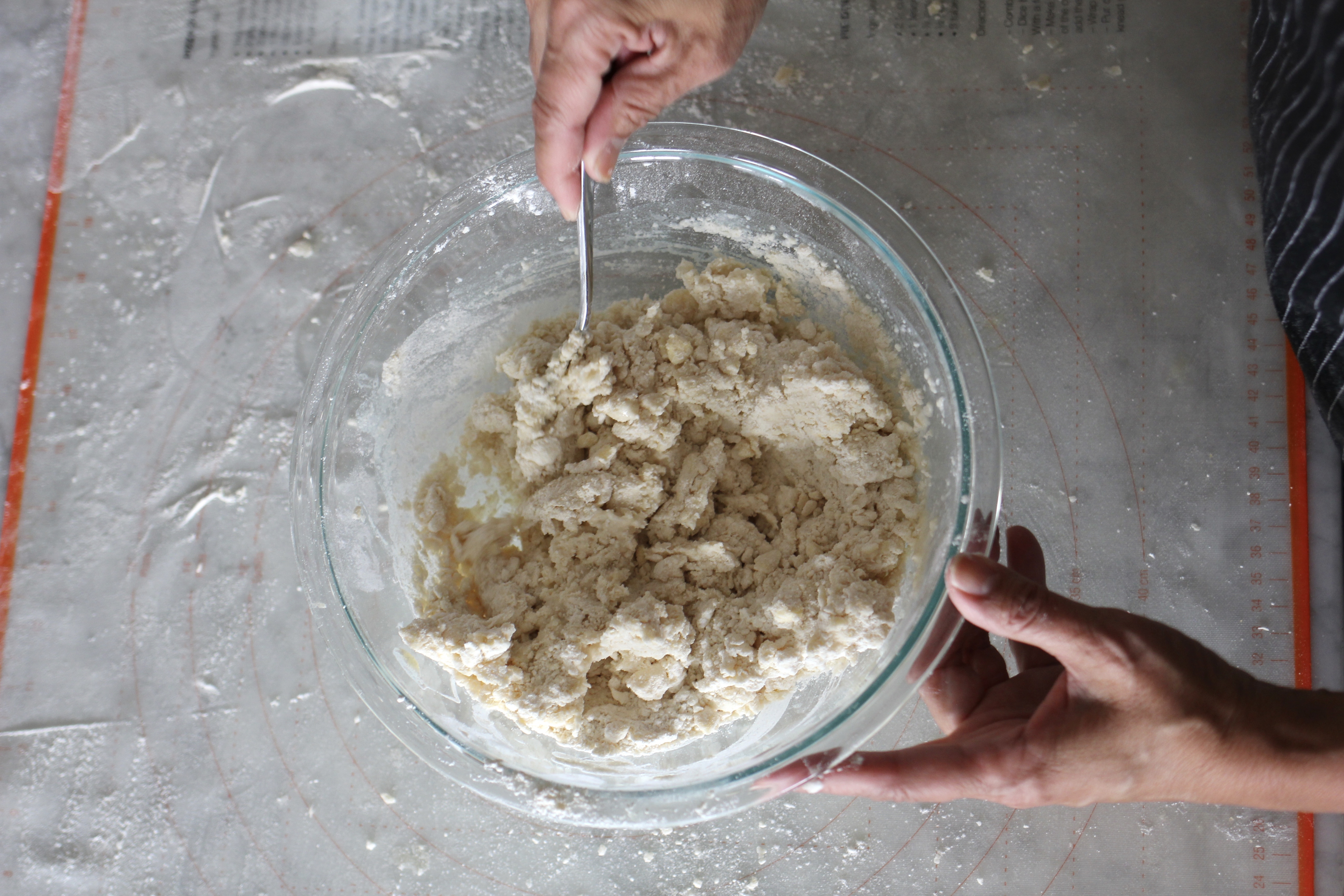 Fold water into ingredients in bowl. Do not over mix.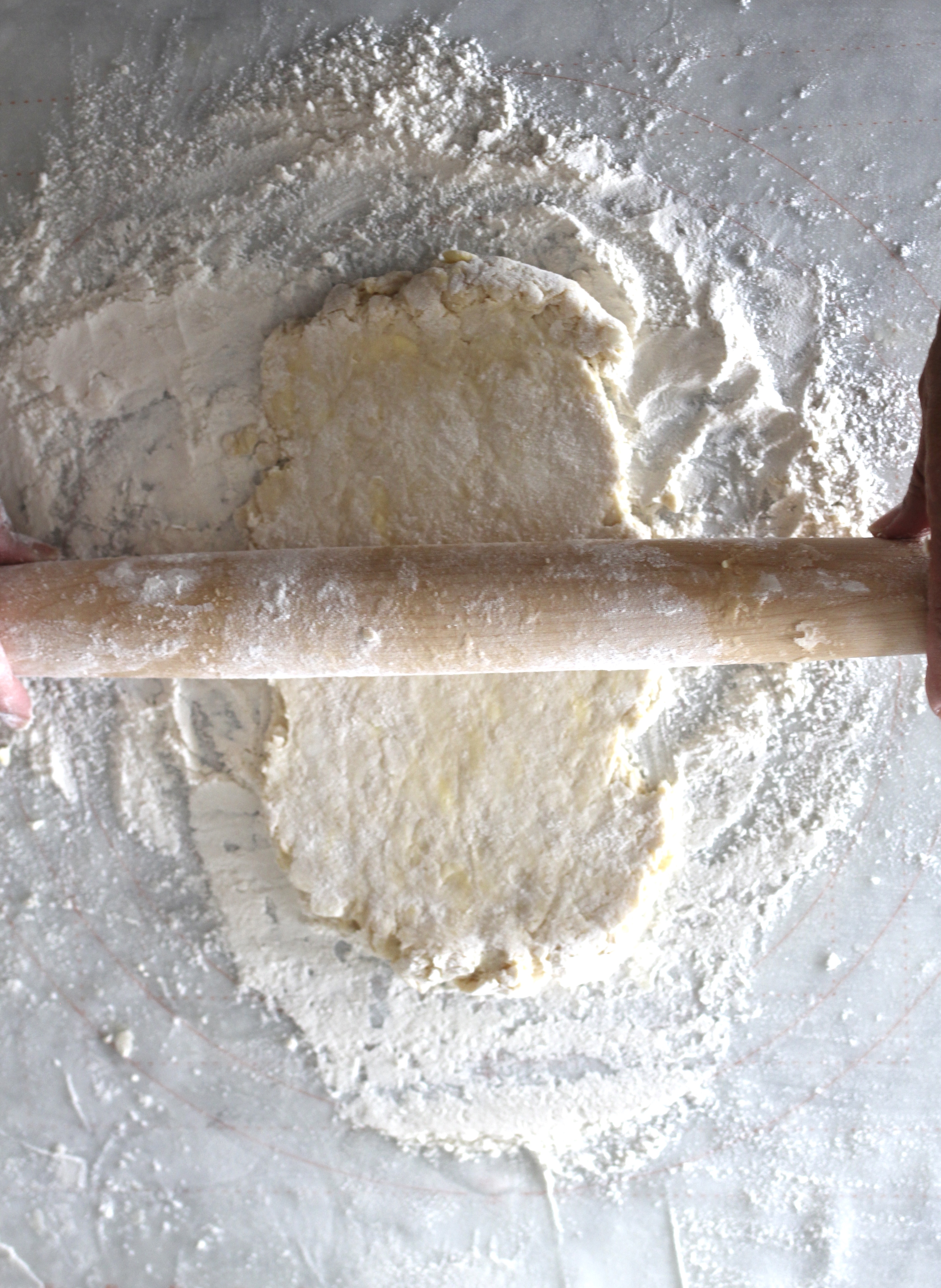 Split the dough into two pieces, Roll out half to 1/8 inch thickness.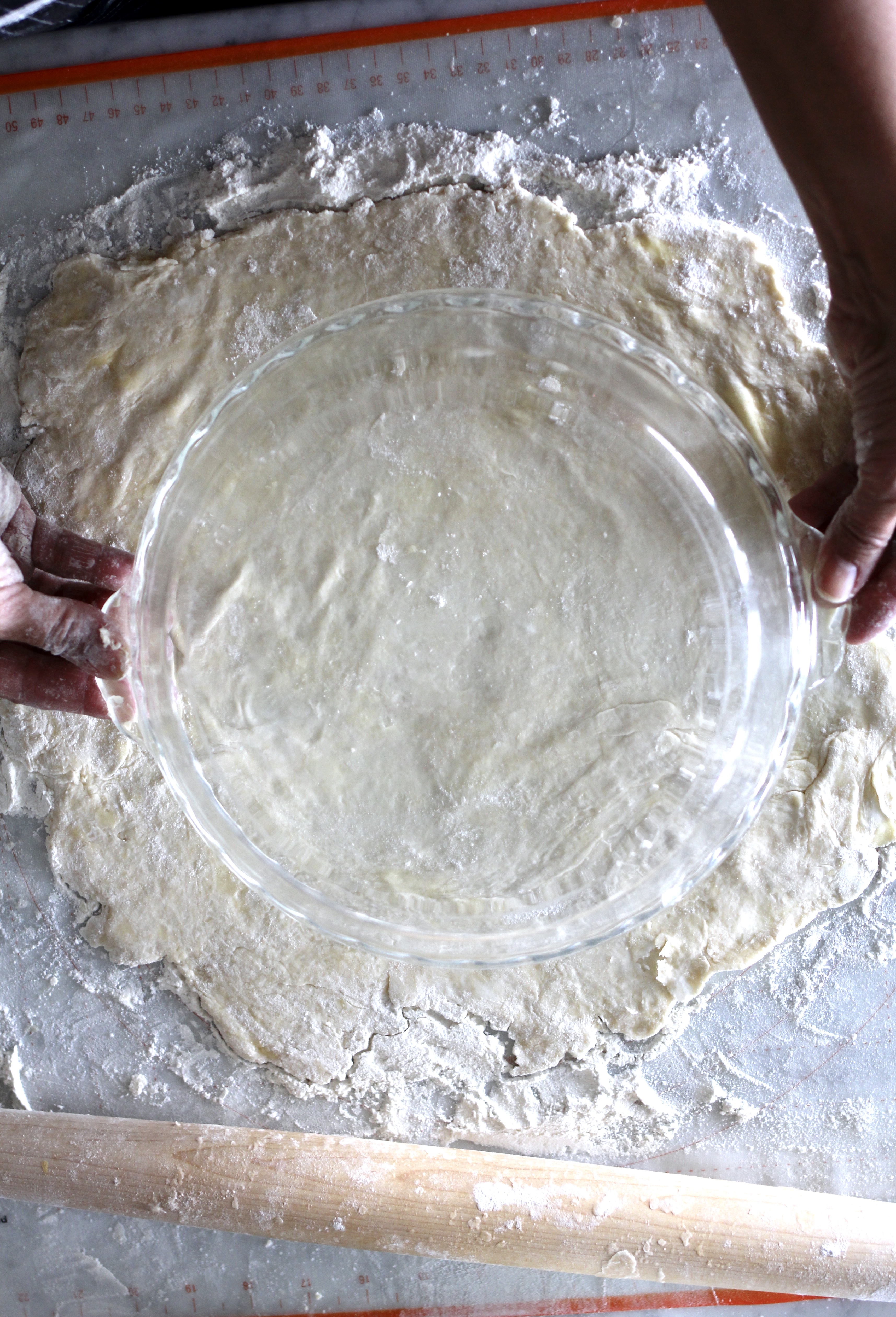 Place the pie plate on top of the dough, the edge of the dough should extend about 2-2 1/2 inches beyond the edge of the pie plate.
Fold the dough in half…
Lift the dough and place onto the pie plate.
Gently press the edges of the dough into the pie plate.
Shape the edges of the crust as desired, make sure to prick the dough with a fork if blind baking the crust to prevent bubbling of the pastry! That's it! See how simple it is to make a single blind baked crust? Make sure to follow recipe instructions for refrigeration, heating up oven and reducing the amount of shortening if you blind bake and don't fill the crust before baking!
A couple more tips and suggestions before you start!
Practice time
Pie crust is best when it is not overhanded. Resist the urge to pat down, reshape, touch excessively. It's okay if your crust looks a little "rustic"! A tender and flaky rustic crust is better than a tough picture perfect crust! If you are nervous about shaping and handling crust, make a 1/2 batch to test and practice… make it, shape it, roll out and place in a pan to practice forming edges of crust. It won't cost much to make a practice batch, and you'll have a chance to shape and re-shape when you're making Best Basic Flaky Pie Crust and No-Shrink Blind Bake Pie Crust. Kids love working with dough, make a batch and work along side them as you learn!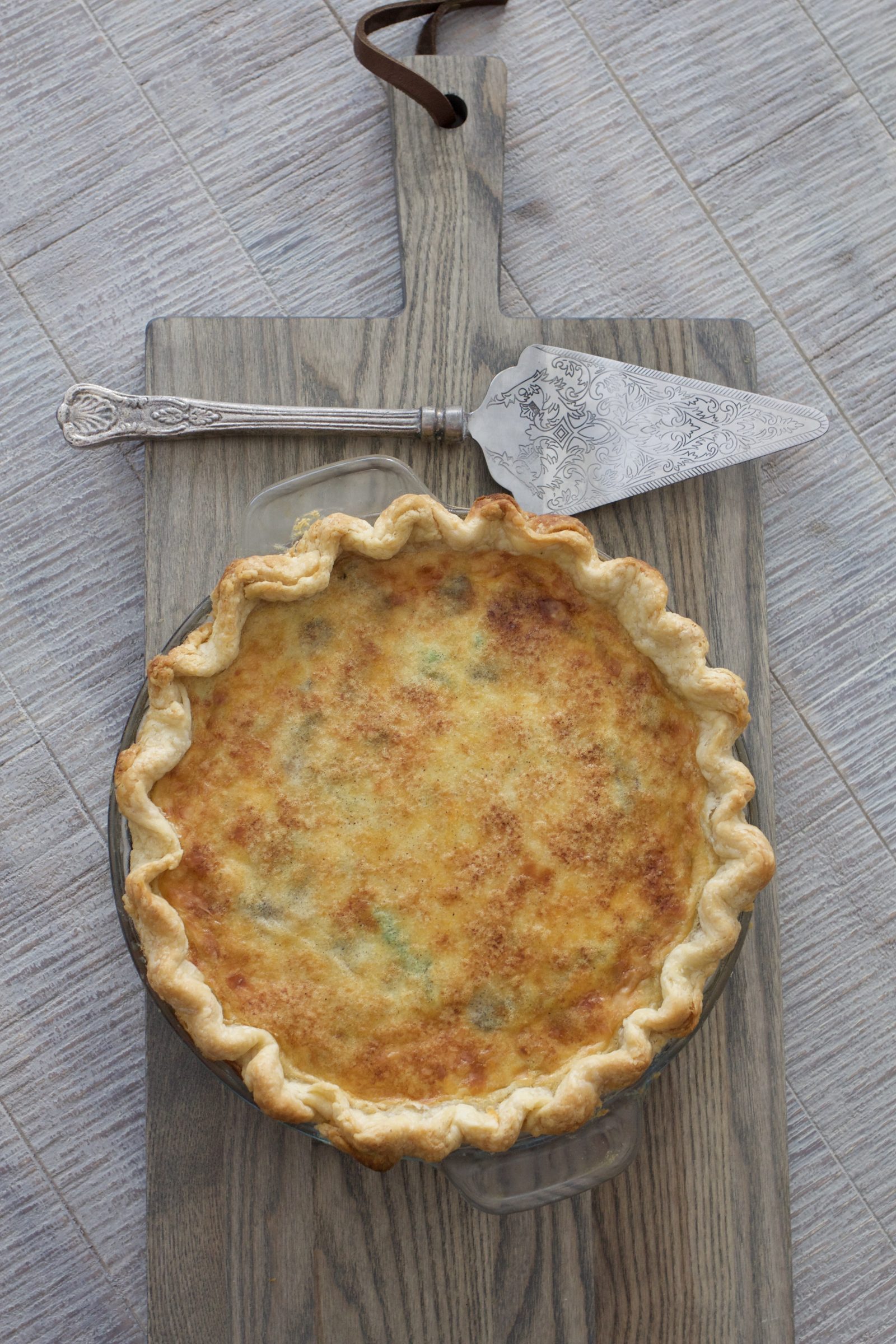 Tools of the trade
Here are a few of my favorite tools for making pie crust and pies: