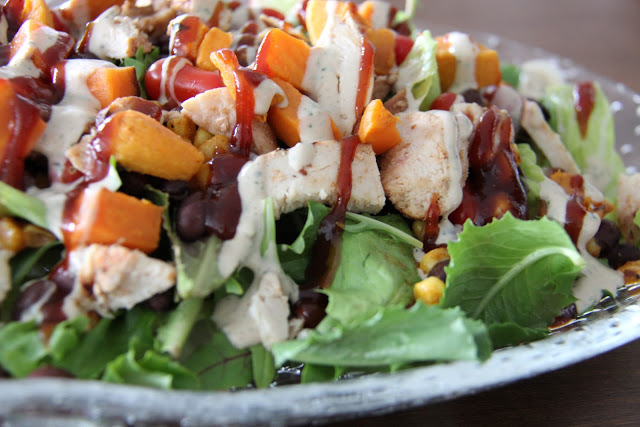 Labor Day weekend kicks off the start to Summer. Summer. Summer.
It's been a long Spring here in Utah. One of thosekeep 4 blankets,boots,hat,gloves,scarf and portable heater at all times in your car for the baseball game seasons. So glad it is finally warming up.
Summer means salads. I've been looking for an excuse to try out this recipe I Pinned a while back.
Verdict? Loved it. My new favorite.
I think there is a similar salad at CPK? This salad comes from the blog Erin's Food Files. She adapted the recipe from Mel at Mel's Kitchen Cafe, but added her own twist, by throwing in some roasted sweet potatoes and succotash (a dish consisting of corn and any type of beans cooked together).
Hello Summer. So glad you're almost here.
BBQ Chicken Salad with Creamy BBQ Cilantro Lime Dressing
Adapted from Erins Food Files and Mel's Kitchen
Ingredients
Chicken:
early in the day or day before prepare chicken in marinade:

4

chicken breast halves

any fat trimmed off

3/4

cup

of barbecue sauce to marinate chicken
Salad:
1

large head romaine

12

cups

lettuce Spring Mix or Spinach

about 1/2 of a Costco box of Spring Mix
Potatoes:
2

sweet potatoes

baked or grilled on bbq just until soft

olive oil for brushing on sweet potatoes
Succotash:
2

tablespoons

extra virgin olive oil

juice of 2 limes

1-2

cloves

of garlic

minced

2

teaspoons

cumin

2

teaspoons

chili powder

2-15

oz

cans black beans

drained & rinsed ( I like S&W brand regular or organic)

3

cups

corn

frozen

1

teaspoon

each sea salt & pepper
Dressing:
1 1/3

cup

mayonnaise

light or regular, I used light Best Foods

2/3

cup

buttermilk

sour cream, or nonfat greek yogurt, I used light sour cream

1/2

cup

fresh cilantro

chopped

4

tablespoons

lime juice

1

tablespoon

white vinegar

1

garlic clove

finely minced

1

teaspoon

salt

1/4

teaspoon

cayenne pepper

few generous dashes fresh ground black pepper

1/2

teaspoon

ground cumin

1/2

cup

BBQ sauce (you may use either home made or bottle and additional for drizzling on salad)

2-3

tablespoons

milk

if needed for thinning dressing
Instructions
The day before serving salad or early in the day:
Marinate chicken in BBQ sauce at least 6 hours. I like to use a large Ziplock bag. After marinating, preheat grill, and cook chicken until done. Barbecue the chicken on low heat for about 8-9 minutes per side, depending on thickness of meat. Remove from heat, check for doneness. If cooked through, let rest for about 5-10 minutes. Slice after cooled.

Succotash: Combine first 5 ingredients in a small bowl and whisk to combine. Add beans & corn, season with salt & pepper. Store in refrigerator until ready to use.

Dressing: Add all the ingredients together and whisk (or shake, if using a jar) vigorously to combine. I used a blender and pulsed the ingredients.

After the potatoes are cooked, gently chop.
Assembly:
Place lettuce on platter or large bowl. Layer on top of lettuce with black bean & corn succotash, sweet potatoes, and chicken. Drizzle with additional BBQ sauce, followed by the Creamy BBQ Cilantro Lime Dressing.
Recipe Notes
-Great dish for make-ahead. I made the entire salad the night before and bagged all of the ingredients separately. Then in the afternoon, took to a luncheon and assembled it in just a few minutes.
-You may use any combo of ingredients for the succotash. It would be delicious with red or yellow peppers, chopped onion (red, yellow or white) or tomatoes. I added small grape tomatoes and loved the color and flavor.
-This serves about 20 as a side dish, and is easily halved
-I like to make my own bbq sauce (recipe found here), but didn't have any on hand, so I used 'Sweet Baby Rays" bottled sauce in this dressing, and for the marinade.
-For the sweet potatoes, I wrapped the potatoes in foil and grilled them on my bbq (350 degree for about an hour. After they were softened, I cut them into about 3/4 inch slices, brushed both sides with olive oil and grilled them just until they were cooked a bit more and had grill marks on the outside of the potatoes.
You can eliminate the step of wrapping in foil and baking the potatoes. Simply place the peeled, sliced potato onto a greased baking sheet and bake or broil until softened. Or grill pieces on the bbq grill.
-If you are a cheese lover, grate some cheese on top – Monterrey Jack would work well. I don't think this salad needs cheese, there are lots of flavors in the salad, and with the creamy dressing, I think cheese is a little overkill. Just my two cents 🙂