The Best Chocolate Chip Oatmeal Cookie was created for the person in your life who loves a little bit of oatmeal and a whole lot of chocolate in a cookie!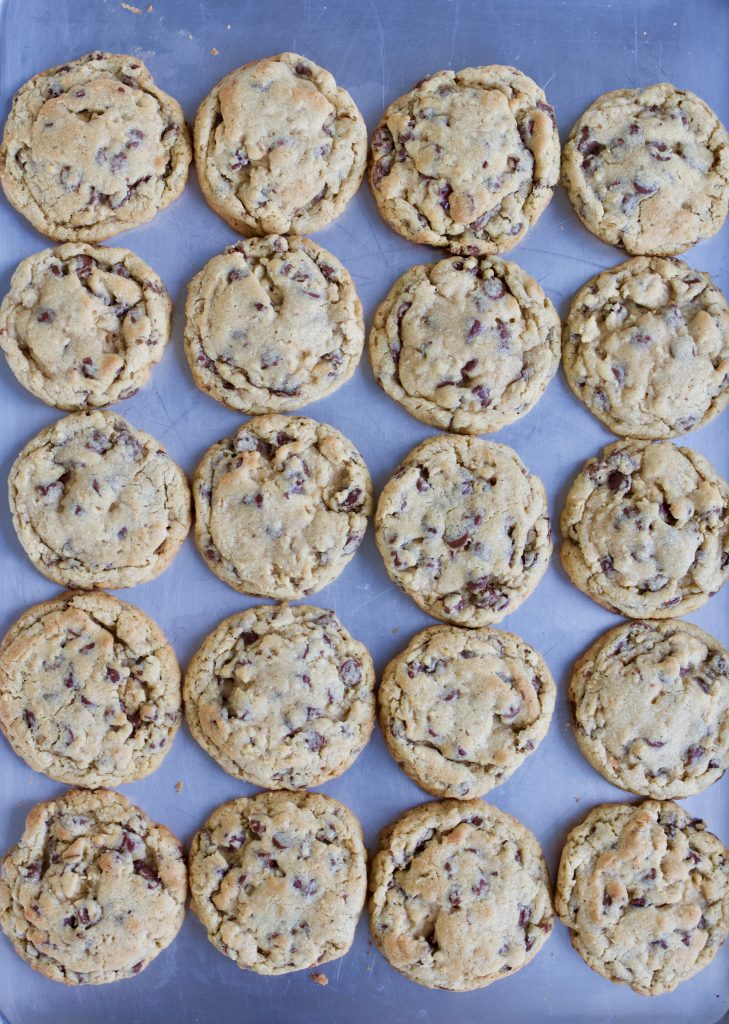 Chocolate or raisins?
What makes this recipe The Best Chocolate Chip Oatmeal Cookie? For starters, the name. Most oatmeal and chocolate chip cookies are named oatmeal chocolate chip cookies. The Best Chocolate Chip Oatmeal Cookie is most definitely a chocolate lover's dream! I'm often asked for my favorite oatmeal cookie recipe… if I'm going with chocolate instead of raisins in an oatmeal cookie, The Best Chocolate Chip Oatmeal Cookie is my first choice.
I am a huge fan of fruit in cookies, so I love to make oatmeal raisin more frequently than oatmeal chocolate chip! I posted a recipe years ago, from my friend Eden for Giant Oatmeal Chocolate Chip Cookies, which is a  huge oatmeal chocolate chip treat. The only drawback to Eden's cookie recipe is they have to be refrigerated before baking. I'm not the most patient person in the world, so a recipe that does not require refrigeration before baking is a bit more convenient for me!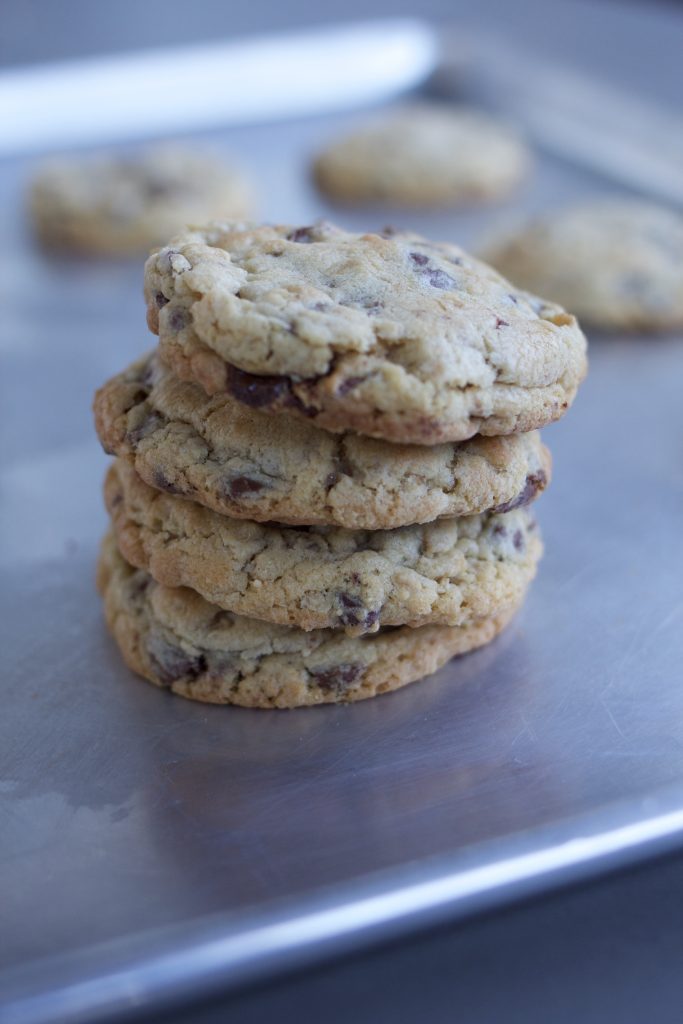 More dough or more chocolate?
Are you team  chocolate or team cookie dough? The Best Chocolate Chip Oatmeal Cookie is similar to the New York Times Chocolate Chip Cookie, which absolutely is packed with way more chocolate than dough. If you're looking for a straight up, chocolate loaded cookie, with a traditional chocolate chip cookie dough, give the NY Times cookie a try.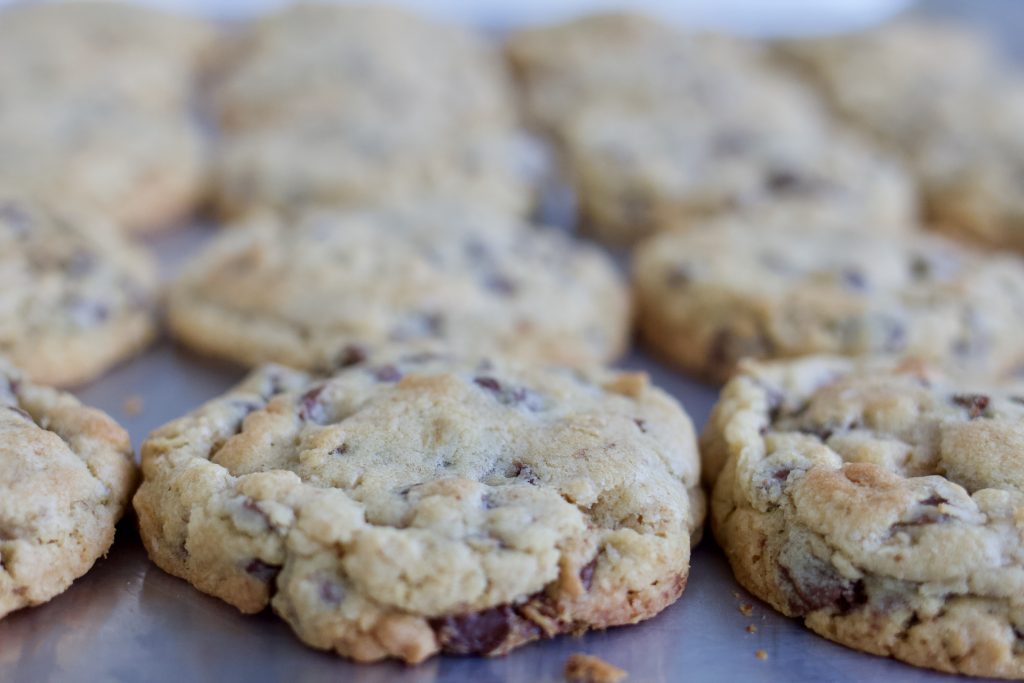 How to keep fresh cookies on hand, for…emergencies
The Best Chocolate Chip Oatmeal Cookie recipe makes about 24-30 cookies, depending on the size of your scoop. I use a scoop that is about 2 1/4 inches across in diameter, which yields about 24 cookies from this recipe. If you'd like to bake a few at a time, try shaping the dough into balls, place carefully in a gallon ziplock bag and freeze in a single layer. When ready to bake, remove from freezer and place on a cookie sheet. Bake in a preheated oven at 350 for regular bake and 300 for convection bake for 16-18 minutes or just until the top is no longer wet and shiny. Don't thaw first, just bake as directed above. I love to keep cookies on hand in the freezer for busy nights when I need a dessert!

This recipe is also amazing as a gluten free cookie! I have made these for friends who have Celiac or are gluten intolerant and they have absolutely loved this cookie. They could not believe it was a gluten free cookie! See recipe notes for gluten free instructions.
The Best Oatmeal Chocolate Chip Cookie
If you love chocolate filled oatmeal cookies, this is your cookie! The best oatmeal chocolate chip cookie is easy to make and include gluten free instructions as well.
Ingredients
1

cup

butter

unsalted, softened for 30 minutes on counter or microwave for a few seconds

1

cup

brown sugar

light or dark

1/2

cup

granulated sugar

2

eggs

1

tablespoon

vanilla

2

cups

all-purpose flour

1

cup

old-fashioned oats

1

teaspoon

baking powder

1

teaspoon

baking soda

1

teaspoon

sea salt or kosher salt

* if using salted butter, use 1/2 teaspoon salt

3

cups

semisweet chocolate chips or milk chocolate chips
Instructions
Preheat the oven to 375 degrees.

Cut butter into tablespoons and place into mixing bowl.

Mix butter and sugars until smooth, using medium speed on mixer.

Add eggs, one at a time, and vanilla. Mix until smooth.

Add all dry ingredients, including chocolate chips to the bowl.

Pulse the dry ingredients into the wet ingredients in mixing bowl.

Mix just until wet and dry ingredients are incorporated. I scrape down the sides of bowl at least once during this process to insure the chocolate chips are evenly distributed.

Scoop the cookies onto a sheet of parchment or lightly greased cookie sheet, 6-8 cookies per pan. With the palm of your hand, give each cookie a light press to flatten cookie a bit.

Bake at 375 degrees for 8 minutes or until cookies are light golden on top.

When the cookies are removed from oven, use a small spatula to push edges in to form the cookie into a round shape if the cookie spreads while baking. This must be done while cookie is still hot out of the oven!
Recipe Notes
-For Gluten Free  Oatmeal Chocolate Chip Cookies, I have tested this recipe using Cup4Cup brand and also King Arthur Coconut flour in place of the All Purpose flour. If you are looking for a gluten free option, substitute out the All Purpose flour with one of the gluten free flours mentioned. Reduce the gluten free flour by two tablespoons, and for best results, refrigerate dough after shaped for at least two hours before baking.