My recipe for Best German Chocolate Bundt Cake will take your confidence in baking to the next level! Best German Chocolate Bundt Cake takes the mystery out of making this special occasion treat in your kitchen.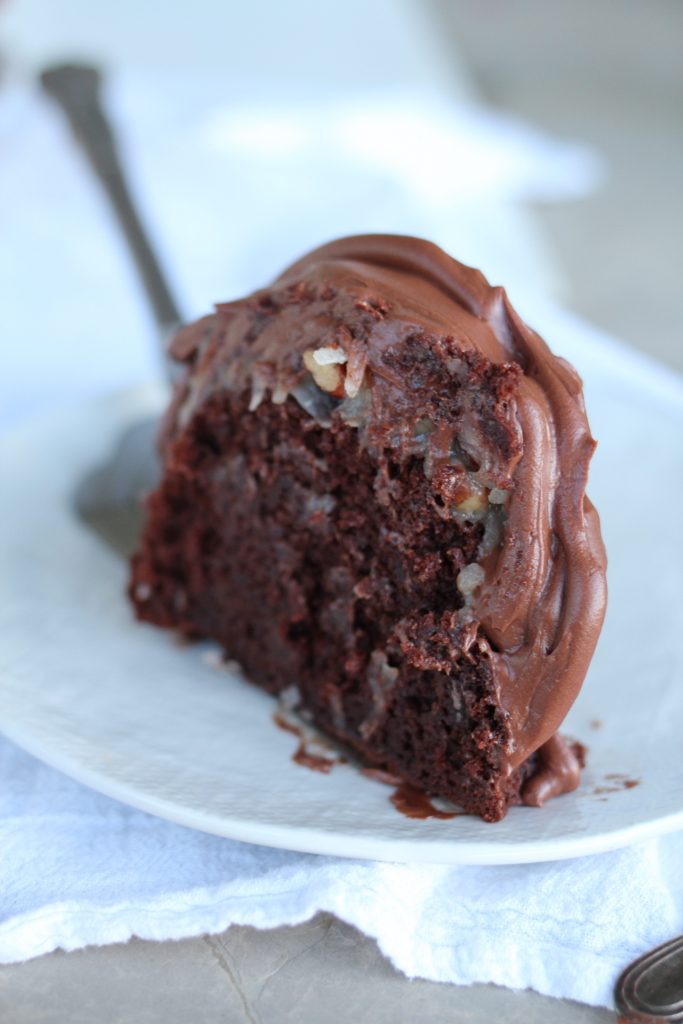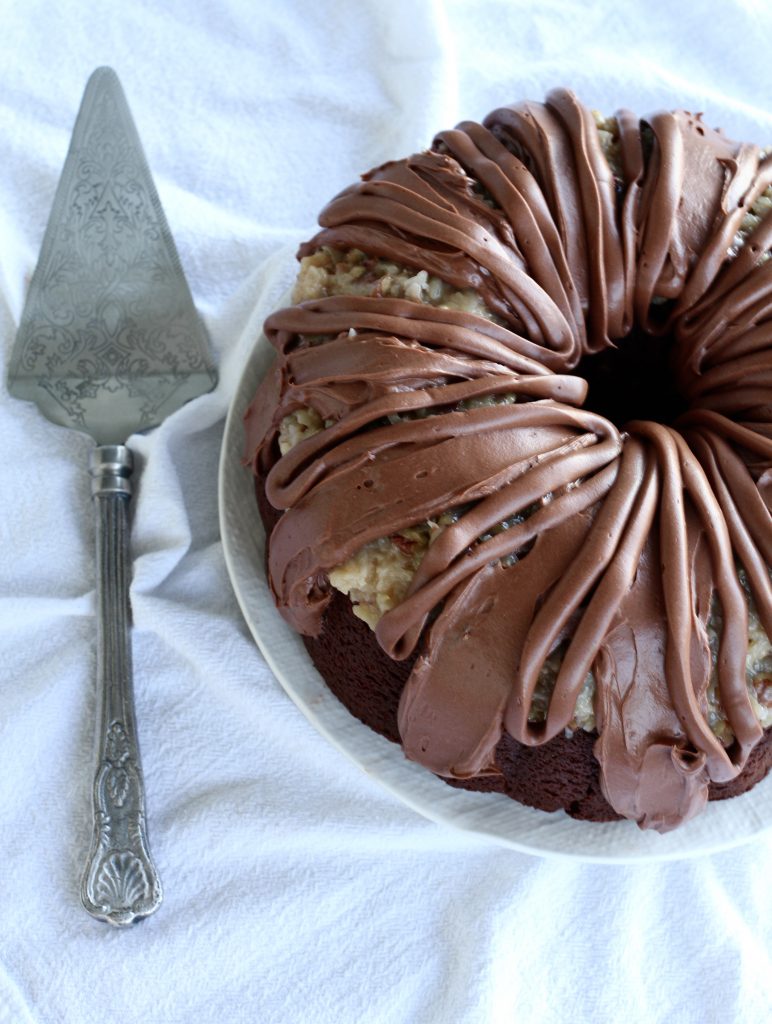 Does the thought of making a German Chocolate Cake at home intimidate you?? German Chocolate Cake is a cake people tend to buy, but not make at home. Maybe it's the thought of making a cake, and a topping, and frosting that compels us to buy from the bakery, instead of baking at home?
I'm going to share with you my simple, make-ahead version of Best German Chocolate Bundt cake that will knock your socks off. This cake's simple, gooey, moist deliciousness will convince you to never, ever, buy a German Chocolate Cake again!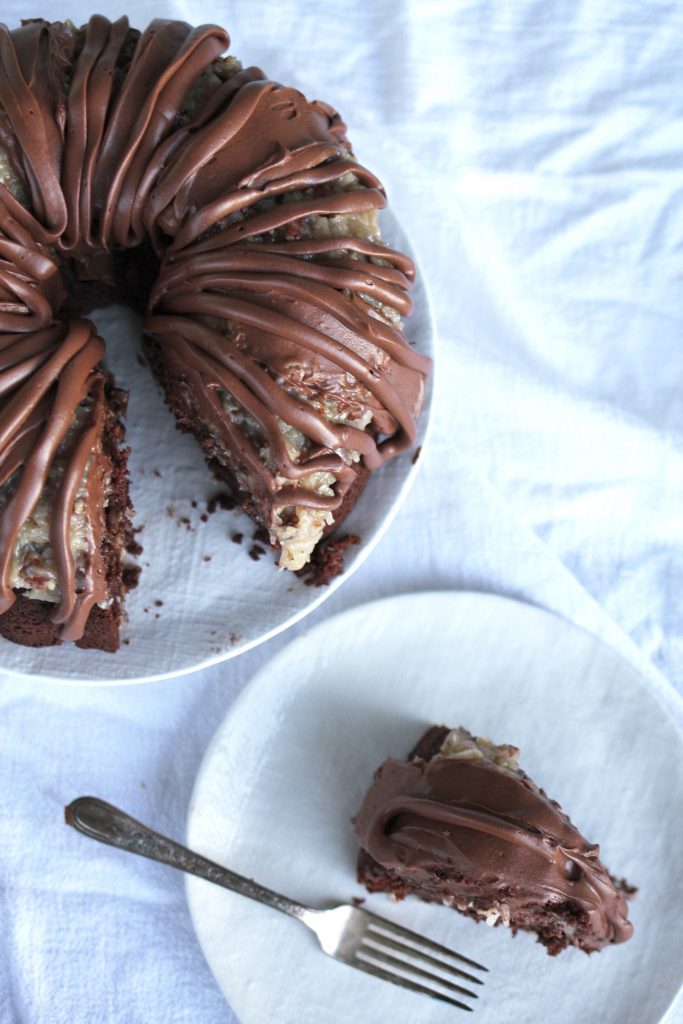 a bundt cake, really?
Why a German Chocolate Bundt Cake? Years ago, I made a 100% from scratch German Chocolate Cake for Grant on his 50th birthday. I love that recipe! The only problem is, the cake takes a bit of time to make and is a little on the difficult side to handle if you are a novice baker.
I wanted to create the Best German Chocolate Cake recipe that is simple for a beginner cook to make and also give instructions for make- ahead so the cake can be made ahead, along with the topping and frosting, and assembled later if needed. With that in mind, I thought what's easier to make than a Bundt cake?? How about a bundt cake made with a cake mix as a base? I knew you'd agree. That's how the Best German Chocolate Bundt Cake was born.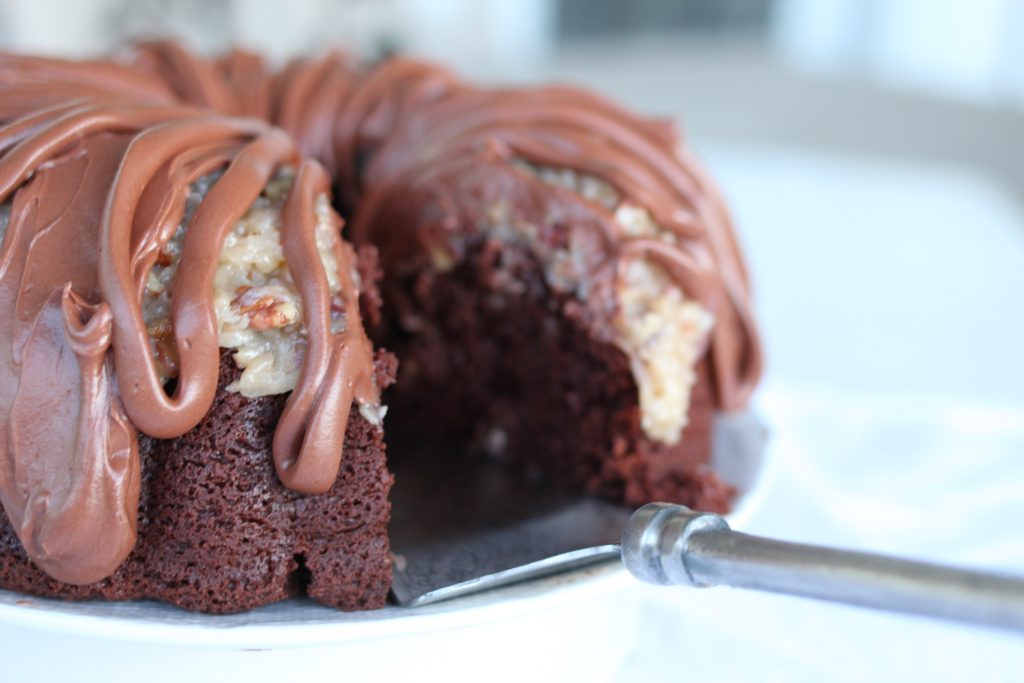 a few simple steps…
Best German Chocolate Bundt Cake can be made in stages, so you won't get overwhelmed with all three steps at once!
Here's the plan:
1. Mix and bake the cake.
2. Make the coconut-pecan topping, refrigerate.
3. Make the frosting, spoon into a bag, and refrigerate.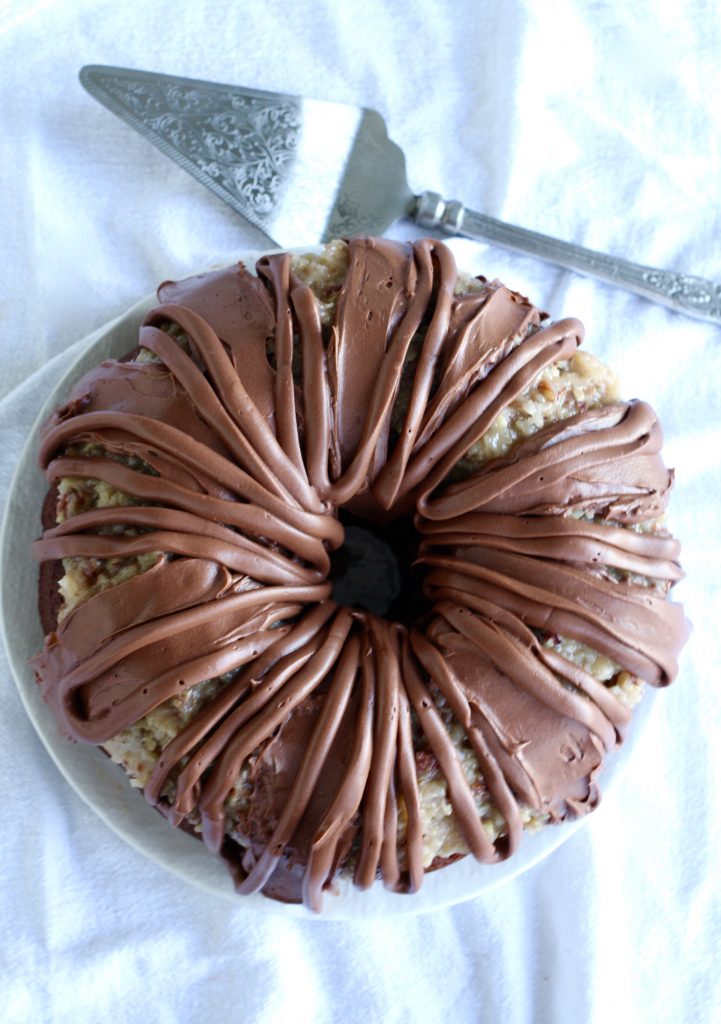 make ahead instructions!
If you're pressed for time, you can make the Best German Chocolate Bundt Cake up to two days in advance. Once baked, cool and wrap with plastic wrap and stick in back of fridge so no one will eat it up before you have a chance to frost! The topping takes about 15 minutes start to finish, and can be stored in a bowl in the fridge. Make the topping and frosting up to a week before serving. Again, store in the fridge until ready to assemble.
When you're ready to assemble, take everything out, and follow instructions on recipe. It is best if the filling and frosting ingredients sit out on the counter for about 30-45 minutes before using to come to room temperature! Remember, if you are making ahead, hide the cake or you won't have anything to frost. Where's my laughing emoji?? I have a problem with eating unfrosted cake. Like an- I need an intervention type of problem… Oh, and I've added instructions to make this in a sheet pan if a sheet pan works better for you than a bundt pan.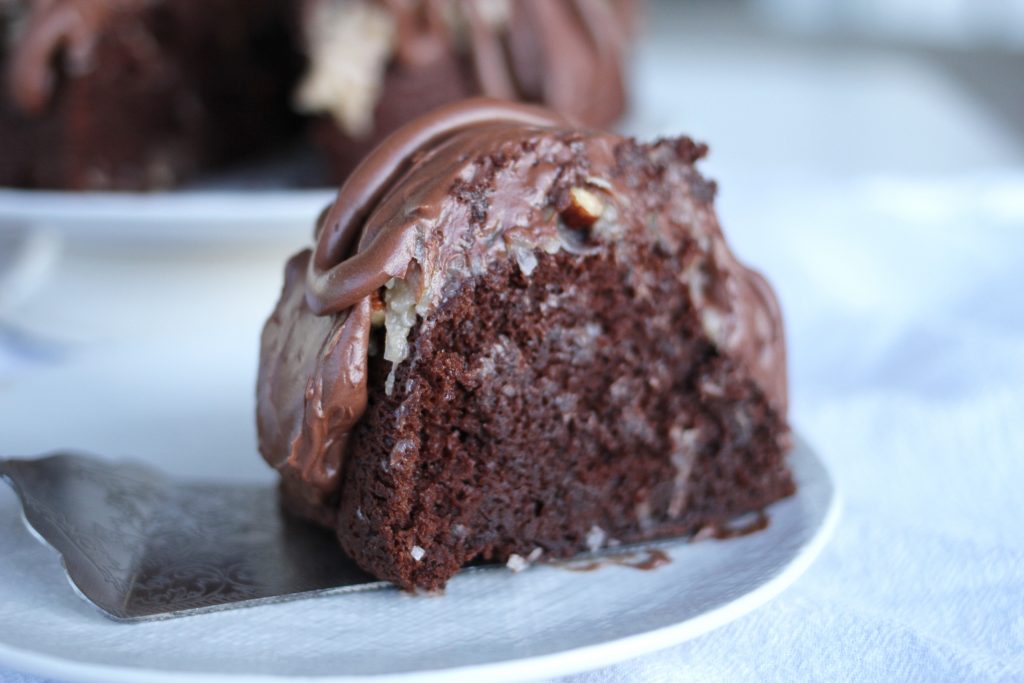 last word on abk's best german chocolate bundt cake…
Oh, one more thing. This German Chocolate Bundt Cake is incredibly moist. It will stay fresh for days in the fridge, covered. If no one sees it. Big IF! Happy baking 🙂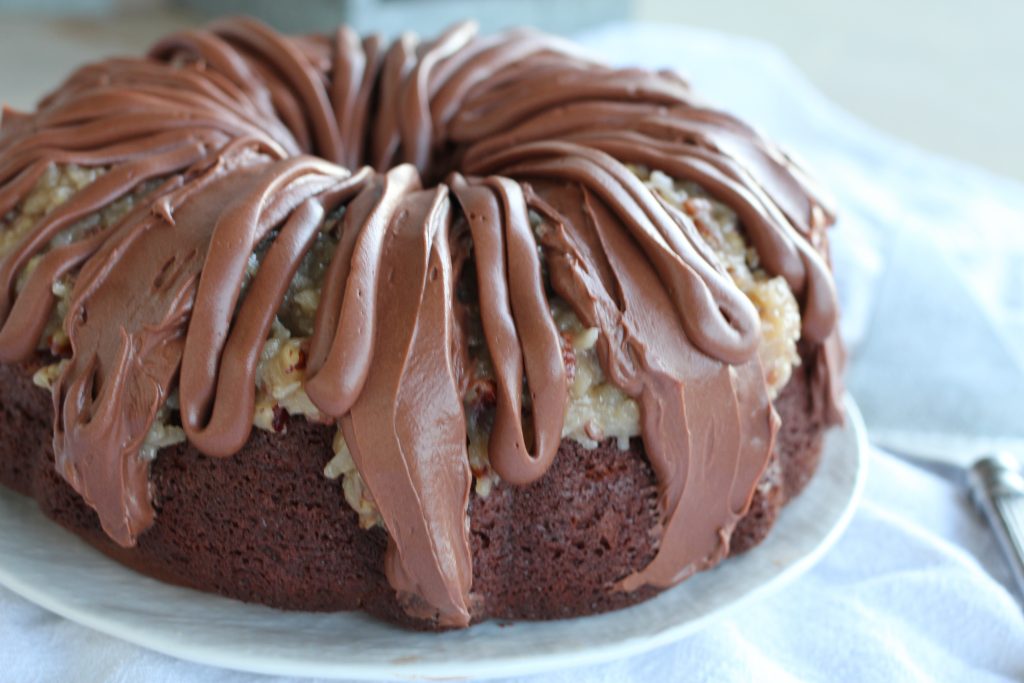 German Chocolate Bundt Cake
Ingredients
for cake:
1

cake mix – chocolate

any name brand will work

1

small box instant pudding

chocolate (dry, not mixed with milk)

1/4

cup

unsweetened cocoa powder

1/2

cup

sugar

3/4

cup

vegetable oil

3/4

cup

water

4

eggs

1

cup

sour cream
topping:
6

oz

can EVAPORATED milk

not sweetened condensed

2

egg yolks

1

teaspoon

vanilla

3/4

cup

sugar

6

tablespoons

butter

cut into pieces

1 1/2

cups

coconut

sweet flake

3/4

cup

chopped pecans
frosting:
8

oz

cream cheese

not low fat, softened

1/4

cup

butter

room temperature

2

cups

powdered sugar

1/2

cup

unsweetened cocoa powder

1

teaspoon

vanilla

pinch

of salt
Instructions
for cake:
Turn oven to 350 degrees and place rack in middle of oven.

Place the wet ingredients into a large mixing bowl and mix until blended well. Add the cake mix, box of pudding, unsweetened cocoa and sugar. Mix for about 2 minutes on medium speed or until blended well. Turn beater on high for about 1 minute.

Generously grease a bundt pan.

Pour the cake batter into the pan and bake for about 45-50 minutes or until the cake springs back when touched lightly.

Remove from oven and let cool for about 5 minutes, then turn cake out onto cooking rack and let cool top side down until completely cooled.
Make the topping and frosting while cake is baking:
for topping:
Beat Evaporated milk, egg yolks, and vanilla in a large sauce pan with a whisk or fork. Add sugar and butter and cook over medium heat for about 10-12 minutes until mixture is thickened and starts to turn a golden color. Whisk while cooking every few seconds. When the mixture has thickened, remove from heat and add coconut and nuts.

Set aside to cool. Place in a bowl and set in refrigerator until ready to use.
For frosting:
Beat cream cheese and butter in a large mixing bowl until smooth. Add powdered sugar and cocoa powder and beat on low until smooth. Add vanilla and pinch of salt.

Using large Ziplock bag, or cake decorating bag, placing the bag inside of the cup or small bowl. fold the ends of the bag over a cup, and fill the bag with the frosting. Squeeze the frosting to one end of the bag. Snip off a small end of the bag when ready to frost.
assembly:
Place the cake on a flat plate or cake stand.

Top the cake with the coconut pecan mixture using a spoon.

Using the bag of frosting, pipe the frosting onto the cake until all of the frosting is used. You may also fill two bags and snip off one large and one smaller opening if you want to achieve a look similar to the one in the photo.
Recipe Notes
-The key to getting a bundt cake to come out of the pan in one piece is not flour, but lots of oil coating the pan. I use cooking spray. Just a basic PAM spray. Spray on more than you think you need. Two coats. don't forget the middle of the pan.
-You may use any brand of cake mix, I usually prefer Duncan Hines, or in this cake Betty Crocker. -Do not mix the pudding with milk before adding to the cake.
-Start in the middle and work your way outward when piping on the frosting.
-Because the frosting is made with cream cheese, store in fridge if there are any leftovers.
-This cake may also be made as a sheet pan cake! Simply follow directions and bake in a standard sheet pan for about 20-25 minutes or until top is set and springs back lightly when touched. I advise making 1 1/2 of the pecan and coconut filling. The standard amount in the recipe for the bundt pan works, but needs to be carefully spooned on to make sure there is enough filling to cover the surface of the sheet pan cake. For frosting, you may spread on the frosting on top of the pecan coconut layer,  or thin the frosting a bit with a few tablespoons of milk. After thinning out frosting,  spoon into a pastry bag or a Gallon Ziplock bag with the corner cut off. Drizzle on top of cake using a back and forth motion from one end of the cake to another. Refrigerate cake until ready to serve.