If you love baked beans, you will love our family favorite recipe for the very Best Sweet Baked Beans! This recipe has been on repeat in our home forever and is my go-to recipe for summer barbecues.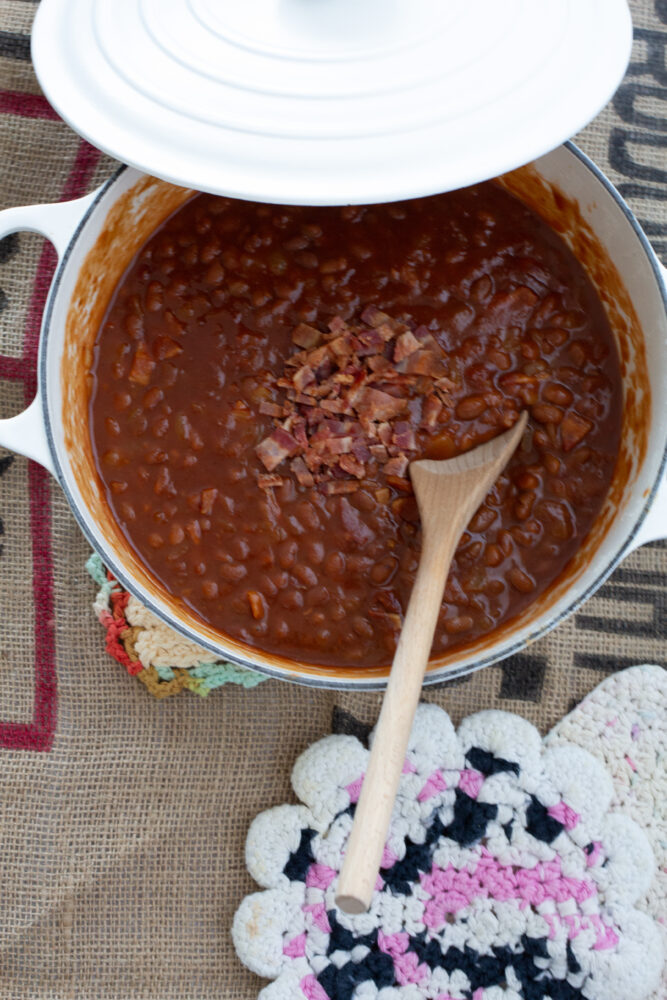 Baked beans are an all-American recipe. They have been making an appearance on tables in the U.S. since 1895. Made with Navy beans, baked beans usually consist of ketchup, sugar (usually brown), molasses, bacon, onion, and some type of vinegar or acid and I like to add a little spice or heat of some sort!
Because my mother always made baked beans that started with cans of Van Camp Pork and Beans, I've always used them as well. For some, opening a can and heating up (or eating cold) a can of pork and beans is what they refer to as "baked beans". Pork and beans generally have a tomato sauce added already, but in my opinion, they need a lot of dressing up to be considered sweet baked beans!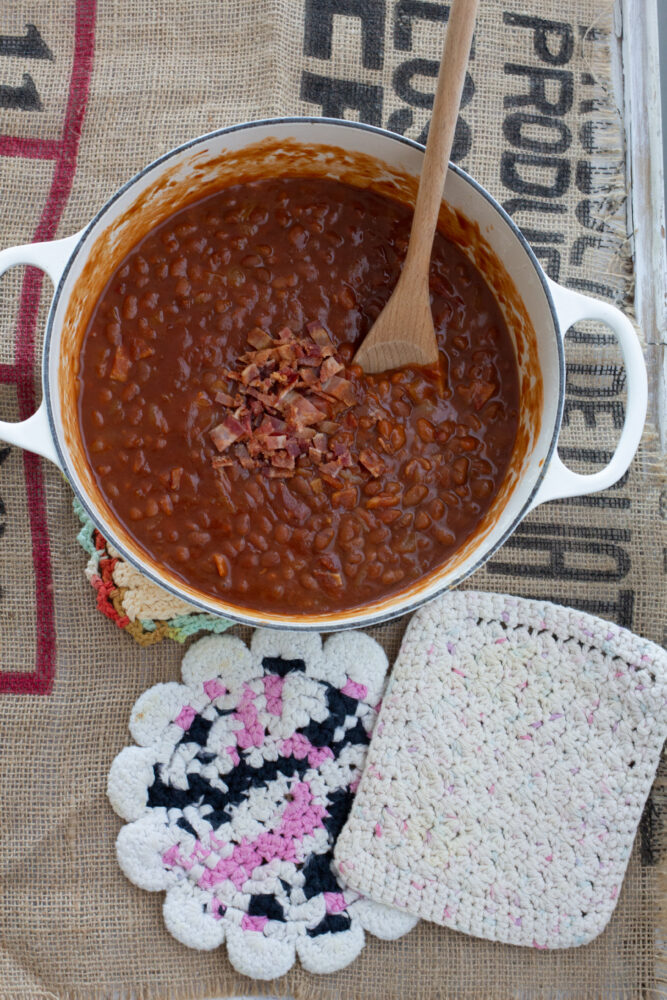 An old favorite stand by for many families, baked beans are what summer picnic dreams are made of! This side dish is easy to make ahead, travels well, can be made in the oven, slow cooker or even on the stove top if the oven is not available.
I try not to over-do it when it comes to quantity when making homemade baked beans. In an unofficial poll I took recently of women ages 20-60, most of the older women said they loved a bit of baked beans on their plate at a picnic, while younger people didn't have much of an opinion concerning baked beans or flat out said they would pass if given the option of baked beans or a salad!
For me, it's all about the sweetness of our Best Sweet Baked Beans, along with a texture change from almost any other side served! There's just nothing quite like a scoop of homemade baked beans next to our favorite potato salad, coleslaw and a grilled burger to make a summer bbq plate complete for me.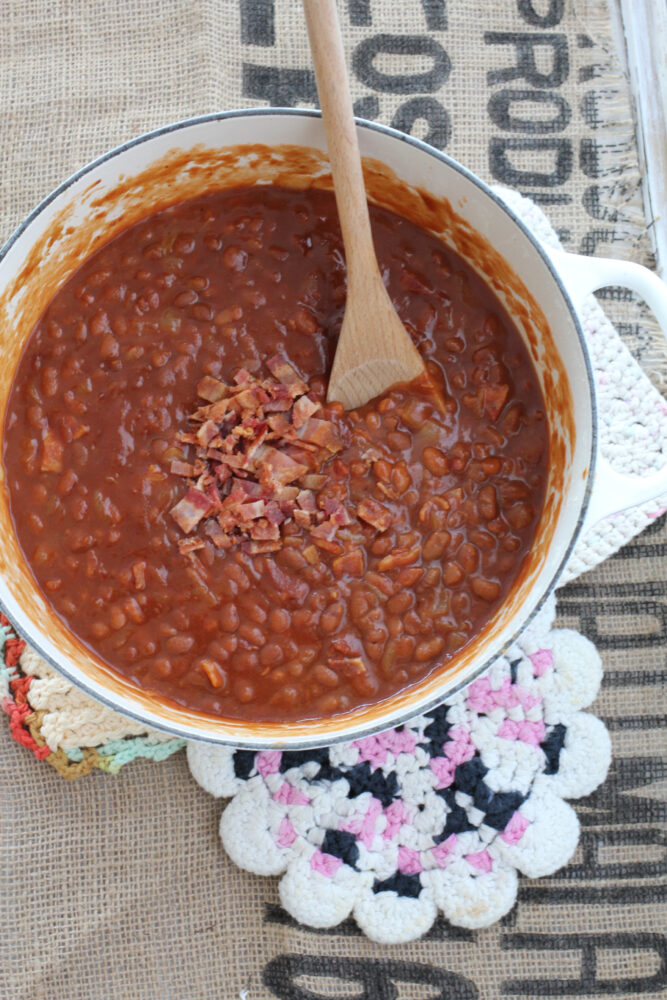 Our favorite sweet baked beans are so easy to make! They take just a few minutes, and then pop them in the oven or a slow cooker for a few hours and you'll have a side ready to go.
How to make the Best Sweet Baked Beans:
Cook bacon until crisp, remove from pan and set aside.
Remove grease from pan, but do not wash.
Add the onion to the pan, cook until soft.
Add remaining ingredients.
Bake for an hour in oven, on stovetop or in a slow cooker.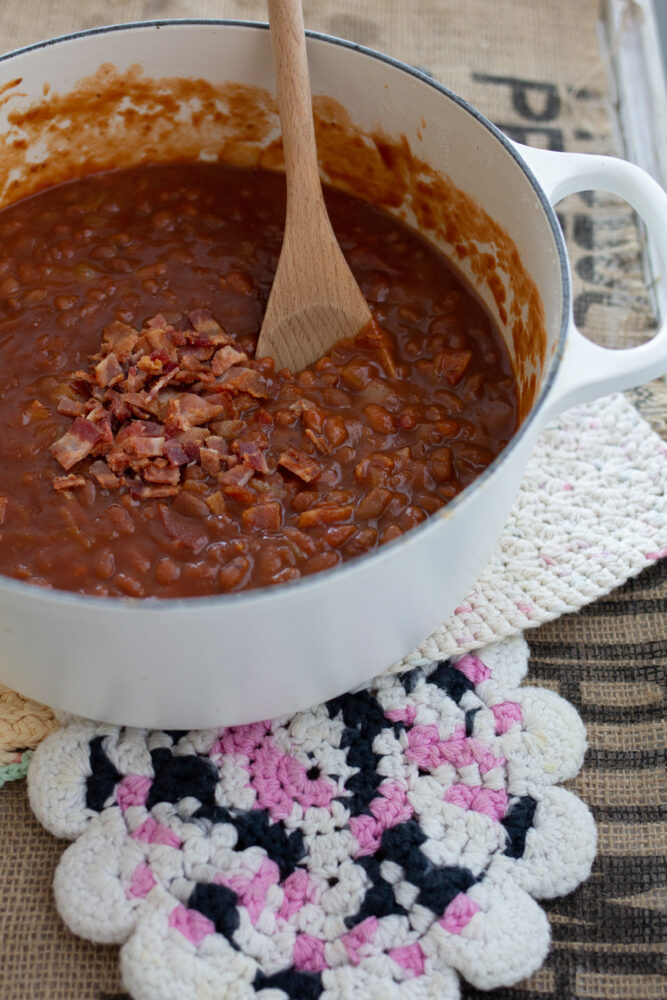 Favorite Sweet Baked Beans
This has been our family favorite baked bean recipe for years!
Total Time
1
hour
15
minutes
Ingredients
1

lb

bacon, chopped

1 1/2

cups

white, sweet or yellow onion, chopped or 1 medium onion

salt and pepper

2

(28 oz)

cans Pork and Beans

or 4 15 oz cans

1

clove

garlic, minced (optional)

1

cup

ketchup

1

cup

brown sugar (dark or light)

1/4

cup

Worcestershire Sauce

1

teaspoon

dry mustard or hot sauce
Instructions
Cook bacon, until crisp. Drain off grease and discard, and remove bacon to a small dish. Reserve some of the bacon for the top of the dish after it is baked.

Add onion to the pan, sauté until softened over medium heat. Season with salt and pepper, about 1/2 teaspoon each. Add garlic, (if using) and sauté for one minute.

Add the bacon, beans, ketchup, brown sugar, Worcestershire sauce and dry mustard, stir to combine.

Bake at 350 for 1 hour in ovenproof pan, or on stove top on low heat for 1 hour, or in a slow cooker on low for 4-6 hours. Top with reserved bacon before serving.
Recipe Notes
Baked beans may be adjusted to your taste preference. If you like beans less sweet, reduce the amount of sugar in the recipe. The heat may also be adjusted, reduce or increase the amount of dry mustard or hot sauce according to taste. 
Dark brown sugar gives the beans a darker, richer color especially after being baked than light or golden brown sugar. 
If you don't have ketchup, a cup of tomato sauce may be substituted. 
2 tablespoons of cider vinegar  or balsamic vinegar may be substituted for 1/4 cup of Worcestershire sauce.