I've been making Texas Sheet Cake since we were first married. Over the years, I've made many variations, but this is our favorite version of the popular classic! Keep reading to see why I updated this classic recipe to use butter and sour cream for just the right texture…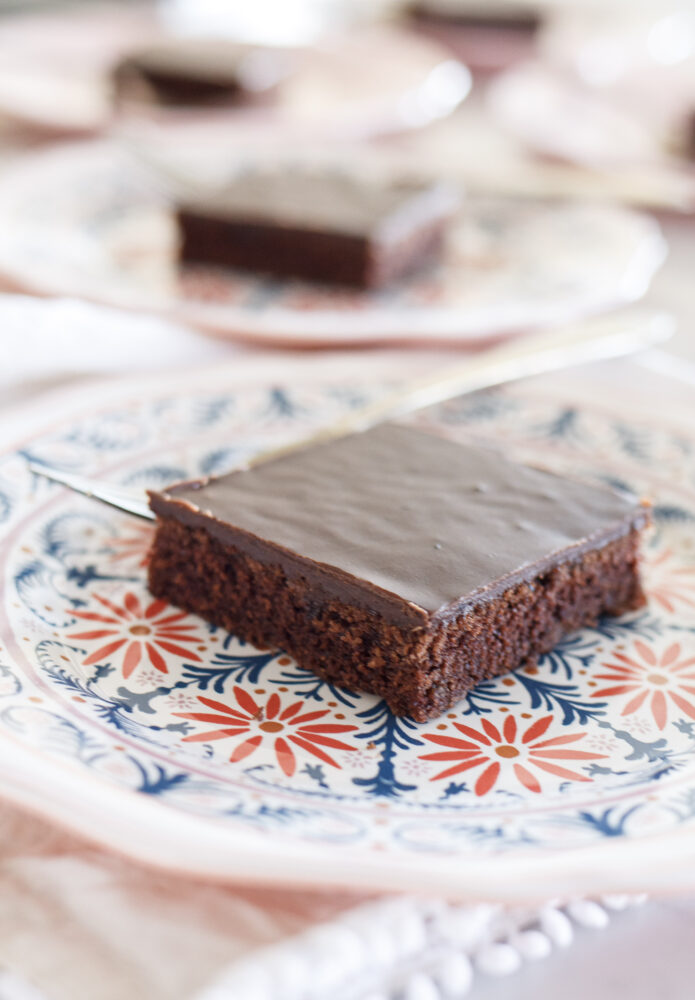 If you live in the US and you have ever been to a large gathering, you've probably enjoyed a piece of Texas sheet cake. It's the easiest dessert to make. All you need is a few minutes, a bowl, a pan for cooking the frosting, and a jelly roll pan.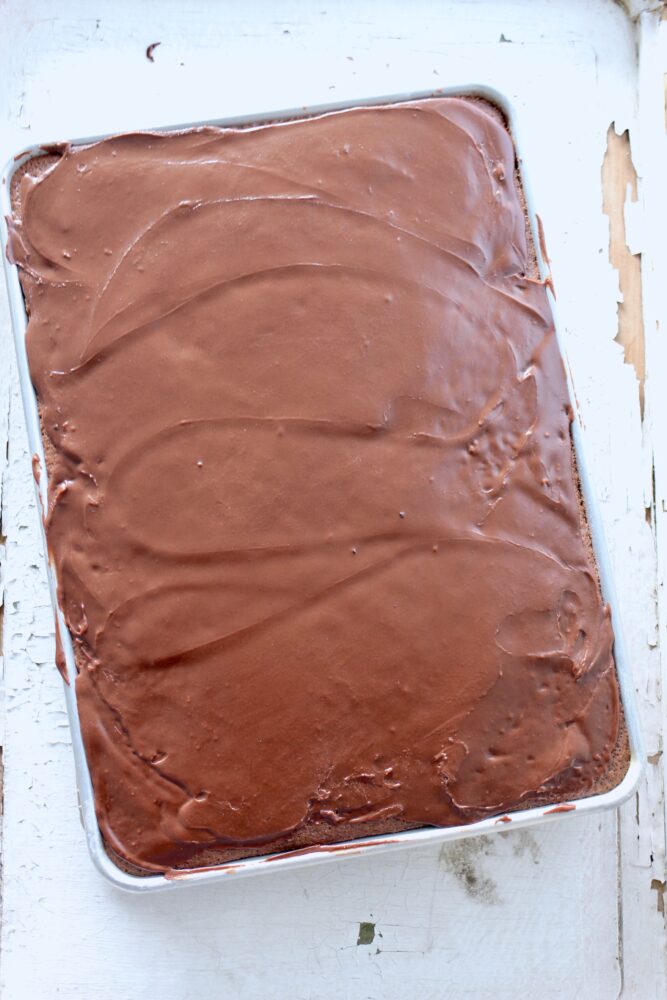 When this cake first became mainstream in the 70's, it was always served with chopped nuts on top. My favorite way is with nuts, but I know many people prefer the no-nut version for Texas sheet cake, so I've left the nuts off. If you prefer nuts, make sure to have them chopped and ready to sprinkle on top of the frosting right after spreading onto the cake!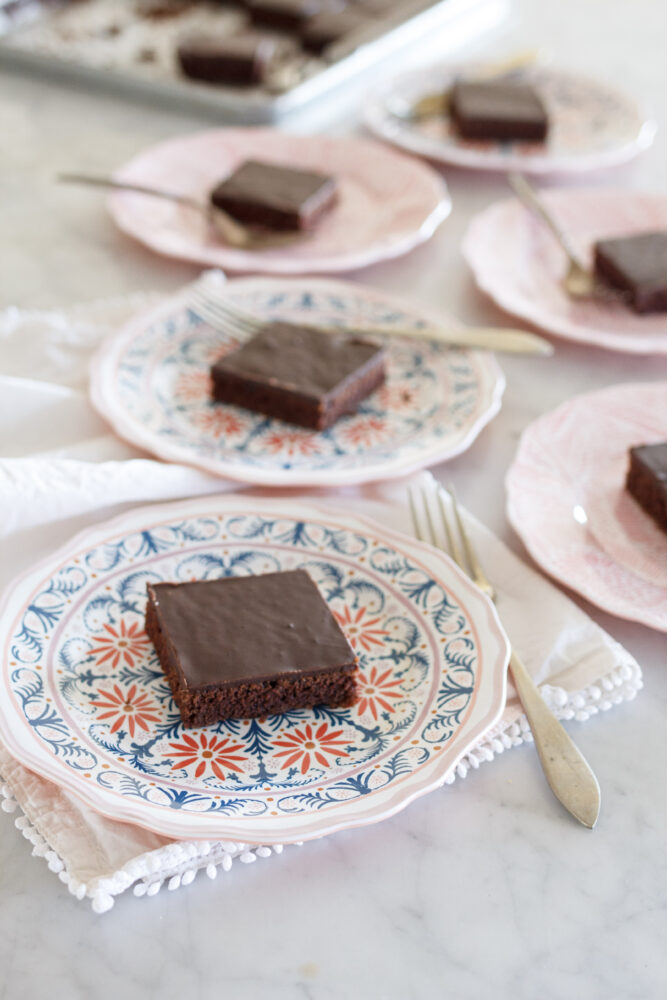 The beauty of this easy-to-make dessert is the cake is frosted while still warm! Since the cake is not thick it takes very little time to cool and eat. No checking to see if the cake is perfectly level. No worries about the cake sticking to the pan. I use a sheet of parchment on the bottom of pan, and spray it lightly with cooking spray to prevent any sticking. The cake is frosted and served straight out of the pan. I like to eat this cake while still slightly warm!
Best Texas Sheet Cake is the perfect dessert for family parties, team events and camping trips. You can make it a day or two ahead, keep covered and freeze or take and slice when ready to serve. This cake is super moist and travels well when covered. I love to use these plastic covers that snap on top of the jelly roll pan! If you live in SLC, head to Orson Gygi to pick up one (or more)! If not, they are available here.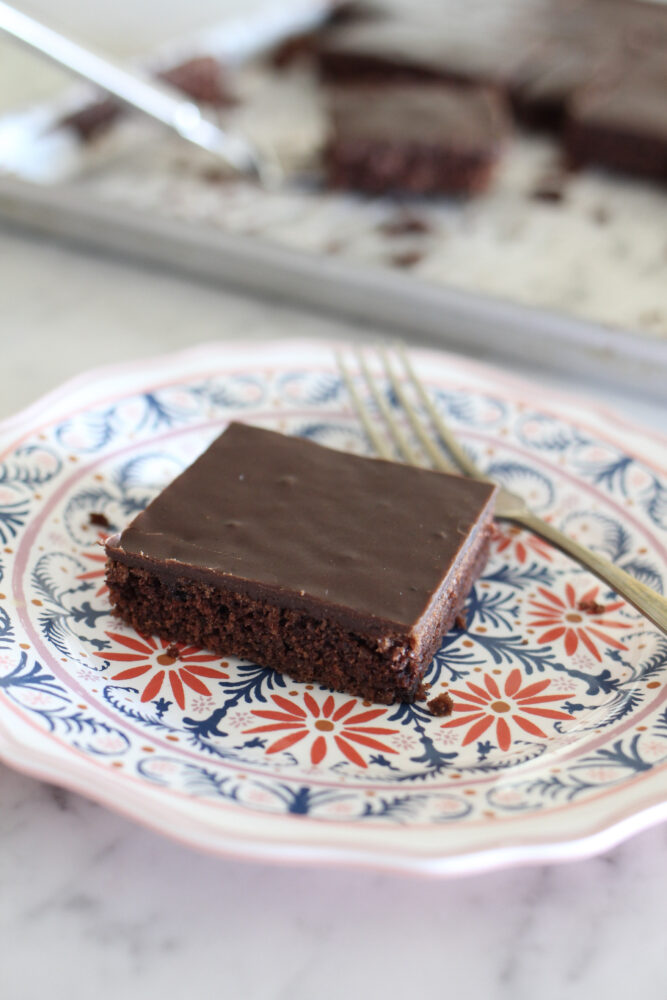 How to make our Best Texas Sheet Cake recipe:
Mix flour and sugar together
Bring cocoa, water and butter to a boil
Combine flour and butter mixtures
Mix in remaining ingredients
Bake and make icing while cake is baking
Pour frosting over warm cake, let cool a bit and enjoy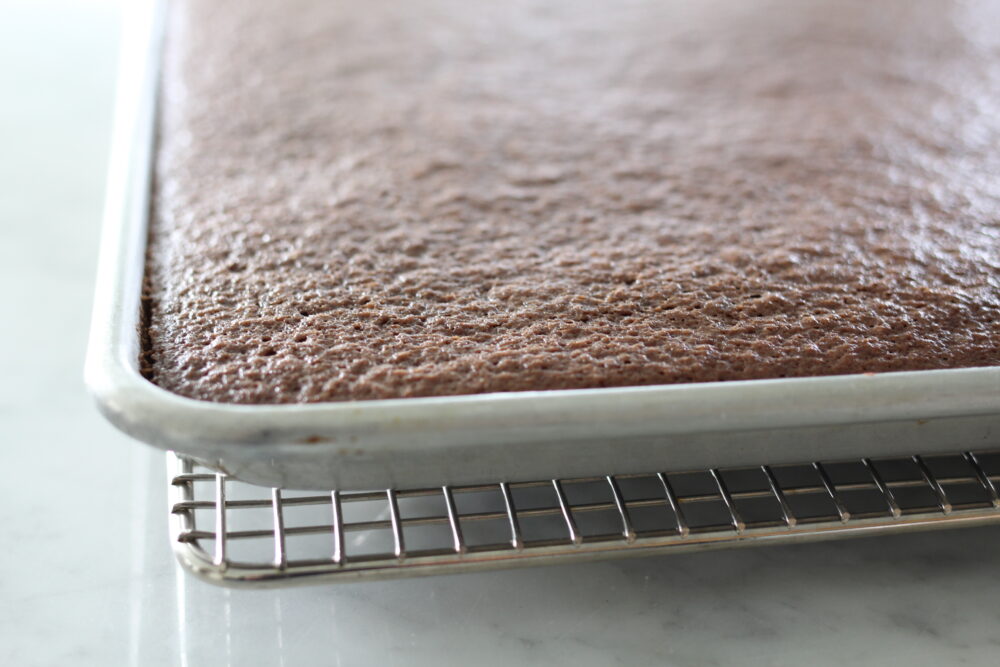 Most recipes for Texas sheet cake call for buttermilk. I tested dozens of recipes over the years for classic Texas sheet cake, made with buttermilk. Most of those recipes came from Junior League or church cookbooks. All were delicious, but I wanted a texture that was a little more like a cross between a brownie and a cake.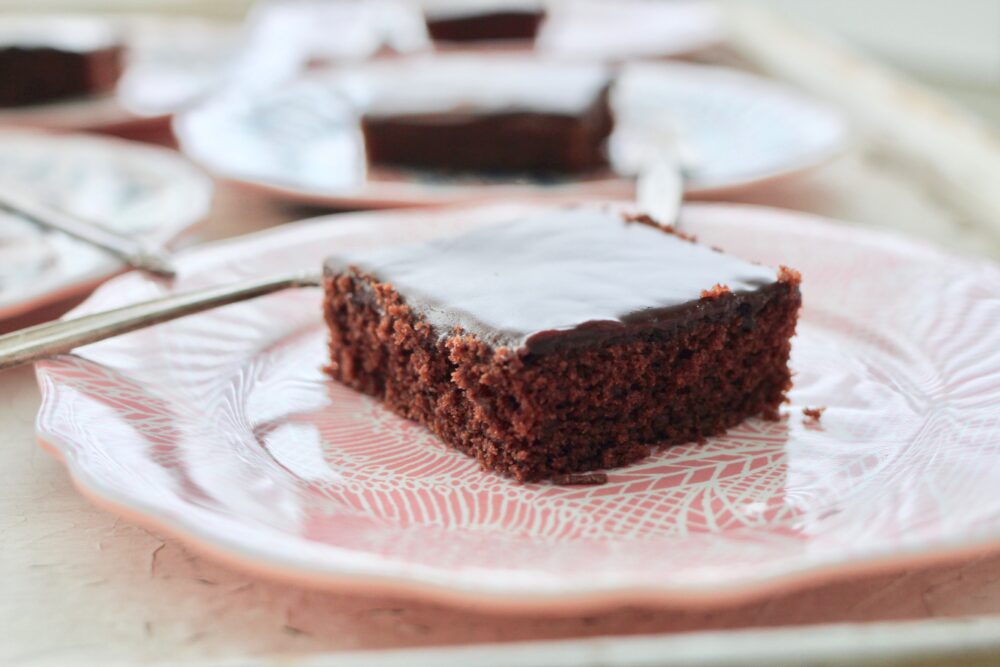 I turned to sour cream instead of buttermilk and used all butter instead of a margarine and oil combination. The sour cream gives the cake a little more of a dense texture. It's not dense like a brownie, but more dense than most Texas sheet cakes. After loads of experiments over the years, this all butter Best Texas Sheet Cake is my go-to recipe!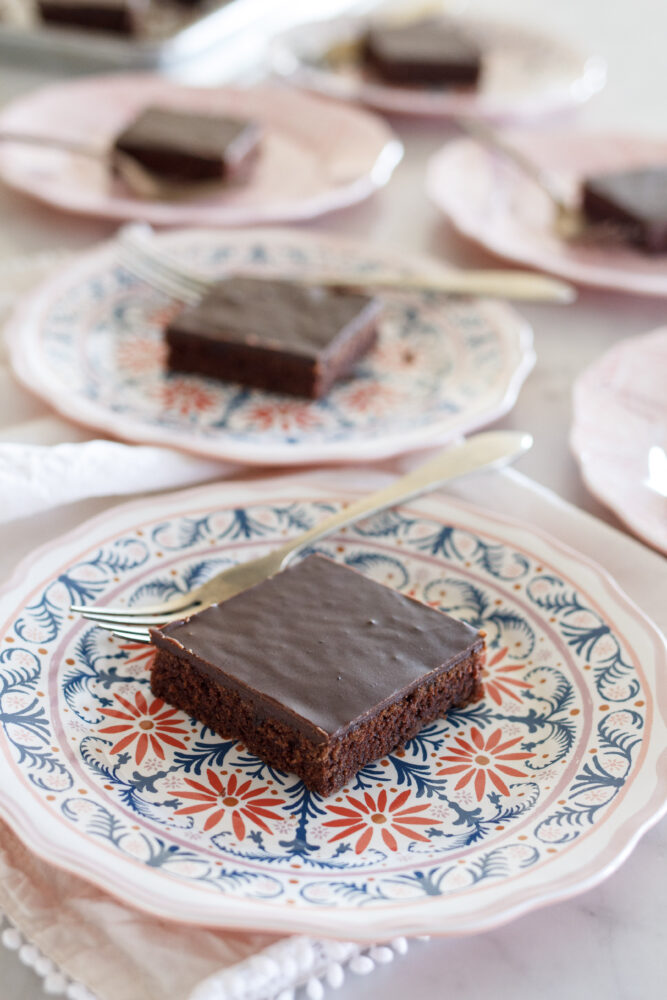 Best Texas Sheet Cake Recipe
This recipe is a result of years of testing methods and ingredients to make the very best version of the very Best Texas Sheet Cake recipe!
frost and cool
30
minutes
Ingredients
2

cups

all purpose flour

2

cups

granulated sugar

1

cup

unsalted butter

1/4

cup

unsweetened cocoa powder

1

cup

water

*if humid environment, use 3/4 cup

1/2

cup

sour cream

full fat is best

2

large

eggs

1

teaspoon

baking soda

1

teaspoon

cinnamon

1

teaspoon

vanilla

1/2

teaspoon

salt
Icing:
1/2

cup

unsalted butter

1/3

cup

milk (skim, 2%, whole)

1/4

cup

unsweetened cocoa powder

3

cups

powdered sugar

1

teaspoon

vanilla

1

cup

nuts (walnuts, pecans) chopped (optional)
Instructions
Preheat oven to 400 degrees and place the rack in center of the oven. Line a jelly roll pan with a sheet of parchment paper and spray lightly with cooking oil, set aside.

Mix flour and sugar in a large bowl. Set aside.

Bring butter, unsweetened cocoa and water to a boil in a heavy saucepan on stove top over medium heat. Stir to prevent burning.

Pour butter mixture over flour mixture, mix until the flour and sugar are incorporated into the melted butter mixture.

Add sour cream, eggs, soda, cinnamon, vanilla and salt. Stir into hot mixture just until all ingredients are blended and no lumps remain in batter.

Pour cake batter into the prepared pan.

Bake at 400 degrees for 18-20 minutes.
Prepare Icing
Bring butter, cocoa and milk to a boil in a large saucepan. Remove from heat.

Stir in powdered sugar and vanilla, whisk until smooth.

Cool slightly. Frost warm cake.
Recipe Notes
Jelly roll pans vary in size from 15.5×10.5 to 17×12 inches. I generally use a pan that measures 17×12.
Each oven is different. My oven bakes this cake in 18-20 minutes. If your oven bakes hot, bake at 375 for 20-25 minutes or just until cake springs back when touched lightly in middle. 
This dessert can be made just before serving or up to two days ahead if covered. I think this dessert is best served slightly warm, or on the second day!