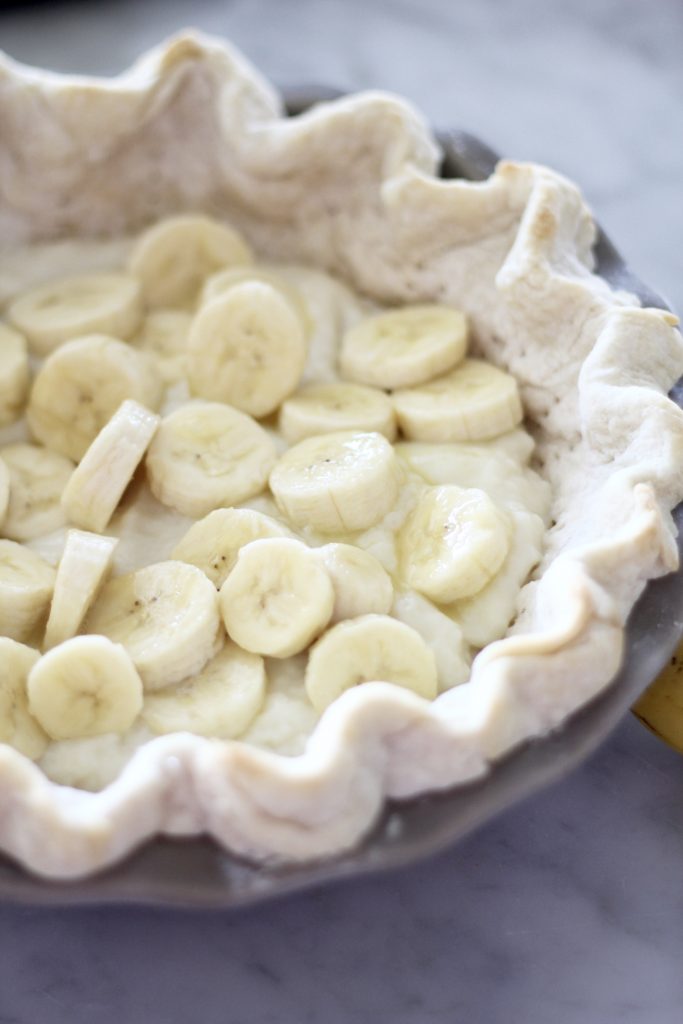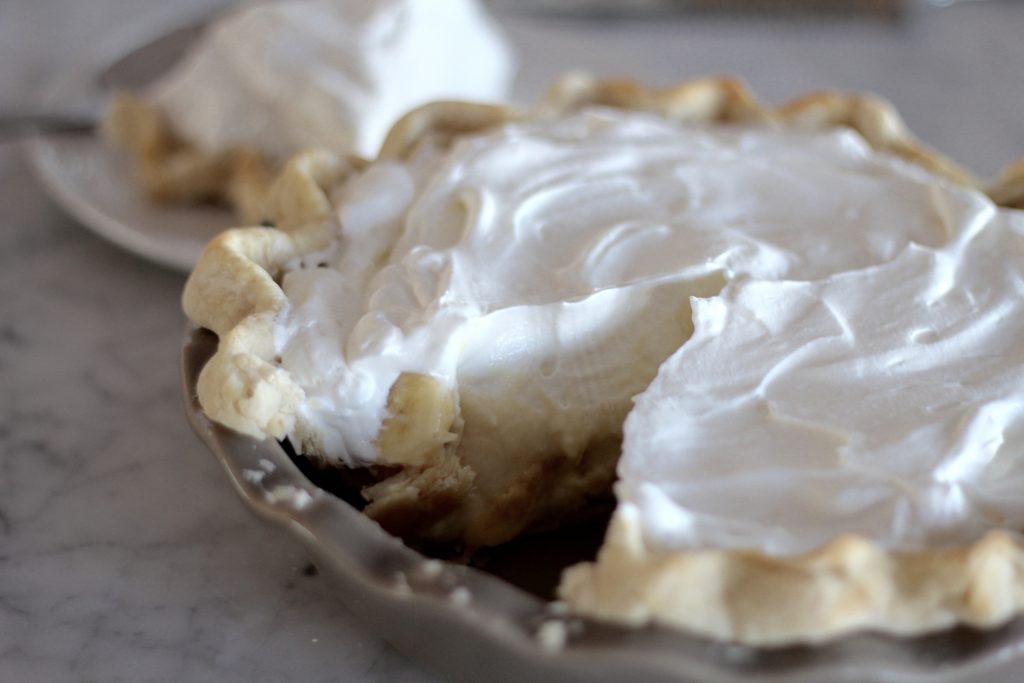 How do you feel about Banana Cream Pie? I'm fairly particular about my Banana Cream Pie. Here are the rules (for me). The bananas have to be firm. Slightly underripe. Home made custard is a must (vanilla, not banana flavored custard). Cream? Fresh whipped cream on top is a necessity!

For years, I've searched for and worked on the perfect recipe. A recipe that solves the brown banana issue, includes homemade custard that fills the pie plate (not a skimpy layer of custard), and holds its shape somewhat when the pie is cut (without being too gelatinous). Finally, after years of making custard fillings that were never just right and lots of trial and error. And error. And error. I'm happy to say this recipe is banana cream pie perfection!
Can I just take a minute to talk to you about home made custard filling? A properly made custard is, in my opinion, a work of art. I can't paint or draw to save my life, but I can make a custard, which I believe is a lost art. Box mixes took the place of our grandmother's custard in the 70's. After that time, most of us grew up with pudding mixed with milk to make pie fillings. I, too, was guilty of this shortcut for many years. Then, one day, I made a custard filling from scratch. Oh my. Once you've cooked a home made custard, it's difficult to go back. I promise it's worth the time. I'm not going to lie to you, it's a process. And it may take a few shots at custard-making to get it right. But again, totally worth the time. Pinkie promise. Oh and the imperfect batches? Your kids and husband will gladly eat it.

Now that I've born testimony of the lost art of making custard from scratch, I'll tell you about my favorite crust recipes for banana cream pie- single pie crust which you will need to blind bake or chocolate graham crust. Both are delicious. I love the chocolate graham crust with the vanilla custard filling. If you're a beginner in the kitchen, you may want to try this crust. It's simple and is absolutely delicious. The chocolate graham recipe is enough for two crusts, make one and freeze the other. The crust freezes well and you'll have another on hand to take out and fill with ice cream and hot fudge for a mud pie.
Do not be discouraged by the length of the recipe! In all, you're probably taking about 1 hour of active cooking ( including the making of the pie crust) cooling and baking time are additional. It's not a 30 minutes recipe, but the reward is a knock your socks off dessert that your family will love. The downside? They'll ask for it over and over again.
That, my friends, is a nice problem to have.
Happy Pi Day!