Biscuits and Sausage Gravy is a traditional Southern breakfast that will quickly become a family favorite in your home! Biscuits and gravy are so easy to make and are the ultimate comfort breakfast.
Twenty-nine years ago next month, my dad passed away. He loved his country. Served in the Navy for 20 years. Fixed his own cars. Was a hard worker and a Johnny Cash fan. A Republican. Loved baseball, basketball, football, and boxing. Spent time at the horse track. Loved hunting, camping, horseback riding, and fishing. Fishing was his favorite!
I dreaded fishing season. We owned a little lot up by Lake Cushman, WA growing up. Parked our camper there every summer. We spent HOURS and hours fishing. Trolling was my Dad's favorite way to fish. My brother, mom and I would take turns going with Dad.
If it was my turn, I would throw on my swim suit, and hope to catch some sun during those long days of fishing. If I got a tan, it didn't seem like a total loss of a day. SO many hours spent on the lake fishing…listening to the little brown leather covered, and later, black transistor radio. With Dad it was always country music. Ohhhh how I hated country music. Funny…I love it now.
Dad also loved to fish rivers for steel head salmon. The Cowlitz, and Toutle rivers were among our summer hangouts. One summer Dad discovered Moses Lake fishing, where we caught TONS of Crappie. Seriously, they are called Crappie! But pronounced Croppie. Not my favorite fish. I remember complaining about eating SO MUCH FISH. Especially the salmon. What was I thinking?
I think about those days fishing with my dad, and wonder, why didn't I talk to him more about his childhood? Ask him more questions about his parents, grandparents, and his life? More about growing up on the farm in Delta, Utah? His early 20's traveling the world on the various Navy battleships? How I wish I could turn back the clock now.
My Dad was 57 years young when he passed away. Lung Cancer and cirrhosis took his life. He wasn't perfect, but he loved his family. He was a family man. He honored his mother and father the best he could. Dad loved his pioneer heritage. He loved us unconditionally, and was always forgiving of the mistakes we made. My most precious and lasting impression of my dad will always be – he loved us, and we knew it.
Every time I make biscuits, I think of my Dad. He LOVED this biscuits and gravy. Especially this Biscuits and Sausage Gravy recipe! Maybe that's why my kids love gravy with their biscuits so much? In honor of Dad, and all of the other Fathers out there whose lives on the earth were way too short- cook up some biscuits and gravy! And if your Dad is still around, don't forget to call and tell him you love him.
I found this recipe for Buttermilk Biscuits printed in a local newspaper a long time ago, when we were first married. It's simple and most importantly- SO delicious. I love a good flaky homemade buttery biscuit covered in savory sausage gravy. It doesn't get much better than that. Comfort food at it's BEST! This breakfast is rich, flavorful, and perfect for feeding your family, friends, neighbors, etc.! Biscuits and Sausage Gravy also makes THE BEST dinner as well. Start the biscuits, and while they are baking, make the gravy. It's a 20-30 minute dinner everyone will love!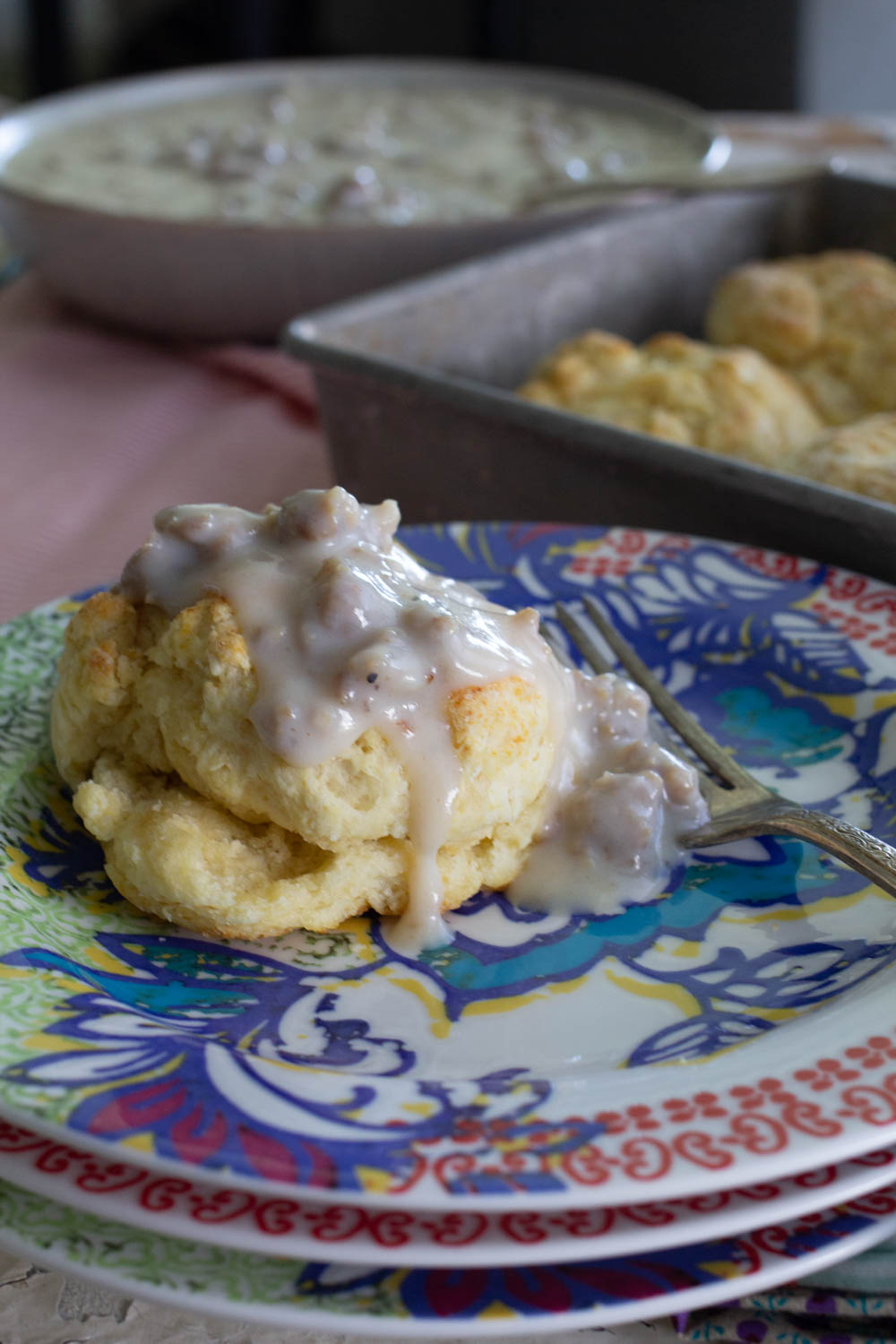 You must, must, must make homemade biscuits to go with your sausage gravy. Store-bought biscuits will not do this recipe justice! Buttermilk biscuits are so easy to make.
You will never go back to canned biscuits once you've made biscuits from scratch. I hope you love this recipe as much as I do. It has a special place in my heart!
~Biscuits and Sausage Gravy Recipe was originally posted June 12, 2009, and has been updated with new photos and adjustments to the recipe~
Biscuits and Sausage Gravy
Homemade Sausage Gravy is so easy to make. The creamy gravy filled with sausage is the perfect topping for a home made biscuit!
Ingredients
12

oz

tube of Jimmy Dean Spicy Sausage

1/2

cup

butter

1/2

cup

flour

sifted

3-4

cups

milk

whole is best

1/2 to 1

teaspoon

salt

fresh ground pepper

dash cayenne
Biscuits
2

cups

all purpose flour

1

tablespoon

baking powder

1/2

teaspoon

sea or kosher salt

1/4

teaspoon

baking soda

5

tablespoons

Butter Flavor Crisco

1

cup

shaken buttermilk*
Instructions
Brown sausage in skillet, drain grease from pan. Remove sausage and place in small bowl. Lightly wipe out the pan with a paper towel.

Melt the butter in the skillet over medium high heat. Add the flour, and whisk in until the lumps disappear. Continue to cook for about 1-2 minutes or until bubbly and slightly browned.

Add salt, pepper and cayenne. Using a whisk, add in the milk, a cup at a time, whisking during each addition, letting the gravy thicken as the milk is added. If needed, lower temperature of stove. I usually add about 3 1/2 to 4 cups total, depending on how long the gravy sits on the stove before serving.

Add the cooked sausage to the gravy and heat through. Add more pepper or salt to taste.

Serve with home made biscuits, fried eggs and potatoes.
For Biscuits:
Preheat oven to 425 degrees.

Place flour, baking powder, salt, and baking soda in a large bowl. Cut in shortening until mixture resembles coarse crumbs.

Add buttermilk all at once. Fold buttermilk and flour/shortening mixture together.

Turn out onto lightly floured surface. Gently pat out to about 3/4 to 1″ thick. Cut into circles with either a glass or biscuit cutter.

Bake on ungreased cookie sheet or baking pan for 12-15 minutes until golden brown on middle rack in oven.
Recipe Notes
Make the biscuits while the sausage is cooking. Pop the biscuits in the oven when you are making the gravy. They will be ready about the same time.
ALWAYS shake buttermilk before using. 
To reheat biscuits, (if there are any leftovers) cut in half and place on a cookie sheet cut side up. Broil just until the inside of the biscuit is golden. Watch carefully so the biscuit does not burn! Don't ever heat a biscuit up in a microwave, it will become soggy.