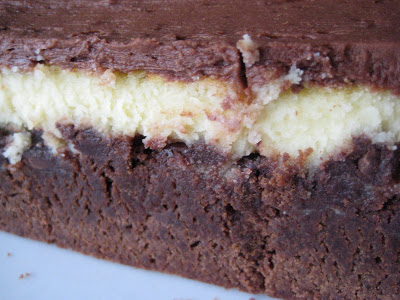 First. If you love cream cheese brownies and have a New Years resolution to stay away from really sinful desserts, exit this page. Now.
If not, and you want to enter A Bountiful Kitchen's first giveaway of the year, stick around.
I dropped a plate of these brownies off to a darling group of 16-18 year old girls this week. The feedback – well, let's just say, the plate came back empty. This recipe came from the "Sweet Melissa Baking book". Everything I have tried out of this book has been a winner. The last recipe I made and loved:
Butterscotch Cashew Bars
. Melissa Murphy is the owner/chef of the
Sweet Melissa Patisseries
in Brooklyn, NY.
Black Bottom Brownies are not for lily livered chocolate/cream cheese lovers. This is quite possibly the most dense cream cheese brownie I have ever eaten. Since I am not a huge cream cheese dessert fan, I always like to top anything cream cheese with frosting. So here is the run down: thick, dense brownie layer (includes 6 eggs and 1/2 lb butter), topped with a pound of cream cheese, 6 MORE eggs (yes, 12 eggs total), and two cups of chocolate chips. Add a layer of chocolate frosting.
Hello. Bring on the Lipator.
Giveaway time! Leave a comment. Tell us: What is your hope for 2010?
One entry per person. Three entries if you become a follower or if you are already a follower. Wow, finally a reward for being a follower! Don't worry I won't tell your mother. Please place the entries separately. The Random Counter will choose a winner at the end of the day on Saturday, January 16th.
Oh – the prize? Your very own copy of "The Sweet Melissa Baking Book".
Good Luck!
Black Bottom Brownies
adapted from The Sweet Melissa Baking Book by Melissa Murphy
Ingredients
Brownie Bottom:
5

ounces

unsweetened chocolate

½

pound

2 sticks unsalted butter

1 2/3

cups

all-purpose flour

½

teaspoon

baking powder

½

teaspoon

kosher salt

4

large eggs plus 2 large egg yolks

2

cups

sugar

1

tablespoon

pure vanilla
Cheesecake layer:
1

pound

two 8-ounce packages cream cheese, at room temperature

1 ½

cups

sugar

¼

teaspoon

kosher salt

6

large eggs

1 ½

teaspoons

vanilla extract

2

cups

semisweet chocolate chips
Chocolate Frosting:
1/2

cup

butter

softened

1/2

cup

unsweetened cocoa powder

3-4

cups

powdered sugar

dash salt

1

teaspoon

vanilla

1/4

cup

milk
Instructions
Brownies:
In the top of a double boiler over simmering, not boiling water, melt the chocolate and the butter, stirring to combine. Set aside to cool to warm. In a medium bowl, whisk together the flour, baking powder, and salt. In a large bowl, whisk together the eggs, egg yolks, sugar, and vanilla until smooth. Pour the chocolate mixture into the egg mixture and combine with a whisk. Add the flour mixture to the chocolate/egg mixture and stir until just combined. Pour the brownie batter into the prepared pan, and spread evenly.
Cheesecake layer:
In the bowl of an electric mixer fitted with the paddle attachment, cream together cream cheese, sugar, and the salt until light and fluffy, about 5 minutes. Add the eggs, mix well after each addition. Scrape down the sides of the bowl. Stir in vanilla. In separate bowl, toss chocolate chips with 1 tablespoon flour. Fold chocolate chips into cream cheese mixture.

Pour the cheesecake mixture over the brownie layer. Bake for about 1 hour and 10 minutes, or until lightly golden. The brownie layer will be set, but will still stick to a knife when inserted into center of brownies. Do not over bake. Remove to a wire rack to cool. Cool completely. (If you want to speed up this process, place in freezer for about 1/2 to 1 hour after cooled a while on the counter.

Cream butter, add cocoa and powdered sugar. Add salt and vanilla. Beat until smooth, adding milk until desired consistency. Add more powdered sugar if too thin, a little more milk if too thick. Spread on top of brownies when completely cooled.

Top with chocolate frosting if desired. May be served cold or at room temperature.
Recipe Notes
-This recipe makes a full 9×13 pan. It is hard to see in the pics, but the brownies raise to almost the top of the pan.
-The recipe says to cut the brownies into 12 pieces. hmmm. You would have to be a complete GLUTTON to want to eat 1/12th of this pan of brownies by yourself. I think about 20-24 brownies per pan.