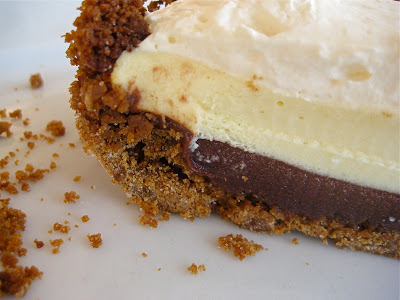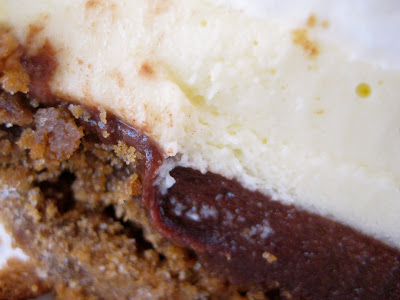 Tessa brought Black Bottom Pie and shared it with me about ten years ago at our annual Pie Night party. It has been a favorite of mine since. Think grown up chocolate pie. Rum flavoring, home made custard, dark chocolate, whipped cream in a crust with a little bit of a bite. Don't make this unless you plan to serve it to a group. This is one you'll continue to take out of the fridge, and take a sliver. Then another. Another. Ok, tell yourself -tomorrow, sweat pants. One more taste. Enough! Wrap it up, have your kid take it to a neighbor.
Black Bottom Pie
adapted from Southern Living Magazine, June 1998
Ingredients
2

tablespoons

water

room temperature

2

tablespoons

rum or 2 teaspoons rum flavoring

1

envelope unflavored gelatin

2/3

cup

sugar

1

tablespoon

cornstarch

2

cups

milk

4

egg yolks

1

cup

6 ounces semisweet chocolate morsels

2

cups

whipping cream

3

tablespoons

powdered sugar
Gingersnap Crust
1 1/2

cups

gingersnap crumbs

about 26 cookies

2

tablespoons

sugar

1/3

cup

butter or margarine

melted
Instructions
For Crust:
Stir together all ingredients. Press into bottom and up sides of a 9-inch deep-dish pie plate.

Bake at 350° for 12-15 minutes. Or just until crust starts to turn dark brown on the edges. Cool on a wire rack.
For Filling:
Stir together 2 tablespoons water and rum flavoring in a small bowl. Sprinkle gelatin over mixture. Stir mixture, and set aside. (this mixture will set up in bowl).

Combine sugar and cornstarch in a heavy saucepan; gradually whisk in milk and egg yolks. Bring to a boil over medium heat, whisking constantly; boil 1 minute. Stir in gelatin mixture until dissolved.

Stir together 1 cup custard mixture and chocolate morsels until smooth. Pour into Gingersnap Crust. Chill 30 minutes or until set. Set aside remaining custard mixture.

Beat whipping cream at high speed with an electric mixer until foamy; gradually add powdered sugar, beating until soft peaks form.

Fold 1 cup whipped cream into remaining custard mixture. Spoon over chocolate mixture. Chill pie and remaining whipped cream 2 hours or until pie is set. Spread remaining whipped cream over pie before serving. Garnish with chocolate curls if desired.
Recipe Notes
-Note if using rum, 2 tablespoons. If using flavoring, reduce the amount to 2 teaspoons. Flavoring is more potent than the real deal.
-I have used both name brand and store brand gingersnap cookies, the store brand are usually less than half price, and taste the same. This time I purchased Kroger (Smith's) brand.
-You will have four layers when finished. Crust, chocolate mixture, custard mixture, whipping cream.
-Make this early in the day or the day before serving, so the layers have time to set up. The crust will not get soggy if cooked properly.