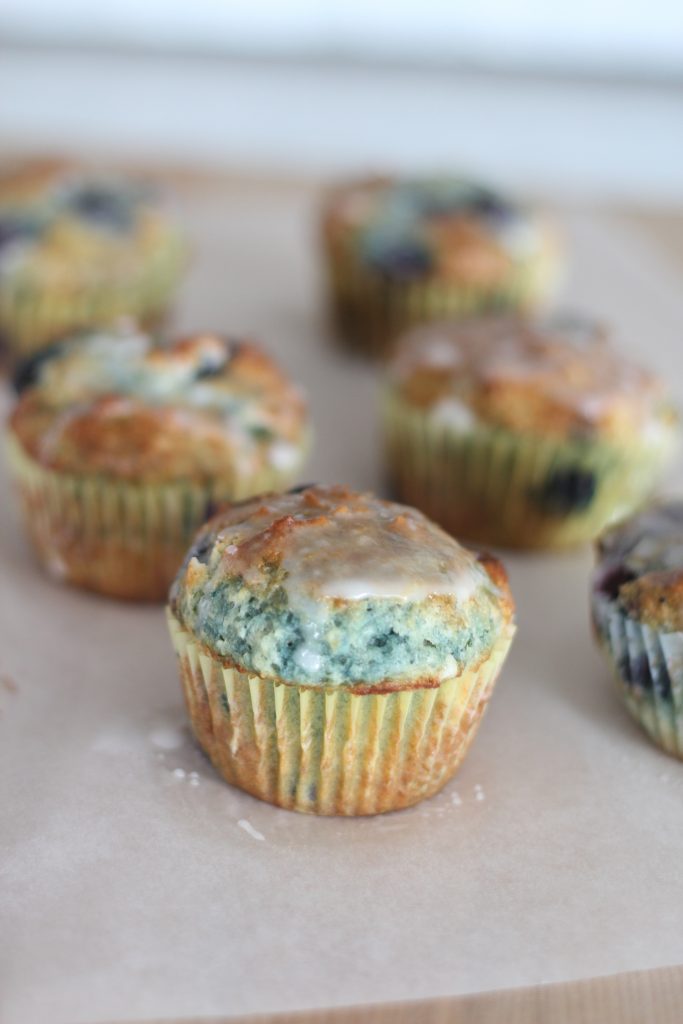 There are some ingredients that were MFEO. You've seen Sleepless in Seattle, right? Blueberries and lemon were meant to be together. This muffin makes the most of that MFEO couple and has zest in the muffin as well as fresh lemon juice in the glaze. You won't find a muffin that says SPRING more than Blueberry and Lemon Zest Muffins with Fresh Lemon Glaze.
You remember Spring. Our friend. The one who shows it's lovely face soon…
When I was growing up, my mom always made muffins out of the box, probably because she didn't know that homemade muffins were so easy to make and tasted way way way better than the box mixes…
Live and learn friends, live and learn. If you've never made muffins from scratch, this is your lucky day! Muffins are one of the most simple recipes to make if you are a beginner cook. You just have to remember a few simple tips:
Don't ever mix muffins with a mixer, get out a big bowl, fork and a large spoon or spatula.
Most muffin recipes can be made in one bowl, place the dry ingredients in first, then make a well in the center of the bowl and place the wet ingredients in the center of the well. Meaning, push the dry ingredients toward the outside of the bowl, as you would if you were playing in the sand and digging a hole in the sand.
After making the well, pour the wet ingredients into the center or well of the bowl. Mix with a fork. You can also do this in a separate bowl if that is easier for you.
Gently mix or fold the wet and dry ingredients together, just until the dry ingredients are no longer visible. There will be lumps in the batter. Fold the fruit into the batter, in this case the blueberries.
Perfect! Time to scoop and bake.
It's all about technique. Homemade doesn't have to be complicated. I made these for a Sunday morning meeting last month- just a few minutes before the meeting started. They're so simple and the results are…well, yes, they taste as good as they look.  I promise you're going to love these muffins.
Blueberry and Lemon Zest Muffins with Fresh Lemon Glaze
Ingredients
1 3/4

cups

flour

1/2

cup

granulated sugar

1

teaspoon

baking powder

1

teaspoon

baking soda

1/2

teaspoon

salt

8

oz

low fat sour cream or plain yogurt

2

eggs

1/2

cup

coconut oil or canola oil

zest of one lemon

2

cups

blueberries

fresh or frozen
for glaze:
juice from one lemon

one cup powdered sugar

water

if needed
Instructions
Pre heat oven to 375 degrees, place rack in center of oven

Combine all dry ingredients in one large bowl.

Make a well in the center of the dry ingredients, place sour cream or yogurt, 2 eggs, coconut oil and zest of lemon into bowl.

Fold the wet ingredients into the dry just until the flour disappears. Don't over mix!

Fold in the blueberries.

Scoop the batter into muffin cups lined with cupcake liners (optional) or scoop into greased muffin tin.

Bake for 18-20 minutes or until toothpick inserted into center of muffin comes out without batter attached.

Muffin should spring back when touched lightly with finger.

Place muffins on a cooling rack on top of a cookie sheet to glaze. The cookie sheet will catch the excess glaze.

When muffins have cooled a bit, whisk together 1 cup of powdered sugar and the juice from one lemon.

Pour over top of muffins after cooling. Sometimes, I pour half of the glaze on while the muffins are hot out of the oven and then pour the rest of the glaze on after the muffins have cooled.
Recipe Notes
See notes on this post about muffin tips.I like to use coconut oil, it gives the muffins a faint coconut scent and also bakes up very tender and light. Yogurt or sour cream will work in this recipe, or a combination of both. You may use plain or vanilla yogurt. Greek yogurt will work as well. Make sure to stir the yogurt and sour cream before using.