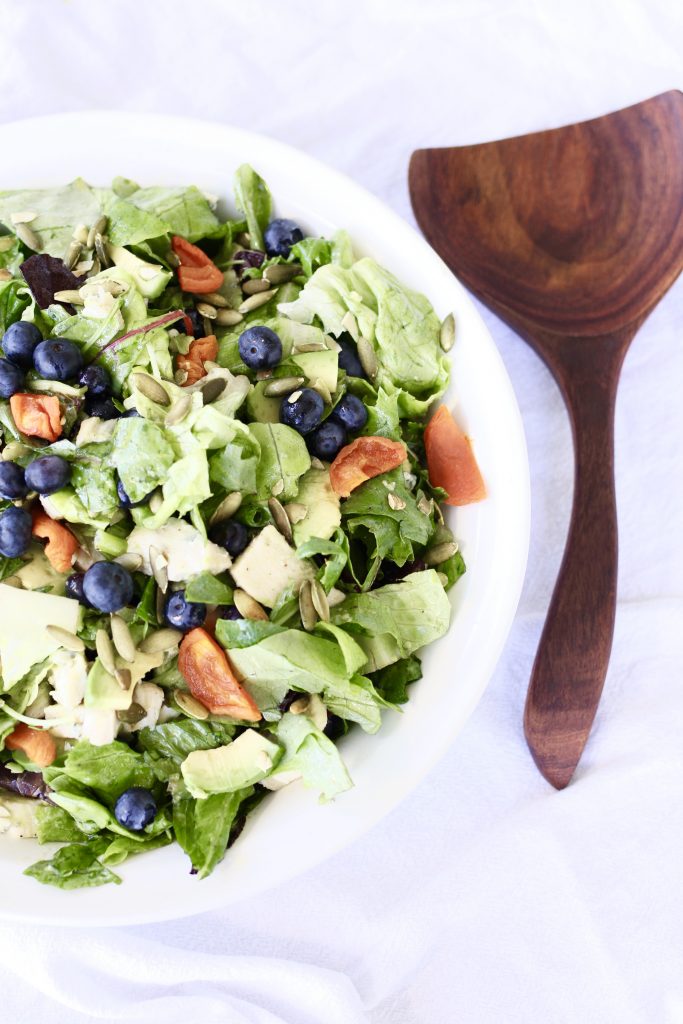 Since when did the week after the 4th of July feel like the week after Christmas?? So much gluttonous eating!! I've got just the salad to get you back on track to eating a bit more light and healthy. Blueberry, Avocado and Chicken Salad with Grapefruit Balsamic Dressing is made with fruits and veggies and a fresh squeezed grapefruit dressing and is so pretty you'll forget you're not eating a big juicy grilled cheeseburger around the campfire.
I made this salad recently at a fundraiser for Rising Star Outreach in beautiful Heber City, Utah. We served it with my favorite Caesar Pasta Salad, which is seriously the easiest and most loved salad you'll ever make. We also served heaping trays full of fresh fruit and rolls from a local bakery and an Antipasto Pasta Salad which I'll post soon. Oh, and how could I forget? Cutler's Cookies. The best cookie in Bountiful. If you want to get on the list for a cooking class-fundraiser we are planning, make sure to sign up for my newsletter! You can leave your email address over on the right column under "Never miss a recipe or newsletter".
This salad is ideal for serving when you need to prepare everything the day before and then dump and serve. I have several friends who show up the day before I do a large event whether it's a school or charity or church dinner, I've learned that accepting help makes the task much easier to accomplish! Everyone can help chop, peel and cook pasta. Many hands make light work!
Make this salad today and you'll be able to eat it all weekend. If you want a main dish salad, add the chicken. Blueberry, Avocado and Chicken Salad also works well as a side salad if you make it without chicken. Remember if you only dress the salad on plates when served, it will keep in the fridge for 3-4 days. I love preparing a big salad on Friday and know it's sitting in the fridge ready to go all weekend. More time for playing in the day and enjoying summer nights. Have a great weekend!