Every year in November, I start my preparation early so I can make Bread Cubes for Stuffing. It's easy to make your own bread cubes instead of buy them already prepared. Making your own Bread Cubes for Stuffing involves cutting up bread, placing it in the oven, baking for a while to dry out, completely cooling and then bagging until you are ready to use!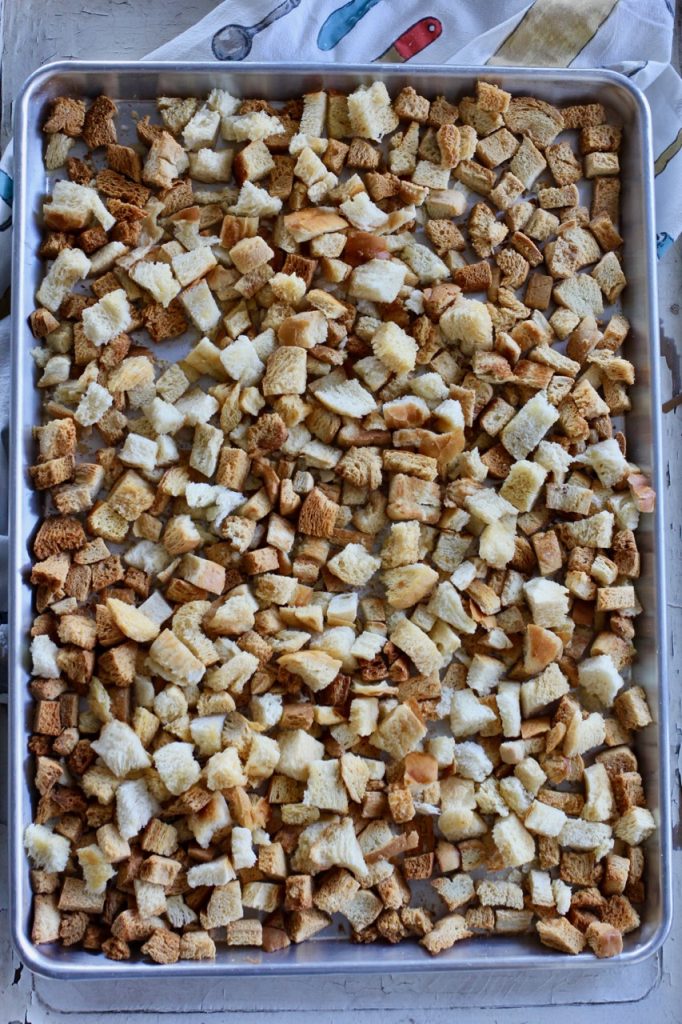 Hey there. You and I have been friends for a long time now. You know what to expect this time of year. Thanksgiving talk.
I'm going to start out the month with a post about making your own Bread Cubes for Stuffing. I believe stuffing, not turkey, is the crown jewel of an amazing Thanksgiving feast! I purposely make huge batches so I can eat it for days after the celebration. If you are scratching your head and asking "what's wrong with instant stuffing out of a box?" We need to have the talk.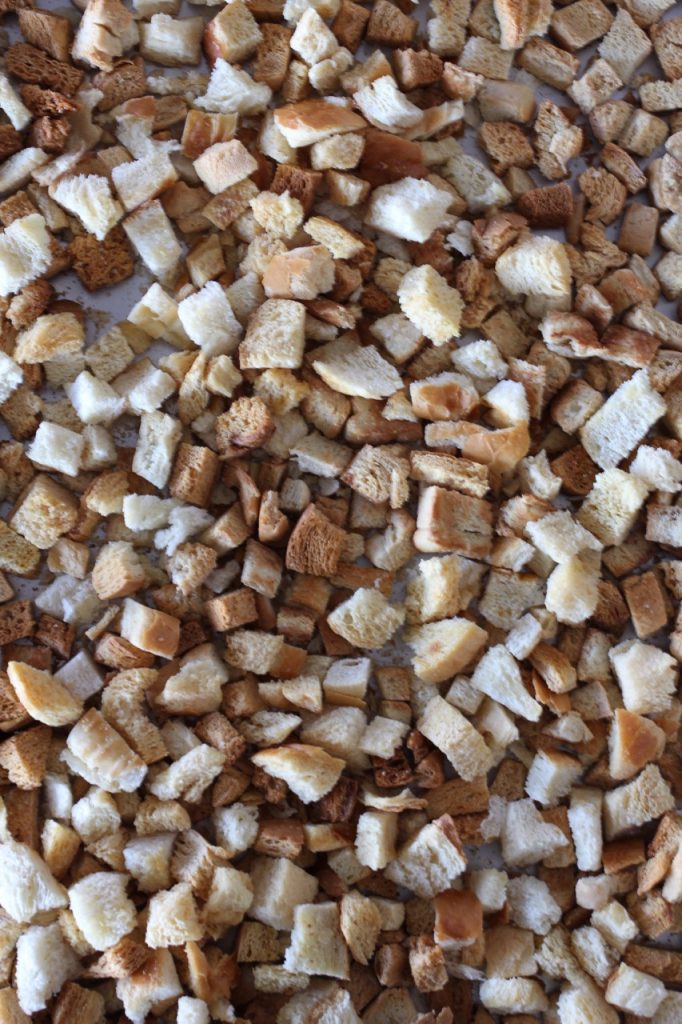 Yes, that talk.
Never, ever, use pre-made "just add water and serve" boxed stuffing.
Homemade. Your new mantra. Homemade. Homemade. Homemade.
Homemade= a new life.
Your new life starts with a simple task. Drying bread.
Soon, your tired bread will look like THIS. And taste like heaven. In the form of homemade stuffing.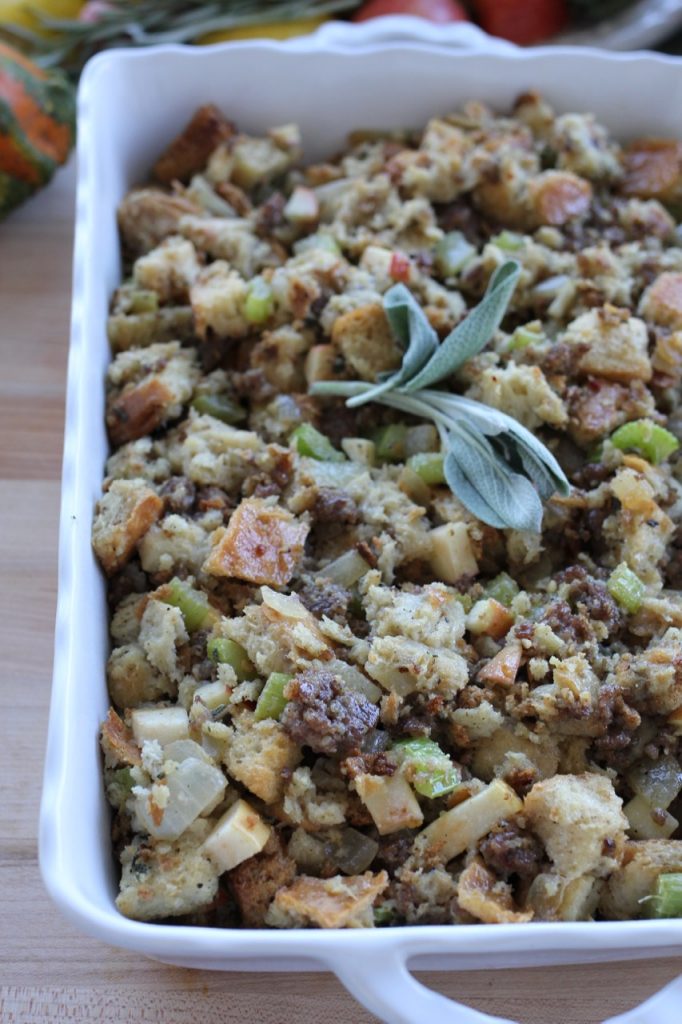 Every time you have extra bread sitting around the house and you know you aren't going to eat it all up before it gets stale, cube it and bake. Every time you have spare bread (Baguettes, French bread, Sandwich bread, rolls, Artisan bread) cut it up. Never have leftover bread? You can buy a loaf or two next time you're at the grocery and use it for this recipe.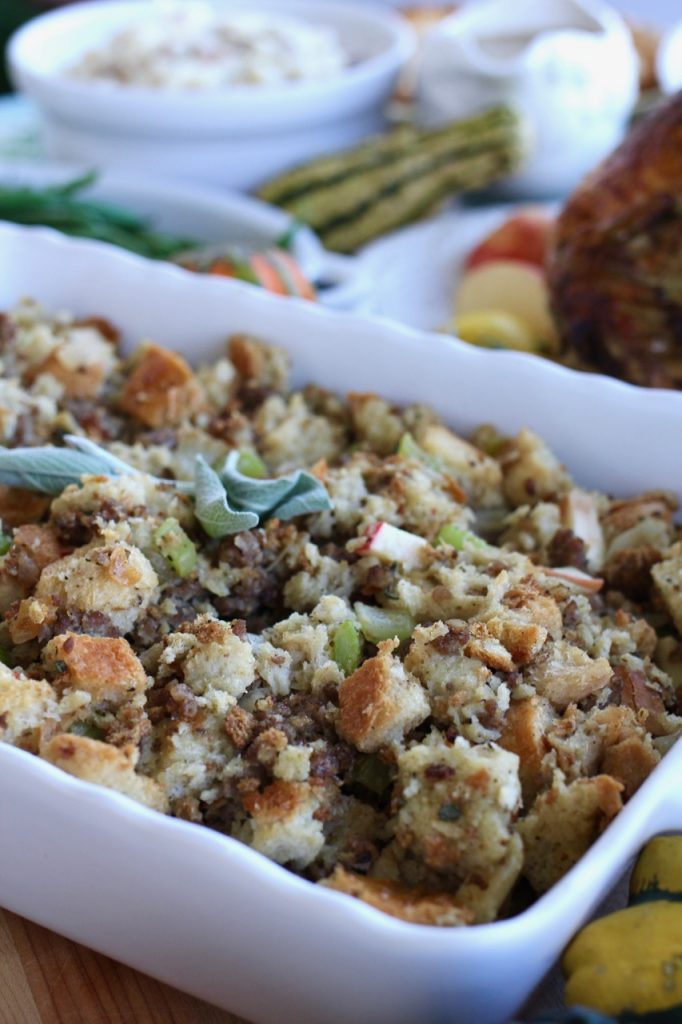 It's that simple. I prefer a thick slice white or french bread loaf. I prefer bread that is not the typical light and fluffy store brand dollar a loaf variety. In Utah, I recommend Granny Sycamore bread, I like to buy a loaf of white and wheat as well. Nothing with seeds, or too heavy. I also like French Bread when I make Bread Cubes for Stuffing.
Here are a couple of recipes I've posted in past years. The first is my mom's tried and true (for over 50 years) Apple and Sausage Stuffing. It's simple, delicious, and it's on our holiday table every year. If you are looking for a beginner dressing that will become your family favorite, this is it.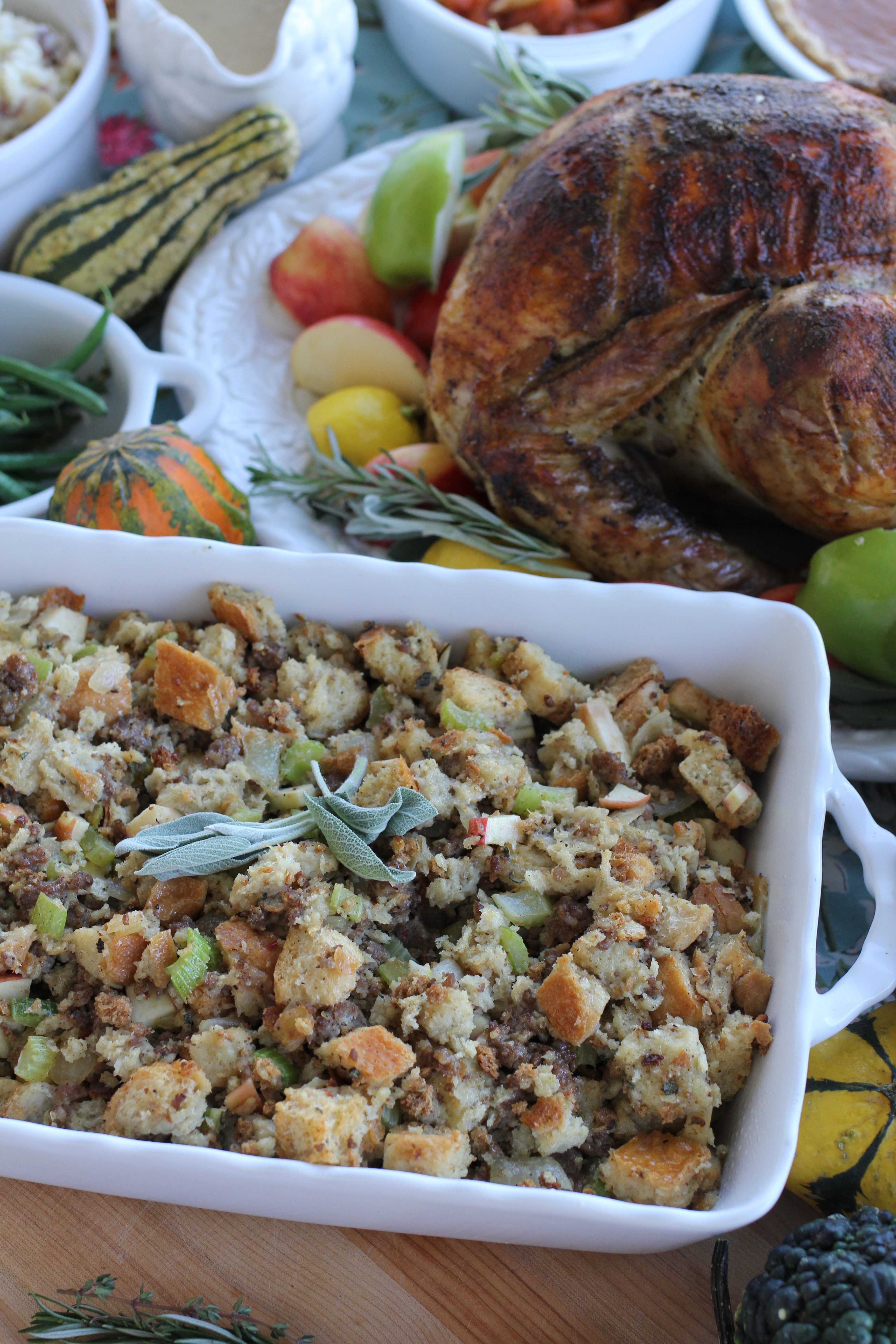 The second recipe is a less traditional, but delicious
Artisan Stuffing
with big chunks of mushrooms, onions, Italian Sausage, cornbread, Artisan, French Bread and fresh herbs. It's fresh and fun and a nice addition to your traditional feast.
Hope this post helps you in preparation for Thanksgiving and in making Bread Cubes for Stuffing! If you have a favorite stuffing/dressing you'd like to share, post in the comments, we would all love to see what you're planning for the big day…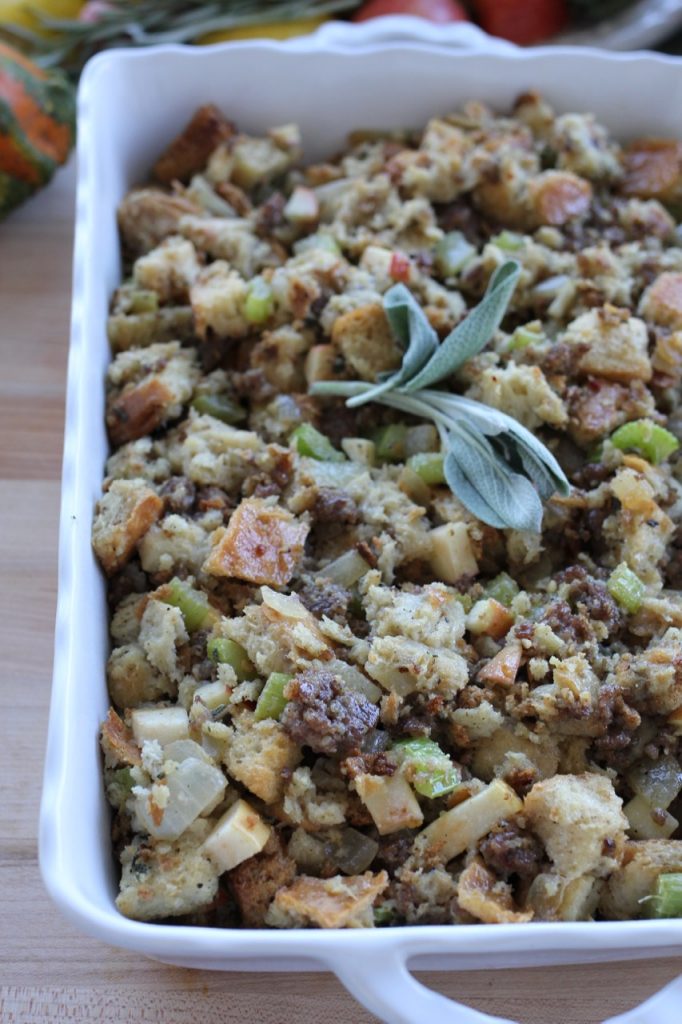 Bread Cubes for Stuffing
Ingredients
Loaf of Artisan or French Bread or any other type of leftover bread or rolls

Olive oil

sea salt and fresh ground pepper
Instructions
Cube the bread, spread out onto a large cookie or baking sheet.

Drizzle with olive oil.

Sprinkle with sea salt and fresh ground pepper.

Bake in 250 degree oven until bread is lightly toasted and completely dried out.

About 1-1 1/2 hours, depending on density of bread and oven.

Cool completely, bag until ready to use.
Recipe Notes
-Also delicious as croutons. If you are making croutons, drizzle about 2-3 tablespoons olive oil in a non stick pan. Place the bread cubes in the pan and cook over medium to medium high heat, tossing as the bread cubes are cooking. Sprinkle with Sea Salt and fresh ground pepper.
-Save the crumbs as well to use in dressing.-You may also up the temp on the oven to 300 and bake for about 30-40 minutes.
-Olive oil is not necessary, I usually drizzle olive oil on one loaf of french bread, but not on the other loaves.