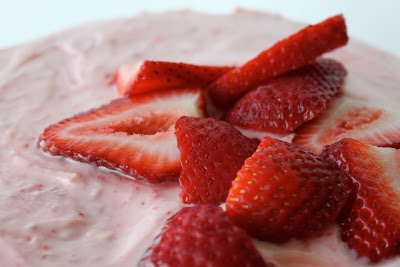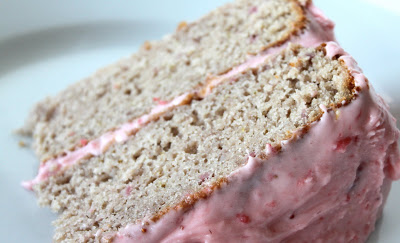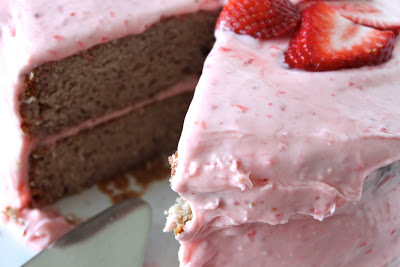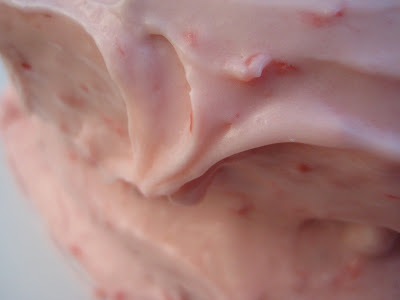 Twenty years ago today, Brookie came into our lives. Her name was to be either Brooke or Natalie, but when she came out we took one look at her and knew she was a Brookie. We wondered at that time, back in the spring of 1990, (after only having one child for almost 6 years) if we could ever love anyone as much as we loved our first, Corrine. Would it be fair to have any more children, knowing we would always secretly love Corrine the most???
Silly parents.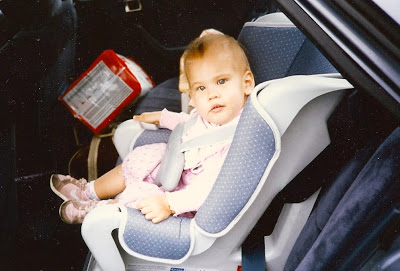 Brooke loves good food. Really loves it when we have family parties and Aunt Sheri makes strawberry cake. I love Sheri's strawberry cake too, the only problem is, it never turns out for me. Always falls flat, or overflows, or is (gasp!) unfrostable. It's made with crushed strawberries, a white cake mix, straw jello and oil, sugar, etc. A traditional Southern Strawberry cake.
For a long time, I searched for a fresh strawberry cake that would hold up at our altitude. Tried adding flour, reducing liquid, etc. to the basic recipe Sheri uses, but nothing worked for me. I decided to go with a whole new recipe. I've found if a cake is too moist at our (4300 ft.) elevation, it will fall flat, and although it may taste good, aesthetically, it just won't stack up (pun intended). The search led me to a site called
The Baking Pan
, where I found this recipe. I modified it, and came up with Brookie's Fresh Strawberry Birthday Cake. Now, if you are looking for a super sweet, light and airy pink/red cake, this is not the cake for you. But if you love a naturally flavored, moist, dense, but not too dense, absolutely delish fresh strawberry cake, inside and out-you've hit the jackpot.
Oh, Happy Birfday Brookie!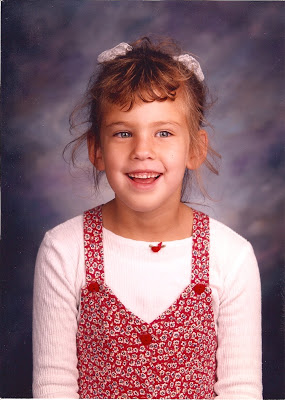 love you.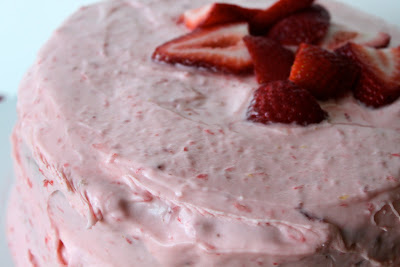 Fresh Strawberry Cake
adapted from Thebakingpan.com
Ingredients
Cake:
3

cups

flour

2

teaspoons

baking powder

1

teaspoon

baking soda

1/4

teaspoon

salt

1/2

cup

buttermilk

2

teaspoons

vanilla

1

cup

unsalted butter

room temperature

1 3/4

cups

sugar

4

large eggs

1 3/4

cups

pureed fresh strawberries
Strawberry Cream frosting
3-4

oz.

cream cheese

softened

1/4

cup

butter

room temperature

1

teaspoon

vanilla

1/4 to 1/2

cup

pureed fresh strawberries

1/4 if you want a stiffer frosting

2

teaspoons

fresh lemon juice

optional

4 1/2 -5

cups

powdered sugar

dash of salt

fresh strawberries for garnish
Instructions
Preheat oven to 350 degrees.

Prepare 2- 9 inch pans by lining with parchment paper, greasing and flouring pans.

In a medium mixing bowl, combine flour, baking powder, baking soda and salt. Set aside.

In a large bowl of an electric mixer, cream butter and sugar, Beat in eggs, one at a time until light and fluffy. Add vanilla. Mix the buttermilk into the pureed strawberries. Mix in the flour alternately with the strawberry/buttermilk mixture. Using a spatula, scrape down the sides and bottom of the bowl. Mix all of the ingredients until thoroughly blended.

Pour the batter evenly into two 9 inch prepared pans. Bake for 30-35 minutes, or until toothpick inserted in center comes out clean.
Fresh Strawberry Frosting
In a medium bowl, combine cream cheese, butter and vanilla. Beat together until smooth. Stir in pureed strawberriesand lemon juice. Add 4-5 cups powdered sugar and salt, beat until frosting is smooth and creamy. Add additional powdered sugar until frosting is desired consistency.

Spread frosting between layers of cake. See "Tips" below for help in keeping layers from sliding. Frost top and sides of cake. Garnish top of cake with fresh strawberries and refrigerate until ready to serve.
Recipe Notes
exhibit 1: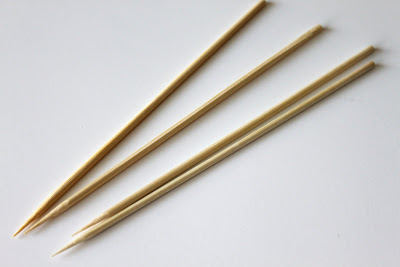 cake stakes, aka wood skewers Using these will help in a HUGE way to keep your cake from doing the Leaning Tower of Strawberry Cake trick. Because the frosting is soft, you need to stake this cake. Simply take a wood skewer, (I had some leftover from a chocolate fountain extravaganza a while back), measure the height of the cake, clip off the skewers so they don't poke out of the top of the cake. Place cake on platter. Frost bottom layer. Place second layer on top. Insert skewers (4 is enough) through both layers of cake, so it will keep the layers in the same place as when you start frosting. Trust me, this is an important step.
If you are using a plain butter cream frosting, without strawberries in the frosting, the cake will be fine without staking.