This post originally published December 2011, updated with new content and photos December 2021
What's a holiday platter without a jam-filled cookie? I love Jam Thumbprint Cookies at Christmas time! The not-too-sweet dough is just the right cookie to cradle the jam in the center. Jam Thumbprints can be made with many variations and are as popular with grandparents, as with kids of all ages!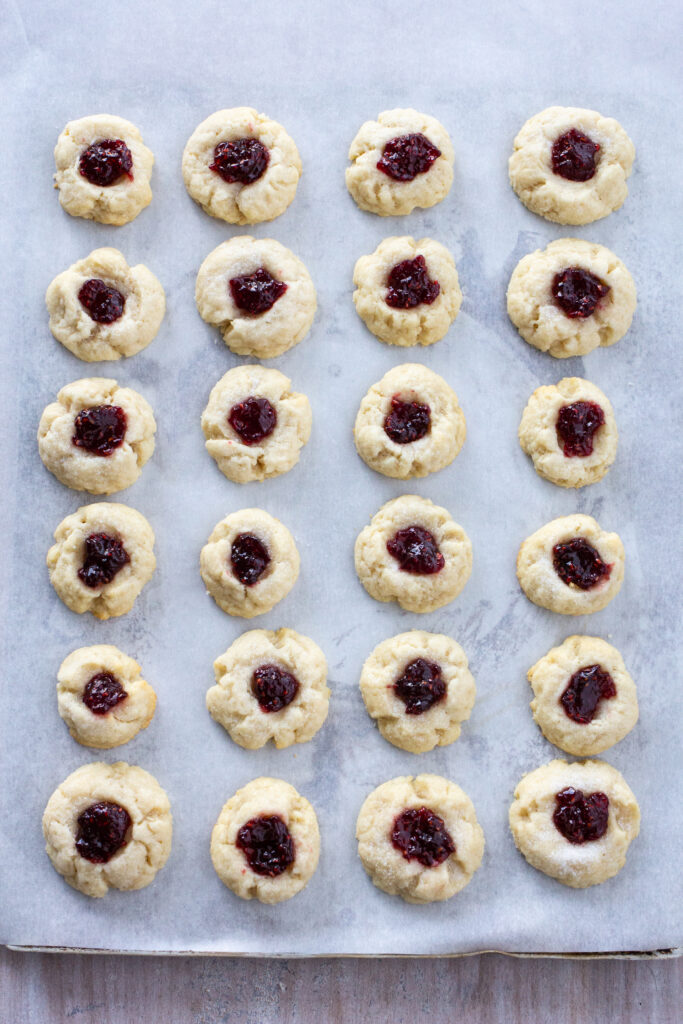 Jam Thumbprint cookies are on everyone's holiday list of favorite cookies. In a sea of gold and brown, this little cookie with the colorful center adds a pop of color to your holiday cookie tray! Jam Thumbprint cookies can be made with oodles of variations. The dough can be rolled in coconut, nuts, sugar, powdered sugar, and the middle can be filled with any type of jam!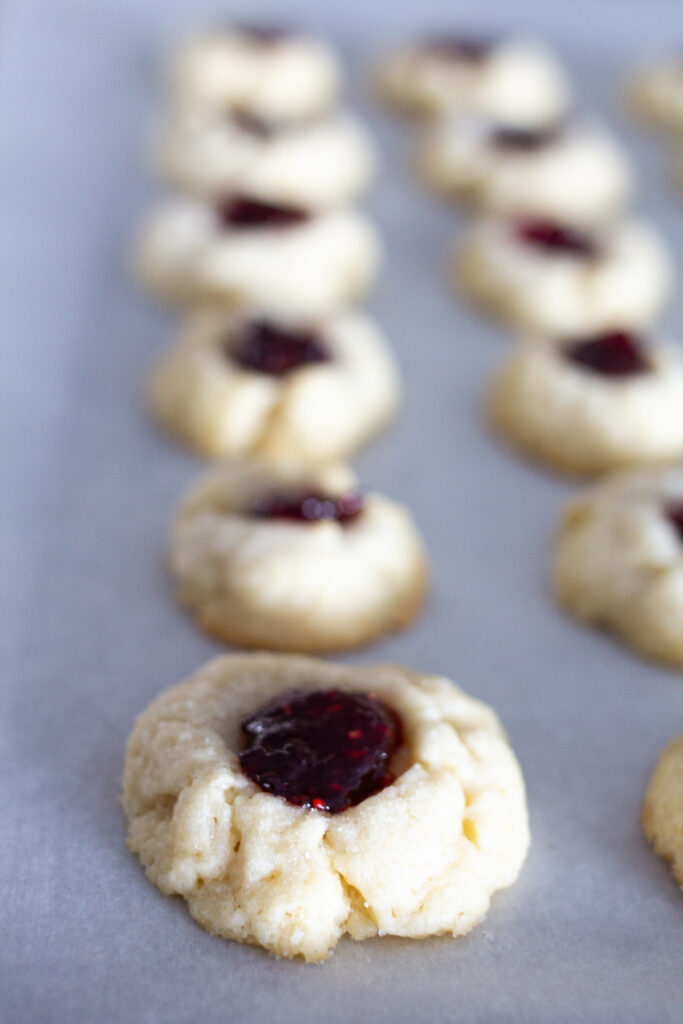 I love this cookie topped with raspberry or apricot jam. I've also seen everything from cocoa powder to poppy seeds added to the dough! When our daughter Brookie first made these for me, I asked her to fill them with raspberry jam, because I wanted some red on my cookie tray. Raspberry and apricot remain my favorite filling flavors in our Jam Thumbprint Cookies!
Thumbprint cookies can be baked with or without the jam filling in the middle. If baked with the filling, the filling tends to smooth out and not have as much depth as when filled after baking. But if you are looking for a thumbprint cookie with a more set middle, place the jam in before baking!
Jam filled cookies may be frozen, but the texture will change just a bit. This cookie tends to get a little softer the longer it sits; freezing also softens this cookie if they are filled with jam. I prefer to make all of my Christmas cookies in one day, and then freeze or place the treats in air-tight containers so they are ready to go during the holidays!
Brookie's Jam Thumbprint Cookies
A delicate little cookie filled with jam in the middle!
Servings
24
2 inch cookies
Ingredients
1

cup

unsalted butter, softened

1/2

cup

granulated sugar

1/4

teaspoon

sea salt

2

cups

flour (plus 1-2 tablespoons if dough is sticky)

granulated sugar for dipping cookies

2/3

cup

jam or jelly, any flavor
Instructions
Mix butter and sugar together until blended well, about 2 minutes on medium in mixing bowl. Mix in salt and flour, just until all ingredients are incorporated. Do not over mix.

Add a small amount of water (if needed) to form a soft dough that can be shaped. Shape the dough into a large disk in the mixing bowl. Cover with plastic wrap tightly and refrigerate for about 1-2 hours until thoroughly chilled.

Preheat oven to 350 degrees.

Shape the dough into 1/2-1 inch balls. Dip one side of the dough into sugar. Place the balls two inches apart on a cookie sheet, with the sugar-dipped side facing up.

Indent each cookie with the end of your thumb, taking care to not flatten the cookie too much, but making the indent about 1/2 inch into the center of the cookie. When you make the indent, use your other hand to hold the shape of the cookie and keep it in a small circle, pushing the outer edges of the cookie toward the center.

Bake on middle rack for about 8-10 minutes, or until cookies are firm to the touch.

Remove cookies from oven and let cool completely. Fill with jam.

Yields about 2-3 dozen cookies, depending on size of dough ball.
Recipe Notes
You may use your thumb to make the indentation in the cookie, or a small (appetizer) spoon that has been sprayed with cooking spray. I prefer to use my thumb. Make sure the indentation is deep enough to hold its shape while being baked! It also needs to be deep enough to hold the jam.
If the cookie spreads while baking, you can gently push the edges of the cookie in, to form a circle, or use a round cookie cutter to reshape the cookie. To use a cookie cutter or biscuit cutter, place the cutter over the warm cookie, in a circular motion, go around the cookie quickly, reshaping the cookie into a circular shape. 
This cookie may be frozen or stored at room temperature in an air tight container for a week.  Once the cookie is filled with jam, the cookie will soften when stored in the container. To avoid a soft cookie, fill with jam on the day of serving, and do not cover.