Buttermilk Aebleskivers are a Danish treat, a cross between a pancake and donut without the deep frying! We love to make Buttermilk Aebleskivers on Christmas morning and eat them plain, filled with a little jam or chocolate and sprinkle with powdered sugar.
A few years ago, my friend Jill hosted a gathering for the young women in our neighborhood at Christmastime. We spent a good part of the evening eating these delicious Danish Aebleskivers. It was the first time I helped make Aebleskivers and I was amazed at how simple they are to create at home! Most of the ingredients you will have in your pantry and fridge.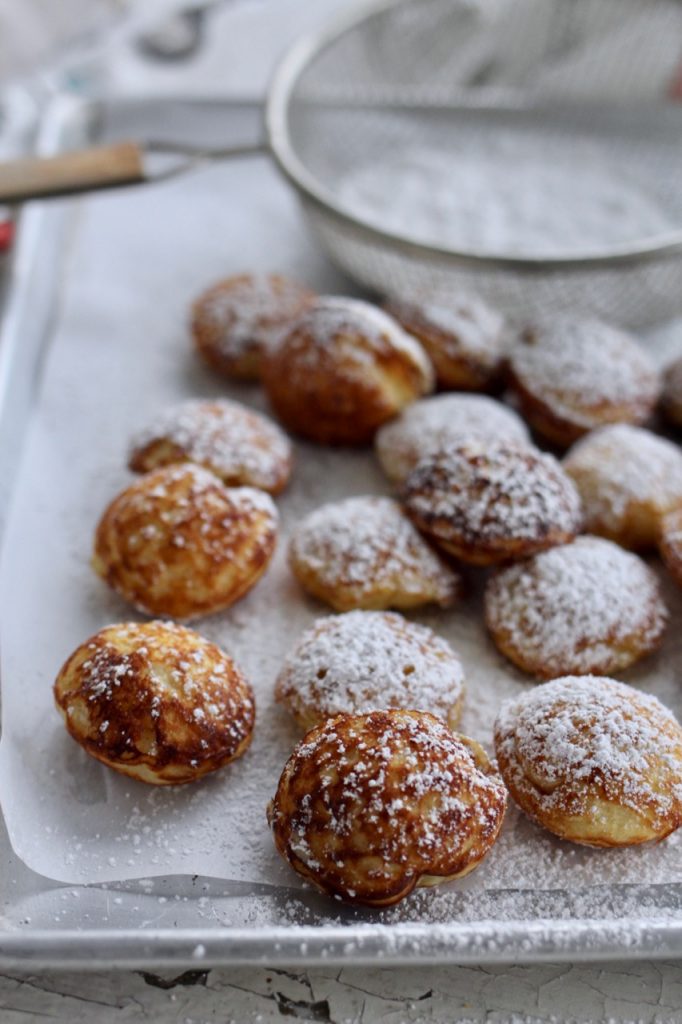 This recipe for Buttermilk Aebleskivers takes minutes to mix up and then it's just a matter of cooking the batter in an Aebleskiver pan and keeping  up with the demand of flipping and sprinkling the Aebleskivers with  powdered sugar before they get eaten up! I finally purchased a second pan to speed up the process. 
We love these hot little pillows of dough with a bit of raspberry jam right out of the pan. Such a fun way to get your family in the kitchen cooking and eating together.
Buttermilk Aebleskivers are a perfect Christmas morning treat served with an overnight breakfast casserole, such as Cowboy Christmas Breakfast,  Overnight Croissant Breakfast Bake,  or Christmas Morning Brioche and Tomato Bake.  We also love Mexican Breakfast Tortillas, which can be made the day before as well. Add some fresh fruit and cocoa and you'll have a Christmas morning tradition your family will look forward to each year!
There are many variations to Buttermilk Aebleskivers: chocolate filled or chocolate dough. Add 1/4 cup of unsweetened  cocoa powder to the batter and cook as directed. If you want to flavor half of the batter with chocolate, cook about half of the batter and then add two tablespoons of cocoa powder to the remaining batter before cooking. you may also add a few mini chocolate chips or Nutella spread to the middle of the Buttermilk Aebleskivers while they are cooking and then cover with a little more dough before flipping over with wood skewers . If you don't have wood skewers (sold in most grocery stores, hanging in the baking aisle) you may also use toothpicks!
The only absolutely necessary piece of equipment is the Aebleskiver pan. One is essential, two are nice if you are feeding a large crowd often.  I have this pan, and this  less expensive pan . I don't see much of a difference at all while cooking the aebleskivers. Both are available for delivery before Christmas if you order today 🙂
**This post was originally published December 18, 2015 and has been updated to include notes about adding eggs to the recipe, and an update on the second (less expensive) pan purchased.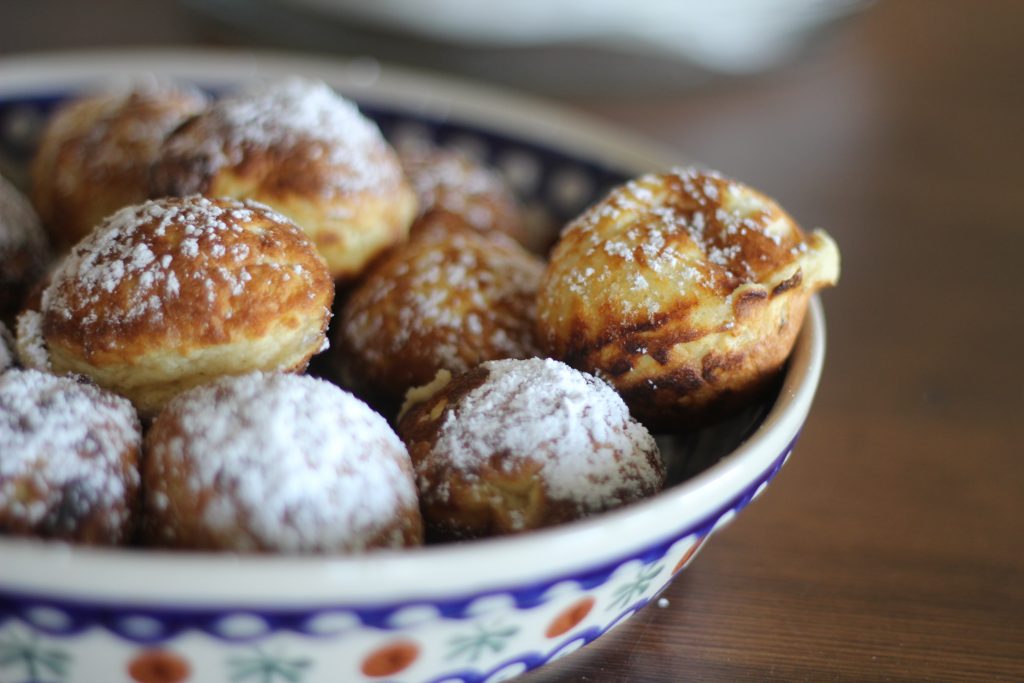 Buttermilk Aebleskivers
Aebleskivers are light little pillows of pan fried dough, commonly enjoyed in Denmark. This recipe includes the use of buttermilk which makes the aebleskivers extra light and fluffy!
Ingredients
2

eggs

2

cups

buttermilk

2

cups

all-purpose flour

1

teaspoon

baking powder

1

teaspoon

baking soda

1/2

teaspoon

salt

2

tablespoons

sugar

1/4

cup

melted butter

butter for pan
Instructions
Separate the eggs* and beat whites until soft peaks form, and set aside.(see recipe notes)

In another bowl, combine egg yolks and buttermilk and mix together.

Add flour, baking powder, baking soda, salt and sugar all at once.

Add melted butter and mix until blended on low speed (I do this by hand with a whisk).

Fold in the egg whites using a spatula.

Heat an Aebleskiver pan over medium heat, brush each cup with melted butter.

Using a 1/4 cup measure, Pour about 2 tablespoons of batter into each cup, and, when bubbly around the edges, turn with a long wooden skewer or toothpick, this takes less than 2 minutes.

Continue cooking on the other side until golden. You can test for doneness by removing one of the balls of cooked dough and breaking in half.

If you would like to fill the Aebleskiver, you can place about 1 tablespoon of batter in pan, then drop a teaspoon of jam and top with more batter.

Serve immediately, sprinkled with powdered sugar, jam and butter.
Recipe Notes
You can skip the step where the eggs are separated, and simply add the eggs one at a time and beat well, but the dough will not have quite the same consistency as when the egg whites are beaten and folded in! I often skip the separation of eggs and just beat the egg before adding to batter. 
This recipe is easily halved. a half recipe yields about 20 pieces. 
Best when batter is made right before cooking.