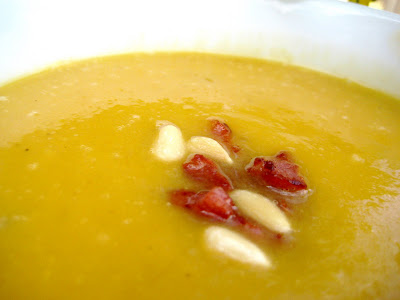 One day my neighbor, who is an expert gardener, came over and saw that I had three Butternut Squash centered on my table with ribbons tied around the stems. He laughed when I told him I had never cooked Butternut Squash, only used them as table decorations. I have since reformed and cooked this funny squash several times since.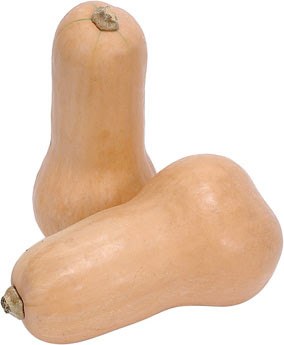 I tried to get my boys to eat a dish last night with squash in a brown sugar/butter mixture, tossed with fresh spinach and sauteed onions. Uhhh – that was a no-go. Today, I separated the squash from the other ingredients, and plopped the squash in a pot with a cooked onion. Added a little broth, and yum! Instant lunch for me. A few slices of chopped bacon and pine nuts for garnish. If this was any easier, it would be Campbell's.
Butternut Squash Soup
adapted from Food Network
Ingredients
1

sweet onion

chopped

1

Butternut Squash peeled

seeded and cubed. About 5-6 cups

1

tablespoon

olive oil

1

tablespoon

brown sugar

dash nutmeg

salt and pepper to taste

4

cups

chicken or vegetable broth

3

tablespoons

cream or half and half

optional
Instructions
Place onion and olive oil in large stockpot cook over medium heat for about 5 minutes.

Add squash, brown sugar and seasonings. Continue to cook for about 5 minutes.

Add broth and cook until squash is soft. Using an immersion blender, blend the ingredients in the stockpot until smooth.

Add more salt and pepper to taste and cream, if desired. Garnish and serve.

Approx 6 servings.
Recipe Notes
-If you are a curry lover, 1 teaspoon of curry powder is a great addition.
-The easiest way I have found to peel a Butternut squash is with a vegetable peeler. Take long slow strokes.
-If you don't have an immersion blender, take the soup from the pot in about 3 batches, and process (carefully) in a blender until smooth.